Madeleine McGraw is an American child actress, voice artist, and TV personality, who is perhaps best known for her appearances in the Disney Channel TV series "Secrets of Sulphur Springs", and the movie "The Black Phone." She has also performed in several Marvel Studios and Pixar films.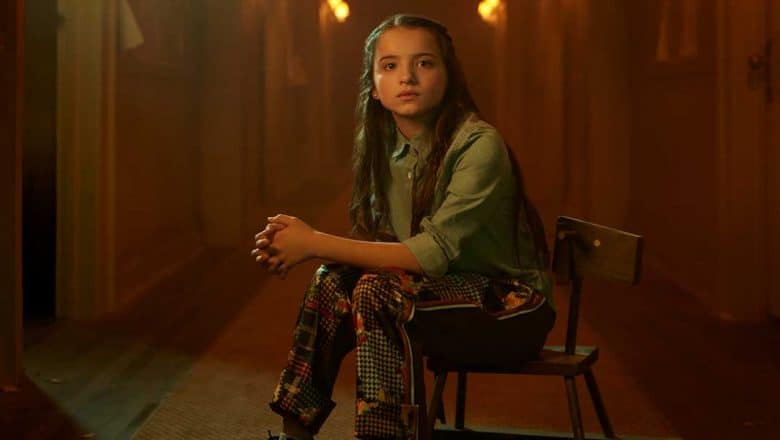 Age, Early Life, and Education Background
Madeleine Grace McGraw hails from San Jose, California, and was born under the Capricorn zodiac sign on 22 December 2008, which makes her 14 years old as of 2023. She is the daughter of businessman Colin McGraw, and Jackie McGraw, who is a homemaker. McGraw is the twin sister of Aidan McGraw, with whom she appeared in the movie "American Sniper", and has two other siblings: a brother named Jack McGraw, who is a voice artist and actor, and a sister, Violet McGraw, who is a model and actress.
McGraw is currently a high school student.
Facts and Interests
Madeleine goes by the nicknames 'Maddy' and 'Mads.'
She's is physically very active, and is a huge soccer fanatic, and also likes dancing.
"The Black Phone" starlet is also a fan of art, as she's stated on her Instagram account.
McGraw stated in an interview with "Rival Magazine LA." that she looks forward to landing a villainous role in a film, remarking, 'I think it would be so fun to play a villain. Watching Ethan Hawke's performances in "The Black Phone" was so inspiring. I loved how this really nice guy could transform into something so blood-curdlingly awful.'
Loved my wrap gift from @MitchellsMovie #monchi Check out the movie now on @netflix I loved getting to play young Katie and being a part of this AWESOME movie!! It's sooo good!!!! pic.twitter.com/0I2YRosCNm

— Madeleine McGraw (@maddygmcgraw) May 2, 2021
Career
McGraw made her acting debut portraying Molly Blake in an episode of the crime procedural comedy-drama series, "Bones" in 2014. In the same year, she appeared in the Clint Eastwood-directed biographical war drama movie "American Sniper," which propelled her to stardom at a young age. In 2016, she made a three-episode appearance as Rita in the animated series "Clarence," which was followed by a recurring role as Amber Barnes in the horror drama TV series "Outcast" (2016-2017). In 2017, McGraw voiced Maddy McGear in the third installment of the Pixar computer-animated sports comedy-adventure movie "Cars."
2018 was a somewhat busy year for the San Jose native – she appeared in four projects including three episodes of the sci-fi drama "Reverie" and the Marvel Studio's superhero movie "Ant-Man and the Wasp," which was a commercial and critical success with an impressive box office collection of around $622 million against a budget of $200 million. In 2019, McGraw voiced Bonnie in another Pixar Animation hit computer-animated film entitled, "Toy Story 4."
One of McGraw's career-defining roles came in 2021, when she was cast as Gwen Blake in the Scott Derrickson-directed supernatural horror movie "The Black Phone." The film is about Finney Shaw (Mason Thames), a shy but shrewd teenage boy, who has been held captive by a masked sadistic killer in a sound-proof basement. When a phone attached to one of the basement's walls begins to ring, Finney finds out that he can hear strange voices of the killer's previous victims, who are committed to ensuring that what happened to them does not befall him. McGraw stars alongside Thames, Ethan Hawke, Miguel Cazarez Mora and Brady Hepner. 2021 also saw McGraw cast to voice Young Katie in the computer-animated sci-fi film "The Mitchells vs. the Machines. From 2021-2023, she starred as Zoey Campbell alongside Preston Oliver, Kyliegh Curra, and Elle Graham in the time-travel mystery drama "Secrets of Sulphur Springs."
The young model has been signed with the West Hollywood-based firm, Paradigm Talent Agency. She's endorsed numerous brands, including the fashion firm Ralph Lauren.
Awards and Nominations
Out of the four Awards she's been nominated for, McGraw has won one as of late 2023, scooping a Fangoria Chainsaw Award for Best Supporting Performance for her role in "The Black Phone" in 2023. In 2015, she was nominated for a Young Artist Award for Best Performance by a Supporting Young Actress in a Feature Film for her role in "American Sniper." Moreover, McGraw's performances in "The Black Phone" brought her nominations for a Saturn Award (2022) and San Diego Film Critics Society Award (2023).
Social Media Presence
Madeleine is active on Instagram (@madeleinemcgraw) with around 890,000 followers. She is fond of posting her modeling photos and updating her fans about her recent career endeavors, and previously shared her experience in the film "The Black Phone" on the platform, saying 'I am so proud of everyone involved!! Big Congrats to the amazing @scottderrickson and @massawyrm ALSO a Huge thank you to all the fans of the movie … From the moment I read the script; I loved it. Then when I got on set, I said to my mom, this one is different. It's really really special!'
The San Jose native joined Twitter (@maddygmcgraw) in April 2014 and is followed by over 21,000 followers as of late 2023. Moreover, Madeleine has a TikTok account, on which she connects with her friends, fans and supporters.
Personal Life
McGraw is still very young to be in a romantic relationship, seemingly focused on her education and acting career. The young actress enjoys spending time with her family and friends, and currently lives with her parents in Los Angeles, California.
Height, Weight, and Physical Appearance
McGraw is of White ethnicity and has a pair of blue eyes and long dark brown hair. She's still developing, and stands 5ft (1.52m) tall and weighs approximately 100lbs (45kgs) as of late 2023. The young actress wears dress and shoe sizes 2(US) and 7(US) respectively. She has chiseled facial features, and has pierced her ears.
Net Worth
Madeleine has made a name for herself and accumulated a good sum, thanks to her successful acting, modeling, and brand endorsement careers. She's reportedly worth approximately $1.5 million as of 2023.
Madeleine McGraw Siblings
Brother, Jack McGraw
Just like Madeleine, Jack William McGraw hails from San Jose, and was born under the Sagittarius zodiac sign on 7 December 2006, making him 16 years old as of 2023. He's known for voicing Young Arlo in the 2015 animated film "The Good Dinosaur" for which he received a Young Entertainer Award nomination, the TV series "Workaholics" (2015), which brought him a nomination for a Young Artist Award, the TV series "The Stinky & Dirty Show" (2016-2019), and the TV series "Godless" in 2017, among others.
Sister, Violet McGraw
Violet Elizabeth McGraw was born under the Taurus zodiac sign on 22 April 2011, in California, so is 12 years old as of 2023. She began her acting career at the age of five, and some of her early roles were in the romantic comedy-drama series "Love" (2016), the sci-fi film "Ready Player One" (2018), and the supernatural horror drama "The Haunting of Hill House" in which she starred as Young Nell Crane also in 2018, and received a joint OFTA Television Award nomination for her performance. Violet is also credited with her appearance in the supernatural horror "Separation," which brought her a Young Artist Award nomination, the Marvel Studios superhero movie "Black Widow" (2021), and the sci-fi horror film "M3GAN" in 2022.