Who is Sidney Starr?
Sidney is an American transgender model, who came to prominence by uploading twerking videos on social media platforms. Her career has led her to the "Love and Hip Hop" reality show, and other TV appearances.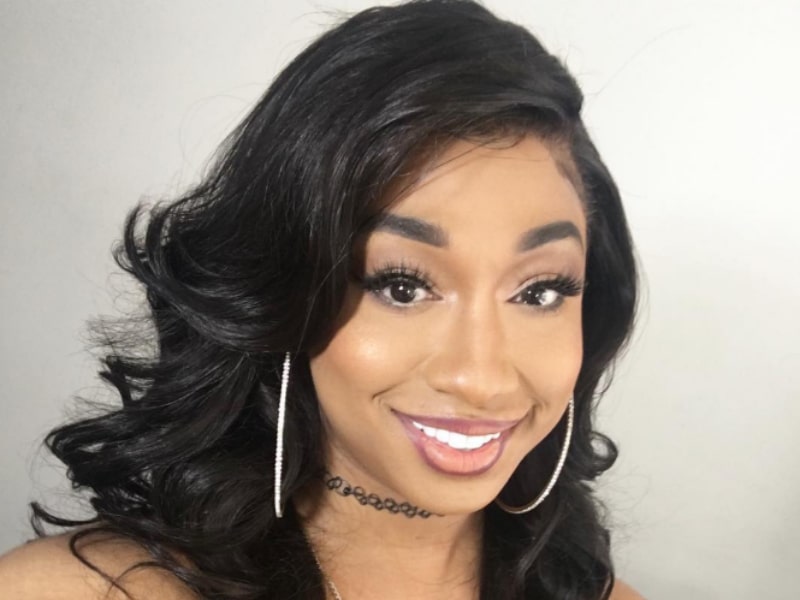 Sidney Starr Wiki: Age, Childhood, and Education
Sidney Starr was born on 5 February 1989, in Chicago, Illinois, USA. While Sidney's public life is well-documented, she has chosen to keep her family's details private, and there is no available information about her parents, including their names or professions, as well as having any siblings.
Assigned male at birth, she embraced her true identity as a girl from a young age and began her transition during her teenage years.
She attended Bogan High School; throughout her school years, Sidney faced bullying due to her transgender identity, but didn't let anyone or anything cut her transition.
Career
Sidney Starr's career began with uploads on "World Star Hip Hop" on which she shared 'twerking' videos set to popular Hip Hop songs. These initial videos received a mixed response, attracting both fans and critics.
Her journey to stardom gained momentum through live chats on "Periscope", and her active presence on social media platforms such as Instagram, Twitter, and Facebook.
A significant turning point in Sidney Starr's career came when she disclosed her identity as a transgender model. To confirm her true identity, she provided various pieces of evidence, including her birth certificate and childhood photos, which rapidly went viral, cementing her status as an internet personality.
Through her YouTube channel, she became an inspirational figure, particularly for struggling transgender individuals, and an outspoken advocate against bullying. At her peak YouTube stardom, Sidney had over 20,000 subscribers, but she hasn't been active in a long while, and that number has dropped to only 2,000 subscribers.
In 2016, she made her television debut in the series "Girlfriends & Champagne" portraying herself in five episodes.
However, Sidney's foray into the world of hip-hop and reality television was documented in the popular TV series, "Love and Hip Hop: New York". In 2018 and 2019, she graced the screen in a total of nine episodes, leaving a mark on the show.
The season followed Sidney's determined efforts to establish herself within the hip-hop genre. During her time on the show, she collaborated with Rich and received mentorship from Nya Lee. However, as is often the case in the world of reality TV, these collaborations weren't without drama. An intense feud erupted between Sidney and Nya Lee, which actully only contributed to her popularity.
Sidney's journey in "Love and Hip Hop: New York" didn't stop there. Mariah took Starr under her wing, becoming her new mentor, and trying to push her career. They worked on new music and Sidney released a number of songs during this period, including "We Got It" and "Boss Chick" among others. Since then, Sidney has continued to evolve, and new songs have seen the light of day, such as "Swipe Ya Card, Vol 1", Text Me Back", and "Beat Box", among others.
Sidney Starr drops her single "Beat Box" on all platforms. 🎶

"I'm ready to take over! I wanna be that transgender female to break out in this music game!" pic.twitter.com/DnK2odMSdG

— Female Rap Room (@FemaleRapRoom) September 17, 2022
Other Appearances
Following her stint on "Love and Hip-Hop", she continued her reality TV career with an appearance in "VH1: Unveiled" in 2019. The following year, she participated in "Joseline's Cabaret: Auditions", sharing the experience she had within the show.
The year 2021 saw Sidney's presence in the reality TV landscape grow significantly, as she became a part of "Baddies ATL", appearing in 10 episodes of the show. Her journey continued with appearances in "Baddies ATL: The Reunion", adding two more episodes to her reality TV portfolio.
Stepping into 2022, Sidney Starr remained a sought-after personality in the world of reality TV. She made a cameo in "Baddies South", adding another show to her television career. Moreover, 2022 marked her participation in "Baddies South: The Reunion", in which she was featured in two episodes. Most recently, Sidney appeared in "Wild 'n Out"
Acting Career
Sidney Starr is also an acclaimed actress. She made her debut in the TV series "Star" as Dallas in 2017, and continued in such productions as "Empire" (2019), "Boomerang" (2020), and "American Gangster: Trap Queens" (2022), among several other appearances.
Net Worth
According to authoritative sources, Sidney Starr's net worth is estimated at over $1 million, as of late 2023.
Personal Life, Dating, Married, Boyfriend, Single
Back in 2008, Sidney faced rumors of a romantic link with hip-hop artist Chingy, which later turned out to be entirely fabricated. She subsequently apologized for misleading her fans.
In 2013, Sidney dated O'Block Montana, but their relationship was short-lived, but the primary reasons for their split remained undisclosed.
Her romantic history also includes rapper Chase God Swag, with reports of their engagement surfacing. However, this engagement ultimately came to an end.
Fast-forward to October 2021, Sidney shared pictures with American actor Darius McCrary, sparking rumors about their relationship, but she clarified that they're just friends, putting an end to the speculations.
According to sources, Sidney Starr is currently single, and focused on her rising career.
Appearance and Body Measurements
Sidney Starr has undergone several plastic surgeries, including breasts, lips, face and other parts of her body. She has black hair and brown eyes, stands at a height of 5ft 5ins (1.65m), weighs approximately 130lbs (58kgs), with vital statistics of 36-26-38.