• Gianna Distenca is an American actress best known for the "Stacey's Mom" music video
• She studied at SACI in Florence, Italy and the San Francisco Art Institute and is now a professional artist
• "Stacey's Mom" was a major success, charting in multiple countries and earning a Grammy Award nomination
• Her mother in the video was played by New Zealand supermodel Rachel Hunter
• Gianna is active on social media and has her own website featuring her artworks

Known for movies

Who is Gianna Distenca?
Gianna Abbigail Distenca was born in Providence, Rhode Island USA on 15 May 1989, so under the zodiac sign of Taurus and holding American nationality. She is an actress, perhaps best known for starring in the "Stacy's Mom" music video.
Early life and education
Gianna has been away from the public's attention for the past 15 years, and previous to that there is not much known about her parents or her early years of life. She is said to have spent her childhood years in several countries including Mexico, Switzerland, and Italy as well as in California. She finished her high school in the US, and then started attending university in Florence, Italy known as SACI, where she learned how to make sculptures and had a chance to work with marble. She claimed that she moved back to the US after only a few months in Italy and started attending university in Colorado where she studied liberal arts. but she soon switched to another university, and then once more to San Francisco Art Institute from which she finally graduated with a Bachelor of Fine Arts degree in Sculpture.
Career
There is not much to say about Gianna's acting career as she doesn't have that many credits. Her first appearance on TV screens was when she landed a role in the "Making the Video" short documentary music-related TV series in 1999, featuring stars such as Britney Spears, Christina Aguilera, Dave Meyers and many others. After that, in 2003 she appeared in a music video of the Fountains of Wayne band called "Fountains of Wayne: Stacy's Mom" which made her somewhat famous – the video is about a young boy who Stacy (Gianna) invites to her home, but the boy is more interested in her mother rather than in her. Gianna's last role known to the public was in the "Senor Crab" short animated video, which is only 11 minutes long, andabout a crab who finds a very valuable diamond which was lost at sea and now he wants to cash it in – Gianna lent her voice to the Yay Bear character.
Gianna was said to be living in Beirut in Lebanon after she left the US in 2013, however, she seems to have come to live in London as she had her own art show on 17 January 2019 – she seems to have left the film and music industry for good, and is currently working as an artist, painting and sculpting. According to her Facebook account, Gianna was the Director at Rubber Diamond Gallery while she was living in California, and worked with a non-governmental organization (NGO) called Unite Lebanon Youth Project – ULYP in Beirut.
Song video which made her popular
"Stacey's Mom" pop rock song was recorded by an American rock band called Fountains of Wayne, and was a part of their third album entitled "Welcome Interstate Managers". It was released firstly on radio on 20 May 2003, while its video was recorded, and became the lead single of the album on 29 September 2003 – the song was written by the bassist of the band Adam Schlesinger and the vocalist Chris Collingwood. The idea for the song came from Schlesinger, because he had a friend who had a crush on his grandmother.
Back in those days, the song was a major success and it seemed that everybody was listening to it – it got to number 21 on the Billboard Hot 100, and was the biggest success that the band achieved. The song was also popular in Ireland and was placed in the top 10 songs there – it also took its place among the 20 best songs in the UK, Canad, and Australia, subsequently selling over half a million copies and receiving its gold certification from the Recording Industry Association of America (RIAA), and a Grammy Award nomination for the Best Vocal Pop Performance, although it didn't win.
Stacey's mom – Rachel Hunter
Stacey's mother in the music video which made them both popular was played by the New Zealand supermodel Rachel Hunter. She was born in 1969 and during those years of her career she managed to appear on covers of many famous magazines, including "Vogue", "Elle", "Rolling Stone", "Playboy", and "Cosmopolitan". She's been married once from 1990 to 2006 to Rod Stewart, a British rock singer and songwriter – the couple have two kids together.
Rachel has her own website-blog as she has been travelling for quite some time now – she is said to have visited more than 15 countries on her 'Tour of Beauty', and you can find her blog posts on her website.
Personal life
People describe Gianna as a peacemaker and a very calm person by nature. She is said to be very friendly and always ready to help her friends, family, and even strangers. She is a big fan of music and poetry, and claims to have the ability to find beauty in all things. She is said to have healing capabilities, as she does massages, acupuncture, and physical therapy.
After she moved to Beirut, Gianna changed her last name to Dispenza, rumors to be because Gianna married someonem but this was never confirmed.
Philanthropy
One of the reasons why Gianna enjoyed being in Beirut is that she was able to give back to the community – she enjoyed helping people and spent a lot of time volunteering in one of the refugee centers there.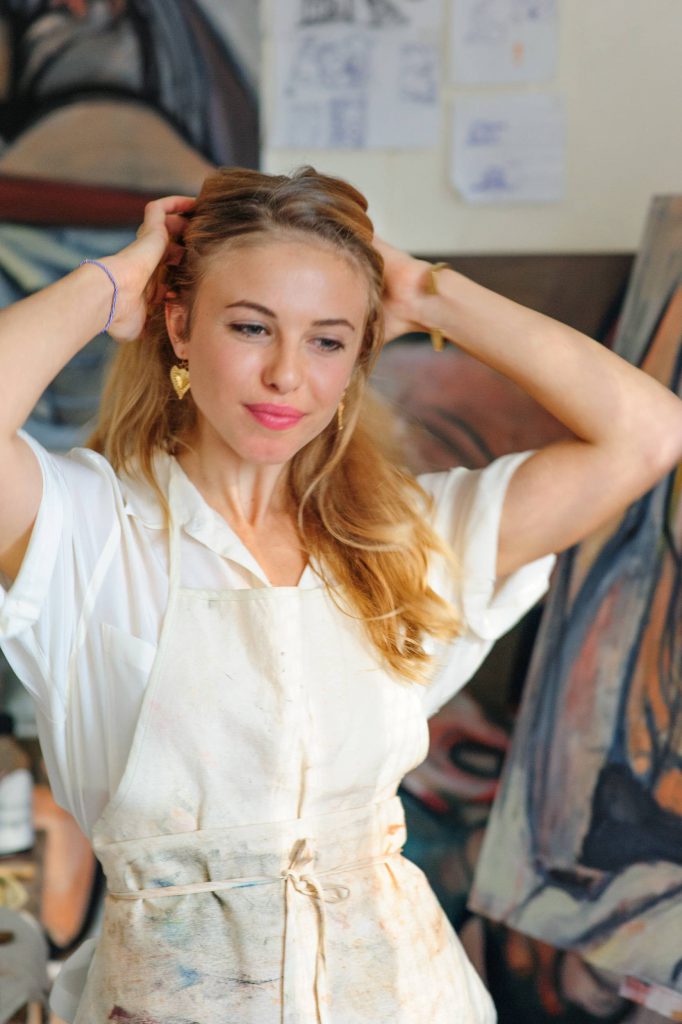 Appearance and net worth
Gianna was 13 when she appeared in the music video which made her famous,s and is 29 now. She has long blonde hair and blue eyes, but her height and weight remain unknown.
According to authoritative sources, Gianna's net worth is estimated to be less than $300,000, and is unlikely to rise as Gianna has left the movie and music industry for good, although her artistic skills may result in a new career.
Social media presence
Gianna used to be very active on her social media platforms, however, her Instagram account has been shut down for quite some time now for unknown reasons. She has a Twitter account which she launched in February 2015, and is so far followed by over 200 people while she's tweeted only around 15 times. She also has a Facebook account with more than 1,200 fans following her.
Gianna also has her own website which seems more like a portfolio – you can see her paintings, sculptures and drawings, while you can also contact her if you have any questions or if you'd like to buy one of her works.
Movies
Actress
| Title | Year | Status | Character |
| --- | --- | --- | --- |
| Señor Crab | 2007 | Short | Yay Bear (voice) |
| Fountains of Wayne: Stacy's Mom | 2003 | Short | Stacy |
Self
| Title | Year | Status | Character |
| --- | --- | --- | --- |
| Making the Video | 2004 | TV Series documentary | Stacy |
Archive Footage
| Title | Year | Status | Character |
| --- | --- | --- | --- |
| Video on Trial | 2005 | TV Series | Stacy |
Source:
IMDb
,
Wikipedia