Who is Luis Enrique?
Spanish soccer manager and former professional player Luis Enrique Martinez Garcia was born in Gijon, Spain, on 8 May 1970, making Taurus his zodiac sign. He's known for having played for both Barcelona and Real Madrid from 1991 through 2004, starting in over 500 games and scoring over 100 goals; Luis also played for the Spanish national team, including in a European Championship and three World Cups.
He's been working as a manager since 2008, and is today employed by the soccer team Paris Saint-Germain of French Ligue 1.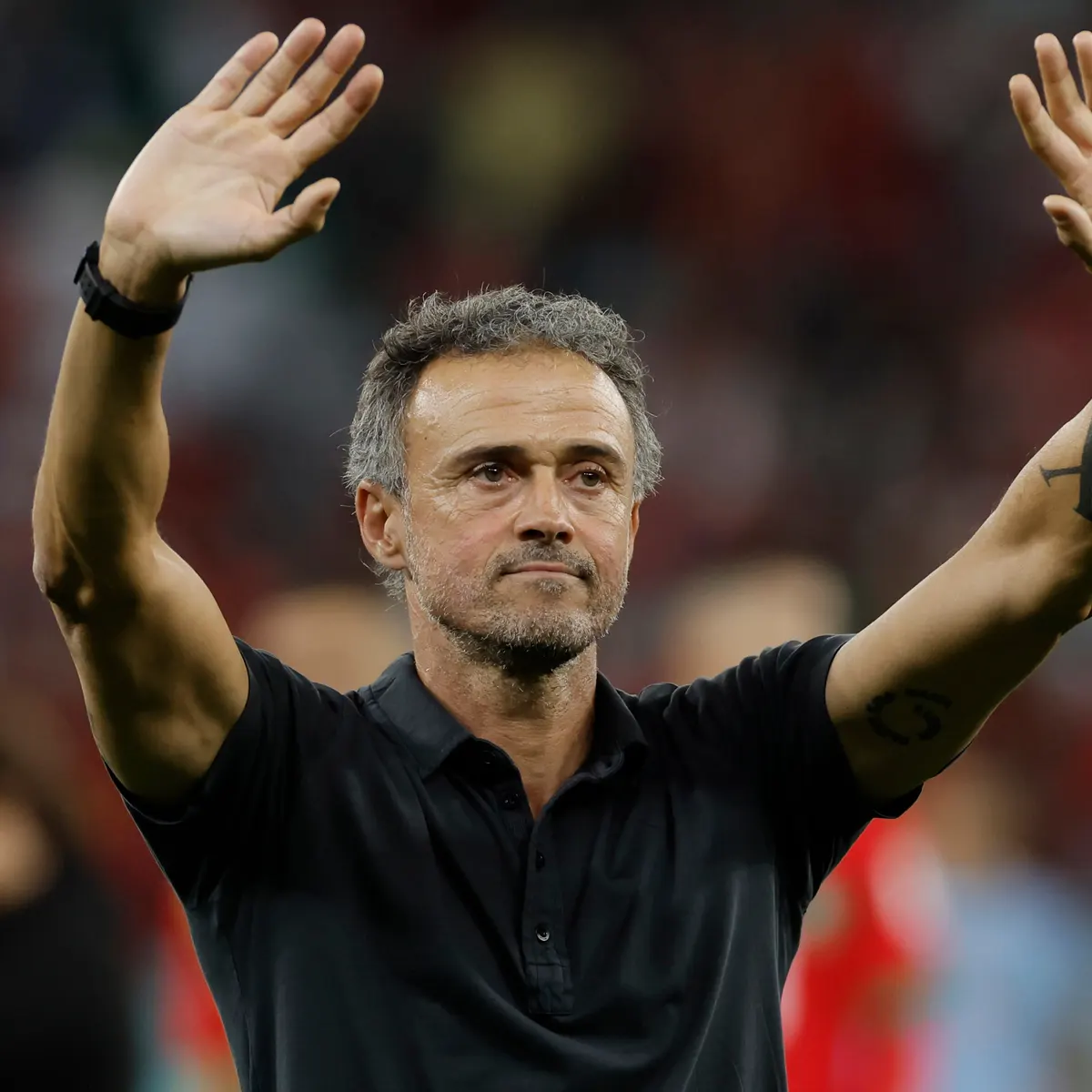 Education and early life
Luis was raised an only child in Gijon, by his mother Nely Garcia and father Luis Martinez; not many details have been shared about his parents, because Luis respects their privacy, but it's believed that his father was a high school soccer coach, and his mother an accountant.
Luis studied at Elisburu School, which has since been renamed to Colegio Pumarin; he was mostly into basketball during his four years there, however, he had to quit on his dream of becoming a famous basketball player because he wasn't tall enough, so he began playing soccer, together with his best friend Abelardo Fernandez.
Luis was 14 when he joined the La Brana Sports Club, and Abelardo followed a year later; after three years, Abelardo quit La Brana and moved to Sporting de Gijon. Luis matriculated in 1987, a year earlier than his peers, and then focused on soccer; he followed Abelardo and joined the reserve team Sporting de Gijon B.
Soccer player
Luis was nicknamed 'Lucho' while playing for Sporting de Gijon, but he was scouted by Real Madrid in 1991 – he subsequently spent five years with Real Madrid, but then revealed that he didn't feel appreciated at the club, even when he scored in January 1995 in a 5-0 win against Barcelona.
This led Luis to move to play for Barcelona in 1999 on a free transfer; the fans were initially skeptical about the transfer, but soon began loving Luis for his performance and dedication to his team. He went on to spend eight years with Barcelona, the last couple of which he was the team captain.
Luis scored 46 goals for Barcelona in La Liga during his first three years there, and was during his fourth year named Player of the Year by the Spanish daily newspaper "El Pais". At the 1997 UEFA Super Cup, Luis scored the first goal in a 3-1 win against Borussia Dortmund.
Luis' final three seasons with Barcelona were plague by injuries, and he thus chose against renewing his contract, not wanting to harm the team; he was invited to rejoin Sporting de Gijon, but Luis refused, stating that he wouldn't be able to achieve the level of play that he demanded of himself.
He officially retired on 10 August 2004, after having played in 400 games at the top level, and scoring 102 goals.
Spanish national team
Luis played for Spain in the 1994, 1998 and 2002 FIFA World Cups, appearing in 62 games and scoring  12 goals; he also played for Spain at the 1992 Summer Olympics in Barcelona, which Spain won.
In the 1994 World Cup played in the USA, Luis scored his first international goal in a win against Switzerland; the Spaniards lost to Italy in the quarter-finals.
They were eliminated in the group phase in 1998, and Luis retired from international soccer on 23 June 2002, wanting to allow younger soccer players to play for their country.
Career as a manager
After his retirement, Luis spent the second half of 2004 and the entire 2005 living in Australia and practicing surfing; he also ran the 2005 New York City Marathon, the 2006 Amsterdam Marathon and the 2007 Firenze Marathon, and in the same year completed the Frankfurt Ironman challenge.
He became the coach of the soccer team Barcelona B on 26 May 2008, and in the following year helped them return to Segunda Division after they had been out for 11 years.
Luis revealed that he was leaving Barcelona B in March 2011, and he signed a two-year contract with Roma of Serie A on 8 June 2011; he quit after the end of his first season with Roma, as they had failed to qualify for any European competition.
On 8 June 2013, Luis was hired as the coach of Celta of La Liga; they finished the season ninth, and what marked it was the 2-0 win against Real Madrid. Luis revealed on 16 May 2014 that he was leaving Celta.
He signed a two-year deal with Barcelona on 19 May 2014, and led them to the 2015 UEFA Champions League finals, which they won against Juventus in Berlin, Germany; Luis' contract was then extended through 2017. They won the 2015 UEFA Super Cup on 11 August, and Luis revealed on 1 March 2017 that he wouldn't continue coaching Barcelona after his contract expiration on 30 June.
He was made the coach of Spain's national team in July 2018, and let them to the semi-finals of the Euro 2020 Squad tournament; Luis stepped down after Spain was defeated in the round of 16 at the 2022 World Cup.
Since 5 July 2023, he's been the manager of Paris Saint-Germain.
Love life and marriage
Not many details have been disclosed about Luis' love life, because he respects his family's privacy, but it's known that Luis has been a married man for more than two decades now, and that he was once also a father.
He and Spanish economist Elena Cullell exchanged vows in a small and private ceremony on 27 December 1997; she's only a year younger that Luis, as she was born in 1971. Elena also prefers to stay away from media, and keeps Luis company only during some of his most important events.
Elena and Luis' daughter Xana was nine when she died from bone cancer on 29 August 2019.
There are no other women whom Luis has perhaps dated, that we know about; he's married to Elena Cullell as of August 2023, and they had one daughter together (deceased).
Interesting facts and hobbies
Luis was sponsored by Nike during his entire career as a professional soccer player.
One of the best soccer players in the world Lionel Messi has described Luis as the second best manager that he's played for, with the first being Pep Guardiola.
Luis was known for his consistency and versatility while he was still a soccer player, and played nearly all the positions in the center of the field; he mostly played an attacking midfielder and a right winger.
Close to 200,000 people are following Luis on Instagram today, and he's posted nearly 1,000 pictures and videos, with most of these being about soccer.
One of his favorite actors is Al Pacino, and some of Luis' favorite movies include the trilogy "The Godfather", "Heat" and "Dog Day Afternoon".
Height, eyes and wealth
Luis' age is 53. He has brown hair and eyes, is 5ft 11ins (1.8m) tall and weighs around 180lbs (82kgs).
Luis' net worth's been estimated at over $20 million, as of August 2023.