Soobin is a South Korean singer and the leader of the boy group TXT (Tomorrow X Together) under HYBE Corporation.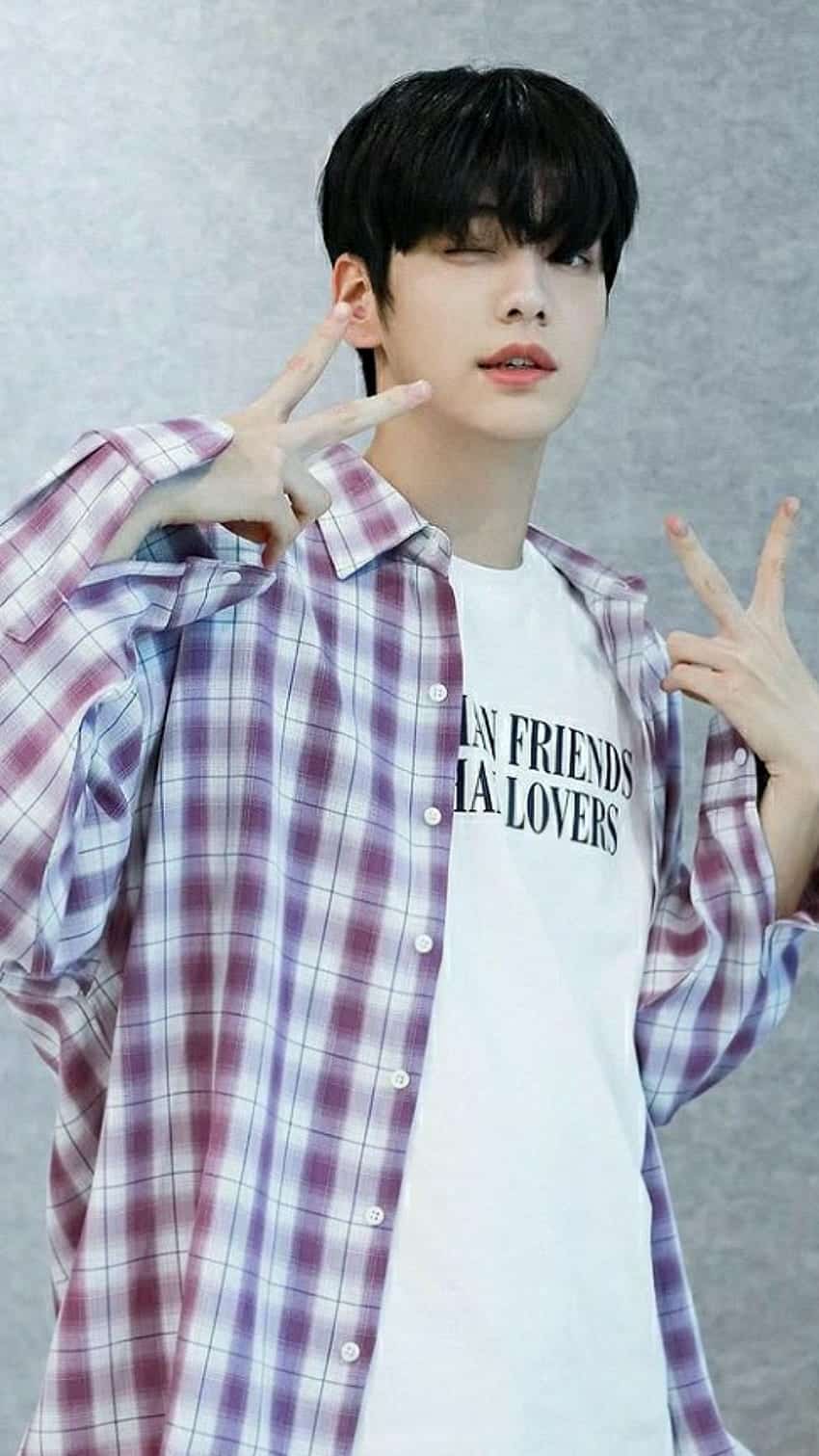 Wiki: Age, Childhood, and Education
He was born as Choi Soobin on 5 December 2000 in Sangnok-gu, Ansan, Gyeonggi-do, South Korea, and grew-up with an older sister and two brothers; unfortunately, there is no information on his parents. According to reports, he attended Kyongsu Middle School, and later dropped out of Ansan High School.
Career Beginnings, Formation of TXT
Big Hit Entertainment, under the guidance of founder Bang Si-hyuk, laid the groundwork for a new boy group as early as 2017. By November 2018, plans were solidified for a debut in early 2019, and this band was revealed on 10 January. A series of "introduction films" featuring each member was unveiled on YouTube over the next ten days.
The quintet chosen to bring TXT to life includes:
Soobin
Yeonjun
Beomgyu
Taehyun
HueningKai
In March 2019, TXT emerged as a significant milestone for Big Hit Entertainment, marking the first boy band introduction by the label since BTS six years earlier. The group's inaugural broadcast aired on their YouTube channel, coinciding with the release of their debut extended play (EP) entitled "The Dream Chapter: Star", which was launched on 4 March 2019.
Rise to Stardom
Continuing their journey after the EP release, Soobin and the rest of TXT achieved remarkable milestones. The music video for the lead single "Crown" shattered records, amassing 14.5 million YouTube views in 24 hours, becoming the most viewed and liked K-pop debut music video by a boy group. The EP soared to the top of the Gaon Album Chart and Billboard World Albums Chart, and also claimed the number-one spot on the Billboard World Digital Songs chart.
TXT swiftly emerged on the Billboard scene, claiming number one on the Emerging Artists chart and securing the 140th spot on the Billboard 200 chart. This achievement not only marked them as the fastest to grace these charts but also bestowed the title of the highest-charting debut album by a male K-pop group. Their success extended internationally, landing them at number three on Oricon's Weekly Album Chart and dominating the Gaon Monthly Album Chart for March.
Their debut music performance on Mnet's M Countdown on 7 March 2019 marked the beginning of their live performances. The wins followed suit, with TXT snagging their first music show victory just a week after their debut on SBS MTV's The Show with "Crown". Victories on M Countdown and Show Champion soon followed, cementing their ascent in the industry.
Soobin Crown MV #TOMORROW_X_TOGETHER #TXT #TXTisHERE #CROWN pic.twitter.com/rFqJpw6lNr

— txtinbloom (@txtinbloom_) March 4, 2019
Notably, "Crown" was acknowledged by GQ in its Decade-end list of "game-changers from a decade of K-pop" for 2019. The track captured the essence of TXT's bright and effervescent pop as they unreservedly navigated the terrain of teenage growth and exploration. Soobin and TXT solidified their presence, leaving an indelible mark on K-pop.
On 9 April 2019, TXT embarked on their debut overseas tour, a six-city showcase in the US, with tickets sold-out within 24 hours. They dazzled at the iHeartRadio Wango Tango concert on 1 June, and TXT's trailblazing continued as the first artist on the Weverse platform.
In a remarkable achievement, they performed at Japan's prem,ier fashion events—Kansai Collection's Autumn/Winter 2019 show on 27 August and Tokyo Girls Collection's show on 7 September. TXT's star shone at the KCON 2019 NY music festival, captivating 55,000 fans at Madison Square Garden on 6 July.
TXT's influence crossed borders with a prestigious MTV Video Music Award nomination for "Best K-pop". However, health hurdles led to delays, pushing their album release from August to October, as Soobin and others battled health issues.
Continuing their journey, on 21 October 2019, TXT released their debut studio album, "The Dream Chapter: Magic", featuring the lead single "9 and Three Quarters (Run Away), honored as one of the best K-pop songs of the year by Billboard and Dazed.
It clinched the top spot on the Gaon Album Chart, selling over 124,000 copies in its initial week—a second chart-topper after their debut EP.
Gaining international acclaim, the album soared to No. 3 on Billboard's World Albums Chart, and ranked sixth on the Billboard Heatseekers Album chart. Impressively, four tracks from the album entered the Billboard World Digital Songs chart, with the lead single securing the second position.
TXT's commercial prowess translated into numerous rookie awards at esteemed Korean year-end music ceremonies, including the Asia Artist Awards, Melon Music Awards, Mnet Asian Music Awards, Golden Disc Awards, Gaon Chart Music Awards, and Seoul Music Awards. Their meteoric rise continued, solidifying their place as K-pop's rising stars.
Continued Success
TXT stepped into the Japanese scene on 15 January 2020, releasing "Magic Hour", with Japanese versions of "Run Away", "Crown", and "Angel or Devil". The single ranked first on the Oricon Daily Chart and second on the Oricon Weekly Singles Chart. On 24 January, they marked a milestone by performing the Japanese "Run Away" on TV Asahi's Music Station, becoming the first Korean act on the show in 2020. "Magic Hour" earned a gold certification from the Recording Industry Association of Japan (RIAJ) for selling 100,000 copies.
TXT's second EP, "The Dream Chapter: Eternity", hit the scene on 18 May 2020, headlined by the track "Can't You See Me?". The EP achieved impressive sales of 181,000 copies in the first week, securing second spot on the Gaon Album Chart. Additionally, it clinched the number one position on Japan's Oricon Albums Chart.
In July 2020, they attained a platinum certification from the Korea Music Content Association (KMCA) for "The Dream Chapter: Eternity", with sales of 250,000 albums. This recognition marked their first certification in South Korea.
Building on their achievements, the KMCA also gained platinum certifications to "The Dream Chapter: Star" and "The Dream Chapter: Magic" two months later, further validating TXT's growing influence.
Soobin took on the role of MC for KBS2's Music Bank, partnering with Arin from Oh My Girl, beginning on 24 July 2020, and holding the position until 1 October 2021.
TXT introduced their second Japanese single, "Drama", on 19 August 2020, including Japanese versions of "Drama", "Can't You See Me?" and "Everlasting Shine". The song was then chosen as the twelfth opening theme for the anime Black Clover, which premiered on 1 September.
TXT unveiled their third EP, "Minisode 1: Blue Hour", on 26 October – the EP was highlighted by the lead single "Blue Hour".
The release of "Minisode1: Blue Hour" made a splash, debuting at No.3 on the Gaon Album Chart and impressively selling over 300,000 copies during its opening week. It eventually achieved platinum certification from the KMCA, further underlining its success.
In the US, the EP made a notable debut at No. 25 on the prestigious Billboard 200 chart, eventually also securing top spot on both the Billboard World Albums Chart and the Emerging Artists Chart.
Crossing borders, the EP claimed the highest position on the Oricon Albums Chart in Japan, marking their second chart-topping achievement there.
TXT added to their repertoire on 24 November, by releasing the original soundtrack "Your Light" for the JTBC teen-drama Live On.
Recent Projects
TXT's debut Japanese studio album, "Still Dreaming", arrived on 20 January 2021, featuring the original track "Force" that opened the anime "World Trigger". The album clinched top spot on the Japanese Oricon Albums Chart, and earned a gold certification from RIAJ. In May 2021, TXT unveiled their second studio album, "The Chaos Chapter: Freeze" – the lead single "0X1=Lovesong (I Know I Love You)" garnered immense attention, and pre-orders for the album exceeded 700,000 copies. TXT secured their position as international artists by reaching fifth spot on the Billboard 200 ,and achieving their fourth consecutive chart-topper in Japan.
TXT's fourth EP, "Minisode 2: Thursday's Child", landed with the lead single "Good Boy Gone Bad" on 9 May. The EP garnered over 810,000 pre-orders and laid the foundation for their inaugural world tour, "Act: Lovesick". TXT further expanded their musical horizons with an English single, "Valley of Lies", featuring Iann Dior, and became the first K-pop act to grace the stage of Lollapalooza.
They released their third Japanese single, "Good Boy Gone Bad", on 31 August, containing compelling original tracks. The band's fifth EP, "The Name Chapter: Temptation", marked the beginning of 2023, releasing on 27 January. Soon after, TXT made history by headlining at Lollapalooza and embarking on their second world tour, "Act: Sweet Mirage".
TXT's impact spread across borders, as they released their second Japanese album, "Sweet", on 5 July 2023, alongside the captivating single "Do It Like That" with Jonas Brothers. Their achievements culminated with "The Name Chapter: Temptation" receiving Gold certification from RIAA in August, an accomplishment that marked their first certification in the United States.
Net Worth
According to authoritative sources, Soobin's net worth is estimated at $1.5 million, as of mid-2023.
Personal Life, Dating, Girlfriend, Single
Soobin is very secretive about his personal life. Due to this, there is no reliable information about his love life, though according to reports, Soobin is single and solely focused on his music career.
Appearance and Body Measurements
Soobin has light brown hair though he dyes it in various colors at times, and he has brown eyes. He stands at the height of 5ft 11ins (1.8m), while he weighs approximately 145lbs (63kgs). His vital statistics are 42-32-33, and his biceps is 12.5.