• Scottish actor known for portraying Filip 'Chibs' Telford in Sons of Anarchy
• Suffered a life changing incident in his youth that left him with a Glasgow Grin (an iconic scar)
• Began career as a DJ in Scotland and transitioned to acting
• Appeared in a number of notable films including Braveheart, Gladiator, Sin City, and Alien vs Predator
• Has an estimated net worth of $3 million

Known for movies
Short Info
| | |
| --- | --- |
| Date Of Birth | July 3, 1965 |
| Spouse | Dina Livingston, Jane Ford, Rachel Flanagan |
| Mark | Two facial scars, one on each side of his face, known as a 'Glasgow Grin' or a 'Glaswegian Smile'. Result of being attacked by thugs in Scotland. |
| Fact | He appeared in two Best Picture Academy Award winners: Braveheart (1995) and Gladiator (2000). |

Who is Tommy Flanagan?
Tommy Flanagan is an award-winning Scottish actor, who achieved fame by portraying Filip 'Chibs' Telford in the TV crime-drama series "Sons of Anarchy" from 2008 to 2014, among numerous other roles she has secured so far in his career.
So, do you want to find out more about Tommy Flanagan, from his childhood years to most recent career endeavors, including his personal life as well? If yes, then stay with us for the length of the article, as we introduce you to this veteran actor.
How Tommy Flanagan Got His Face Scars
Tommy was a DJ before his acting career got going; leaving a party one night, Tommy was attacked by robbers and one of them had a knife with him. Tommy tried to defend himself but got stabbed and the attackers slashed his face from ear to ear, leaving a wound which is known as a Glasgow Grin, or Glasgow Smile. His scar story was also a part of the character's scenario from the show "Sons of Anarchy".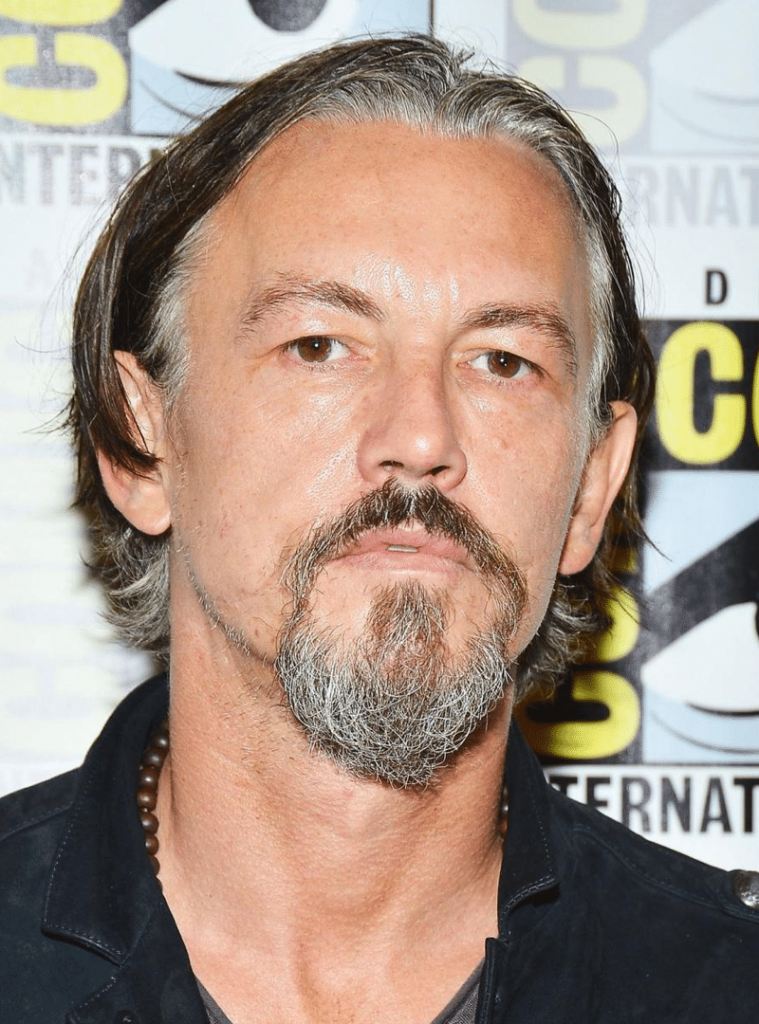 Tommy Flanagan Wiki: Age, Childhood, and Education
Tommy Flanagan was born on the 3rd July 1965, in Easterhouse, Glasgow, Lanarkshire, Scotland; his childhood was rather tough since he was growing up with six siblings, and his father left the family when he was still young. One of his siblings, Andrew Flanagan is also an actor and lives in Glasgow. Tommy was an altar boy during his childhood, and always fought for his family. Once he was old enough to earn money, he started looking for a job, DJing in local clubs. However, his work led to a life-changing event, when he was attacked and left to die. With severe injuries, he was transferred to hospital but recovered, and it was during his days in hospital that his friend, Robert Carlyle advised him to give acting a try.
Career Beginnings
Tommy took Robert's advice and became a part of the Carlyle's Raindog Theatre Company, and it was with it that Tommy made his acting debut. His first on-stage appearance was in the play "Wasted I and II", while he also featured in "MacBeth", and "One Flew Over the Cuckoo's Nest". After this, he switched to television, and made his on-screen debut in 1993 with a minor role in the TV series "Taggart". Two years later, he had his first big break with the role of Morrison in the historical drama film "Braveheart", starring Mel Gibson, who also directed the film. Tommy enjoyed fame throughout the second half of the '90s, first with the part of Scarface in the film "The Saint" (1997), then as Leo in yet another successful film ,"Face/Off", and the lead role in the drama film "Ratcatcher" (1999), written and directed by Lynne Ramsay.
Rise to Prominence
Gradually Tommy was becoming more popular, and with the new millennium he started getting more prominent roles; he was Cicero in the adventure drama film "Gladiator" in 2000, with Russel Crowe, Joaquin Phoenix,and Connie Nielsen in the lead roles, then the lead role in the action-adventure film "Dead Dogs Lie" in 2001, and the following year he had a supporting role in the action crime film "All About the Benjamins", with Ice Cube as the star. In 2004, Tommy had a notable role in the sci-fi action horror film "Alien vs. Predator", while in 2005 he was Brian in the highly-acclaimed film "Sin City", starring Mickey Rourke, Clive Owen and Bruce Willis.
"Sons of Anarchy" and Recent Work
Tommy's hard work paid off in 2008, when he was chosen for the role of the outlaw biker Filip 'Chibs' Telford, featuring in all 92 episodes of the Golden Globe Award-winning series "Sons of Anarchy", which confirmed him as a star in the acting world. During this tenure, Tommy worked on other projects, but nothing worth mentioning. Once the "Sons of Anarchy" ended, Tommy started looking for a new engagement, and in 2015 starred in the drama film "Winter". Two years later, Tommy secured a supporting role in the western film "The Ballad of Lefty Brown", in which Bill Pullman had the lead role, while Peter Fonda and Stephen Alan Seder were right next to him. Most recently, Tommy starred in the action crime film "Killers Anonymous" (2019), and will portray Alec McCullough in the TV series "Wu Assassins", scheduled for release late in 2019. He is also working on several other films, including "American Fighter", "The Chickasaw Rancher", and "Casey & Mary", among others.
Tommy Flanagan Net Worth
Since launching his career, Tommy has featured in more than 60 film and TV titles, all of which have increased his wealth. So, have you ever wondered how rich Tommy Flanagan is, as of mid- 2019? According to authoritative sources, it has been estimated that Flanagan's net worth is as high as $3 million, which is quite impressive, don't you agree? Undoubtedly, his wealth will increase in the upcoming years, assuming that he successfully continues his career.
Tommy Flanagan Personal Life, Marriage, Children, Wife
What do you know about Tommy's personal life? Well, Tommy has been quite open about the  ups and downs from his personal life. He has been married three times and divorced twice; his first wife was Rachel and the two were married from May 1998 until 2001. His second marriage was to Jane Ford, from December 2007 until June 2010, then in August the same year, Tommy married his third wife, Dina, with whom he has a daughter together, Aunjanue, born in 2012.
Tommy Flanagan Internet Presence
Over the years, Tommy has become quite popular on social media platforms, especially Instagram and Twitter His official Instagram page has more than 470,000 followers, with whom he has shared his most recent career endeavors, such as the release of the film "Killers Anonymous", among other posts. Tommy is active on Facebook, with over 235,000, while you can find him on Twitter as well, on which he has more than 230,000 loyal fans.
How you Boab @robertcarlyle_ working wi this sensible fella @Michaelsocha dam fine fella dam good man #KillersAnonymous pic.twitter.com/VD1anhKC0D

— Tommy Flanagan (@TommyFlanagan) April 12, 2018
So, if you aren't already a fan of this prominent actor, then this is a perfect opportunity for you to become one, just skip over to her official pages, and see what he is up to next, both personally and professionally.
General Info
| | |
| --- | --- |
| Full Name | Tommy Flanagan |
| Date Of Birth | July 3, 1965 |
| Place Of Birth | Glasgow, United Kingdom |
| Height | 1.83 m |
| Profession | Actor |
| Nationality | Scottish |
Family
| | |
| --- | --- |
| Spouse | Dina Livingston, Jane Ford, Rachel Flanagan |
| Children | Aunjanue Elizabeth Flanagan |
| Parents | Elizabeth Flanagan, David Flanagan |
| Siblings | Andrew Flanagan |
Accomplishments
| | |
| --- | --- |
| Music Groups | Dave Bailey |
| Movies | Gladiator, Braveheart, Guardians of the Galaxy Vol. 2, When a Stranger Calls, Alien vs. Predator, All About the Benjamins, Sin City, Smokin' Aces, Face/Off, Running Wild, Ratcatcher, Smokin' Aces 2: Assassins' Ball, The Saint, Sand Castle, Strictly Sinatra, Hero Wanted, Plunkett & Macleane, Sunset S... |
| TV Shows | Sons of Anarchy, Peaky Blinders, Attila |
Social profile links
Marks
| # | Marks / Signs |
| --- | --- |
| 1 | Thick scottish accent |
| 2 | Two facial scars, one on each side of his face, known as a 'Glasgow Grin' or a 'Glaswegian Smile'. Result of being attacked by thugs in Scotland. |
Quotes
| # | Quote |
| --- | --- |
| 1 | Acting never crossed my mind for a moment when I was growing up. |
| 2 | I do miss Glasgow but Malibu is home now. I love it here and when I do go back to Scotland it takes me a bit of time to acclimatise. I am a spoilt so-and-so. I live in the mountains of Malibu in the most gorgeous house and I phone my mum every day and tell her that I have got bad news - that it is only 70 degrees here. |
Facts
| # | Fact |
| --- | --- |
| 1 | Born on the same day as Gladiator (2000) co-star Connie Nielsen. |
| 2 | He appeared in two Best Picture Academy Award winners: Braveheart (1995) and Gladiator (2000). |
| 3 | Portrays two different characters, in two very different genres, who has his wife forcibly taken by another man, and who seeks his revenge, murdering his adulterous enemy, and then spitting on the corpse: Braveheart (1995) and Sons of Anarchy (2008). |
| 4 | He got his famous scar when, walking home after a DJ gig, he was attacked by a group and cut with a knife. |
| 5 | His brother Andrew is also an actor who is based in Glasgow. |
| 6 | He says he likes the rain and misery of Scotland over the sun of California. |
| 7 | His Father died in January 2002. |
Pictures
Movies
Actor
| Title | Year | Status | Character |
| --- | --- | --- | --- |
| Jammerzine's The Week in #Indie | 2016 | TV Series | The Angel (segment "The Winachi Tribe")) |
| Wild for the Night | 2016 | | Kipling |
| Motive | 2016 | TV Series | Jack Stoker |
| Winter | 2015/I | | Woods Weston |
| Gotham | 2015 | TV Series | Tom the Knife |
| Revenge | 2015 | TV Series | Malcolm Black / Douglas Taylor / Agent Ted Powell |
| Sons of Anarchy | 2008-2014 | TV Series | Filip 'Chibs' Telford |
| Peaky Blinders | 2013 | TV Series | Arthur Senior |
| Officer Down | 2013/II | | Father Reddy |
| Sons of Anarchy: Farewell Piney | 2012 | Video short | Filip 'Chibs' Telford |
| Law & Order: Special Victims Unit | 2012 | TV Series | Murphy |
| Detroit 1-8-7 | 2011 | TV Series | Albert Stram |
| Luster | 2010 | | Les |
| Sons of Anarchy: Happy Ending Roundtable | 2010 | Video short | Filip 'Chibs' Telford |
| Lie to Me | 2010 | TV Series | Ron Marshall |
| Swifty & Veg | 2010 | Short | Swifty |
| Smokin' Aces 2: Assassins' Ball | 2010 | Video | Lazlo Soot |
| 24 | 2009 | TV Series | Gabriel Schector |
| Hero Wanted | 2008 | | Derek (as Thomas Flannigan) |
| CR: Alien vs. Predator | 2007 | Video Game | Mark Verheiden |
| Smokin' Aces | 2006 | | Lazlo Soot |
| The Last Drop | 2006 | | Pvt. Dennis Baker |
| When a Stranger Calls | 2006 | | Stranger |
| Sin City | 2005 | | Brian |
| AVP: Alien vs. Predator | 2004 | | Mark Verheiden |
| Trauma | 2004/I | | Tommy |
| Charlie's Angels: Full Throttle | 2003 | | Irish Henchman |
| All About the Benjamins | 2002 | | Williamson |
| Dead Dogs Lie | 2001 | | Michael |
| Strictly Sinatra | 2001 | | Michaelangelo |
| Attila | 2001 | TV Mini-Series | Bleda |
| Hidden | 2000 | Short | McCracken |
| Sunset Strip | 2000 | | Duncan (as Tommy J. Flanagan) |
| Rebus | 2000 | TV Series | Thomas Telford |
| Gladiator | 2000 | | Cicero |
| Ratcatcher | 1999 | | Da |
| Plunkett & Macleane | 1999 | | Eddie |
| The Detail | 1997 | | |
| The Game | 1997 | | Solicitor / Taxi Driver |
| Face/Off | 1997 | | Leo (as Tommy J. Flanagan) |
| The Saint | 1997 | | Scarface |
| Bad Boys | 1996 | TV Series | Harry |
| A Mug's Game | 1996 | TV Series | Paul |
| Rab C. Nesbitt | 1996 | TV Series | Sean |
| Jolly: A Life | 1995 | TV Movie | Man at Grotto |
| Braveheart | 1995 | | Morrison |
| Tis' the Season to be Jolly | 1993 | TV Movie | Prisoner |
| Taggart | 1993 | TV Series | Tam McLeod |
| Screen One | 1992 | TV Series | |
| 3 Way Junction | 2017 | post-production | Nick |
| Guardians of the Galaxy Vol. 2 | 2017 | post-production | Tullk |
| Running Wild | 2017 | completed | Jon Kilpatrick |
| Adolescence | 2017/II | post-production | Shepherd |
| Sand Castle | 2017 | post-production | |
| Papillon | | post-production | |
| The Ballad of Lefty Brown | | filming | Tom Harrah |
| The Jesuit | | post-production | Jet Rink |
Thanks
| Title | Year | Status | Character |
| --- | --- | --- | --- |
| Smokin' Aces 2: Assassins' Ball - Confessions of an Assassin | 2010 | Video documentary short special thanks | |
Self
| Title | Year | Status | Character |
| --- | --- | --- | --- |
| The 83rd Annual Hollywood Christmas Parade | 2014 | TV Movie | Himself |
| Conan | 2014 | TV Series | Himself - Guest |
| Entertainment Tonight | 2014 | TV Series | Himself - Sons of Anarchy |
| Intercoarse with Kurt Sutter | 2014 | TV Series | Himself |
| Smokin' Aces 2: Assassins' Ball - Confessions of an Assassin | 2010 | Video documentary short | Himself - Lazlo Soot |
| Deep Inside | 2010 | TV Series | Himself |
| Up Close with Carrie Keagan | 2010 | TV Series | Himself |
| Sons of Anarchy Season 1: Casting 'Sons of Anarchy' | 2009 | Video short | Himself - Filip 'Chibs' Telford |
| Sons of Anarchy Season 1: The Bikes | 2009 | Video short | Himself - Filip 'Chibs' Telford |
| Sons of Anarchy Season 1: The Ink | 2009 | Video short | Himself - Filip 'Chibs' Telford |
| All About the Stunts | 2002 | Video documentary short | Himself |
| Miami Nice | 2002 | Video documentary short | Himself |
| Strictly Business: Making 'All About the Benjamins' | 2002 | Video documentary short | Himself |
Archive Footage
| Title | Year | Status | Character |
| --- | --- | --- | --- |
| Behind the Scenes with Joe Carnahan | 2010 | Video documentary short | Lazlo Soot (uncredited) |
| Ultimate Fights from the Movies | 2002 | Video documentary | Cicero (Gladiator) |
Awards
Won Awards
| Year | Award | Ceremony | Nomination | Movie |
| --- | --- | --- | --- | --- |
| 2002 | Copper Wing Award | Phoenix Film Festival | Best Ensemble Acting | Dead Dogs Lie (2001) |
Source:
IMDb
,
Wikipedia