Who is Cynthia Rhodes?
Cynthia is an American retired actress, singer and dancer, best known for her roles as Penny Johnson in the film "Dirty Dancing" (1987) alongside Patrick Swayze and Jennifer Grey, and as Stacie Hansen in "Flashdance" (1983), in addition to several other roles she's had in her career.
Is Cynthia Rhodes Still Married?
Cynthia was married to singer Richard Marx – known for songs such as "Right Here Waiting", "Hazard", and "Hold On to the Nights", and others – from 1989 until 2014. Marx's representative confirmed their separation, while the reason behind their divorce was never explained. Less than a year later, Richard Marx married Cuban-American actress Daisy Fuentes.
Cynthia Rhodes Wiki: Age, Childhood, and Education
Cynthia Rhodes was born on 21 November 1956, in Nashville, Tennessee USA, the daughter of Adrian Rhodes and Edna Rhodes. Raised in a Baptist family, Cynthia attended Glencliff High School; during her high school years, she launched her career in the entertainment industry by singing and dancing. She would reject roles and appearances that demanded nudity of her, as she wanted to keep the clean-cut image of a Baptist girl. She even refused a Playboy magazine call.
Career Beginnings
Cynthia Rhodes made her debut on-screen appearance as an ensemble dancer in the film "Xanadu" (1980), starring Olivia Newton-John and Gene Kelly. The film follows a young artist who teams up with a mystical muse to open a roller disco nightclub. Despite initial commercial disappointment, "Xanadu" gained a cult following for its music and unique style over the years.
Two years later, Cynthia was featured in "The Tubes Video", a 52-minute music video production directed by Russell Mulcahy and choreographed by Kenny Ortega. She was one of three backup dancers for the rock band The Tubes. The video included popular songs such as "Talk to You Later", "Sushi Girl", "Sports Fans", and "Mondo Bondage".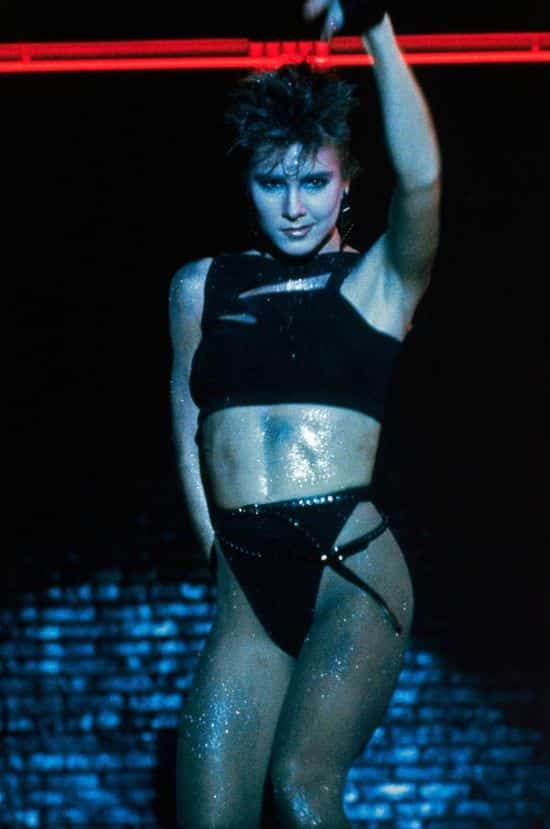 Rise to Stardom
Cynthia Rhodes's breakthrough came with her major role as Tina Tech in "Flashdance" (1983), alongside Jennifer Beals. The film revolves around a young woman aspiring to be a professional dancer, while working as a welder. Her role helped establish her career, setting the stage for her subsequent notable roles, ultimately propelling her to stardom.
Cynthia next starred alongside John Travolta in Sylvester Stallone's 1983 film "Staying Alive", a sequel to the popular 1977 movie "Saturday Night Fever", with Rhodes portraying Jackie, an ensemble dancer, bar band singer and occasional romantic interest of Travolta's character. Despite facing criticism, the film enjoyed strong box office success, further contributing to Rhodes's rising prominence in the industry.
Cynthia then made a guest appearance in "Fantasy Island" (1984) as Marlise in the episode "Goin' on Home/Ambitious Lady", following which she portrayed Officer Karen Thompson in the science fiction film "Runaway" (1984), starring Tom Selleck. "Runaway", set in a future in which specialized robots malfunction and go on the rampage, requiring a specialized police unit to handle them.
Cynthia Rhodes achieved enduring success with her portrayal of Penny Johnson in the beloved cult classic "Dirty Dancing" (1987), a skilled dance instructor, pivotal to the film's plot. Set in the summer of 1963, the story follows Frances "Baby" Houseman (Jennifer Grey) as she discovers love and self-confidence through her experiences at a Catskills resort. Penny, Baby's friend and dance partner, faces a crisis that drives the central conflicts of the film. "Dirty Dancing" became a cultural phenomenon, with its memorable music, iconic dance sequences, and timeless theme of romance.
Before retiring, Cynthia Rhodes continued her acting career by starring in the film "Curse of the Crystal Eye" (1991), sharing the screen with Jameson Parker and Mike Lane. Directed by Joe Tornatore, the film featured a storyline that takes the protagonist through Asia and Africa in pursuit of Ali Baba's treasure.
21 November, 1956, Cynthia Rhodes (58) was born, famous for her roles in Staying Alive (83) & Dirty Dancing (87) pic.twitter.com/oBeO3HRRzs

— On This Day In Film (@onthisdayinfilm) November 22, 2014
Music Career and Music Videos Appearances
Cynthia Rhodes's influence extended beyond acting, as she made her mark in the music industry, showcasing her dance skills in notable music videos, including Toto's "Rosanna", the Bee Gees' "The Woman in You", and Richard Marx's "Don't Mean Nothing".
Later, Rhodes joined the pop group Animotion, taking over as the lead singer from Astrid Plane, for the creation of their third album. While their single "Room to Move" (featured in the film "My Stepmother Is an Alien") reached No. 9 on the Billboard charts, the album itself didn't replicate the group's earlier success, reaching only No. 110 on the pop charts. Subsequently, the group disbanded.
In 2002, Rhodes and her then-husband Richard Marx co-wrote the smooth jazz track "Perfect Day" for trumpeter Chris Botti's holiday album "December".
Net Worth
According to authoritative sources, Cynthia Rhodes's net worth is estimated at $9 million as of mid-2023.
Personal Life, Marriage, Husband, Children
Cynthia Rhodes's personal life took a significant turn when she met singer-songwriter Richard Marx in 1983. The two crossed paths while Marx was contributing to the soundtrack for motion picture "Staying Alive". Notably, Rhodes, who was seven years older than Marx, initially considered him too young for a romantic involvement.
However, fate had other plans. Their romance didn't blossom until two years later, when they were reacquainted at a party, which encounter marked the beginning of their relationship. The couple had three children, all boys, and following their birth, Cynthia chose her family over her career, and retired. However, the couple divorced in 2014, since when Cynthia has apparently remained single.
Appearance and Body Measurements
Cynthia Rhodes has blonde hair and green eyes. She stands at a height of 5ft 7ins (1.7m), weighs approximately 125lbs (56kgs), with vital statistics of 33-24-33, and bra size 36A.