Who is Jim Carter?
Famous British actor James Edward 'Jim' Carter was born under the zodiac sign Leo in Harrogate, Yorkshire, England, on 19 August 1948. He has 155 acting credits, but is perhaps known best for voicing Cogman in the 2017 action adventure science fiction movie "Transformers: The Last Knight", which starred Anthony Hopkins and Mark Wahlberg, and was directed by Michael Bay. It follows the Decepticons and the Autobots as they're racing to find a lost artifact, while Optimus Prime has encountered his creator in space; the movie won three of its 23 award nominations.
Jim's not the president of any country, and is not to be mistaken for American politician and humanitarian James Earl 'Jimmy' Carter Jr, who was the 39th President of the United States from 1977 through 1981.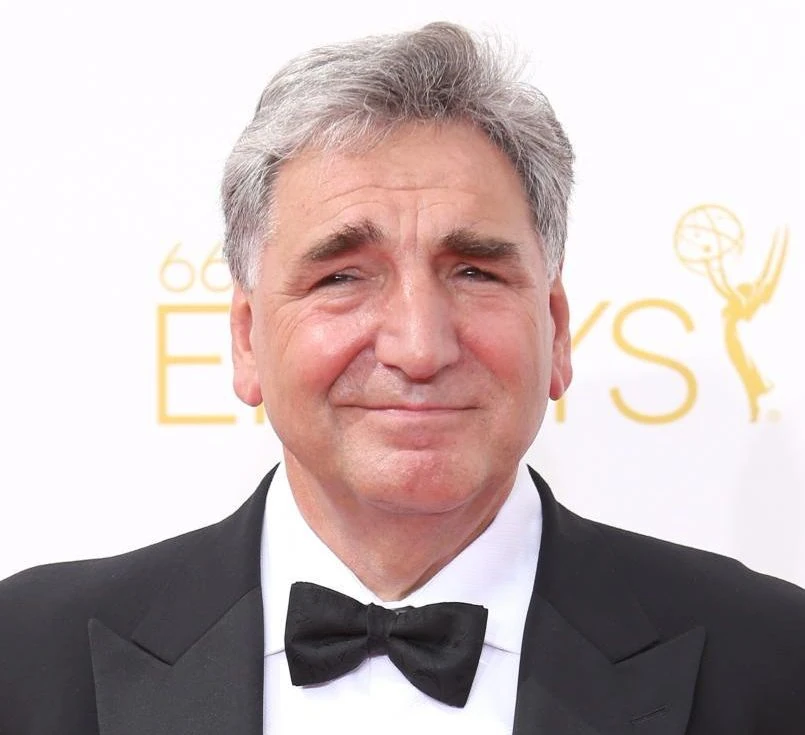 Education and early life
Jim was raised in Harrogate by his father who was employed by the Air Ministry, and mother who was a land girl and a school secretary; not many details have been shared about Jim's family, because he respects their privacy, and he hasn't spoken about having siblings, which is why he's widely believed to be an only child.
Jim studied at Ashville College (high school) and was into several activities during his time there, as he enjoyed playing cricket, running track and appearing in school plays. He matriculated in 1966, and then enrolled at the University of Sussex to study law; Jim was a member of the Drama Society during his time there, and starred in the first play to ever be performed at the newly built theatre Gardner Arts Center – "Serjeant Musgrave's Dance".
He dropped out of college in 1968, moved to Brighton, England and joined a fringe theatre group; Jim remained focused on theatre for the following 12 years, prior to launching his career on TV.
Roles in theatre
The year 1969 saw Jim appear in Howard Brenton's play "Gum and Goo" at Brighton Combination, and was paid £5 a week; he had previously appeared in "Winter Daddykins" by Howard, also at Brighton Combination, but wasn't paid.
Jim starred in a production of "Come Together" at the Royal Court Theatre in London, England in 1970, and the cast was featured on the cover page of the magazine "Plays and Players" in December of the same year. He went on to join the Newcastle University Theatre, and from 1974 through 1976, Jim toured the US with the Ken Campbell Roadshow.
He joined the Phoenix Theatre in 1977, and then the National Theatre Company, starring in a production of "The Hunchback of Notre Dame" performed at Cottesloe Theatre.
Jim joined Young Vic Company in 1978, and appeared in a production of "The Tempest" as Stephano, while he then played Mephistopheles in "Faust", and Buckingham in "Richard III". He then moved to the US and studied tightrope walking, unicycling and juggling at a circus school.
From 21 May through 29 June 1980, Jim played the characters Poet, Marullus and Trebonius in a production of "Julius Caesar".
He then focused his career on TV, and his next notable performance was starring in a 2005 production of "The President of an Empty Room" at the National Theatre; this was his first theatre role in 14 years.
Roles in TV series
Jim's debut TV series role was playing Cliff Ryan in two episodes of the 1980 drama "Fox", and he was then cast to appear in an episode of the comedy "Not the Nine O'Clock News", another comedy "Danger: Marmalade at Work", and the crime drama "The Bill".
The year 1986 saw him play Mr. Marlow in five episodes of the musical mystery mini-series "The Singing Detective", which starred Patrick Malahide and Michael Gambon, and follows a mystery author who's being tormented and bedridden by a horrible disease; the mini-series won six of its 14 award nominations. The remainder of the '80s saw Jim appear in an episode or two of the crime drama "King & Castle", the drama mini-series "A Very British Coup", and the biographical drama "Christabel".
In 1993 and 1994, Jim played Tomkins in two episodes of the crime comedy "Minder", which starred Glynn Edwards, George Cole and Dennis Waterman, and was created by Leon Griffiths. It follows small-time conman Arthur Daley who's hired former boxer Terry McCann to be his bodyguard, and the series was nominated for two awards.
What also marked the '90s for Jim was starring as Maxie Morrell in all three episodes of the 1997 musical war comedy mini-series "Ain't Misbehvin'", which also starred Robson Green and Jerome Flynn, and follows bandsmen Eric and Eddie and their misadventures with romance and gangsters. The remainder of the '90s saw Jim appear in an episode of the adventure family fantasy mini-series "Arabian Nights" and the adventure "The Scarlet Pimpernel".
From 2007 through 2009, he played Captain Brown in all seven episodes of the popular drama "Cranford", which starred his wife Imelda Staunton and Judi Dench, and was created by Susie Conklin and Sue Birtwistle. Set in 1840s Cranford, the series follows a group of ladies as their rural market-town is being approached by the Industrial Revolution, and the series won 16 of its 72 award nominations.
Congratulations to Jim Carter for his @televisionacad nomination for Supporting Actor in a Drama Series. #Downton pic.twitter.com/bjnNTHwrMx

— Downton Abbey (@DowntonAbbey) July 11, 2014
Jim's today perhaps known best for playing Charles Carson in all 52 episodes (2010-2015) of the hit romantic drama "Downton Abbey", which Julian Fellowes created, and starred Elizabeth McGovern and Hugh Bonneville. It follows the members of the wealthy Crawley family, and the series won 59 of the 288 awards for which it was nominated.
Jim's since had only a single TV series role, playing Pope Boniface in 11 episodes of the action adventure "Knightfall" (2017-2019).
Roles in movies
Jim's debut film role was playing Azurian Man in the popular 1980 action science fiction adventure "Flash Gordon", which starred Melody Anderson and Sam J. Jones, and was directed by Mike Hodges. It follows a Football Player who's travelled with his friends to the planet Mongo in an attempt to prevent the destruction of Earth, and the movie won two of its 14 award nominations.
The year 1984 saw Jim appear in the musical crime comedy "Top Secret!", the fantasy horror "The Company of Wolves" and the comedy "A Private Function". In 1986, he starred as Montego in the comedy "Haunted Honeymoon", which was written and directed by Gene Wilder, who also starred in it; it follows a psychologist who's trying to cure a radio voice actor of his various fears at a scary family castle – the film won only a single award. The remainder of the '80s saw Jim appear in the 1987 drama "A Month in the Country", the 1988 sports drama "The First Kangaroos", and the 1990 adventure family comedy "The Witches".
The year 1992 saw him play Sergo in the biographical crime drama "Stalin", which starred Robert Duvall and Julia Ormond, and was directed by Ivan Passer. It follows the life and death of Soviet dictator Iosef Stalin, and the movie won 11 of its 25 award nominations. Some of Jim's notable performances in the remainder of the decade were in the 1993 crime mystery "The Advocate", the 1995 science fiction war drama "Richard III", and the 2000 family adventure comedy "The Little Vampire".
In 2003, he starred as Etheridge in the war adventure "Hornblower: Duty", which also starred Robert Lindsay and Ioan Gruffudd, and was directed by Andrew Grieve. The movie follows Hornblower whose wedding's been interrupted by Admiral Pellew, who wants him to locate a missing British ship; the movie was nominated for four awards. Some of Jim's following roles were in the 2003 crime drama "16 Years of Alcohol", the 2007 adventure family fantasy "The Golden Compass", which won an Oscar for Best Achievement in Visual Effects, and the 2008 crime horror mystery "The Oxford Murders".
Jim's since had only a couple of film roles, and his three most recent have been in the 2019 crime mystery "The Good Liar", and in 2022 the romantic drama "Downton Abbey: A New Era" and the animated adventure comedy "The Sea Beast" (voice role).
Other credits
Jim received special thanks for the 1992 western comedy movie "The Ballad of Kid Divine: The Cockney Cowboy".
He sang the song "Paper Doll" in the 1986 episode "Lovely Days" of the mini-series "The Singing Detective" and the song "Dashing Away with the Smoothing Iron" in a 2012 episode of the series "Downton Abbey".
Jim narrated the 2013 documentary movie "Attack of the Zeppelins".
Some of his recent talk-show appearances have been in "Brydon &", "Hollywood Insider" and "Portrait Artist of the Year".
Awards and nominations
From 2013 through 2017, Jim and his colleagues were nominated for five Screen Actors Guild Awards for Outstanding performance by an Ensemble in a Drama Series, for their performance in "Downton Abbey", and won in 2013, 2015 and 2016. Jim was also nominated for four Primetime Emmys for Outstanding Supporting Actor in a Drama Series from 2012 through 2015, all for "Downton Abbey".
He's won only one other award: a 1999 Screen Actors Guild Award for Outstanding Performance by a Cast, for his and his colleagues' performance in "Shakespeare in Love".
Love life and marriage
Jim rarely speaks about his love life in public, but it's known that he's been a married man for around four decades now.
He and British actress Imelda Mary Philomena Bernadette Staunton met during rehearsals for "Guys and Dolls" in January 1982, when Jim was 34 and Mary was 26. They married in a small and private ceremony in October 1983, and Imelda gave birth to their daughter Bessie Beatrice Carter on 25 October; Bessie's an actress, producer and director with 14 acting credits to her name, and is perhaps known best for portraying Ensemble Factory Woman in the 2012 romantic musical movie "Les Miserables", which won 85 of its 262 award nominations, including three Oscar wins.
Imelda's appeared in 112 movies and TV series, and has won 25 of her 66 award nominations; she was nominated for a 2005 Oscar for Best Performance by an Actress in a Leading Role, for "Vera Drake".
There are no other women whom Jim's perhaps been with, that we know about; he's been married to Imelda Mary Philomena Bernadette Staunton for nearly four decades now, and they have a daughter together.
Interesting facts and hobbies
After 21 years of marriage, Jim revealed that he and Imelda had spent only three weeks apart.
He and his wife are both huge lovers of animals, and they have a pet terrier dog Molly.
Jim's a huge fan of cricket and was the chairman of Hampstead Cricket Club.
He loves to cycle, and has ridden for a number of charity causes; he's ridden in Costa Rica, Jordan and Laos, amongst various other countries, and has raised £8,670, a lot more than his intended £2,750.
In 2019, Jim was appointed Officer of the Order of the British Empire (OBE) by Queen Elizabeth, for services to the entertainment industry.
Close to 1,000 people are following Jim's fan-made Instagram page today, and 15 pictures and videos have been uploaded onto it.
One of his favorite actors is Jude Law, and some of his favorite movies include "Road to Perdition", "Sherlock Holmes" and "The Talented Mr. Ripley".
Appearance and net worth
Jim's age is 75. He has brown eyes and gray hair, weighs around 210lbs (95kgs) and is 6ft 2ins (1.88m) tall.
Jim's net worth's been estimated at over $4 million, as of August 2023.