• Isa Soares is a reporter and anchor for CNN
• She was born in Lisbon, Portugal and holds Portuguese nationality
• Isa graduated from King's College London and the University of Bristol
• She is married and has two sons
• Isa is highly active on social media, with a net worth estimated to be close to $500,000
 
Who is Isa Soares?
Isa was born in Lisbon, Portugal on 6 January under the zodiac sign of Capricorn but she has not shared her exact year of birth with the public – Isa holds Portuguese nationality and belongs to Caucasian ethnicity. She is best known for the work which she has done as a reporter and an anchor for CNN.
Early life and education
Isa rarely talks about her childhood or her parents and siblings, and therefore nothing is known about them. She spent the first 11 years of her life in Lisbon and afterwards moved to London with her family – after she matriculated from a local high school, she enrolled at King's College London from which graduated with a Bachelor's degree in Hispanic and Lusophone studies while her parents went back to Portugal – she continued her education at the University of Bristol from which she obtained her Master's degree in International relations and Economics.
Career
As soon as she got her master's degree, Isa began working as an intern for the CNN, after which she moved to be a producer and reporter for the "Quest Means Business" program alongside Richard Quest. She didn't stay with them for too long as she began working for CNN Espanol, for which she covered all the significant business stories from London.
During the years which she has spent working for CNN in its bureau in London, she has become extremely versatile  across a variety of newsworthy events – she's had the opportunity to interview numerous business leaders, such as the CEOs of Pirelli, Lufthansa and Vodafone, as well as numerous celebrities from various fields such as the LVMH CEO Bernard Arnault, famous tennis player Rafael Nadal, and remarkable footballer Pelé. Isa also covered the Royal Wedding of Prince William in 2011, the 2014 Soccer World Cup, sand was there to report from Paris after the terrorist attack in 2015, and from Nice after a similar attack in 2016. She covered the unemployment rate in Portugal and Spain, as well as the Greece's IMF bailout, and the economic consequences of the conflict in Ukraine, the rebirth of the anti-Semitism movement in France, the Ebola disease which began spreading in the western Africa, and the Scottish Independence Referendum.
Isa won an Association for International Broadcasting (AIB) Award for covering the migrant crisis in the Mediterranean area.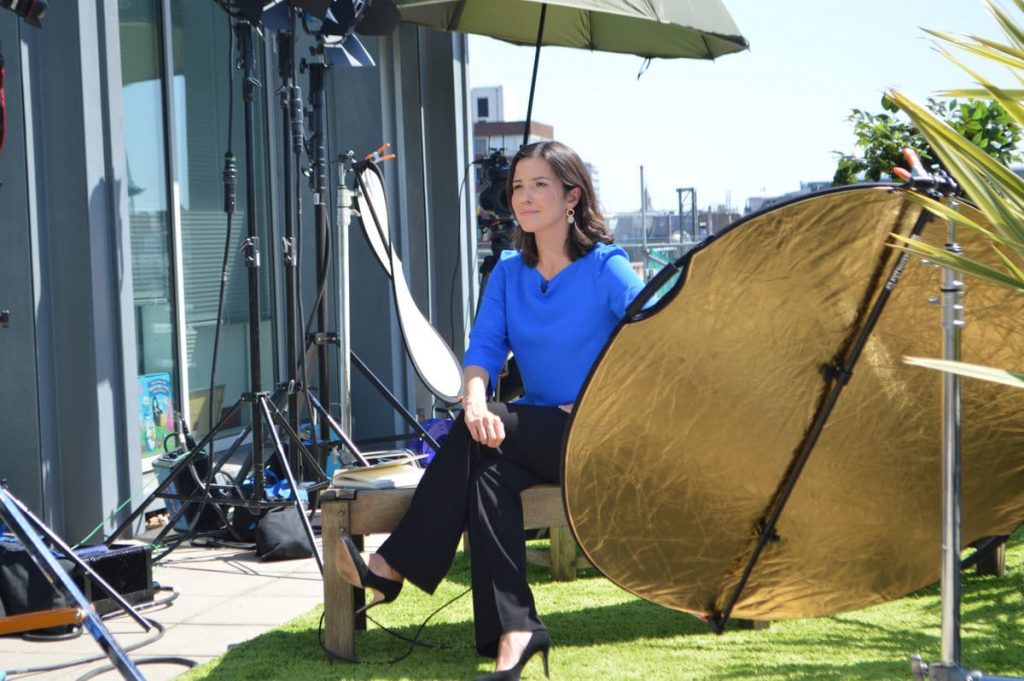 CNN Network
Cable News Network (CNN) is a pay TV channel owned by Warner Media News and Sports which is a subsidiary of AT&T Warner Media. The network was launched in 1980 by Ted Turner as a 24/7 cable news channel – at the time of its launch, it was the first TV channel to provide 24/7 news coverage.
CNN primarily broadcasts from New York City's Time Warner Center, and from its studios in Washington D.C. and Los Angeles, while its headquarters are located in Atlanta, Georgia. It has studios outside of the US such as in London, Mumbai, Hong Kong, and Abu Dhabi – the network goes by numerous slogans including "The most trusted name in news", "The worldwide leader in news", "Reporting from around the world", and "The world's news leader".
Based on various statistics, CNN is available in over 100 million US houses, and can be watched in nearly 900,000 hotel rooms throughout US, while it can be seen by people in more than 200 countries around the world.
Personal life and marriage
Isa is one of those people who have chose to remain secretive about their love life – she is a married woman but hasn't shared anything about her husband including his name and profession, although she sometimes shares pictures of him on her Instagram account and addresses him as 'Danny'. The family counts four people as they have two sons, first-born Tomas, while Isa recently gave birth to their second son Nicolas.
Danny appears to be a Caterham Racer as Isa recently congratulated him for winning race on her Instagram account.
Likes and other interests
Isa is very fond of travelling which is why her current job of a reporter suits her – she has traveled to numerous locations in both South and North America as well as Europe to cover stories. She also used to travel a lot with her husband before she became mum to their two boys – she is trying to be the best mother she can but it is sometimes hard as her job takes most of her time. Isa loves to read, mostly several newspapers to stay updated about all the events which are happening in the region and wider.
Philanthropy
Even though Isa is quite a busy woman having to work for CNN and raising her two sons, she still finds time to do some charity work – she started a fundraising campaign for Refuge, a UK charity organization whose goal is to end domestic violence against women and children – the goal was to raise £3,600, and to date she's raised £2,500.
I've never imagined that in this day and age, professional women from #Venezuela, would find themselves at the point of having to sell sex to survive. I meet a nurse & an attorney who do "the impossible" to put food on the table.? @joseCNN & ?@NGallonCNN watch @cnni Monday pic.twitter.com/t85gIJenOS

— Isa Soares (@IsaCNN) February 11, 2019
Appearance and net worth
Isa's current age is not known as she has not shared the exact year of her birth with the public. She has long black hair and brown eyes, but her height and weight are not known.
According to authoritative sources, Isa's current net worth is estimated to be close to $500,000 but is rising as CNN anchors are said to be earning an annual minimum salary of $75,000.
Fun fact
Isa can speak English, Spanish, French and Portuguese fluently.
Social media presence
Being a professional reporter and an anchor having to bring all the breaking news to the public, Isa is being very active on several social media platforms so that she could bring updates even when she's not at the station. She launched her Twitter account in October 2011 and has gathered over 10,000 followers, and tweeted around 7,600 times. Her Instagram account is followed by over 3,500 people while she's posted nearly 1,100 pictures – she has a Facebook page as well which is 'liked' by nearly 5,500 people.
Trivia
Isa is not to be mistaken for Brazilian dancer and activist Isa Soares, who was born in 1953.
Source:
IMDb
,
Wikipedia