-Jacqui Ainsley is Guy Ritchie's second wife and a successful model.
-She was born in 1981 and studied accounting at Essex University before dropping out to pursue modeling.
-Her modeling career started in the late 1990s, and she has worked for various agencies and brands.
-Jacqui has appeared in the film "King Arthur: Legend of the Sword" and has a net worth of $4 million.
-She is married to Guy Ritchie and they have three children together.
 
Who is Jacqui Ainsley, Guy Ritchie's Wife?
Guy Ritchie is a rather acclaimed film director, who with the recent film "Aladdin" secured his name on the all-time Hollywood greats list. His popularity has also benefited people close to him, including his second wife, Jacqui Ainsley – his first wife was Madonna, with whom he has a son Rocco John Ritchie, and an adopted baby boy from Malawi, named David. Jacqui has achieved stardom on her own by working as a model, especially with Premier Model Management and Elite Models, among other agencies.
Jacqui Ainsley Wiki: Age, Childhood, and Education
Jacqui Ainsley was born on the 28th November 1981, in Southend, Essex England, and is the daughter of Robert Ainsley and his wife Janet, a film teacher and an English teacher respectively. From an early age, Jacqui became interested in modeling, and did all to follow her dreams during her growing up. For her education, after high school Jacqui enrolled at Essex University, where she studied accounting, however, she never finished her studies, instead dropping-out to pursue a modeling career.
Career Beginnings
It was in the late '90s that Jacqui's career started, when she signed a deal with the Premier Model management agency, headquartered in London. This was a great start for her, as she soon reached other cities including in the US, by signing a contract with Heffner Model Management in Seattle. Gradually Jacqui was becoming more popular, new deals were offered, and as a result she joined German Modelwerk, while became a part of IQ Models in Istanbul, and Fair Model Management in Vienna.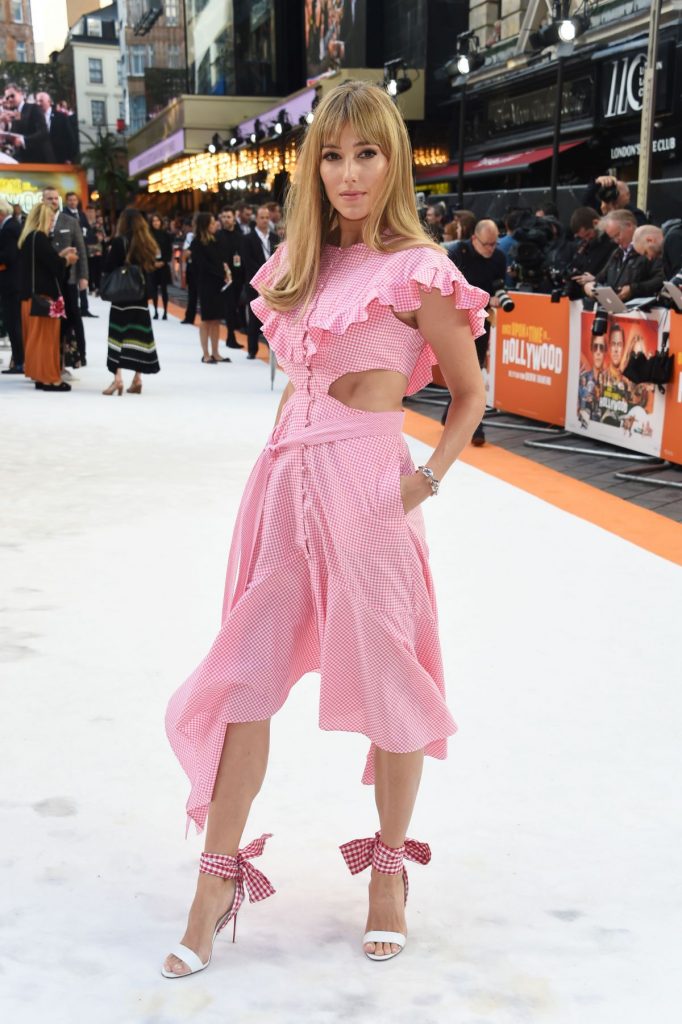 Rise to Prominence
As her modeling career developed at a steady rate, Jacqui was becoming more popular around the world; she ultimately reached Elite Models, first in New York, and then Miami, Barcelona, and even Amsterdam, modeling for the agency in various cities. She started collaborating with a number of high-profile brands, including Samsung, Sunsilk, ASOS, Virgin Atlantic and more, while she has also graced the pages of numerous fashion magazines, such as Cosmopolitan, Tatler, and was also appeared on the cover of Night & Day, The Sunday Times Travel, and You Magazine, among others, all of which have contributed to her wealth.
To speak further of her accomplishments, in recent years Jacqui has also tried herself as an actress, appearing in the film "King Arthur: Legend of the Sword" in 2017. Though it was only a minor role, Jacqui was noticed by scouts and agents, so there is a chance we might see her in more projects.
Jacqui Ainsley Net Worth
Although Jacqui's career hasn't been as successful as that of her husband, her professional aspirations and accomplishments have certainly increased her wealth to a large degree. So, do you know just how rich Jacqui Ainsley is, as of early 2020?
According to authoritative sources, it has been estimated that Ainsley's wealth is as high as $4 million, which is rather decent, don't you think, although nothing in comparison to her husband, Guy Ritchie's wealth, as it's estimated at $150 million?
Jacqui Ainsley Personal Life, Marriage, Husband, Children
Jacqui's popularity increased when it was announced that she and Guy Ritchie were in a relationship; they started dating in 2010 ,and five years later tied the knot. This was Guy's second marriage, as he was previously married to Madonna. The couple has now welcomed two sons, Rafael and Levi, and a daughter Rivka.
Jacqui Ainsley Internet Fame
Over the years, Jacqui has transferred her popularity to social media platforms, especially on her official Instagram page using her popularity to promote her career, but has also shared some details from her personal life. Jacqui isn't active on Twitter or Facebook.
So, if you want to find out what Jacqui is up to next, just skip over to her official Instagram page and become one of her fans.
Jacqui Ainsley's Husband, Guy Ritchie
Born Guy Stuart Ritchie on the 10th September 1968, in Hatfield, Hertfordshire, England, Guy is the son of Captain John Vivian Ritchie and his wife, Amber. His father was a former Seaforth Highlanders serviceman, and advertising executive. His parents later divorced and remarried, each to respective royal individuals; his father married Shireen Ritchie, Baroness Ritchie of Brompton, and his mother married Sir Michael Leighton, 11th Baronet of Loton Park.
Back to Guy; he had troubles in school, and after attending Windlesham House School and Stanbridge Earls School, he was expelled when he was 15 years old. When asked about it, Guy said that he was caught using drugs, while his father stated that Guy was caught "cutting class and entertaining a girl in his room".
Guy's feature debut came in 1998, with the comedy crime film "Lock, Stock and Two Smoking Barrels", and since then he has directed such films as "Snatch" (2000), "Sherlock Holmes" (2009), "The Man from U.N.C.L.E" (2015), and "Aladdin" (2019), and is now working on the film "The Gentleman", set for a 2020 release.