Alanna Masterson is an American-born actress, director, and budding guitarist, who is perhaps best known for her portrayal of Tara in the TV series "The Walking Dead."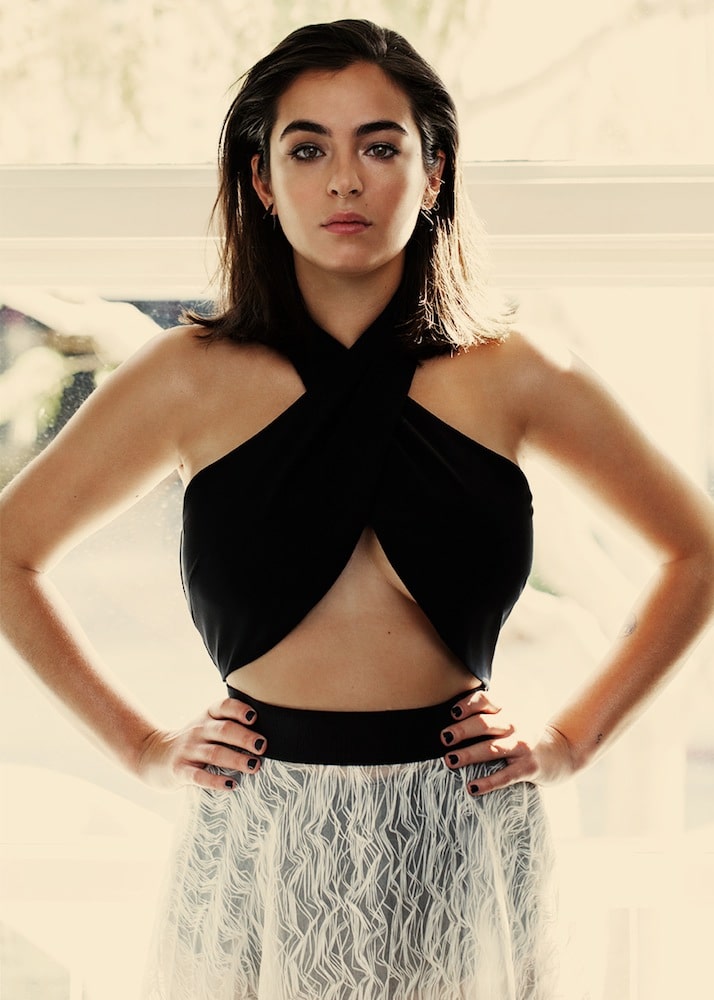 Age, Early Life, and Education Background
Alanna Masterson hails from Long Island, New York, and was born under the Cancer zodiac sign on 27 June 1988, which makes her 35 years old as of 2023. She's the daughter of the retired Australian rugby player Joe Reaiche and talent manager Carol Masterson. She is the younger sister of the actor, Jordan Masterson, who is known for the TV series' "The 40-Year-Old Virgin" and "Last Man Standing", and the film "Danielle Steel's Star", and the actor DJ, and businessman, Danny Masterson, who is widely known for the TV series "That '70s Show," "Men at Work," and "The Ranch." Moreover, she's the step-sister of the actor and DJ, Christopher Masterson, who is famous for his performance in "Malcolm in the Middle" and Will Masterson,and is also a film producer known for "Personifly" and "Camp Sunshine." Cristopher and Will are from Alanna's mother's first marriage with the insurance agent, Peter Masterson.
Alanna is of Australian roots from her dad's side and Irish through her mother. She spent her childhood in Los Angeles, California, and grew up visiting her brothers on film sets, which fueled her acting interest at an early age. She attended ballet classes as a child, but stopped in her teenage years.
Masterson whetted her acting skills at the New York Film Academy – School of Film and Acting.
Hobbies and Interests
Alanna is a culinary enthusiast, who is also a very talented cook. She often invites her family and friends for dinner, as seen on her social media platforms.
She is an animal lover who has kept a pet dog named Oswald Cobblepot – she adopted the pet from a rescue center, and named him after the character of Penguin in the 1992 film "Batman Returns."
The New Yorker is an avid reader and her favorite novel is Wilson Rawls' "Where the Red Fern Grows." She considers it the most life-changing publication she has ever read.
Alanna is also a committed philanthropist who traveled to Nepal with the BuildOn organization in 2015 to help build a school.
She is also an outdoorsy person who is a big fan of bike riding.
Career
Alanna was six years old when she made her TV debut as Coleen Carlton in the CBS soap opera, "The Young and the Restless" in 1994, appearing in two episodes during her one-year stint. Subsequently, she landed a minor role in the TV series "Definitely Maybe" in 2001. In 2006, Alanna was cast as Heidi in an episode of the Fox sitcom "Malcolm in the Middle", and her next role was in an episode of the TV cyberpunk series "Terminator: The Sarah Connor Chronicles" in 2009. In 2010, she landed the main role of Abby in the TV series "First Day." Alanna made her film debut as Dora in 2011's "Peach Plum Pear."
Masterson made her career breakthrough in 2013 with her portrayal of Tara Chambler in the fourth season of the AMC post-apocalyptic horror drama "The Walking Dead." The series follows survivors of a zombie apocalypse, who form communities and groups with their own set of rules and regulations, as they move from one location to another, trying to find a safe place to live. She appeared in 61 episodes (2013-2019 and later in 2022) and shared the screen with the likes of Norman Reedus, Andrew Lincoln, Lauren Cohan and Melissa McBride, among others. For her praised portrayal of Tara, Alanna won a joint CinEuphoria Award in 2020.
Concurrently, Alanna portrayed Mopey Hipster Girl in the TBS sitcom "Men at Work" (2014) and made an 11-episode guest appearance as herself in the live TV after-show program "Talking Dead" (2014-2019). In 2016 and 2018, Alanna played recurring roles in the mystery drama soap opera "Mistress", and the comedy-drama "Younger" respectively. 2018 also saw her appear in the film "Afraid."
Alanna is an amateur guitarist who often collaborates with the budding band, Gene Jacket. Her friend, the actress and fashion model Agyness Deyn, is the band's lead singer.
Social Media Presence
Alanna is active on Instagram (@alannamasterson) with over a million followers. She joined Twitter (@AlannaMasterson) in December 2008 and is followed by over 280,000 fans as of late 2023.
Alanna Masterson at #sdcc2017 #thewalkingdead #alannamasterson #twdseason8 #tarachambler @AlannaMasterson pic.twitter.com/XQc8mbgFO2

— The Walking Dead HQ (@WalkingDead_HQ) July 22, 2017
Personal Life
Masterson is in a relationship with the photographer, Brick Stowell, whom she began dating in 2007 after meeting through a mutual friend. On 4 November 2015, the couple welcomed a daughter named Marlowe. Alanna is unmarried with one child as of 2023.
Alanna is a Scientologist, as are her brothers Danny and Christopher. She is good friends with the American writer and actress, Hilary Duff, with whom she has matching tattoos featuring ghosts with the words 'Ride or Die' inscribed below them.
Rumors and Controversies
It is reported that Alanna has not been getting along with her dad since 2005, because of their conflicting religious beliefs. Her father was barred from attending the Church of Scientology for throwing doubt on the church's ideology.
Height, Weight, and Physical Appearance
Alanna is of Caucasian ethnicity and has a set of hazel eyes and long dark brown hair. She is 5ft 8ins (1.73m) tall, weighs approximately 145lbs (66kgs), with vital statistics of 37-28-37 – she wears dress and shoe sizes 12(US) and 8.5(US) respectively.
Alanna's Notable Weight Change
Alanna was subjected to body shaming after viewers noticed that she looked overweight in an episode of "The Walking Dead" in 2015. At the time, the actress was six months pregnant and the show's producers kept her baby bump hidden behind props. Viewers continued criticizing her over her physique after her daughter was born in November 2015, which prompted her to address the criticism on Instagram, comment – 'Dear Instagram trolls, body shamers, and the men and woman who think it's OK to comment on my weight… I hope that you don't have children. And if you do, I hope you teach them about kindness and acceptance. I hope they learn that it isn't OK to make fun of people or call people names. I hope one day YOU learn what it takes to be a parent.' She went on to reveal that she had gained weight to properly breastfeed her newborn, and that she did not regret her decision because her child was her priority.
Net Worth
Since she began her acting career as a child, Alana has appeared in numerous TV series, which has propelled her to stardom and made her fairly wealthy. She is worth approximately $2 million, as of 2023.