Jailyne Ochoa is an American model, social media sensation, and devoted fitness enthusiast, who skyrocketed to fame thanks to the captivating photos she shares, highlighting her shapely figure and impressive derrière on her Instagram profile. With over 14 million followers on Instagram and an audience of 18 million fans on TikTok, she has firmly secured her place in the world of social media.
But who exactly is this woman, often affectionately referred to as the "curvy queen"? Let's delve into her life to gain a deeper understanding of her.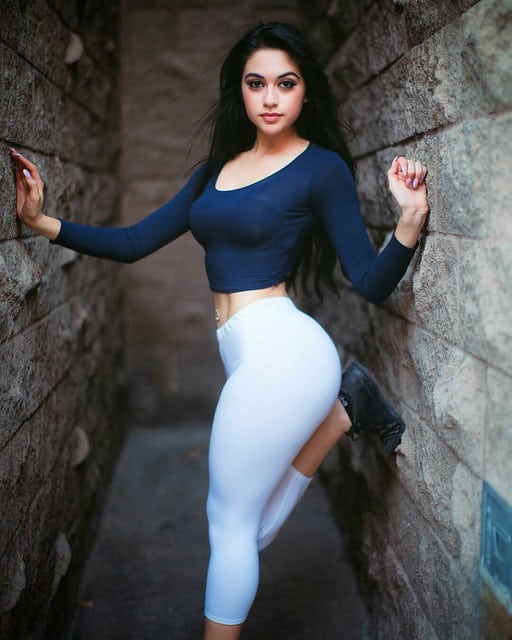 Early Personal Life
Born on 9 January 1998, in Arizona, USA, Jailyne Ojeda Ochoa is the oldest of three children; she has a younger brother, Johnny, and a sister Alexia. Her parents are from Sinaloa state in Northwestern Mexico but not much is known about them – Jailyne's mother's name is Dulce, but her father's name remains a mystery, but we do know that he's an entrepreneur, though.
Jayline grew up learning English and Spanish in an effort to keep in touch with her heritage; she's fluent in both languages, and appears to be proud of her mixed ethnicity. Since she was young, the now 25-year-old has been interested in fashion and modelling, something that can be seen in the content she makes today.
She's always been very close to her family, and often shares her experiences with them on social media. When her sister married, Jailyne celebrated online, and regularly shares photos of herself with her family, especially her dad. According to her social media post captions, she was raised by good, loving parents who showed her a lot of affection.
Life was not always easy for Jailyne, even if she grew up in a happy home. She used to get a lot of unwanted attention as she grew-up because of her figure. She reached puberty earlier than most other girls around her (at about 10), so she was bigger than them. As a result, she was bullied by her classmates, and a teacher even told her to wear loose-fitting clothes to school.
Despite this, Jailyne remained strong and decided to use the body that made her peers so mean to earn herself an impressive living.
Education
Not a lot is known about Jailyne's education. She matriculated from a local high school and then attended the Barbizon Modeling and Acting School. After this, she enrolled in Phoenix College but it's not clear what subjects she studied. Upon completing her studies, Jailyne started working as a model.
Career
Jailyne had early aspirations of becoming a model, setting her sights on Instagram as the platform to kickstart her journey. Her decision to share photos showcasing her voluptuous figure garnered considerable attention, with her images transformed into both positive and negative memes, widely circulated among online communities. Through this experience, she learned the valuable lesson that "all publicity is good publicity."
Taking bold steps to propel her online presence, Jailyne reached out to women boasting larger Instagram followings than hers, seeking collaborations or shout-outs, sometimes even offering compensation. This approach yielded positive responses from some of these influencers.
By late 2016, her Instagram following had soared past five million followers. Simultaneously, she launched her original YouTube channel, on which she shared short videos covering a spectrum of topics, from her workout routines and bikini photoshoot sessions, to humorous relationship spoofs.
During this time, she also secured representation with the South West Modeling Agency, propelling her into the realms of magazine features, commercials, music videos and promotional events for Arizona nightclubs. A pivotal moment in her career arrived when she made an appearance in the music video for the song "Tus Lagrimas", by Mexican singer-songwriter Alfredo Olivas. Jailyne's growing prominence led to appearances in additional music videos for other artists.
She next ventured into entrepreneurship by launching her own clothing line, "Snatched by Jailyne," with a focus on form-fitting attire for women. Adding to her repertoire, she also assumed the role of brand ambassador for the company Fashion Nova.
Her social media fame extended into promotional endeavors for Arizona nightclubs, propelling her even further into the public eye in 2017, when she was featured in online stores, showcasing her captivating photos. A website she owns offers a range of themed accessories, including iPhone cases, tablet cases, and prints. She also plays a role in promoting Fit Tea through her dedicated app, JLean Store.
Beyond her modeling ventures, Jailyne has established collaborations with various brands and photographers, participating in fashion and glamour photoshoots.
Interesting Facts
Jailyne is a big animal lover, and regularly shares posts of herself with dogs, horses, llamas and even leopards.
The influencer once collaborated with fellow TikTok star (and muso) Jason Derulo to do a 'chair challenge' in 2019. They also did a 'fish challenge' in 2020.
Jailyne also has an OnlyFans account – the subscription cost is $5 for one month.
Many folks accuse Jailyne of having plastic surgery, and going for BBLs (Brazilian butt lifts ) to look the way she does, but she's denied all these claims, saying that she's all-natural.
Later Personal Life
Although she's such a public figure, Jailyne has gone to great lengths to keep her romantic life more of a mystery. It's unclear who she is dating right now, and finding information about past lovers seems to be Mission Impossible.
She's continuing to build herself as a brand and handle her own company, growing ever more successful.
Physical Characteristics
Jailyne is about 5ft 9ins (175 cms) tall, and weighs roughly 128lbs (58kgs). She has hazel brown eyes and dark brown hair.
Net Worth
Jailyne's estimated net worth stands at about $2 million, as of late 2023.