Who is Jasmine Johnson?
Jasmine is a celebrity child, and for now only known as the daughter of the famous WWE star and actor Dwayne Johnson, aka 'The Rock'.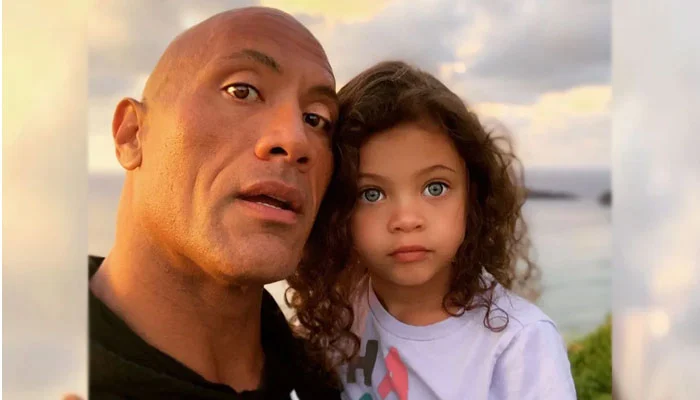 Wiki: Age, Childhood, Parents, and Siblings
Jasmine Johnson was born on 16 December 2015, in Los Angeles, California, USA, the second child of the renowned Hollywood figure Dwayne "The Rock" Johnson, the first he had with his current partner, Lauren Hashian.
Jasmine's family includes her younger sister, Tiana Gia Johnson, and her older half-sister, Simone Garcia Johnson, born from Dwayne Johnson's first marriage with Dany Garcia. Despite her young age, Jasmine is already connected to a family legacy deeply intertwined with the entertainment industry.
From her earliest days, Jasmine gained attention when her father introduced her to the world through an Instagram post just four days after her birth. This heartfelt moment quickly captured the internet's fascination, and Jasmine's popularity began to rise, thanks to her father's larger-than-life persona, and stardom as a professional wrestler and actor.
Jasmine's relationship with her father is filled with heartwarming moments. They share special spa days, movie nights, and playful pranks, forming a close bond that resonates with their followers. Her appearance during her father's Hollywood Walk of Fame Award ceremony showcased their affectionate connection, melting hearts of many as she expressed her love for him.
Adding to her list of memorable moments, Jasmine played a significant role as the flower girl at her parents' intimate wedding ceremony in Hawaii. These occasions not only highlight her place within her family but also underline her importance in her father's life. Dwayne "The Rock" Johnson frequently shares candid snapshots and videos of their cherished moments on social media. These glimpses into their lives together allow fans to witness the genuine joy and love they share as a family.
Jasmine's candid and playful nature became evident when she learned about her father's role as Maui in Disney's Moana. Her humorous reaction showcased her unfiltered and charming personality, endearing her further to the public.
Jasmine has taken an active role in embracing her father's fame. She enthusiastically introduces him to fans and encourages interactions, making her a delightful addition to his public appearances.
Jasmine Johnson's Father, Dwayne Johnson Short Bio
Dwayne Douglas Johnson, popularly known as The Rock, was born on 2 May 1972, in Hayward, California, and grew up in a family deeply rooted in the world of wrestling. His parents are Ata Johnson (née Maivia) and the late Rocky Johnson, a former professional wrestler. He's of diverse background, with his father being of Black Nova Scotian and Irish descent, and his mother being Samoan.
He pursued an athletic scholarship, and played football at the University of Miami, contributing to the 1991 national championship team. Although he had aspirations for professional football, his path took a different turn when he wasn't selected in the 1995 NFL draft. He briefly signed with the Calgary Stampeders before his father's support helped him secure a contract with the World Wrestling Federation (WWF) in 1996.
In the wrestling world, Johnson's charisma and trash-talking skills quickly propelled him to fame, and he became an integral figure during the WWF's Attitude Era, a period of wrestling boom in the late 1990s and early 2000s. Over the next eight years, he left an indelible mark as a wrestler before transitioning into acting.
Johnson's achievements in wrestling include being a 10-time world champion, the winner of the 2000 Royal Rumble, and WWE's sixth Triple Crown champion. His popularity led him to headline WrestleMania XXVIII, one of the most-watched wrestling pay-per-view events.
20 years ago, The Scorpion King accidentally predicted everything about how modern blockbusters work https://t.co/jZjbWiLr6u pic.twitter.com/ZXAgrCPvzt

— Polygon (@Polygon) February 3, 2022
Transitioning to acting, Johnson's debut film role was in "The Mummy Returns" (2001), followed by his first leading role in "The Scorpion King" (2002). He ventured into a wide range of genres, starring in family films such as "The Game Plan" (2007), action movies such as "Fast & Furious" series, and comedies such as "Central Intelligence" (2016). His films have collectively grossed billions of dollars, cementing his status as one of the highest-grossing actors worldwide.
Beyond acting, Johnson co-founded Seven Bucks Productions and produced the HBO series "Ballers" (2015–2019) and the autobiographical sitcom "Young Rock" (2021). Most recently, Dwayne starred as Black Adam in the film of the same name, which he also produced, with main co-stars including Aldis Hodge, Sarah Shahi and Pierce Brosnan. The film follows Black Adam's story, an ancient Egyptian warrior who gains immense powers and is released into the modern world.
Johnson's connection to his heritage has played a significant role in his life. In recognition of his Samoan lineage and service to the Samoan people, he was bestowed the noble title of Seiuli during his visit to Samoa in 2004. His connection to his roots is further deepened by his Samoan pe'a tattoo, which he got on his left side in 2003.
He established the Dwayne Johnson Rock Foundation in 2006, focusing on supporting at-risk and terminally ill children. His philanthropic endeavors have spanned various causes, including disaster relief efforts, military support, and collaborations with organizations such as the Make-A-Wish Foundation.
In 2007, Johnson and his then-wife, Dany Garcia, donated $1 million to the University of Miami to enhance its football facilities, leading to the renaming of the Hurricanes' locker room in his honor. His generosity continued as he donated to GoFundMe campaigns, contributed to hurricane relief efforts, and even donated a gym to a military base in Oahu, Hawaii.
After the 2018 Hawaii floods, he collaborated with Malama Kauai to aid in repairing the damage caused by the natural disaster.
Johnson made a substantial seven-figure donation to the The Screen Actors Guild and American Federation of Television and Radio Artists (SAG-AFTRA) Foundation during the 2023 SAG-AFTRA strike, the largest single donation that the foundation has received from an individual.
He has been married to Jasmine's mother, Lauren since 2019. According to sources, Dwayne Johnson's net worth is estimated at $800 million, as of mid-2023.