Who is Jenny Scordamaglia?
American actress, pornographic actress, model, TV host and producer Jennifer 'Jenny' Scordamaglia was born under the zodiac sign Virgo on 16 September 1988, in Jersey City USA. She's perhaps known best for being a co-producer of 35 episodes in 2011 of the reality show "VidBlogger Nation", in which she's also been starring alongside Ann Spade and Sarah Austin since it began airing in 2011. It was created by Marc Scarpa, has aired 366 episodes, and follows the everyday lives of many middle-class people; the show has received mostly positive reviews.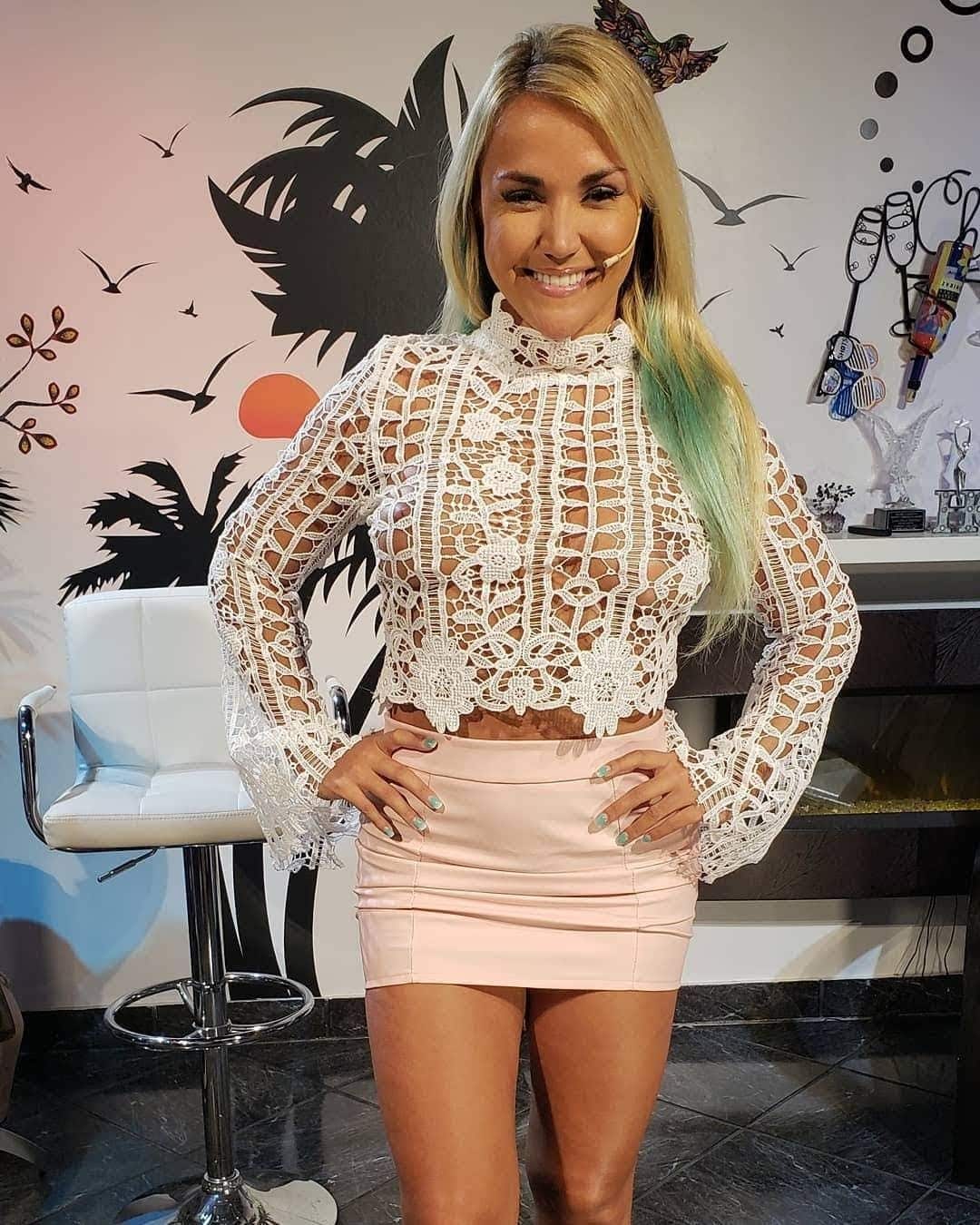 Education and early life
Jenny was raised in Uruguay by her parents about whom she rarely speaks in public, as they prefer to be left out of media; her Uruguayan father of Italian origin is a businessman, and her Colombian mother's a housewife. Jenny's yet to speak about having siblings, and is thus believed to be an only child.
She was only three months old when she and her family travelled on horseback in Uruguay, settling in the city of Tacuarembo. Jenny went on to attend a bilingual school there and was into a number of activities while growing up, including playing several sports with her friends and appearing in school plays.
She was 12 when she and her family moved back to the US in 2000, and 15 when she enrolled at modelling school; Jenny then launched her modelling career, and was featured in the magazines "Teen Vogue", "Seventeen" and "Cosmopolitan".
Upon matriculating from a local high school in 2006, Jenny didn't enroll at college but began working on her career.
Jenny's career
In 2013, Jenny portrayed Tonya in the horror movie "Hell Glades", which starred Aiden Dillard, who also directed it; it follows a group of women who've gone camping in the Florida Everglades on 5 October 2007 during the Columbus Day weekend celebration, and are now being killed one by one.
Jenny reprised her role as Tonya in the 2014 horror movie "Bikini Swamp Girl Massacre", which starred Katie Rotolo and Ted Vernon, and was written and directed by Aiden Dillard. It follows a group of girls who've gone on a vacation in the Florida Everglades, and are now being hunted by a serial killer.
In 2014, Jenny was featured in the episode "Interview with Jenny Scordamaglia Hostess of MiamiTV" of the news show "Nude Beach News", which has been airing since 2014, stars Richard Mason and Albert Naptaleeon, and features journalists reporting nude from the beach.
Jenny Scordamaglia strips off completely for X-rated Naked Kitchen episode https://t.co/xfP9CDboxK pic.twitter.com/kxOhOcLeCt

— Daily Express (@Daily_Express) April 29, 2017
Jenny and her husband are founders of the naturist enclave Energy Paradise, located in Tulum, Mexico.
She's today running the entertainment channel MiamiTV, and is hosting a number of shows on it, such as "Naked Kitchen", which features her preparing delicious foods while being nearly entirely naked, "Miami Caliente" and "Jenny Live".
Jenny's ventured into various business fields, including real estate, but can rarely be heard speaking about them.
YouTube channel
Jenny launched her self-titled YouTube channel on 27 May 2013, and there are today close to 80,000 people subscribed to it, while all her 93 videos combined have been watched more than 22 million times. Most feature her interviewing various celebrities for her shows, and these are usually quite long, with some stretching over an hour. We're about to write about Jenny's three most viewed YouTube videos, as these have contributed to her internet popularity.
Her #1 video "Jenny Scordamaglia – So Natural Season 2 South Florida" has been watched more than 3.5 million times since 12 August, and features Jenny going to a nudist beach and interviewing people there.
Her second most popular video "Jenny Scordamaglia – Jenny Live 490" has been viewed more than 2.2 million times since it was uploaded on 20 May 2014, and features Jenny interviewing people in her show "Jenny Live".
Jenny's #3 most viewed video "Jenny Scordamaglia – Daytona National Spring Break 05", was posted on 29 May 2013 and has since been watched close to two million times; it features her attending a car show, and talking about some of her favorite cars there.
Love life and husband
Jenny's quite open when it comes to speaking about her love life and it's known that she's today a married woman.
Her husband Enrique Benzoni is 35 years her senior, born in 1953 in Miami, Florida USA; he's today the CEO and president of MiamiTV, Some of Jenny's fans have claimed that she married Enrique only because of his money, but of course this remains unconfirmed.
They met in 2009 and exchanged vows in a private ceremony on 20 August 2011; Jenny was 22 at that time and Enrique was 57. They don't have children together and while this is widely believed to be because Jenny wants to focus on her career, others have claimed that perhaps one of them is infertile; Jenny hasn't addressed these rumors.
There are no other men whom she's perhaps been with, that we know about; she's married to Enrique Benzoni as of September 2023, and doesn't have children.
Interesting facts and hobbies
Jenny's followed by more than 24,000 people on Instagram and has posted 23 pictures and videos onto the network, with most featuring her spending time with her husband.
She's passionate about travelling and has been to more than 20 US states, as well as to a couple of South American and European countries – Jenny's dream travel destination is Paris, France.
She likes to spend her spare time at the beach, which is only one of the reasons why summer's her favorite season. Jenny's a naturalist and enjoys being naked.
One of her favorite singers is Rihanna, and some of her favorite songs are "Rude Boy", "Don't Stop the Music" and "Bitch Better Have My Money".
One of Jenny's favorite actresses is Carmen Electra, and some of her favorite movies include "Epic Movie", "Scary Movie" and "Meet the Spartans".
Appearance and net worth
Jenny's age is 34. She has blue eyes and brown hair which she usually dyes blonde, she weighs around 120lbs (55kgs) and is 5ft 7ins (1.7m) tall.
Jenny's net worth's been estimated at over $300,000, as of September 2023.