Who is Joy Taylor?
Joy is a sports commentator and television personality, who gained prominence as a co-host on Fox Sports 1's "Skip and Shannon: Undisputed" alongside Skip Bayless and Shannon Sharpe.
Wiki: Age, Childhood, and Education
Joy Allison Taylor was born on 17 January 1987 in Pittsburgh, Pennsylvania USA. Her brother is Jason Taylor, who played American Football as a defensive end for 15 seasons in the National Football League (NFL) and got into the Pro Football Hall of Fame in 2017. She earned her Bachelor of Arts degree in broadcast communications from Barry University in 2009.
During her university years, Joy was the manager of the university's radio station WBRY 1640AM. Moreover, she hosted the radio show "The Noise".
Professional Career and Success with Fox Sports
Joy Taylor's career launched at 790 AM The Ticket in Miami. Initially, she took on the role of an executive producer, showcasing her organizational and behind-the-scenes skills. However, it was her evolution into the co-host of the popular "Zaslow and Joy Show" that truly propelled her career. This transition allowed her to step into the spotlight, honing her on-air presence and analytical abilities.
Taylor's impactful contributions at 790 AM went beyond the microphone. Her dynamic energy and insightful commentary injected a fresh perspective into the station's programming, resonating with the audience and elevating the show's popularity. This experience helped her not only refine her broadcasting skills, but also solidify her position as a relatable and knowledgeable sports personality.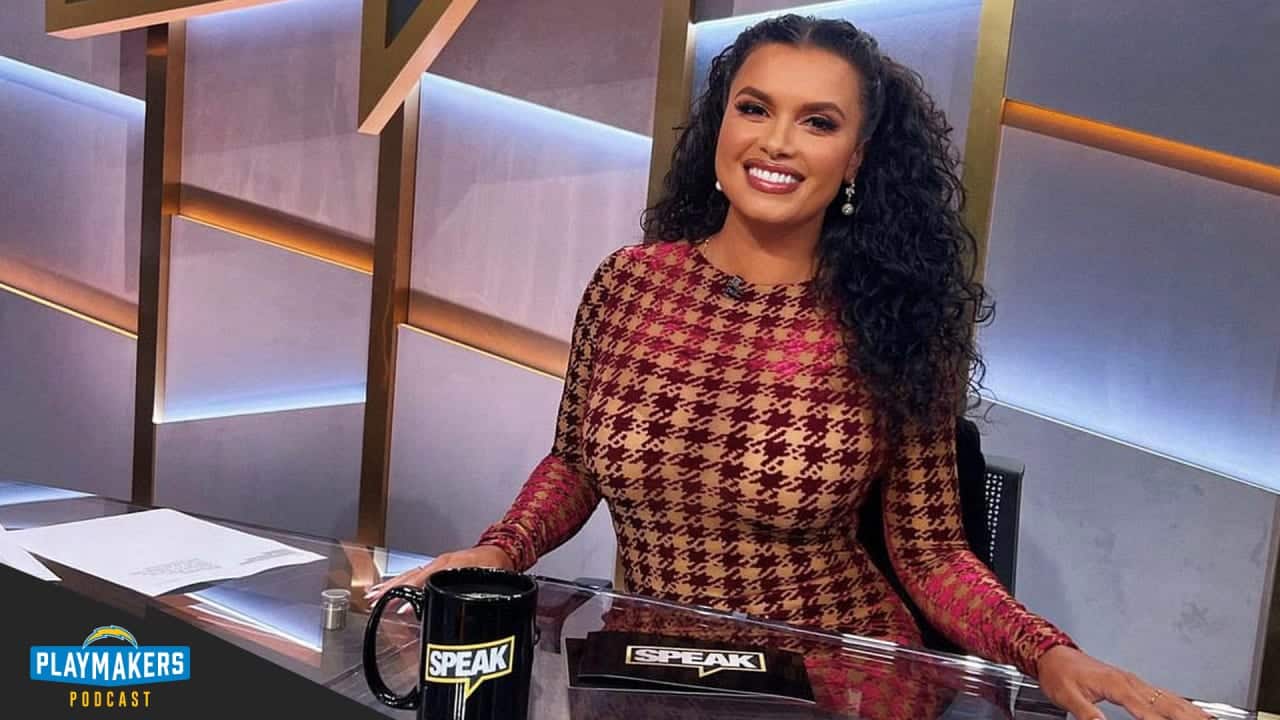 From 790 AM The Ticket in Miami extended to CBSSports.com, where she continued to make her mark in the sports media landscape. Hosting "Fantasy Football Today" and "Thursday Night Live" on the platform showcased her versatility and expertise. In these roles, Taylor seamlessly transitioned from radio to digital media, bringing her insightful commentary and engaging presence to an online audience.
Rise to Prominence
March 2016 was a turning point in her career, as she joined FOX Sports. Joy Taylor stepped into the role previously held by Kristine Leahy on "The Herd with Colin Cowherd", seamlessly fitting into the show's dynamic discussions and insightful analysis. In this capacity, Taylor skillfully blended sports expertise, charisma and relatability. Her on-air rapport with Colin Cowherd added to the show's atmosphere, as she tackled diverse topics—from current sports events to broader cultural matters.
Her time on "The Herd" propelled her to stardom.
Joy Taylor's journey continued as she took on the role of moderator for "Skip and Shannon: Undisputed" on Fox Sports 1. In this role, she orchestrated engaging debates between Skip Bayless and Shannon Sharpe, fostering insightful discussions on sports and beyond. Taylor's time on "Undisputed" further solidified her as a respected figure in sports media.
Her talents shone through in her role as the host of "The Hang" on Facebook Live, and her podcast "Maybe I'm Crazy". Through these platforms, she engaged directly with her audience, sharing her unique insights and opinions on sports and various topics. "The Hang" provided an interactive space for fans to connect with Taylor, while "Maybe I'm Crazy" allowed her to delve into discussions that went beyond the boundaries of traditional media.
In 2018, Taylor's career took another significant turn, as she transitioned from "Undisputed" back to "The Herd with Colin Cowherd", bringing her back into a familiar environment, but with a fresh perspective.
My time with @theherd has come to an end 🥹 Thank you to everyone who listened and watched the show over the past 3 years. It's been so amazing to grow and learn from the best in the business, @ColinCowherd. I hope you'll join us on @SpeakOnFS1 at 4:30 PM ET on @fs1 tomorrow! pic.twitter.com/VFQZJmIe6o

— Joy Taylor (@JoyTaylorTalks) September 5, 2022
Further Success, "Joy Taylor Show"
Joy Taylor's ascent in the sports media world led to the establishment of her own "The Joy Taylor Show", on Fox Sports Radio in 2021. This milestone marked a significant step forward in her career, highlighting her growing independence and influence. In her show, Taylor engages her audience with her unique perspective on sports and beyond.
Adding to her achievements, Taylor's co-hosting role on "Speak" on FS1, which commenced on September 6, 2022, showcased her continued impact. In this endeavor, she collaborates with other experts and commentators, contributing to meaningful conversations about sports and related issues.
Net Worth
According to authoritative sources, Joy Taylor's net worth is estimated at over $1 million, as of mid- 2023.
Personal Life, Married, Husband, Children, Single
In 2017, Joy Taylor showed her strength by speaking openly during an episode of "Undisputed".  about being a survivor of domestic abuse.
Joy Taylor was married to Richard Giannotti, the President of Athlete Asset Management from 2016 to 2017. The couple met during a business event and hit it off immediately. They married in a lavish wedding ceremony in Fort Lauderdale, Florida Banks. However, their marriage didn't last and they didn't have children.
She was engaged to Earl Watson, former National Basketball Association (NBA) player from 2018 to November 2019, when they split. Since then, she hasn't talked about her romantic life.
Appearance and Body Measurements
Joy Taylor has curly black hair and brown eyes. She stands at a height of 5ft 6ins (1.68m), while she weighs approximately 130lbs (59kgs). Her vital statistics are 37-27-38 and her bra size is 37C.