Kathryn Adams Rogers Limbaugh is mostly famous for being the unfaithful fourth wife of Rush Limbaugh, a popular radio talk show host and political commentator. Though she comes from a noble family, the issues around her are far from being clear. Let's find out more about her personal life, family, net worth, etc.
Just a simple reminder that article is created and owned only by biographytribune.com. Article cannot be re-published in any other pages or documents. Copyright is protected by DMCA. All found copies will be reported.
Original source: https://biographytribune.com/kathryn-adams-limbaughs-wiki-who-is-rush-limbaughs-wife/
Early life and noble family
Kathryn Adams Rogers was born on 19 December 1976, in Massachusetts USA, so under the sign of Sagittarius, and holding American nationality. Kathryn belongs to a prosperous family who are direct descendants of American Founding Father and the second President of the United States John Adams.
Kathryn's father's was Richard Rogers, a captain in the US Navy who died on 19 June 2018 from pancreatic cancer which he fought for several years. Kathryn's mother was Penny Rogers, who worked in the field of State Development. Richard and Penny had four children, so Kathryn had three siblings: brothers Richard Jr. and Jonathan and sister Wendy Hazel. As Richard Rogers had to move a lot for duty, his kids lived in such places as London, Hawaii and Rio de Janeiro.
It is worth mentioning that Kathryn's sister, Wendy Hazel, attended Punahou School in Honolulu, Hawaii at the same time when Barack Obama studied there. Later Kathryn would be addressed by her famous ancestor's surname – Adams, however, her actual family name is Rogers.
Educational background
Nothing is known about Kathryn's educational background. She matriculated her high school in 1994, but there is no record of her attending any university, although her subsequent career suggests degree qualified. However, Kathryn has never mentioned anything about her alma mater.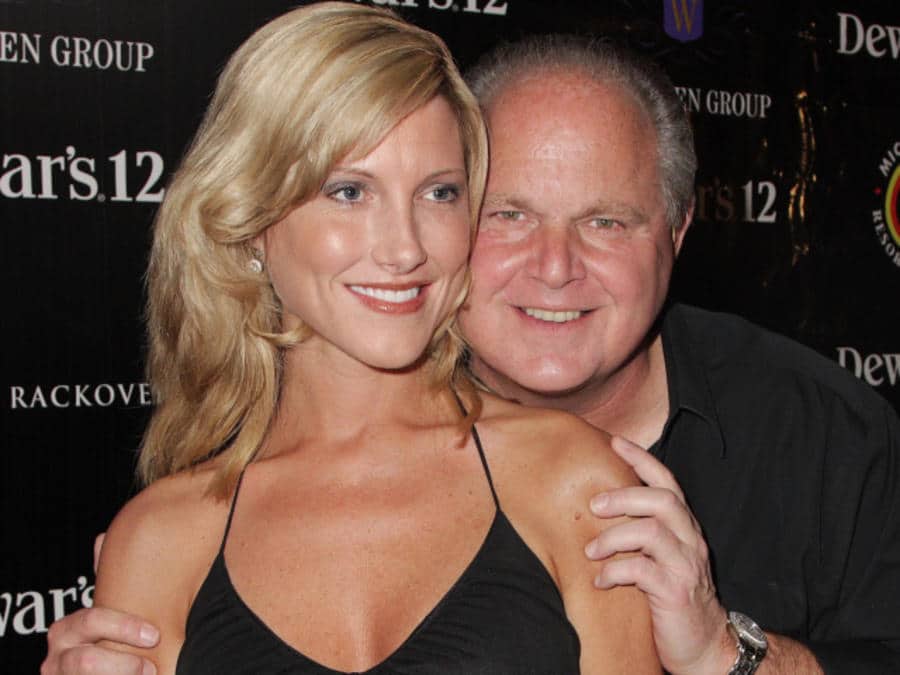 Career
Starting her career early, Kathryn worked as a planner of various political and sports events. Thus, she participated in VIP sport events for the NFL (National Football League), serving as a contact person. She also held the position of a party planner for the host committee of the South Florida Super Bowl. It is also known that Kathryn is a writer and editor, and also a children's books illustrator. Along with her husband Rush Limbaugh, she co-worked on his book entitled "Rush Revere and the American Revolution: Time Travel Adventures with Exceptional Americans", a very popular series of books for children, telling the story of American history, and in 2014 was rewarded by "Children's Choice Book Awards" in the category "Author of the Year". The book series also become #1 New York Times Bestselling Young Adult History Series.
Personal life, husband Rush Limbaugh
Meeting Rush Limbaugh
Kathryn hadn't been married before she met her future husband Rush Limbaugh – she became the fourth wife of the millionaire and popular American radio talk show host and political commentator. The couple met back in 2004, when Kathryn was busy planning the Gary Player Charity Golf Tournament and called up all the celebs she could reach and invite for the event; Rush Limbaugh was on the list. For a couple of years, they just kept in touch, meeting at similar events, but in June 2007 they started dating officially, appearing together in public; Rush divorced his third wife, a fitness instructor Marta Fitzgerald, back in 2004, so he was free to start any new relationships. Kathryn was also single at the time.
They attended several charity events together, including Christmas dinner at the White House. Some people were quite sceptic about their affair as Kathryn was 33 years old at that moment, and was rumored to be a common gold digger. However, Kathryn admitted she was always attracted to older men, and she simply fell in love with Rush, being amazed by his personal qualities.
A lavish marriage hosted by Sir Elton John
Apparently not noticing the age gap of 26 years between them, Kathryn and Rush married on 5 June 2010, in anHawaiian-themed ceremony in Palm Beach, Florida with 400 guests, including celebrities such as Sean Patrick Hannity, a conservative political commentator and talk show host, and former New York Mayor Rudolph "Rudy" Giuliani. Sir Elton John was paid $1 million to host the ceremony, and performed some of his old classic hits for the guests and the newlyweds.
Kathryn and Rush honeymooned in Africa, Mexico and exotic places on Rush's private jet (which costed him over $54 million). They returned to married life in their mansion in Palm Beach, Florida. Though after their marriage they were rarely seen together in public, it is known that Kathryn was kind enough to her husband, and helped him to get well through various health problems including loss of hearing. Several years later rumors circulated that they were living in separate houses, and Kathryn entertains herself travelling around the US using Rush's private jet. However, neither Rush nor Kathryn announced any problems within their family, keeping their private life low-key.
Controversies and Divorce
In 2018 Rush was shocked to hear that his wife had been caught cheating on him with several young men, one of them married and with children. The news source Radar Online posted an article in which Kathryn's affaires were disclosed, however no names were mentioned. Getting this news from radio and newspapers, Rush removed all privileges his wife had, including his private jet which in fact she used to meet with her lovers, not just for travelling around the US. A close friend of their family shared anonymously that Rush had heard 'something' about Kathryn's romances, but consciously ignore all the rumors and any evidence as he was very afraid of losing her.
However, when everything spread over the media, he 'was stunned and humiliated', so he initiated divorce proceedings, not even bothering about the absence of any pre-nuptial agreement. As for Kathryn, apparently she is now living with her mother in a New York luxury hotel. She never confirmed nor denied the aforementioned news, remaining silent until today. Rush was said to have even hired a group of experienced detectives to watch Kathryn for more evidence of her unfaithful lifestyle, and to collect more details against her for the court, as the spouses are fighting over $600 million worth of assets. As of mid-2019, the matter is yet to be concluded.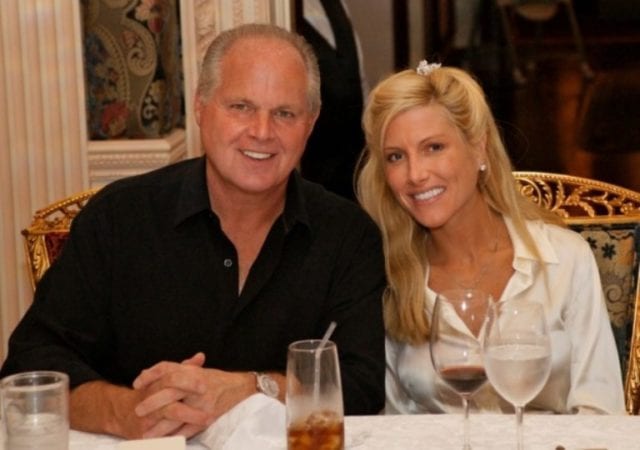 Who is Rush Limbaugh?
Rush Hudson Limbaugh III was born 12 January 1951, in Cape Girardeau, Missouri USA, and is widely known as a conservative political commentator and radio talk show host. It is interesting that Rush studied in Southeast Missouri State University, but never graduated from it, as he preferred to work and earn money. Rush' previous marriages included radio station sales secretary Roxy Maxine McNeely (married in 1977, divorced in 1980), usherette Michelle Sixta (1983 – 1990) and a fitness instructor Marta Fitzgerald (1994 – 2004). Rush made it to the list of the highest-paid journalists and media personalities in the US, reputedly earning over $82 million in 2018.
Rush is an old friend and supporter of Donald Trump, and Trump himself often mentions Rush in his posts on Twitter, approving his work and advising audiences to tune-in to Rush's talk shows.
Social media presence
Kathryn is not at all active on any social media platforms; she doesn't have profiles on Instagram, Facebook or Twitter, unlike her husband Rush Limbaugh, who just has to be active on sites as part of his media job. He has a profile on Twitter which is read by over 300,000 people, and a Facebook profile which is 'liked' and followed by over 2.2 million users – it is worth saying that Rush still has their wedding photo as his profile picture there, never changing it from August 2010.
Tune in tomorrow at Noon ET to hear the whole story of the picture attached… pic.twitter.com/OKBEygZL

— Rush Limbaugh (@limbaugh) May 15, 2012
Appearance, clothing style
Kathryn has long naturally blonde hair and blue eyes. She is 5ft 9ins (1.75m) tall and weighs around 145lbs (66kgs); her vital statistics are unavailable at the moment. As to her clothing style, she prefers classy looks and often chooses maxi dresses, classical suits and feminine trousers.
Net worth
Authoritative sources estimate Rush Limbaugh's net worth to be close to $600 million, with a reputed annual salary of $85 million. Nothing is known about the net worth which can considered Kathryn's, as she obviously didn't earn so much money as her husband. However, her net worth may expand after the divorce if Rush attorneys fail in the fight for his net worth – Kathryn may get a half of the sum, but nothing is clear by the moment.