Who is Kim Scott Mathers?
She is widely known for being the ex-wife of Marshall Mathers, the famous rapper known as Eminem. Kim Scott Mathers has been a significant source of inspiration and subject matter for Eminem's music. Many of his songs, such as "Kim" and "97 Bonnie & Clyde", have referenced their tumultuous relationship, but Kim has generally kept a low profile, and tried to maintain her privacy, especially in recent years, largely staying out of the public eye and media scrutiny. Her last photo taken by paparazzi was published in 2018.
However, here are some things to know about Eminem's ex-wife.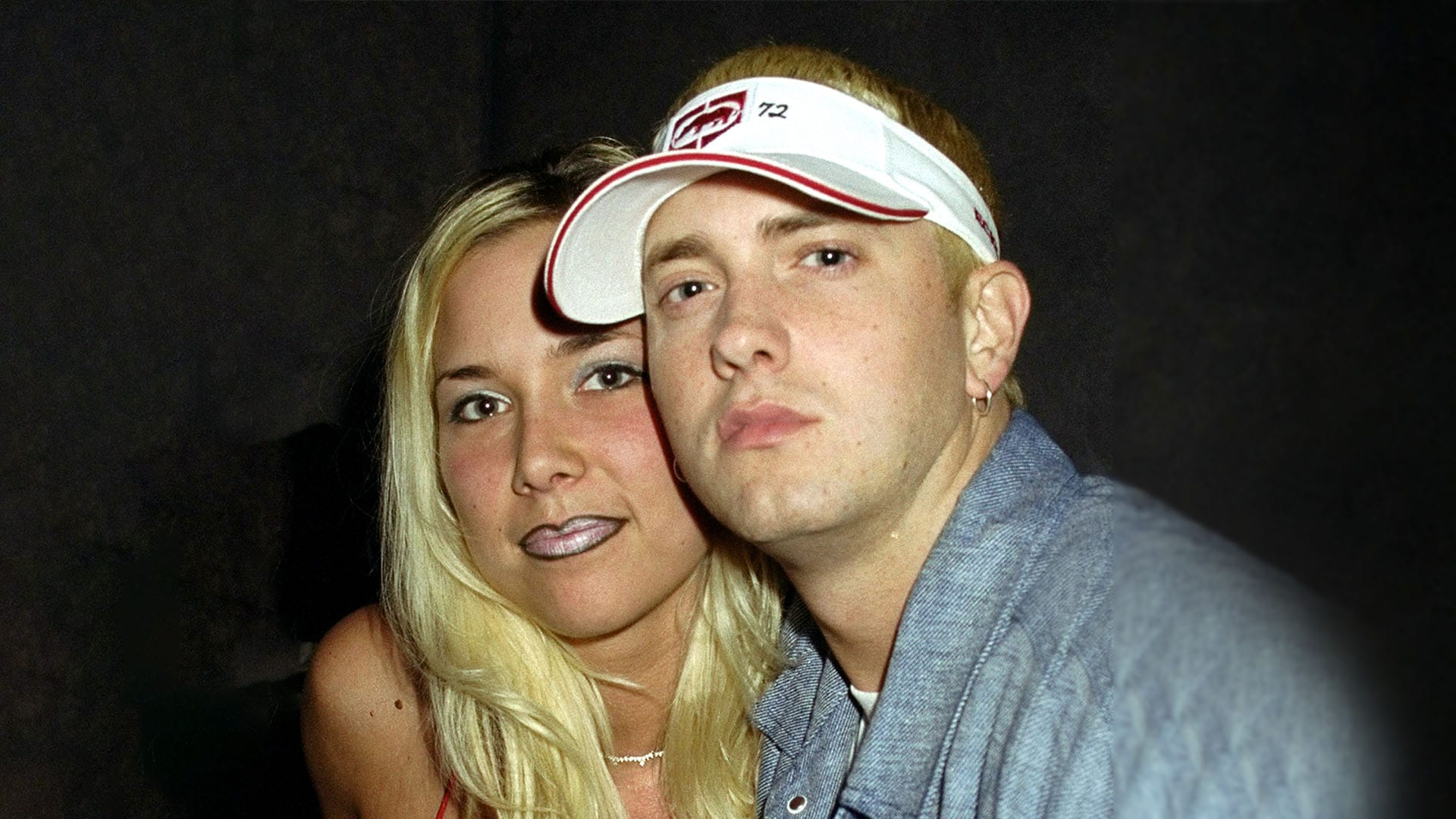 Early life, family, and education
Born Kimberly Anne Scott under the zodiac sign of Capricorn on 9 January 1975, she's today aged 48 (as of September 2023). A native of Warren, Michigan USA, she holds American nationality and comes from a family of Caucasian descent. Kim was raised by her mother, Kathleen Sluck, and her stepfather, Casimer Sluck, alongside her twin sister, whose name she hasn't shared.
Kim and her sister didn't have a happy childhood. In 1988, life in their house became unbearable, so the sisters decided to run away from home, and lived in a youth shelter outside of Detroit, Michigan. Later, Kim moved in with Eminem and his mother. Kim and Eminem met in high school, and eventually began their love story.
When it comes to Kim's educational background, she attended Lincoln High School, however, it isn't clear if she ever matriculated.
Marriage with Eminem
Kim Scott Mathers had an on-again, off-again relationship with Eminem that began when they were teenagers. They first met when Eminem was 15 and Kim was 13. They had a daughter together, Hailie Jade Scott, who was born under the zodiac sign of Capricorn on 25 December 1995.
Kim and Eminem married in 1999, but had a rocky marriage, and divorced in 2001, but after which they continued to have a turbulent relationship, which was reflected in Eminem's music. Kim even sued Eminem for using her name in his songs.
Eventually, Kim and Eminem reconciled, and remarried in 2006, but this second marriage also ended in divorce shortly afterwards, as that same year Eminem filed for divorce, and they agreed to joint custody of their daughter.
In his interviews, Eminem has spoken about his efforts to repair his relationship with Kim for the sake of their daughter Hailie. Over the years, they've reportedly mended their relationship, and are now on better terms.
Besides their daughter, Eminem legally adopted and raised Kim's niece, Alaina, as well as Kim's son, Parker, the result of an affair.
Where is Kim Scott Mathers now?
The US Sun posted an exclusive video of Kim and her son, Parker on 21 September 2023, grabbing food and running errands. Eminem's ex-wife appears to have transformed her appearance with short, bleached hair and multiple tattoos. As mentioned, since 2018, Kim hasn't been photographed by paparazzi – she had long blonde hair and no tattoos on her body.
Kim told The US Sun that she will reunite with Eminem after several years at the wedding of their daughter, Hailie. She also said that she and Eminem are in contact, but rarely see each other. The US Sun also obtained a document that allegedly shows that Eminem's company, Shady Games Incorporation, gave Kim a $615,000 loan to buy a house in Macomb, Michigan. Kim previously lived in a custom-built mansion, allegedly paid for by Eminem, which was sold in March 2023.
Briefly about Eminem
Eminem is a name that needs no introduction in the world of music. Often hailed as one of the greatest and most influential rappers of all time, Eminem's journey to stardom is a remarkable tale of talent, resilience, and overcoming adversity.
Born Marshall Bruce Mathers III under the zodiac sign of Libra on 17 October 1972, he will soon celebrate his 51st birthday. He hails from St. Joseph, Missouri USA, holds American nationality, and comes from a family of German, Swiss, Polish, Cherokee, Scottish, Welsh and English descent.
Raised by his single mother, Debbie, in a predominantly African-American Detroit neighborhood, he faced a challenging upbringing. His father, Marshall Bruce Mathers Junior, left them when Eminem was just a year and a half old. His early years were marked by poverty, a turbulent family life, and frequent school changes. But amidst these adversities, he discovered his passion for rap music, often using it as an outlet to express his frustrations and aspirations. When it comes to his educational background, Eminem dropped out of high school, and began working to help his mother and his half-brother, Nathan.
Eminem's breakthrough came with his 1999 album "The Slim Shady LP". The alter ego he created, Slim Shady, allowed him to delve into his darker thoughts and emotions, leading to a provocative and controversial style that resonated with many. The album earned him his first Grammy Award, and laid the foundation for a career that would redefine the rap genre.
22 years ago today, Eminem dropped his major-label debut & certified Classic album "The Slim Shady LP" 🔥🔥

The project won Best Rap Album, reached #2 on US Billboard Charts and has sold over 7 million pure copies in the US and over 18 million units Globally as of today.#SSLP pic.twitter.com/LFTYuLK167

— Shady Times (@ShadyTimes) February 23, 2021
Eminem's lyrics often delve into his personal struggles, including battles with addiction, a tumultuous relationship with his ex-wife Kim Scott Mathers, and the challenges of fame. His honesty in addressing these issues not only humanized him, but also connected with fans facing similar struggles.
His 2002 movie "8 Mile", loosely based on his life, showcased his acting talents and featured the iconic track "Lose Yourself", which earned him an Academy Award for Best Original Song.
Eminem's discography is studded with chart-topping albums such as "The Marshall Mathers LP", "The Eminem Show", and "Recovery". He's known for his rapid-fire lyrical delivery, intricate rhyme schemes, and storytelling abilities that set him apart as a lyrical genius.
Beyond music, Eminem has been a vocal advocate against racism and injustice. His 2017 BET Awards freestyle rap, "The Storm", denounced President Donald Trump and his policies, earning both praise and criticism.
Eminem's influence transcends generations, and his music continues to resonate with audiences worldwide. He's sold millions of records and amassed numerous awards, and his impact on hip-hop culture is immeasurable.
In an industry where success stories are often shaped by adversity, Eminem's journey from the streets of Detroit to becoming a global rap icon is a testament to the power of talent, determination and authenticity.
Now you must have been wondering how rich Eminem is. Well  according to sources, as of September 2023, he has a net worth estimated at over $250 million.