Susan Downey is an American-born film producer who previously served as the co-president of the film production label, Dark Castle Entertainment. She is probably best known as the wife of the acclaimed American actor, Robert J. Downey Jr., who starred as Iron Man/Tony Stark in 10 Marvel Cinematic Universe (MCU) movies.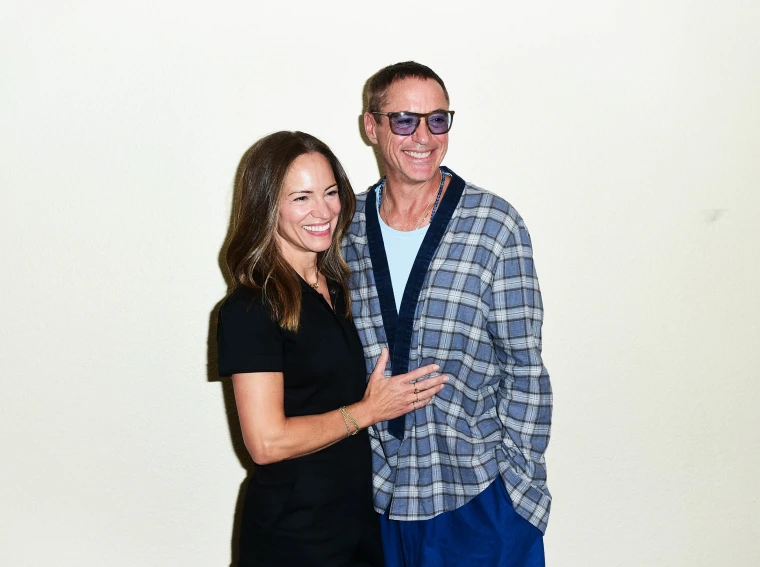 Age, Early Life, and Education Background
Downey was born Susan Nicole Levin in Schaumburg, Illinois, under the Scorpio zodiac sign on 6 November 1973, which makes her 49 years old as of 2023. She is the daughter of the businessman, Elliott Levin and his wife, Rosie Elliot. She has a brother named Richie Levin. Levin is of Jewish roots.
Susan was educated at Schaumburg High School, where she passed with good grades and was selected to give the farewell speech at the school's 1991 graduation ceremony. She is an alumnus of the University of Southern California's School of Cinematic Arts, graduating with the highest distinction – Summa Cum Laude – in 1995.
Career
Susan began her career in 1999. as the co-president of Joel Silver, Gilbert Adler, and Robert Zemeckis' firm, Dark Castle Entertainment, and production president of Silver Pictures. In 2002, she served as the co-producer of the supernatural horror movie "Ghost Ship." Susan co-produced the Jet Li and DMX-starred action film "Cradle 2 the Grave" in 2003, and in the same year produced the supernatural psychological horror movie "Gothika," which follows the story of the psychoanalyst, Miranda Grey (Halle Berry), who finds herself locked up in her mental hospital after she's accused of killing her husband in cold blood; the film actually starred her husband Robert, plus Berry, Charles S. Dutton, and Penelope Cruz. Susan worked on two films in 2005: the slasher movie "House of Wax" and the neo-noir black comedy "Kiss Kiss Bang Bang," which also starred her husband, Robert, Val Kilmer, Corbin Bernsen, and Michelle Monaghan.
Susan was the executive producer of the 2007 Daniel Craig-starred sci-fi horror, "The Invasion," and in 2008, she produced the Guy Ritchie-directed action crime movie "RocknRolla," which featured cast that included Gerard Butler, Tom Hardy, Idris Elba, and Thandiwe Newton. One of Susan's most significant works as a producer was in the 2009 Guy Ritchie-directed mystery action movie "Sherlock Holmes." The film follows the escapades of the legendary eccentric detective, Sherlock Holmes (Robert Downey Jr.), and his crime-solving companion, Dr. Watson (Jude Law), as they attempt to catch the dark arts devotee, Lord Blackwood (Mark Strong), who is the perpetrator of a string of brutal murders plaguing London. The movie was a critical and commercial success, and had a box office collection of over $524 million.
2010 saw Susan serve as the executive producer of three films, including the Denzel Washington and Gary Oldman-starred post-apocalyptic neo-Western action movie, "The Book of Eli," which had a box office collection of around $157 million, and the Robert Downey Jr.-starred superhero movie "Iron Man 2," which was directed by Jon Favreau, and has a box office collection of over $623 million against a budget of around $200 million.
In 2011, Susan served as one of the producers. alongside Joel Silver, Dan Lin, and Lionel Wigram – of the "Sherlock Holmes" sequel entitled "Sherlock Holmes: A Game of Shadows." After producing the Robert Duvall and Robert Downey Jr.-starred legal drama "The Judge" in 2014, Susan took a six-year break from producing and later worked on the 2020 Stephen Gaghan-directed fantasy adventure movie "Dolittle," which also starred her husband. In the same year, she served as the executive producer of the HBO period drama series "Perry Mason" and her most recent work was in the fantasy drama series "Sweet Tooth" in 2021.
In June 2010, Susan and her husband, Robert launched the production firm, Team Downey, which has produced various films including "The Judge."
Personal Life
Susan is a married woman. She met her future husband, Robert Downey Jr., on the sets of the film "Gothika" in 2003. Susan was one of the film's producers whereas Downey Jr. was one of the film's protagonists. She revealed in the talk show "Inside the Actors Studio" that although she thought that Robert was a great and talented actor, she initially turned his romantic advances down because she found him 'weird' and did not embrace the idea of dating an actor. However, the duo quietly struck up a relationship and Downey Jr. later proposed to her on 5 November 2003 (a night before she turned 30). The lovebirds eventually walked the aisle on 27 August 2005 in a Jewish wedding ceremony that was held at Amagansett, New York.
On 7 February 2012, Susan welcomed her first child, a son named Exton Elias Downey in Los Angeles, California. Thereafter, she bore Downey Jr. a daughter named Avri Roel on 4 November 2014.
Before Susan, Downey Jr. was married to the singer, actress and model, Deborah Falconer (1992-2004) and welcomed a son named Indio Falconer Downey, whom he appeared alongside in the film "Kiss Kiss Bang Bang."
Robert credits Susan for helping him quit drugs and alcohol in the early 2000s, which saw him revitalize his career. He previously admitted, 'The old saying is true – behind every good man there's an incredible woman. I owe a huge amount – if not all – of my success to Susan. We make a great team, and all that luck I spoke about, that's Susan.' According to "Sherlock Holmes" director, Guy S. Ritchie, Downey Jr. and Susan are the best illustration of a symbolic union he has ever seen. Downey inked a tattoo reading 'Suzie Q' on one of his biceps as a tribute to his wife.
Height, Weight, and Physical Appearance
Susan is of White ethnicity and has a set of light brown eyes and dark brown hair. She is slim, weighs approximately 115lbs (52kgs), and is 5ft 3ins (1.60m) tall.
Net Worth
Susan has produced several hit films, which has seen her accumulate a good net worth. She is worth approximately $20 million as of 2023. On the other hand, her husband, Downey Jr. is worth a whopping $300 million.
Who Is Susan Downey's Husband, Robert Downey Jr.? Brief Biography
Robert John Downey Jr. is a native of Manhattan, New York City, who was born under the Aries zodiac sign on 4 April 1965 (58 years old) to the filmmaker and actor, Robert Downey Sr., and actress, Alsie Ann. He is of Lithuanian Jewish roots from his father's side and has an elder sister named Allyson. Downey Jr.'s acting career has been characterized by popular and critical success in his youth, which was followed by a brief period of troubles with the law and substance abuse. When he was five, Robert made his film debut in his father's 1970 comedy movie "Pound." He then worked with the group of young actors, the Brat Pack (comprised of the likes of Judd Nelson, Emilio Estevez, Rob Lowe, and Anthony Michael Hall, among others), in the teen movies, "Weird Science" in 1985, and "Less than Zero" in 1987.
Robert has starred in numerous films including "Kiss Kiss Bang Bang." He gained global recognition for his appearance as Iron Man/Tony Stark in various Marvel Cinematic Universe films including "Iron Man" in 2008 and "Avengers: Endgame" in 2019. Downey is also a musician who released the studio album, "The Futurist" in 2004. He has also performed various soundtracks for his movies "Chaplin" and "The Singing Detective." Robert has received numerous awards for his performances: he is a two-time nominee for the Academy Award and has also been nominated for an Emmy Award. The Manhattan native has won numerous other awards including a BAFTA Award, three Golden Globe Awards, and a Screen Actors Guild Award. In 2008, "Time" magazine named Robert among the world's 100 most influential people, and in 2013, 2014, and 2015, he was listed as the highest-paid actor in Hollywood by "Forbes" business magazine.