• Kimi Evans is a Japanese-American weekend morning meteorologist for ABC7 Eyewitness News.
• She was born in Los Angeles and attended University of Southern California and Mississippi State University.
• She started her career as a model and then worked as a translator and meteorologist for various networks.
• She is currently employed at ABC7 Eyewitness News and runs her own consulting and fitness businesses.
• She is active on social media with over 30,000 followers on Facebook, 12,000 on Instagram, and 6,000 on Twitter.

Known for movies

Who is Kimi Evans?
Kimi Evans is a Japanese-American weekend morning meteorologist for ABC7 Eyewitness News. She has achieved prominence through her hard work, and in addition to ABC7 she has also worked for such networks as KHON and CW6 among others.
So, do you want to find out more about Kimi Evans, from her childhood years to most recent career endeavors, including her personal life as well? If yes, then stay with us for a while, as we introduce you to this prominent meteorologist and weather reporter.
Kimi Evans Wiki: Age, Childhood, and Education
Kimi Evans was born on the 27th February 1972, in Los Angeles California; her mother is Japanese, while her father is American. She was raised by her mother since her father left the family soon after her birth. The two reconnected later, but he passed away in February 2018 after a long battle with cancer. Kimi spent several years in Japan, attending Christian Boarding Missionary School, but returned to the USA and finished high school in Orange County. After matriculating, Kimi enrolled at the University of Southern California, where she finished her undergraduate studies and later furthered her studies at Mississippi State University, from which she obtained a certificate from Broadcast Meteorology.
Modeling Career, Meteorology Beginnings
Before she tried herself in meteorology, Kimi was a model; in her teenage years, she was featured in the magazine Seventeen, among numerous others. She had one more interest before deciding for meteorology – Kimi was a translator for Japanese and English languages, and worked for a Japanese film company. Through her job, she connected with Cindy Crawford.
Nevertheless, she still opted for a career on television, when she was attending a wedding in Hawaii; she showed her videotape to several news stations in Hawaii, which resulted in a week filled with job interviews. Kimi's professional career officially began when she joined KHON in 2008, named the weather anchor of the Hawaii-based station, and remaining there for some time, honing her skills and gaining rather needed experience for her future career. After her stint at KHON, she became a member of the CBS Corporation, joining as a meteorologist, a position Kimi held for the next two years, and then received an offer from CW6 which she accepted.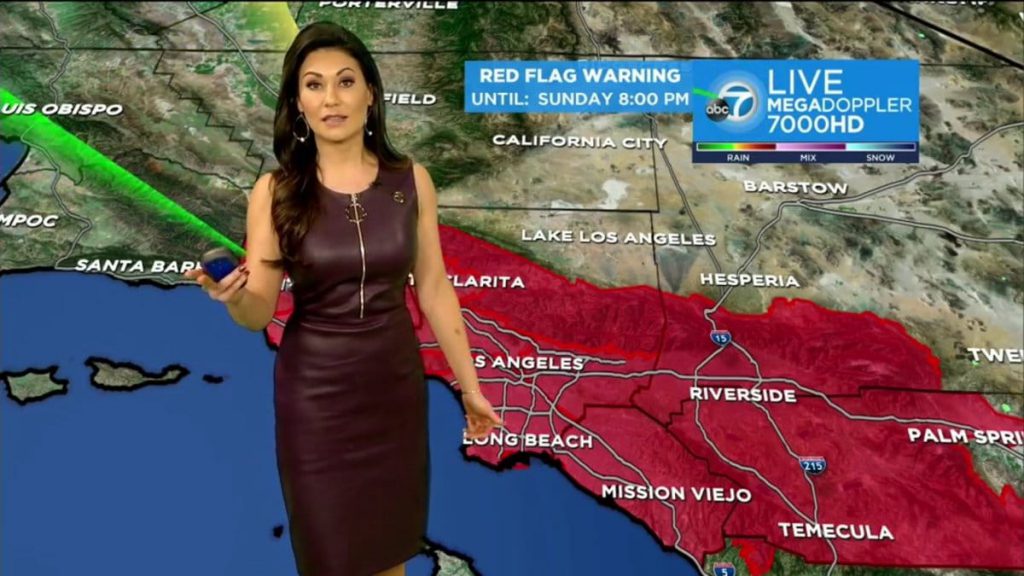 Rise to Prominence
Gradually, her career was becoming more successful and she stayed at CW6 for five years, working as a meteorologist and traffic reporter. Her name became more recognized, and she was recruited by NBC Universal; this was a whole new level for Kimi as she joined one of the "Big Three" television networks. She continued her rise to stardom, and in 2017 officially joined ABC as she was appointed as the weekend morning meteorologist for ABC7 Eyewitness News, which made her a star.
Career Besides Television
Kimi also has other interests in addition to meteorology and has started a few enterprises on her own. The first one is Kimi Evans Consulting, which operates for more than 18 years, while her other venture is a fitness studio named Pilates Plus Pacific Beach which has been running since November 2010.
Kimi Evans Net Worth
Since launching her career, Kimi has become quite a successful meteorologist and weather anchor, which has only increased her wealth. So, have you ever wondered how rich Kimi Evans is, as of early 2019? According to authoritative sources, it has been estimated that Evans' net worth is as high as $1 million, which is rather decent, don't you think? Undoubtedly, her wealth will increase in the upcoming years, assuming that she successfully continues her career.
Kimi Evans Personal Life, Marriage, Husband, Children?
What do you know about the personal life of this prominent meteorologist? Well, Kimi hasn't been very open when it comes to sharing details from these aspects of her life, and according to reports, Kimi is currently single and entirely focused on her career. The moment she shares information about her love life we will be there to share it with you, but for now, Kimi's first choice is her career.
Kimi Evans Internet Presence
Over the years, Kimi has become quite popular on social media platforms, especially on Facebook and Instagram, though she is also no stranger on Twitter. Her official Facebook page has over 30,000 fans, with whom she has shared her most recent career achievements, such as her report on an earthquake, all of which you can see if you skip over to her official page. You can find Kimi on Instagram as well, on which she has over 12,000 followers and has also used to promote her career, and we can often see her weather forecasts among other posts. Kimi is active on Twitter as well, on which she has over 6,000 followers.
So, if you aren't already a fan of this prominent meteorologist and weather news anchor, then this is a perfect opportunity for you to become one, just skip over to her official pages and see what she is up to next.
Movies
Actress
| Title | Year | Status | Character |
| --- | --- | --- | --- |
| Loom | 2012 | Short | Newsreader |
| Zombie Apocalypse | 2011 | TV Movie | Zombie (uncredited) |
| Boom | 2009/II | Short | Scripty |
Source:
IMDb
,
Wikipedia