Who is Lala Baptiste?
In the age of social media, stars are born on platforms like Instagram, where talent and charisma can quickly gain widespread recognition. Lala Baptiste, a name that might not be familiar to everyone, has managed to captivate audiences with her beauty, style, and glimpses into her life. While she may not be a household name yet, Lala's connection to rappers Lil Tjay and the late Pop Smoke has brought her into the spotlight.
Let's take a closer look at Lala Baptiste, her life, her rise to fame, and her experiences with these prominent figures in the hip-hop world.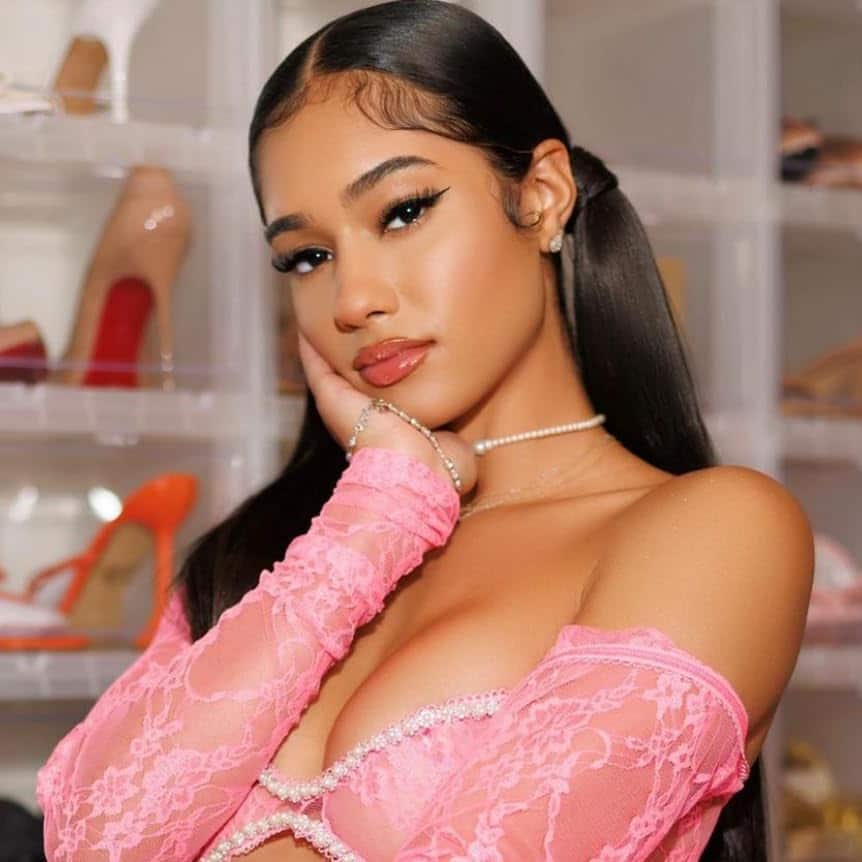 Early life, family, and education
Born Nyela Baptiste under the zodiac sign of Taurus on 16 May 1999, Lala hails from Atlanta, Georgia USA. She holds American nationality, and comes from a family of African-American and Trinidadian descent. Not much is known about her upbringing and early life, as she prefers to keep her personal history private. It's known that she was raised by her mother, Simone, alongside her younger sister, whose name Lala hasn't shared, but says that her younger sister was the one who nicknamed her 'Lala', since she couldn't pronounce her real name.
When it comes to her educational background, Lala attended a local high school, and upon matriculating in 2017, she didn't go to college but pursued her online career.
Rose to fame
Lala's journey to Instagram stardom began in the late 2010s, when she joined the popular photo-sharing platform – like many young people of her generation, Lala turned to Instagram as a platform to share her life and express herself. Her initial posts were typical of a teenager, showcasing everyday moments, fashion choices, and make-up experimentation. However, what set Lala apart from others was her innate ability to create aesthetically pleasing content.
Lala quickly gained recognition for her striking looks, style, and talent for engaging storytelling. Her captivating photos, fashion inspiration, and glimpses into her daily life resonated with thousands of users. The consistency of her content and her talent for keeping her followers engaged paved the way for her ascent to Instagram stardom.
Lala's influence on Instagram has not gone unnoticed by the fashion and beauty industry. Her growing popularity has enabled her to collaborate with various brands, promoting their products and lifestyle, which have allowed her to further cement her position as a prominent influencer.
Her dedicated fan base is a testament to her magnetic online presence. Lala's Instagram account is being followed by over a million people, and she's also active on TikTok. Her profile has gained over 235,000 followers, and all of her videos together have amassed more than 3.5 million likes. Lala's followers admire her not only for her beauty and fashion sense, but also for her authenticity. Many find inspiration in her posts, whether it's fashion and beauty tips, travel recommendations, or personal growth insights.
Lala launched her self-titled YouTube channel on 28 June 2017, which has been subscribed to by nearly 400,000 people. She uploads various content, from fashion to traveling – Lala uploads new videos every Wednesday, and the most viewed is "I Set DDG up on a BLIND DATE with RUBI ROSE & This Happened!!" uploaded on 14 February 2020, which has been watched nearly 2.5 million times.
Love life and relationships with Lil Tjay and Pop Smoke
One of the factors that has contributed to Lala's growing popularity is her association with Lil Tjay, a rising star in the rap industry, whose real name is Tione Merritt, and known for hits "Calling My Phone" and "F.N.". The rapper's relationship with Lala was a hot topic on social media for a period of time, sparking curiosity and discussions among fans and followers.
Happy sunday pic.twitter.com/EJZmFjA3L0

— Lala Baptiste🌊 (@lalatheislandga) May 1, 2016
Back in early 2019, the pair shared glimpses of their relationship through their respective Instagram profiles, leaving fans wondering about the nature of their connection. While they didn't explicitly confirm their status, their interactions provided enough evidence for fans to speculate about a romantic involvement.
In 2020, the two confirmed that they were dating, however, since there had been rumors about Lil Tjay's alleged romance with Lala's best friend, Rubi Rose, this caused some drama – Rubi accused Lala of 'backstabbing a friend'. The romance between Lala and Lil Tjay ended in 2021, and many social media users noticed that the two unfollowed each other, which people saw as the final ending of this love story.
In addition to her connection with Lil Tjay, Lala was also known for her association with the late Pop Smoke, whose real name was Bashar Barakah Jackson. Pop Smoke was a rising star in the hip-hop scene and known for his distinctive drill sound and hits "Welcome to the Party" and "Dior".
Although many speculated about their relationships, according to Lala, she and Pop Smoke were friends, and they occasionally appeared together on social media. Pop Smoke's tragic murder in February 2020 was a significant loss to the music industry and deeply affected his friends and fans, including Lala, who shared with her fans how deeply she was sad because of his death.
In 2022, Lala briefly dated Ian Connor, a stylist and fashion influencer, and as of October 2023, it seems that Lala is single.
Age, appearance, and net worth
This 24-year-old social media star, according to her fans, is renowned for her captivating and unique look. They also said that Lala possesses striking, model-like features with high cheekbones, full lips, long black hair, and expressive dark brown eyes that can effortlessly command attention. She's 5ft 8ins (1.73m) tall, weighs around 145lbs (65kgs), with vital statistics of 34-26-38.
If you've wondered how rich Lala Baptiste is, according to sources as of October 2023, her net worth has been estimated at over $3 million. Most of the wealth she's earned is thanks to her business ventures, and her collaborations with various brands.