• Meredith Garofalo, born in 1986 in Cleveland, Ohio, is a meteorologist and TV presenter.
• She wanted to be a meteorologist from the age of 3 and attended Valparaiso University for her Bachelor's Degree in Meteorology.
• She has worked for KOTA-TV, WWSB-TV, KEYT/KKFX, KCOY Central Coast News, Gazette Company, The News-Press and WeatherNation.
• Meredith is involved in charity work and volunteers for organizations like Make-A-Wish Foundation, Big Brothers Big Sisters, Boys and Girls Club, American Heart Association, American Red Cross and Girl Scouts.
• She has a net worth of over $300,000 and is active on social media.
 
Who is Meredith Garofalo from KEYT Weather?
Meredith Garofalo was born on 27th March 1986, in Cleveland, Ohio USA, of Czech and Sicilian descent. She is a famous meteorologist and TV presenter who became famous while working at KEYT/KKFX in Santa Barbara, California, during which time she was named Santa Barbara's "Favorite Weathercaster of the Year". Her career has been active since 2007.
Meredith Garofalo Wiki Bio: Early Life, Family, Education
Meredith Garofalo is one of those people who knew what their passion was as soon as they could walk. In an interview she stated that her first memory of wanting to become a meteorologist was when she was only three years old, and her mother told her about her experience during the Super Outbreak of 1974 when an Force 5 tornado hit the city of Xenia, Ohio. Meredith's mother was at the center of events as she was involved with the Red Cross organization that helped people who were left homeless after the catastrophe. Meredith remembers this as the moment she realized that she wanted to study severe weather, and help people by keeping them informed.
When she got a Fischer Price tape recorder as a present, she pretended she was a professional meteorologist, and recorded her own weather reports she later replayed to her friends and family. As for her education, she attended Trinity High School and then Roman Catholic college preparatory school in Garfield Heights. After that, she enrolled at Valparaiso University in Indiana, graduating after four years with a Bachelor's Degree in Meteorology, and a minor in TV and Radio Communications.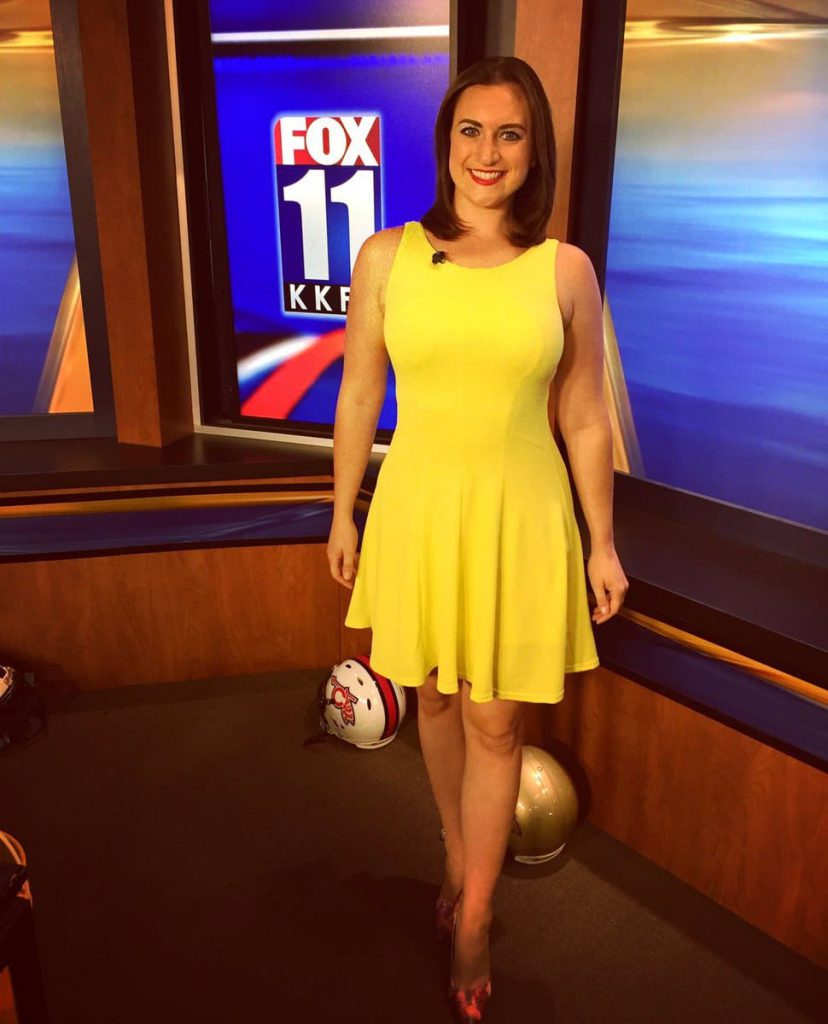 Career Beginnings
Garofalo got acquainted with meteorology and weathercasting while still at high school; joining her school's news team and doing weekly reports on the local weather. During her senior year at university, she spent a semester working as an intern at Chicago's WGN-TV, so having graduated, she had more than enough experience and knowledge to start her career as a certified broadcast meteorologist. Her first job was at the KOTA-TV in Rapid City, South Dakota, where she worked as a field reporter, anchor and weekend meteorologist. Two years later she joined WWSB-TV station in Sarasota, Florida as a producer, meteorologist and reporter, then in 2013 she moved again, this time to California and joined Santa Barbara's KEYT/KKFX. During her time at Santa Barbara she became famous around the US, and won several accolades, such as "Favorite Weathercaster of the Year" in 2016. Besides KEYT/KKFX, she worked as a weekday meteorologist for Santa Barbara's KCOY Central Coast News, Gazette Company and The News-Press.
WeatherNation and Other Ventures
In 2017 Garofalo continued her journey across the US and settled in Denver, Colorado, working as a broadcast meteorologist for WeatherNation, a TV station that provides various weather reporting, including local, regional and national weather news, satellite and radar maps and more. Notable moments in Galofaro's career include field reports on destructive tropical storms that hit the Gulf Coast of Florida, rampant wildfires in Southern California, winter storms that struck California and resulted in severe floods and record rain totals, and many more. In addition to her weathercasting engagements, Meredith has also reported on various science-related stories, such as the Vanbenberg Air Force Base rocket launches, and the launch of the new GOES-16 satellite.
She is also a member of the American Meteorological Society Station Scientist Committee, whose goal is to raise awareness and increase outreach regarding the science education for viewers. In 2018 her alma mater rewarded her with Valparaiso University Alumni Association First Decade Achievement award. Besides spending a significant amount of time in the close proximity to dangerous weather conditions, Meredith's work has also enabled her to be involved in various exciting activities, such as white water rafting, surfing, flying, aerial photography and paragliding.
Charity Work and Volunteering
Meredith is also known for her charity work. The meteorologist stated that outside of weather, her favorite thing is 'educating and inspiring our youth by setting a positive role model'. Her charity work includes volunteering for various organizations such as Make-A-Wish Foundation, Big Brothers Big Sisters, Boys and Girls Club, the American Heart Association, American Red Cross and Girl Scouts. In 2017, she was rewarded with the "Community Partner of the Year" award for her help with the Make-A-Wish Foundation.
Happy Fri-YAY!! @WXRules and I are up and ready to go over all you need to know on @WeatherNation to stay safe this weekend! Grab a ☕️ (maybe iced in many spots?!) and we will see you over breakfast! ☀️ #TGIF #Friyay pic.twitter.com/XSZdClWtzu

— Meredith Garofalo (@GarofaloWX) July 19, 2019
Personal Life
Regarding Garofalo's personal life, she has been in a relationship with Scott Wallace for several years, who works as a real estate developer and homebuilder. In addition to meteorology and volunteering, she has also developed a passion for the arts. Throughout high school she was a part of the school choir, and still occasionally sings at various sports and community events. She also performed in several plays with the Manatee Performing Arts Center in Sarasota, and played Betty Rizzo in their version of "Grease". Her boyfriend on the other hand has a passion for cooking, and was a competitor in the second season of the Food Network's show "Cooks versus Cons". The couple currently resides in Denver.
Net Worth
When it comes to her financial status, authoritative sources estimated that Garofalo's net worth is over $300,000, acquire through her successful career as a TV personality and meteorologist.
Social Media
Meredith owns an Instagram account which has garnered nearly 6000 followers. She also has a Twitter account which counts more than 8000 fans, and a Facebook profile as well.
Appearance and Physical Characteristics
Regarding her appearance, Meredith has a fit figure. She has a medium-length brown hair and light blue eyes. There is no information regarding her height, weight and vital statistics.
Pictures
Movies
Actor
| Title | Year | Status | Character |
| --- | --- | --- | --- |
| The Grid | 2015 | Short | Azamat Neuduchniy |
| The Application | 2015 | Short | Mr. Antonelli |
| Amanda Knox: Murder on Trial in Italy | 2011 | TV Movie | Meredith Kercher's Boyfriend (uncredited) |
Source:
IMDb
,
Wikipedia