• Princess Mae is an Instagram star and the sister of Bretman Rock
• She was born in the Philippines and moved to Hawaii as a young child
• She appeared in her brother's videos and eventually gained her own fandom
• She has 1.7 million followers on Instagram, and has an estimated net worth of $300,000
• She is in a relationship with Mister Wontons and has a daughter named Cléo
 
Who is Princess Mae?
Princess Mae, who is probably best known for being an Instagram star, is also widely recognized for being the sibling of Bretman Rock, who made a name for himself through social media networks and services such as Vine, YouTube and Instagram. Princess Mae's official Instagram account – @maelovecleo – currently gathers over 1.7 million fans.
Early Life and Education
Princess Mae was born under the zodiac sign of Gemini on the 27th May 2000, in the Philippines. After her parents separated when she was young, alongside her mother and an older brother, she moved to Hawaii, USA, where she spent the majority of her childhood. Further details about her family's background and her parent's names have never been disclosed to the present day.
When it comes to Mae's educational background, it has been acknowledged that she attended James Campbell High School in Ewa Beach, Hawaii. However, additional information about her schooling and education level has never been revealed.
Mae's Brother Bretman Rock
Mae is a younger sister of one of the biggest internet stars today – Bretman Rock Sacayanan. He was born under the zodiac sign of Leo on the 31st July 1998 in the Philippines, and apart from Filipino descent, is also of Portuguese ancestry. His name originates from his father's passion for pro-wrestling, and is derived from the monikers of two famous wrestlers – Bret Hart and Dwayne 'The Rock' Johnson.
There aren't many relevant details about his educational background, except that during his high school years he was a gifted athlete, and was heavily involved in cross country, soccer, volleyball as well as track and field. Bretman is also an avid advocate of CrossFit.
Rock stepped into the limelight while still a teenager, when in September 2012 he launched his own eponymous YouTube channel – Bretman Rock. He began uploading various look-books as well as outfit-of-the-day videos, which helped him to quickly gather a fandom for himself, although he eventually removed these videos, claiming that he 'looked a hot mess'. Although initially focused on fashion-related content, young Bretman came into a real prominence after a video of him dancing to Iggy Azalea's song "Fancy" went viral on an at-that-time popular short-video-hosting platform Vine.
However, the real breakthrough in Bretman Rock's internet career occurred in August 2015, when he released a video entitled "How to Contour: Bretman Rock" which quickly amassed hundreds of views, currently counts more than three million. Nowadays, his YouTube channel gathers over six million subscribers and counts nearly 90 videos which have been seen almost 300 million times. Several of Rock's most popular videos feature the presence of his sister Princess Mae, such as "Muckbang Jollibee. feat. My sister" with 9.6 million views, "Doing my Sisters Makeup / Q and A" with 9.7 million views as well as "Spicy Ramen 2x With my Sister" which has been seen over 12 million times, and top spot is "Sister does my Makeup – FUNNY AF" which counts over 13 million views.
Bretman Rock is also active on several other popular social media networks such as Twitter, on which he amassed a total of 3.3 million fans, as well as Facebook and Instagram on which his official account – @bretmanrock has been followed by more than 13 million fans. He had also launched his own collection of makeup.
Some pics of me staying home…. pic.twitter.com/EtDnyAg1jz

— Bretman Rock ? (@bretmanrock) June 18, 2019
Career
Princess Mae stepped onto the path to stardom in February 2015, when she first appeared in her brother's video named "Whisper Challenge – Bretman Rock". With the rising popularity of Bretman's channel, she continued to occasionally appear in his video uploads, and overtime gained her own fandom. With her fame on the rise, Princess eventually became active on the popular social media network Instagram, on which her official account – @maelovecleo currently counts more than 1.7 million followers. With such a vast number of people following her activities and uploads, Princess Mae has earned her place among Instagram stars. Her profile is abundant with fashion-related content and pictures of her 'flaunting' in various fashionable outfits, sporting some of the latest trends.
In addition, since September 2016 she runs her own eponymous YouTube channel which, although currently containing only several videos, has gained over 7.8 million views and has amassed almost 800,000 subscribers.
Personal Life
Despite being quite active in an online world, Mae has somehow managed to keep her personal life quite private and far from the media, as there aren't many available details about it. However, it has been publicly acknowledged that in October 2016, 16-year-old Mae welcomed a daughter she named Cléo. Although never officially confirmed, it is assumed that the child's father is a guy named Dechen Wangmo. Since her debut appearance on Princess' Instagram account, little Cléo has gained a huge dose of popularity as well, and due to being the daughter of one of an Instagram sensations, she became a star herself – her own Instagram account – @CleoAmoreAmiotonu – has already amassed over 850,000 fans.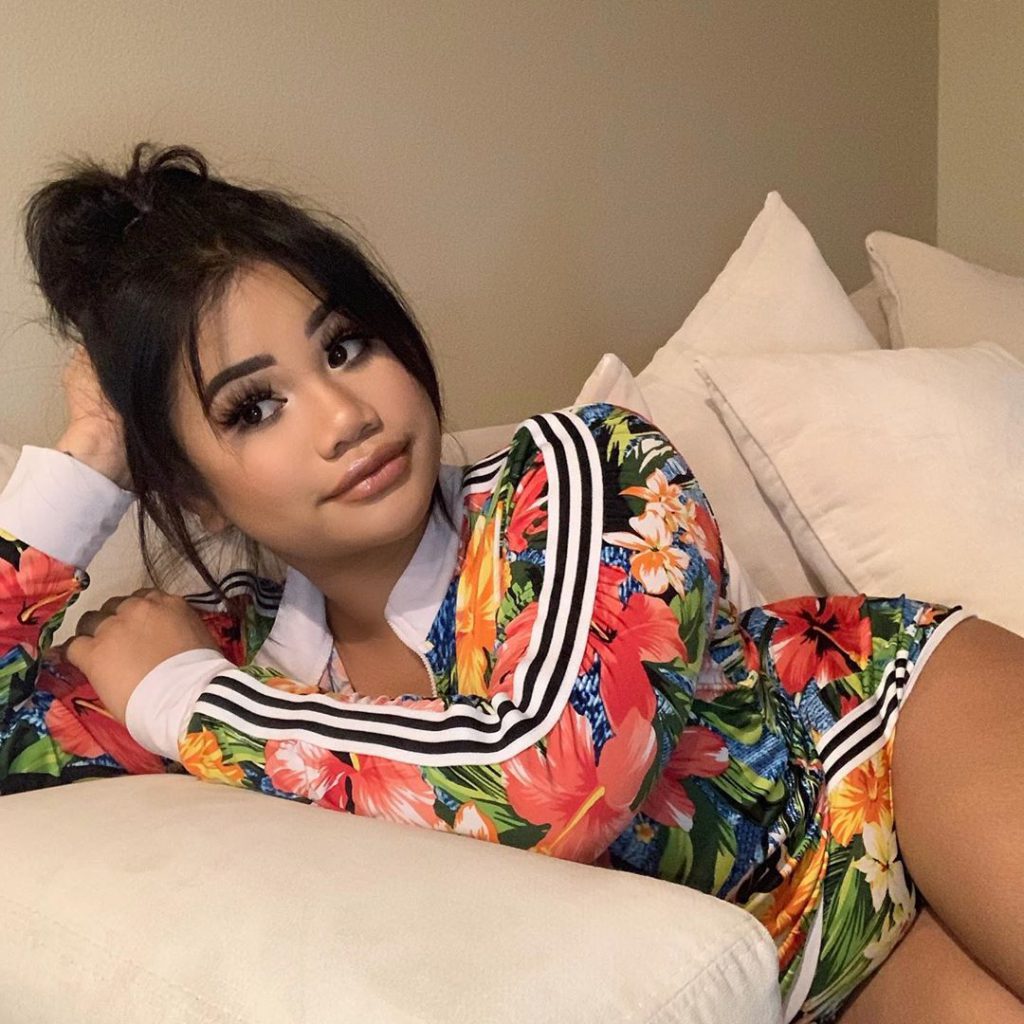 Princess is currently in a romantic relationship with a guy known by his Instagram moniker Mister Wontons.
Mae is also quite active on Twitter, on which she is followed by more than 150,000 people.
She sports an attractive appearance with a genuinely hourglass-shaped silhouette, which in addition to her long dark hair and dark-colored eyes, make her look quite alluring. Details about her height as well as her vital statistics remain unknown so far. Mae's body is decorated with a handful of tattoos.
Net Worth
Have you ever wondered how much wealth this 19-year-old Filipino-American Instagram sensation has accumulated so far? How rich Princess Mae is? According to sources, it is estimated that the total of her net worth, speaking as of mid-2019, revolves around the sum of $300,000, which has been acquired primarily through her activities on Instagram over just the last four years.
Source:
IMDb
,
Wikipedia