• Reilly Dolman is a Canadian actor, best known for his role in "Percy Jackson & the Olympians: The Lightning Thief" and "Travelers".
• He was born in 1988 in Vancouver, British Colombia, and is 31 years old in 2019.
• His television and movie debut was in 2007 with "Bionic Woman" and "Percy Jackson & the Olympians: The Lightning Thief" respectively.
• His net worth is estimated to be over $1 million as of mid-2019.
• He is a secretive person when it comes to his personal life, and is unmarried and apparently not dating anyone.
 
Who is Reilly Dolman?
Reilly Dolman is a Canadian actor, who is best known for her college buddy role in "Percy Jackson & the Olympians: The Lightning Thief", as well as the main role in "Travelers", a Netflix series in which he played as Philip Pearson.
Reilly Dolman Age, Early Life, Family, and Education Background
Reilly was born under the Pisces Zodiac on 29 February 1988, in Vancouver, British Colombia, Canada, which makes him 31 years old in 2019. He is a Canadian by nationality and belongs to white ethnicity.
When it comes to his family, Reilly is a secretive person who has chosen to keep details regarding his parents and siblings private – their names and professions are not known by the public.
https://www.instagram.com/p/Bu6zyPFBOMM/
The only time he mentioned his mother was on Women's Day when Reilly described her as the grandeur of being a woman. Reilly developed an interest in acting while in high school, which made him choose to take digital media classes.
Reilly Dolman Professional Career and Rise to Stardom
Reilly's television debut came in 2007 when he was only 19 years old. He had a minor role in "Bionic Woman", a science fiction series which was a modern update of the 1970s film by the same name. However, his big-screen debut and rise to stardom came in 2010, when he played the role of a college buddy in the film "Percy Jackson & The Olympians: The Lightning Thief".
Soon afterwards, Reilly landed another big role in the drama film "Flicka 2", in which he played the role of an attractive rancher named Jake Carter, a character who had high hopes of becoming a country singer. Reilly featured alongside Clint Black and Emily Tennant in this movie that was directed by Michael Damian.
His role in "Flicka 2" made him a public figure, who was now recognized as a skillful actor, which enabled him to get more roles in television series and movies. That same year, Reilly was cast in a number of series and movies, including "The Troop", "A Brothers Love", "Bond of Silence", and "Goblin".
The talented actor also landed guest roles in admired TV series such as "Rush", "Supernatural", and "the Tomorrow People".
Reilly achieved his lifetime opportunity when he was selected to play the role of Philip Pearson in the "Travelers" series, aired from 2016 to 2018. His character was a college student who was heavily addicted to heroin. This series became a hit and gave him both fame and fortune.
Reilly has also appeared recently in other various movies and television series including "Missed Connections", "Stargate Universe", "Mega Cyclone", "Zodiac: Signs of the Apocalypse" among others.
Reilly Dolman Personal Life, Girlfriend, Marriage and Children
Reilly chooses to keep his lips tightly sealed when it comes to matters of the heart. He has avoided talking about his love life both in the numerous interviews that he has given and on his social media accounts.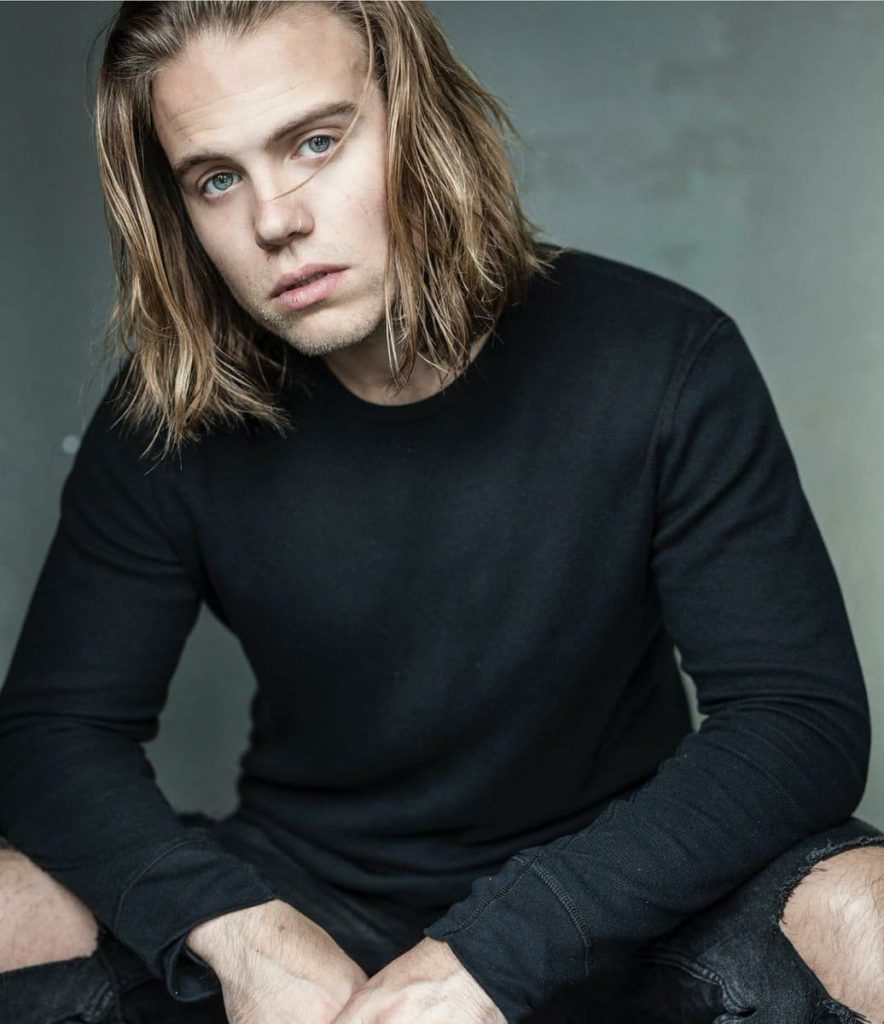 This has led to rumors that Reilly is gay, despite which Reilly has a massive following of women, drooling over his beautiful tattoo and elegant personality. He has never confirmed the rumors, and currently he is unmarried, and apparently not dating anyone.
Some online platforms once mentioned that Reilly could be the father of a girl who was born in 201, after he posted a photo of himself holding a sleeping baby girl. However, details of the girl and her mother still remain a mystery, and Dolman has also remained mum about the issue.
Reilly is an animal lover who has two pet dogs. He also developed a fascination for horses after his role in "Flicka 2", in which he worked with them on set. Reilly wrote on his Twitter account that Jack Black makes him laugh – this makes him a die-hard fan.
Reilly is also very active on social media where he has a significant following. His Instagram page has more than 40,000 fans.
Reilly Dolman Body Measurements and Features
This Canadian actor stands at 5ft 11ins (180cm) tall, and weighs 175 lbs (79kg). He has blonde hair and his eyes are blue in color.
Reilly Dolman Income, assets, and Net Worth
This adept Canadian actor has managed to accumulate a good amount of income as an actor. After featuring in a number of TV series and movies, Reilly has managed to make a name for himself in the film industry.
An average Canadian actor earns less than $50,000 per year, however, reputable sources estimate Reilly Dolman's annual salary to be over $150,000, and his net worth over $1million as of mid-2019. The movie "Percy Jackson & the Olympians: The Lightning Thief", which Reilly featured in, took $226.4 million at the box office, from and initial budget of $95 million, which certainly boosted his value. Reilly has not shared any information regarding his assets, but with such wealth it is no wonder he lives lavishly.