• Rob Bourdon is an American musician and the founding member of the alternative rock/nu-metal band Linkin Park
• He was inspired by Aerosmith drummer Joey Kramer to learn how to play drums and was classmates with future members of Hoobastank
• Linkin Park achieved world fame and released several successful albums, including "Hybrid Theory", "Meteora", "Minutes to Midnight", "A Thousand Suns", and "One More Light"
• Rob Bourdon has a net worth of $20 million and is currently single
• He stands at 6ft 3ins and has long dark brown hair and dark brown eyes
 
Who is Rob Bourdon?
Rob Bourdon is an American musician, a drummer, and best known as a founding member of the alternative rock/nu-metal band Linkin Park, with which he has attained world fame, particularly with such hit songs as "Numb", "In the End", and "One More Light", among numerous others. The band sadly went on hiatus following the premature death of Chester Bennington, the band's lead singer, in 2017.
Rob Boudon Wiki: Age, Childhood, and Education
Born Robert Gregory Bourdon on the 20th January 1979, in Calabasas, California USA, he is the son of Gregory Bourdon and his wife Patty. From an early age he was interested in music, and was inspired by Aerosmith drummer Joey Kramer to learn how to play drums. He had the luck to meet the popular musician, which was the turning point in his life. Rob went to Aguora High School, and was classmates with future members of Hoobastank.
Career Beginnings
It was during his high school days that he met Mick Shinoda and Brad Delson, all of whom became members of Linkin Park. After matriculation, they began taking more serious interest in music and created their first band, Xero, with Joe Hahn, Dave Farrell and Mark Wakefield. Unfortunately Xero was a disaster, and Wakefield and Farrell left the band, but they recruited Chester Bennington, changed the name to Hybrid Theory, and started recording new material.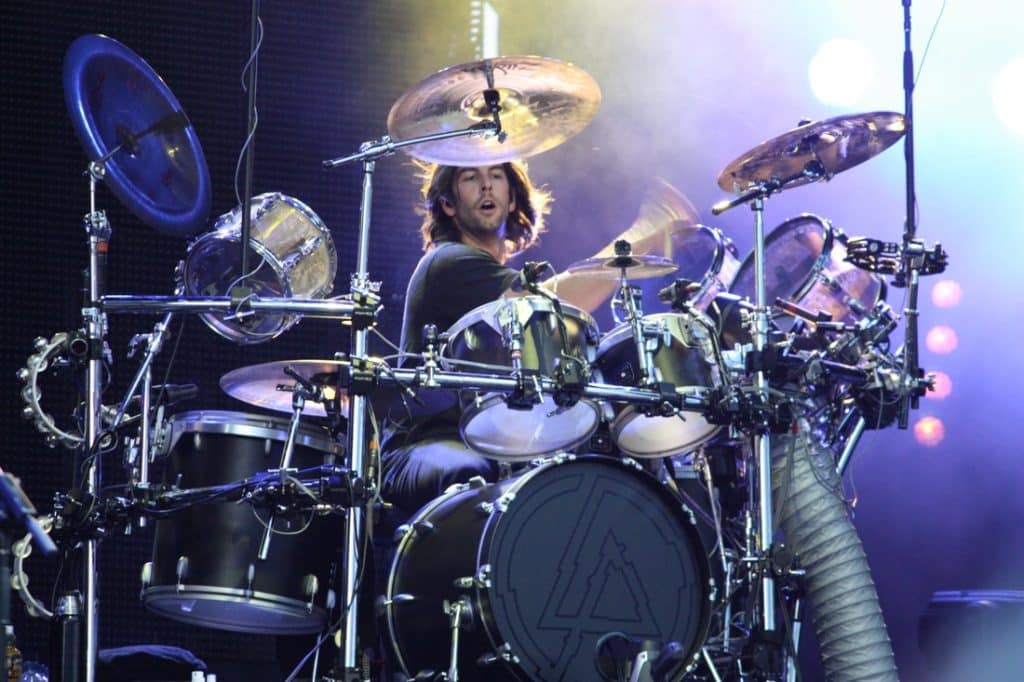 Shinoda and Bennington immediately developed chemistry between them in the studio, which soon resulted in the EP "Hybrid Theory". They changed the name once again, this time to Linkin Park, and in 1999 signed a record deal with Warner Bros. Records, and with the comeback of Farrell, the band recorded their debut album "Hybrid Theory" (2000), which became a complete success.
Rise to Prominence
"Hybrid Theory" reached No. 2 on several charts, including US Billboard 200, and has since achieved diamond status in the US, and multiple platinum status in Australia, Canada and other countries.
The band continued rather successfully in the early and mid- 2000s, launching Rob and the other members to stardom. Their first No. 1 album eventuated in 2003, entitled "Meteora", and it again achieved multi-platinum status in the US, Australia, Canada, and double platinum in Britain. The third album was also a success, "Minutes to Midnight" (2007) topped the US Billboard 200 chart and US Rock chart, while three years later, they had another No. 1 album, "A Thousand Suns".
Since then, Linkin Park released three more studio albums "Living Things" (2012), "The Haunting Party" (2014), and "One More Light" (2017), released just two months before Chester's death. The album has since achieved gold status in the US, and also topped several charts in various countries.
After Chester's death suicide by hanging – the other members decided to hold a concert in his honor on 27th October 2017 at Hollywood Bowl, entitled Linkin Park and Friends. The band members have since gone on a hiatus, and Rob and the rest are yet to decide what they will do with their respective careers.
Rob Bourdon Net Worth
Although the youngest member of Linkin Park, Rob has contributed to the band's success in the same way as the others, and their creations has certainly increased Rob's wealth. So, do you know how rich Rob Bourdon is, as of early 2020? Rob has earned himself a small fortune according to sources, with his wealth as high as $20 million, which is expected to grow further in the years to come, thanks to the enormous success of Linkin Park and their songs.
Rob Bourdon Personal Life, Dating, Girlfriend, Height, Appearance
Rob has a rather secretive nature and hasn't revealed much in the media about his personal aspirations, despite becoming a celebrity. Nevertheless, we have found out some interesting details about him. He is known to have been in a couple of high-profile relationships. From 2001 to 2007 he was in a relationship with actress Vanessa Evigan – the two were often seen together at various events, however, there is no information as to why the two broke up; some reports claim that Rob started an affair with another woman, but that is unconfirmed.
He was also in a relationship with the Russian model Irina Shayk; the two dated for around a year, ending their romance in 2008. Since then, Rob has been romantically linked with several women, but hasn't shared anything officially. All we can say is that he is currently single. To speak further of his secretive nature, Rob isn't active on any of the popular social media platforms.
Rob is known for his dominant appearance, as he stands at 6ft 3ins, which is equal to 1.93m. He has long dark brown hair and his eyes are also dark brown.