Slayeas is an American social media personality who rose to prominence for her comedic, dance, and Star Wars-oriented videos, which she posts on Twitch, TikTok, Twitter, and YouTube channels.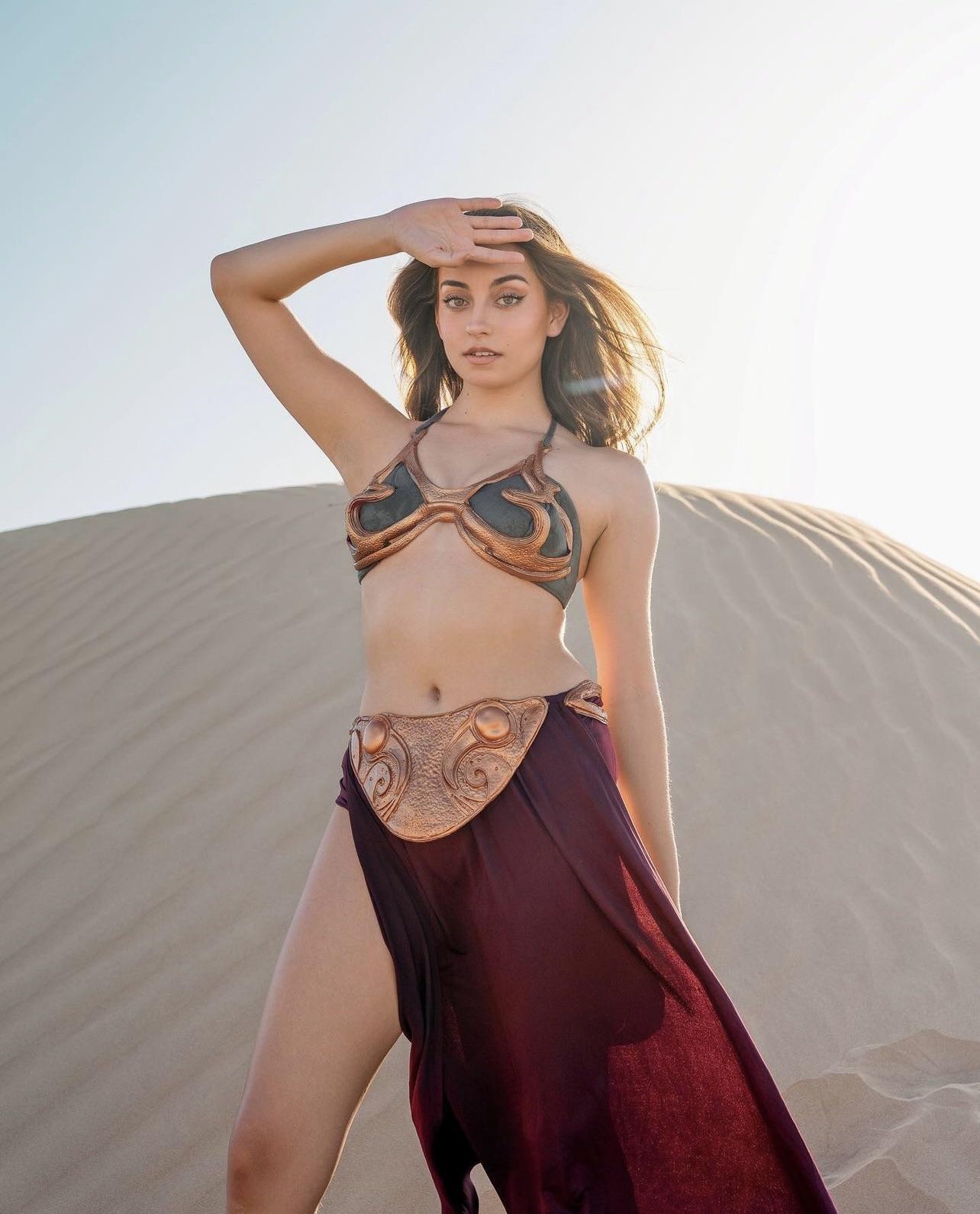 Age, Early Life, and Education Background
Slayeas was born Lea Martinez in New York City, USA, under the Capricorn zodiac sign on 10 January 2003, which makes her 20 years old as of 2023. She hasn't revealed the names and professions of her parents. Slayeas has a sister named Adriana Martinez, whom she considers her best friend, and often posts her photos on Instagram. Martinez grew up very physically active, and was a club swimmer for nearly a decade before she shifted her focus to social media.
Slayeas' educational background remains a mystery, except that she has revealed on her YouTube Q&A section that she was bullied a lot when she was in middle school.
Interests and Hobbies
Slayeas is a huge fan of "Star Wars." She attended a special three-episode launch event for Tony Gilroy's Disney+ science fiction TV series "Star Wars: Andor" (simply "Andor") at the Hollywood, Los Angeles-based El Capitan Theater. Slayeas had an interview about the event, which has been uploaded by the entertainment news YouTube channel, FabTV, ("Tik Tok'r Léa Martinez Attends Disney+ Hosts Special Launch of New Series "Andor"").
Her best-loved Star Wars film is the 1980 Mark Hamill and Harrison Ford-starred "The Empire Strikes Back."
Slayeas is keen on traveling, and has toured numerous US states both for leisure and content creation. She has also traveled to various international destinations.
Only up time ❕❕ https://t.co/7qHTPa2CVQ pic.twitter.com/lNEO2MrW4T

— Lea Martinez (@officialslayeas) June 22, 2023
She is an outdoorsy person, who is a huge fan of photography. She loves interacting with her fans at film festivals and other events.
The YouTuber loves watching late-night Marvel Cinematic Universe (MCU) films. Her favorite is the "Spider-Man" film franchise. She is also a huge "Pokémon" film series fan. Her best "Pokémon" characters are Torchic (a Fire-type Pokémon) and Torterra (Ground/Grass-type Pokémon).
She loves spending her free time playing video games and her favorite is the online multi-player survival video game "Dead by Daylight."
Career
TikTok
Slayeas' TikTok career took off in late 2020, when she started uploading videos on the platform, quickly attracting attention for her unique content and stunning appearance. She has almost four million followers, nearly 58 million views, and over 125 million likes (@slayeas). She often collaborates with her fellow TikTok star, Duke Depp (@willywonkatiktok), who is widely known for dressing and imitating the acclaimed character, Willy Wonka, from the Johnny Depp-starred musical fantasy film "Charlie and the Chocolate Factory" in his TikTok videos. Depp was born Tyson Duke Charlesworth on 12 December 2000 (22 years old), and has over 20.6 million followers and almost 575 million likes on TikTok. Slayeas' most viewed video is a point-of-view (POV) piece entitled "Dark Side," which is based on the "Star Wars" film series and features her dancing while wielding a lightsaber.
YouTube
Slayeas launched her self-titled YouTube channel on 17 March 2021. Her description reads 'Hi I'm Lea Martinez or Slayeas! You may know me as "that Star Wars chick" on TikTok! I am here to bring characters to life through cosplays, have a good time gaming, and capture whatever moments life hands me. Come join this loving and supportive community & subscribe to keep up with my adventurous life!!' The cosplayer uploaded her first video on 26 February 2022, "HIJACKING DISNEY'S GALACTIC STARCRUISER," in which she steps aboard the then-new Disney's Star Wars-themed hotel for the first time; it attracted nearly 33,000 views.
Slayeas' most viewed video is "Get to Know Me! | Q&A" (uploaded on 26 March 2022), in which she answers interesting questions asked by her Instagram fans – the video has garnered almost 60,000 views. Two of her other popular videos are "THE ULTIMATE LIGHTSABER COLLECTION VIDEO!!!" (uploaded on 16 May 2022) and "NEOPIXEL DARKSABER GIVEAWAY *this is the way*" (in which she gives away lightsabers and was uploaded on 29 April 2022), which have 33,000 views and 24,000 views respectively. Slayeas has over 37,000 YouTube subscribers, and has uploaded over 120 videos, totaling nearly three million views.
Other Social Media Platforms
Slayeas joined Twitter (@officialslayeas) in August 2021, and has garnered over 365,000 followers as of late 2023. She's fond of cosplaying, and has posted numerous videos and photos dressed in Halloween costumes and like characters in the films "Ella Enchanted" and "Spider-Man." Her Twitter bio reads 'full-time streamer, part-time cosplayer, long-time fan.'
Martinez is active on Instagram (@slayeas), with over 582,000 followers, on which She's uploaded numerous cosplay, modeling, and steaming videos. Her posts predominantly feature her striking unique poses in stylish outfits, and mostly receive up to 100,000 likes. Moreover, Slayeas has around 165,000 followers on Twitch – in her bio, the streamer has jokingly stated 'Hi! I'm Lea & I have worms for brains.'
Personal Life
Martinez rarely speaks about her dating life in interviews and on social media platforms. She's reportedly dating the social media personality Luke Ross, who is best known for his TikTok account (@lukes_lightsabers). Luke is four years older than Martinez; the duo shares a lot in common, creatinge content together, and often showcasing their interests and admiration for the "Star Wars" franchise and Marvel films on their respective social media platforms. It's not clear when the two began dating – Martinez is unmarried without any children as of late 2023.
Martinez follows the Christianity religion.
Height, Weight, and Physical Appearance
Slayeas is of Caucasian ethnicity, and has shiny dark brown hair and a pair of brown eyes. She stands 5ft 5ins (1.65m) tall and weighs approximately 120lbs (54kgs). She follows a rigorous workout routine to maintain her physique, and is also very keen on her diet, avoiding sugary foods.
Net Worth
Slayeas has made a significant impact on social media, which has made her very famous and fairly wealthy. She makes money through sponsored YouTube deals, Twitch donations, and brand endorsement deals and is worth nearly $500,000, as of 2023.
About Slayeas' boyfriend, Luke
Luke Ross is a native of Los Angeles, California, who was born under the Virgo zodiac sign on 23 August 1999, which makes him 24 years old as of 2023. He attended Fullerton College in California, where he played basketball for the school's team. Luke began posting TikToks on 18 November 2019, and has posted numerous videos and on 25 February 2022, he recorded and posted a video of a Star Wars exhibit by Disney World and it went viral in just a few days. On 19 July 2022, Ross posted a TikTok featuring the song "I Was Never There," by Gesaffelstein and The Weeknd. Luke has garnered over 650,000 followers and around 29 million likes as of late 2023. Luke is also active on Instagram (@lukes_lightsabers) with around 76,000 followers.