• Sumeet Sahni is a 31 year-old personal trainer, fitness instructor and Instagram star
• She was born in San Francisco and is of Indian descent
• She is a certified online coach and bikini model who competes at NPC National level bikini competitions
• She started her fitness career soon after graduating from university and has worked with over 100 individuals
• She has over 520,000 followers on Instagram and is 5ft 5ins (1.65m) tall and weighs around 145lbs (65kgs)
 
Who is Sumeet Sahni?
Sumeet Sahni was born on 18th December 1987, in San Francisco, California USA, of Indian descent. She is a 31 year-old personal trainer, fitness instructor and Instagram star, who became popular primarily thanks to her social media accounts, which feature a variety of workout-related posts, such as exercise instructions and body transformations. She is also a certified online coach and bikini model, who regularly competes at NPC National level bikini competitions. Her career has been active since 2010.
Sumeet Sahni Wiki Bio: Early Life, Family and Education
Sumeet's parents moved from India to San Francisco shortly before she was born. As she was growing up, their primary concern was that their daughter did well in school; as long as she had good grades, they allowed her to do anything that she wanted to do. Sumeet first joined her local gym at the age of 13. Even though she was never proficient in any sport up to that moment, she quickly fell in love with fitness exercises. As she became more acquainted with weight lifting and all of the equipment in the gym, she started to think of fitness and training as a possible career choice.
During her high school days, she went from a casual gym member to a dedicated sports enthusiast, learning everything there is about proper training and nutrition. Having matriculated from high school, she enrolled at the University of San Francisco, and after four years of study, graduated with a Bachelor's Degree in Science, Exercise and Sports Science.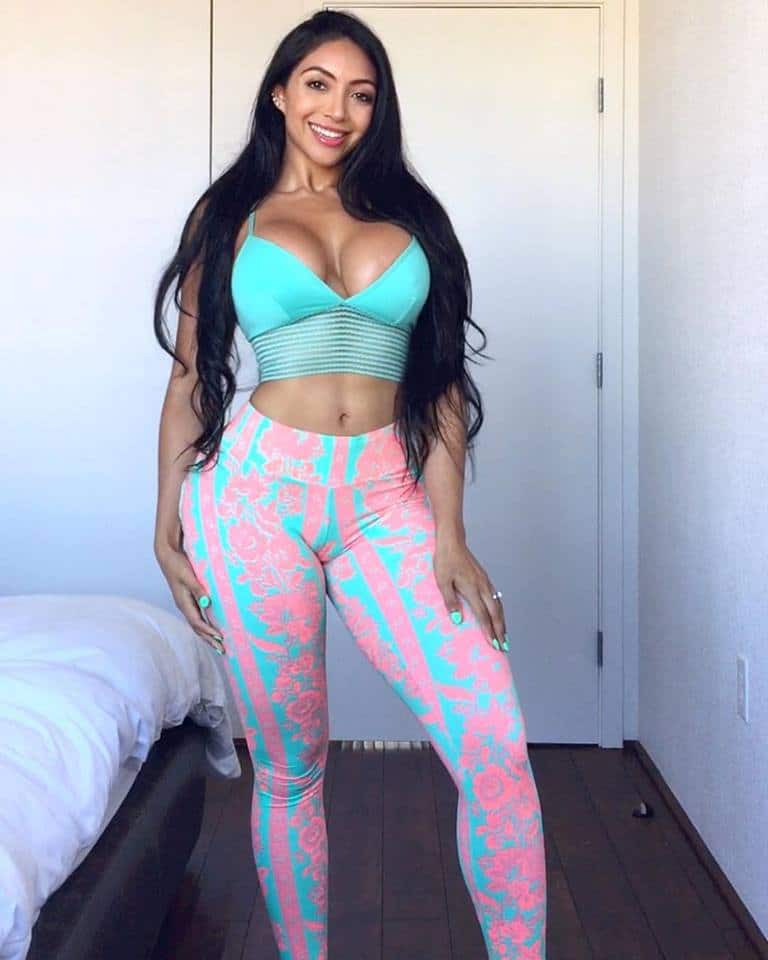 Career Beginnings
According to Sumeet, even though she was absolutely sure about what she wanted to do in the future, she could not resist the many temptations of college life. Throughout her studies, she indulged in junk food and frequently partied, which meant drinking a lot of alcohol and not getting enough sleep. As a result, she spent less and less time at the gym, and was completely out of shape when she finished college. Soon after graduation, Sahni travelled to South Korea where she worked as an English Teacher at Cheonggok Elementary School for a year, and it was during her time there that she realized that she needed to make a drastic change in her lifestyle, and become healthy and fit as she once was.
After returning to the US, her boyfriend at the time entered a bodybuilding competition which sparked Summet's interest once again. She researched the female competition categories, and saw that there was something called the Bikini Division, and decided to prepare herself to the best of her abilities, thus launching her fitness career.
Fitness Model and Instructor
After successfully making a comeback to the world of fitness, Sahni realized how much it meant for her to be healthy and fit once again, and decided to help others transform their bodies and become the best versions of themselves. She acquired a personal trainer certificate, and started working as a personal trainer at "Crunch Fitness" in San Francisco in June 2012. At approximately the same time, she started doing fitness modeling. In the following two years, she worked with more than 100 individuals, both men and women, and in addition competed in the bikini division, eventually making it to the National level and winning several awards.
Rise to Fame via Social Media
In 2014, Sumeet decided to include online coaching in her already busy schedule, to reach out and help even more people. She also started posting fitness and workout-related photos more frequently on her social media accounts, primarily Instagram. Her base of followers slowly grew, eventually reaching half a million, and as a result, she was able to attract a number of sponsors, such as leggings brands "Celestial Bodiez" and "Cute Booty Lounge", and supplement company "EHPlabs". Furthermore, in 2016 she launched her own company called "Sumeetfit", which offers a range of services, from online coaching and training, to workout clothes and other workout items, such as resistance bands, weights and other items.
https://www.youtube.com/watch?v=TT7jZAdHIbI
Personal Life
Regarding her personal life, Sumeet Sahni is married to her former longtime boyfriend. Unfortunately, she is not keen on sharing information concerning her husband, such as his name or profession. They currently reside in San Francisco, along with their dog named Lala.
Social Media
Sumeet's official Instagram account currently has more than 520,000 followers. She also owns an account on Twitter, which has nearly 2000 followers, and a Facebook profile as well. Besides this, she has her own website.
@MusclePhonePics I've got 99 problems, but my bis ain't one. http://t.co/FxfebXPB

— Sumeet Sahni (@Sumeet_Sahni) September 3, 2012
Appearance and Physical Characteristics
When it comes to her looks, Sumeet has been working out tirelessly for several years in order to maintain her amazing, curvaceous physique. She is 5ft 5ins (1.65m) tall and weighs around 145lbs (65kgs). She has long black hair and dark brown eyes.