• Terron Beckham is an Internet personality, fitness trainer and model.
• He moved around a lot as a child and struggled with poverty.
• He started posting photos on his Instagram in 2012 and gained popularity.
• He has a YouTube channel and Twitch profile where he posts videos and streams.
• His net worth is estimated to be around $1.5 million.
 
Terron Beckham is an Internet personality whose path to success was full of financial and geographical issues. He moved a lot and struggled with poverty, but however made it to become a fitness trainer and model, conquering the world of Instagram and YouTube. Let's find out more about his story, net worth, current relationship status, etc.
Early life and family
Terron F. Beckham was born on 28 July 1992, in Dallas, Texas USA so under the sign of Leo and holding American nationality. Almost nothing is known about his family, except that his father, Terry Beckham, was a great football player when he was in high school, and later became a prominent track & field athlete at Morehead State University, and he still holds the school triple jump record, so Terron inherited his passion for sports.
His mother, Jerri  Fondren, was also keen on sport at a young age, making basketball her main passion. Terron has a sister, whose name is unavailable. It is also worth mentioning that Terron is a cousin of Odell Beckham Jr., a New York Giants receiver, a famous American Football player and celebrity. However, Terron and Odell weren't close enough from the very beginning, as Odell lived in Louisiana, and they almost never saw each other. Terron was into sports from his childhood, good not only at football, but also at basketball and swimming.
Educational background and financial troubles
Terron studied at Richardson High School in Dallas – they take it seriously when it comes to football there in Dallas. Terron shared in his interview to Stack in 2016: 'High school is basically college football. Every high school has a stadium, everything's huge, everything's big. They do a really good job of pumping up football down there'. However, soon he had to transfer to Maryland, as his parents separated, struggling with more and more financial issues. Being a kid, Terron couldn't but think that he was the real reason for his parents' fights, so he decided to move to his aunt and uncle's house in Fort Meade, Maryland.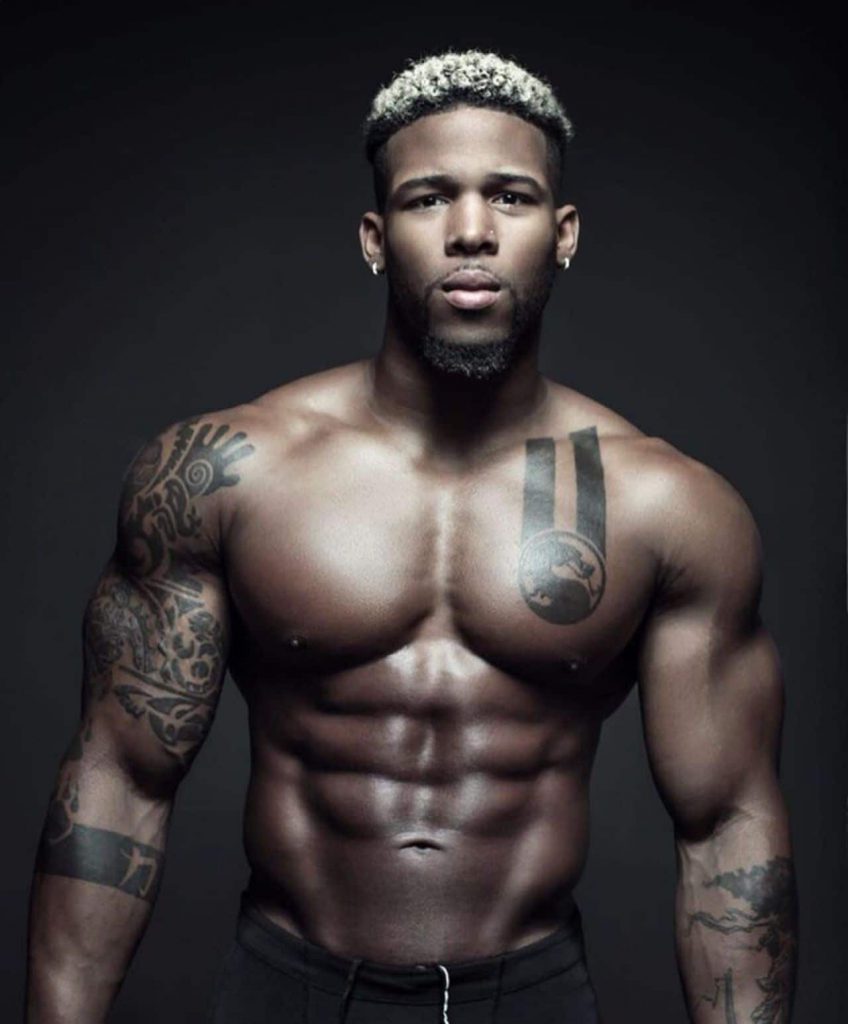 He decided that living in the military family would be great for his character and life, so everyone agreed it was the best step. So, Terron matriculated from Fort Meade High School in 2010. Though he didn't get any offers from Division I programs, Stevenson University (a Division III nearby school) in Owings Mills, Maryland contacted him as they were highly interested in working with him. When Terron understood he had nothing to pay with for his tuition, at first he thought that Stevenson University would take care of his troubles, however, it turned out he only got help in the form of student loans.
So at that moment he had two types of loans and had no chance of paying them off however hard he tried. 'I moved from room to room throughout the semester trying to find somewhere to stay. I ended up having to give up football to work and to pay for the rest of school', Terron said, describing his hard times. He quit Stevenson University after the first semester.
Career
Football career
Owing quite a big sum to Stevenson University, Terron couldn't enroll at any other school, so he started working at GameStop as a sales-assistant, then at Best Buy and Hollister.
He also started going to the gym as he wanted to be ready for playing football if he was offered. However, he didn't only wait for the opportunities to find him; he started participating in physique competitions and got some work as a personal trainer and fitness model. In 2012 he started posting his photos on Instagram as his body started looking outstanding. 'When I was on my own and I'd see these huge fitness people, I thought, 'Alright, I gotta do something that's going to go viral and really make people think this guy's crazy', Terron says about his motivation to post more photos on his Instagram profile. His fitness trainer and modelling career showed good results, so Terron got a chance to move to New York City.
In 2015 Terron participated in Mr. Olympia Fitness and Performance Expo, where he was noticed by the Owner and CEO of TEST Football Academy, Kevin Dunn. Terron was offered a position on the team and accepted the opportunity, moving to Martinsville, New Jersey. Although having impressive athleticism, Terron had trouble with agility and flexibility; he was also recommended to lose some weight. He played for some time in TEST, however, he quit later, then tried to get back to a football career, enrolling at Navarro College in Corsicana, Texas, though he quit again.
Online career
Keeping on posting his photos on his Instagram account, Terron got more and more subscribers onto his social media profile. As of 2019, he has over 550,000 followers on his Instagram page, and constantly gaining more. Being also a passionate gamer, Terron started posting gameplay videos on his YouTube channel, and went live streaming on his Twitch profile. He plays such games as "Gears of War 4", "Overwatch" and "Battlefield I". He also posts a lot of training and workout videos, which also get thousands of views and have become the most viewable videos on Terron's channel.
His most popular videos on his channel are "800 Pounds Of Destruction" and "Larry Wheels & Terron Beckham | Big Back Big Biceps Training" which both have over 1.5 million views. It is also worth mentioning that Terron has become an ambassador of such fitness brands as "Alpha Clothing", "Just Saiyan Gear" and "G Fuel".
Personal life
Terron is not single – his girlfriend is Pelin Tekdal, whose nickname online is Pelinyc, and they've been dating since 2017. Terron doesn't post many photos of his girlfriend on Instagram, though he has a special story highlights with her pictures he took himself. They haven't announced anything about an engagement, and they don't have kids.
Who is Pelin "Pelinyc" Tekdal?
Pelinyc is a YouTube and Instagram personality and also a make-up artist, who lives in Los Angeles. She has been posting her make-up tutorials and arts on Instagram since 2015, attracting over 13,000 subscribers to her profile. She also has a YouTube channel, on which she shares her make-up tutorials, product reviews, cooking videos and workout sessions. The most popular video on her channel is entitled "AVATAR MAKEUP TUTORIAL | HALLOWEEN MAKEUP | PELIN TEKDAL" and it has over 10,000 views. She has commercial contracts with such cosmetics brands as "Wet n Wild Beauty", "Jeffree Star Cosmetics", "Sephora", "Rimmel London" and many others. She often tries many anti-aging products on her mom, and shows the results in her videos.
Hobbies and interesting facts
Terron is a big fan of video games and spends his spare time playing them. He also likes eating out, preferring pizza cafes. He likes spending time with his mother and sister, and visits them whenever he has a chance. He also likes travelling.
Social media presence
Terron's successful online career has made him be active on many social media platforms; thus his Instagram account has over 550,000 followers, his Twitter profile is read by over 16,000 users, and his Twitch channel is followed by over 13,000 people. Terron also has his personal website – "Aftermath Fitness" – on which he sells his fitness and nutrition programs.
Ever since I bought @Converse my workouts have been crazy good ? 585 box squat for 2 … pic.twitter.com/8EzSMyhsQb

— Terron F. Beckham? (@FbAftermath) September 9, 2019
Appearance, clothing style
Terron has naturally curly black hair which he likes to dye neon colors such as blue and green; he has dark-brown eyes. Terron is 5ft 8ins (1.80 m) tall, and weighs around 225lbs (101kgs); his vital statistics are unavailable at the moment. He has a lot of tattoos all over his body. As to his clothing style, he prefers casual and sporty looks, wearing sporty suits and tank-tops, T-shirts, sneakers, etc.
Net worth and salary
According to authoritative sources, Terron' net worth is estimated to be around $1.5 million. He has several sources of income, one of them is his YouTube channel, which gained him over $114,000; Terron benefits around $1,900 per month from advertisements on his YouTube channel, which has almost 600 videos.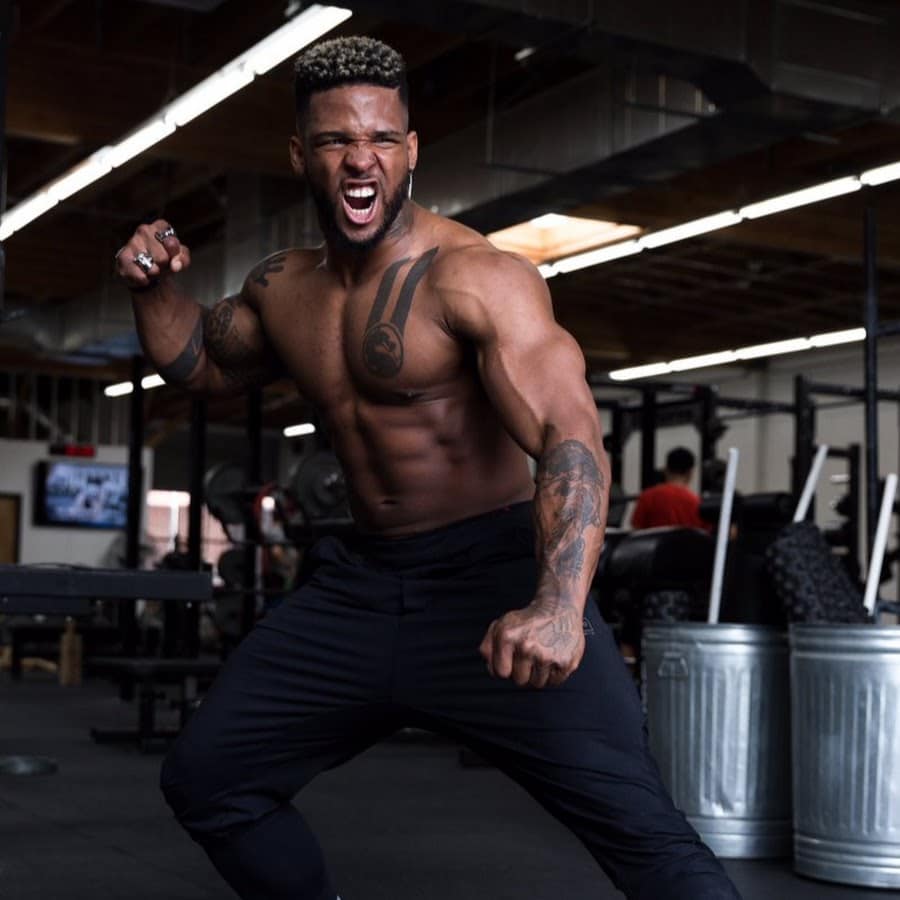 Terro also benefits from his Instagram account, getting up to $2,700 per post there. He has many commercial contracts with such brands as "Reebok", "Alpha Clothing", "Just Saiyan Gear" and many others. He also gets money from donation tips on his Twitch streams, though he is not a Twitch partner and doesn't have the subscription button on his profile, so he doesn't benefit from his subscribers. His website is also a stable income source, as it sells fitness and nutrition programs daily, and the feedback from customers is very positive. As Terron also keeps working hard as a fitness model and personal trainer, his net worth is certainly going to grow in future.