Who is Tom Bateman?
A charismatic and versatile actor who's captivated audiences with his remarkable performances on both the big and small screens, Tom Bateman took on a role that pushed the boundaries of psychological intrigue, inviting viewers to explore the depths of human emotion and vulnerability. His portrayal of Wilkes in the episode "The Body" of the series "Into the Dark", according to critics, became a synonym for undeniable talent and magnetic screen presence.
Let us tell you all about Tom Bateman, his career beginnings, his life, and what he's up to.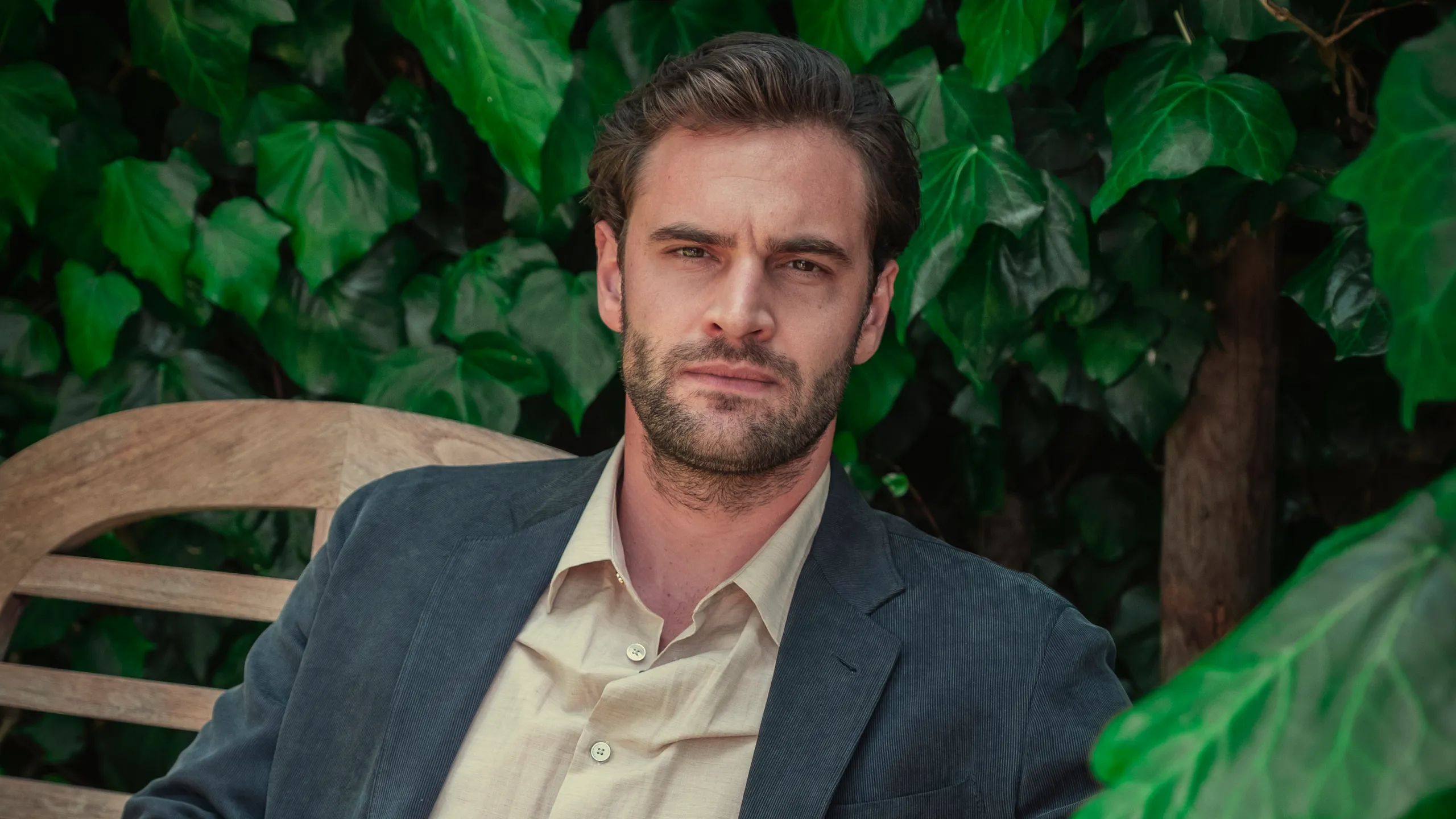 Early life, family, and education
Born Thomas Jonathan Bateman under the zodiac sign of Pisces on 15 March 1989, he's today aged 34. A native of Oxford, England, he holds British nationality and comes from a family of English descent, and was raised by his parents, both teachers, whose names he hasn't disclosed, alongside his 13 siblings, including his twin brother, Merlin. Although many assume that he's the brother of the famous actor Jason Bateman, the truth is that they are not related.
Tom dreamed of an acting career from an early age, and upon matriculating from high school in 2007, he enrolled at the London Academy of Music and Dramatic Art, from which he graduated with a BA degree, in 2011. While at the academy, Tom made his acting debut as Claudio in the play "Much Ado About Nothing" by Shakespeare, in which he starred opposite Jonathan Coy and Alex Beckett.
Roles in series
Tom debuted on television playing Danny Hillier in the series "The Tunnel" in 2013. Later that year, he was seen as Giuliano Medici in the biographic drama series "Da Vinci's Demons", based on the life of Leonardo Da Vinci and his early days as an inventor, dreamer and artist who dreamed of changing the future. Tom was seen in 10 episodes during the show's first season.
Tom followed with his role as Robert Jekyll in the 2015 TV mini-series "Jekyll and Hyde", in which he starred opposite Donald Sumpter and Stephanie Hyam. Although the series had no nominations, the critics and the audience rated it very well (6.8/10).
Here's @monstroso at @MCMComicCon talking all things #JekyllAndHyde, our new action adventure coming this autumn.https://t.co/L1dmtrWNT4

— ITV (@ITV) May 27, 2015
Three years later came Tom's breakthrough role, as Wilkes in the first episode of "Into the Dark" first season. The episode opens with a professional hitman, Wilkes, having just murdered an anonymous prominent man in his residence. Wilkes receives a call from his employer, informing him that he's completed the task while tasting the dead man's food and drinking his wine. Now, he needs to remove body. Wilkes wraps the body in a mummy-like wrapping and drags it out onto the street. Several people notice him, but they figure it's all part of his Halloween costume. However, the night just started.
Later in 2018, Tom was cast to play Rawdon Crawley in the TV mini-series "Vanity Fair" based on Thackery's novel, followed by his role as John Beecham in the series "Beecham House" in 2019. He starred opposite Lesley Nicol and Leo Suter in this drama set on the threshold of the 19th century, which was nominated for the British Academy of Film and Television Arts (BAFTA) Television Craft Award.
Tom next played David in the 2021 TV mini-series "Behind Her Eyes", starring opposite Eve Hewson and Simona Brown in this mystery thriller that won ReFrame Stamp. Most recently, Tom was seen as Clive Richardson in the 2023 series "Funny Woman", however, he again attracted a lot of attention playing Matt Pierce in the comedy series "Based on a True Story", which premiered in June 2023.
The show is already referred to as 'fantastic' and the fun fact is that it's based on the 1951 crime drama "Strangers on a Train", which was nominated for the Academy Award for Best Cinematography, Black-and-White.
Roles in movies
Tom made his big-screen debut as Michael Redmane in the 2015 movie "Creditors", written, directed by and starring Ben Cura. Two years later, Tom was cast to play Marc in the thriller "B&B", which had a total of 12 award nominations and nine wins, with Tom and the rest of the cast winning the Global Independent Film Award for Best Ensemble Cast.
"Did you just give me Danger Eyes?" See Amy Schumer, Wanda Sykes, Joan Cusack and Tom Bateman in this exclusive new #SnatchedMovie🌴 clip.

Posted by Snatched on Monday, April 24, 2017
Later in 2017, Tom was seen co-starring in the hit movies "Snatched" and "Murder on the Orient Express", while in the thriller drama "Hi-Lo Joe", he played the lead male role of Tony. Tom was next cast to play Trevor 'Viking' Calcote in the 2019 action comedy "Cold Pursuit", also starring Liam Neeson, which was nominated for the Academy of Science Fiction, Fantasy & Horror Films/Saturn Award for Best Action/Adventure Film.
Tom then landed the role of Bouc in the 2022 mystery drama "Death on the Nile", in which he starred opposite Annette Bening and Kenneth Branagh. The movie, based on the novel of the same title by Agatha Christie, had nine award nominations, including the People's Choice award nomination for The Drama Movie of 2022.
Later that year, Tom was seen as Chris Jewell in "Thirteen Lives", which was his most recent movie role. However, that's not all. Tom announced his appearance in the upcoming drama "Kid Snow", which is currently in development.
Love life and relationships
Tom is quite secretive when it comes to his private life, however, that doesn't mean he's been spared rumors about his love life. Perhaps his silence about his dating history causes numerous speculations, linking him romantically to some of his co-stars.
In 2017, he revealed his relationship with Daisy Ridley, also an actress, perhaps known best for her role as Rey in the "Star Wars" movie franchise. The two married after five years of dating, however, they haven't shared much info about their wedding day; in her January 2023 interview for People magazine, Daisy confirmed that they are indeed married.
How rich is Tom Bateman? Net worth
Thanks to his captivating performances and acting talent, Tom is today a fast-rising star according to critics, who's becoming a real Hollywood heartthrob. How popular this young actor is shows an army of his fans all around the world.
Besides fame, his hard work brought him a decent amount of money, and according to sources as of August 2023, Tom's net worth has been estimated at over $1 million.