Celia Lora is a famous Mexican model, content creator, YouTuber and TV personality, who is a former Playboy Playmate in her country. She has an eponymous YouTube channel.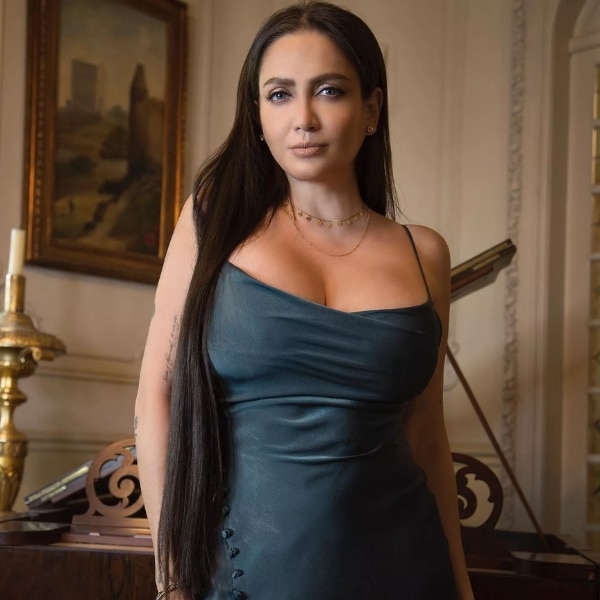 Age, Early Life, and Education Background
Celia Lora was born under the Capricorn zodiac sign on 25 December 1983, in Mexico City, Mexico, and so is 40 years old as of 2023. She's the daughter and only child of the composer and musician Álex Lora, and his wife, Chela Lora, who is also a musician.
Celia's educational background remains a mystery.
Hobbies and Interests
Lora is a culinary enthusiast who is a big fan of French, Spanish and Italian cuisine.
She is also an animal lover, who is fond of posting her pet dog on her social media platforms.
The content creator is keen on traveling, and her best-loved destination is Madrid, Spain.
Her other hobbies include photography, dancing, writing blogs, and painting.
Career
In 2009, Lora starred in the short movie "Cool Frog: Move." Subsequently, she competed in season one of TV Azteca's reality show "La Isla: El Reality," which is based on the Colombian show "Desafio" and aired in August 2012 – she finished at position six and was eliminated after losing the first death game. Subsequently, she participated in the TV reality show "Lucky Ladies" in 2014, which features the private lives of the celebrity participants. The model has also competed in the TV reality show "El Inframundo" but was eliminated after making a brief appearance. In an interview, she disclosed that the main reason she participated in the show was to meet new friends. Lora also appeared in the MTV LA show, "Acapulco Shock" in 2021. She has posed for various magazines including "IT" and "Playboy."
Lora has tried her hand at fashion design. She's the founder of the apparel line, Celi Sheli, which sells bikinis. She created an Instagram account (@celi_sheli_bikinis) to market her brand. The account is currently followed by over 155,000 fans.
Social Media Presence
Lora is active on Instagram (@celi_lora) with around 10 million followers., and on which she's fond of posting her topless and bikini photos. Lora is also active on TikTok, with over 1.8 million followers, and at least 10.3 million likes as of late 2023. She's collaborated with numerous TikTok stars including the Mexican actress, YouTuber, model, and social media personality Lizbeth Rodriguez, with whom she released her first video on 21 January 2021. Celia opened her verified Twitter account (@CeliLoraOfficial) in October 2012, and is currently followed by around 810,000 fans. Moreover, she's active on Facebook with close to a million followers. The content creator also has an OnlyFans account, on which she sells her adult content – the account has attracted almost 200,000 likes.
On 14 July 2020, Lora created a self-titled YouTube channel, on which she posts a wide variety of videos related to dancing, modeling, pranking, and travel, among others. She posted her debut video, "¿QUÉ ME HA ENSEÑADO LA CUARENTENA? | CELIA LORA" (English: WHAT HAS QUARANTINE TAUGHT ME? | CELIA LORA") two weeks after creating her channel. One of her most popular videos is "CELIA LORA Y LIZBETH RODRÍGUEZ | #AnecdotasIncomodas| Celia Lora Official", on 19 December 2020 and it has garnered over 2.8 million views. Currently, Lora's channel has over 185,000 subscribers, close to 100 videos, and a total of over 12 million views.
Personal Life
In 2020, Lora confirmed her relationship with the Greek-Swedish record producer and DJ Steve Angello, who's one of the members of the house music supergroup, Swedish House Mafia, alongside Sebastian Ingrosso and Axwell. Lora and Angello are fond of sharing their photos on their respective social media accounts, seemingly having fun together.
It's rumored that Lora is bisexual, and that she was previously in a romantic relationship with Lizbeth Rodríguez. Lora is unmarried without children. as of late-2023.
Con el #amigas y #novias Lizbeth Rdz y Celia Lora se dan tremendo beso…

Posted by Eloisa Guajardo on Wednesday, February 3, 2021
Rumors and Controversies
Lora made headlines in 2018 when she got into trouble with the law after being found in possession of drugs. The incident resulted in scrutiny, which significantly affected her career trajectory and public image.
In late 2021, Celia became the subject of controversy for feuding with the Mexican singer, Pablo Montero, with whom she appeared in the Telemundo reality show "La Casa de los Famosos" ("The House of the Famous.") Lora claimed that the singer tried to talk her into sleeping with him during a party, which she found very disrespectful. She also alleged that Montero verbally harassed her during her entire stint in the show. After she was eliminated from the show, the model began airing numerous other allegations against the musician on her social media accounts. She even alleged that Montero once attempted to hit her in one of her Instagram stories, 'At all times he threw me the wave and when I complained to him, the problems began between him and me, even in one of the fights I thought he would hit me.' Montero denied all the model's allegations, terming them as desperate attempts to tarnish his name. Moreover, several celebrities, including the Venezuelan-American actress, Alicia Machado, publicly defended Montero, with some saying that were fed up with Lora for spreading 'lies.'
Height, Weight, and Physical Appearance
Celia is of Hispanic ethnicity, has a set of blue eye,s and long dark brown hair. She's slim, weighs approximately 140lbs (63kgs), and her height is 5ft 7ins (1.70m), and her vital statistics are 40-26-37. The model has inked various tattoos including that of the Puerto Rican actor and singer, Ricky Martin's autograph across her arms. Moreover, she has pierced her tragus (the inner side of the external ear) and has a buxom physical appearance.
Net Worth
Celia's modeling career has made her famous and wealthy. Her bikini brand and brand endorsement deals have also significantly contributed to her net worth. Celia is worth approximately $1.5 million as of 2023; she's seemingly leading a luxurious life.
Who Is Celia Lora's Father, Álex Lora
Álex Lora is the stage name of José Alejandro Lora Serna, who was born under the Sagittarius zodiac sign on 2 December 1952, in Puebla, Mexico, which makes him 71 years old as of 2023. He's been the frontman of the rock band El Tri, which is the spin-off from the rock band Three Souls in My Mind, for over five decades. In 2006, the digital media firm, Betanga Media described Celia's dad as 'legendary.' Moreover, he's been referred to as 'Distinguished Pueblan Citizen' and has a statue in the city of Puebla. Lora's studio albums include "Lora, Su Lira y Sus Rolas," which was released in 1998.