• Sophia Diamond is a Russian-Israeli-Canadian dancer, lip-syncer and social media personality
• Gained notoriety through her TikTok and Instagram accounts
• Has a YouTube channel where she uploads videos to 'brighten people's day'
• Has done modeling for Bang Energy Drink and Fashion Nova
• Currently has an estimated net worth of over $100,000

Known for movies

Sophia Diamond's Wiki Biography
Sophia Diamond was born in Russia on 21 August 2001, under the zodiac sign of Leo and now holding Russian, Israeli and Canadian nationalities – she is popular for her TikTok and Instagram accounts, on which she regularly uploads her dancing and lip syncing videos.
Early life and education
Sophia has moved a couple of times during her early life which is why she holds three nationalities – she spent the first eight months of her life in Russia when her parents decided to move to Israel. They stayed there until Sophia turned 11, and then moved to Toronto, Ontario Canada in search of a better life. The names of her parents are not known, but she has a brother called Daniel and four other siblings.
Sophia attended King City Secondary School in King City, Ontario and has once tweeted about being bullied there – she wrote on the Internet 'Most people in school treat me as garbage for no reason. And I just ignore these people.' Sophia found comfort on the Internet, and was slowly gaining recognition and becoming popular for the dancing videos she was uploading on TikTok and Instagram. After she matriculated, she decided not to pursue a college degree but to rather focus on her career on the Internet.
Social media presence and her Internet career
Sophia launched her career on the popular TikTok platform, on which she does lip-sync and dance videos – one of her first videos featured her dancing to the "Shape of You" song by Ed Sheeran. She wasn't expecting the video to become as big as it did, so it encouraged her to continue making the same kind of videos and got her to where she is today. Her TikTok account currently counts over 2.4 million fans and nearly 41 million 'hearts' (similar to 'likes' on Facebook).
https://www.youtube.com/watch?v=RS7uU9xbxd4
An important part of Sophia's career is her YouTube channel which she launched on 6 June 2011 but didn't upload any videos until the beginning of 2017. She now uploads videos on it with the goal of brightening up people's day which is exactly what her description reads: 'Just here to brighten your day (maybe)'. The channel is currently subscribed to by nearly 70,000 people, and it counts over 700,000 views of all her videos combined – some of her most viewed videos are 'A Week of Me,' 'How to Successfully Go to School,' and 'Senior Year Chaos.'
Her Instagram account is the second which Sophia's popular for – she uploads many videos on it which are quite similar to those she uploads on her TikTok account. Her Instagram account is currently followed by over a million people, while she has uploaded more than 220 pictures – she is also running a Twitter account which she launched in September 2018 and has so far gathered over 1,600 followers and tweeted nearly 150 times. Sophia is active on Facebook as well, and her page counts nearly 2,300 followers.
Modelling career
Just as many other girls popular on Instagram for their beauty, Sophia was noticed by scouts of several modelling agencies, and was invited to do a couple of photoshoots – she has posed for some popular brands such as "Bang Energy Drink" and "Fashion Nova".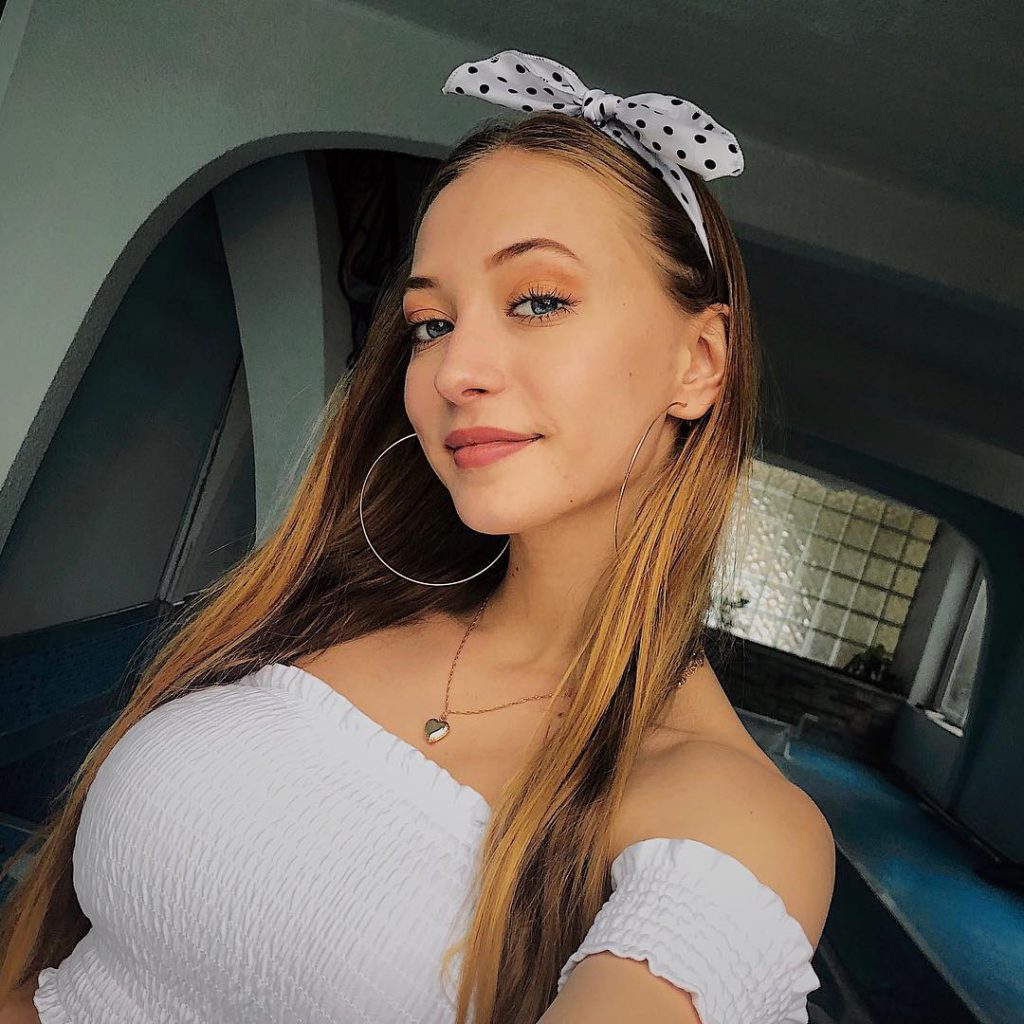 Fitness enthusiast and staying in shape
Sophia has been interested in gymnastics since a very young age, and has been taking classes for years during her teens – if you take a look at her videos, you can see that she combines her gymnastics skills with her dance moves. She is exercising on a daily basis because, as she stated, it makes her feel good and helps her keep in shape which is a must-do thing for her dancing.
Sophia's love life and relationship with Kian
Sophia and Kian Salehi have been going out for over two years now. They met for the first time when Sophia was leaving school and was waiting for her mother to pick her up – similar to romantic movies, Sophia was bullied by her peers, and Kian was there to stand by her side. They became very good friends, and after a while the friendship turned into a relationship.
It is said that Sophia and Kian were going through a hard period after she deleted all the pictures with him from all her social media accounts on 12 September 2018 – the two have not yet spoken about this, and it's uncertain whether or not they are still dating or have broken up. Some people claim to have seen the two recently walking in the streets together, while the others stated the two have not been dating since December 2018.
— Sophia Diamond TikTok (@sophia_ilysm) June 19, 2019
Other likes and interests
Sophia has numerous interests, most of which are physical activities – she is a great dancer, and an even better gymnast as you can see if you watch her videos. Even though Internet is sometimes keeping her tied to a computer or her 'phone, she still enjoys spending her time outdoors and hanging out with her friends. She never skips a day of training and has exercised with her boyfriend Kian – she is also very keen to learn new languages, and speaks Russian, English, and Hebrew fluently. She loves listening to music as well as making it, and her favorite singer is The Weeknd.
She is also said to be a big animal lover, and owns a dog whose name is not known.
Appearance and net worth
Sophia is currently 17 years old. She has long blonde hair and blue eyes, is 5ft 5ins (1.65m) tall and weighs around 115lb (52kg). Sophia wears bra size 32B.
According to authoritative sources, Sophia's current net worth is estimated to be over $100,000, and is steadily rising thanks to her being active on the Internet.
Movies
Soundtrack
| Title | Year | Status | Character |
| --- | --- | --- | --- |
| Cirkeln | 2015 | performer: "Kids" - as Soso / writer: "Kids" - as S. Somajo | |
| Rosa: The Movie | 2007 | lyrics: "P.A.R.A.D.I.S.E" / music: "P.A.R.A.D.I.S.E" / writer: "P.A.R.A.D.I.S.E" | |
Self
| Title | Year | Status | Character |
| --- | --- | --- | --- |
| Studio Virtanen | 2007 | TV Series | Herself |
Source:
IMDb
,
Wikipedia