Who is Moses Martin?
Moses is the son of celebrity parents, and while he is for now only known by this, he is slowly venturing into the music industry on his own.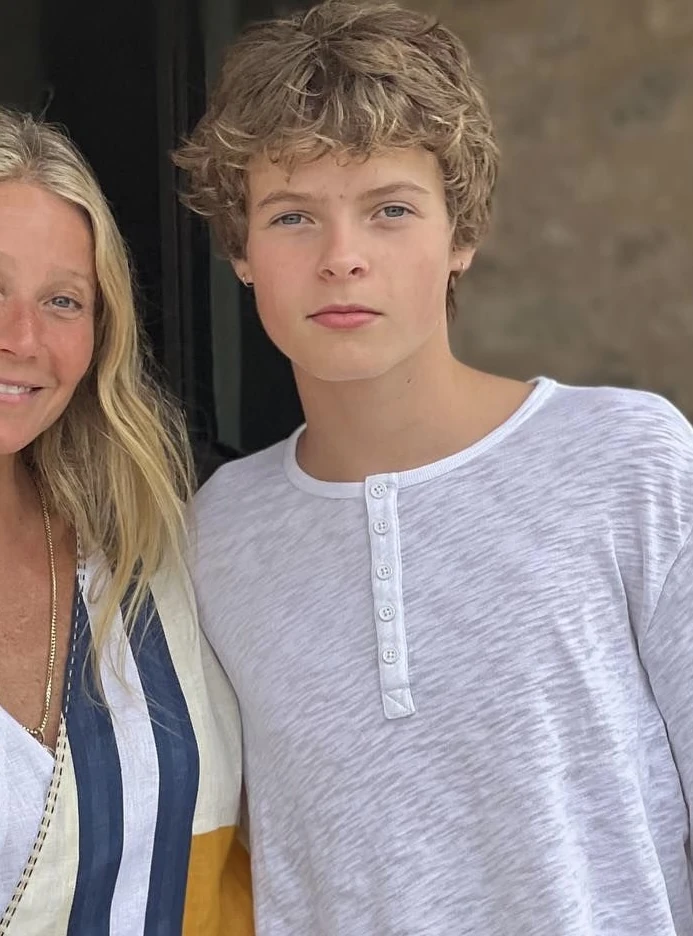 Wiki: Age, Childhood, Parents, Education, Interests, Music Endeavors
Moses Bruce Anthony Martin was born on 9 April 2006 in Manhattan, New York City USA, the younger child of renowned actress Gwyneth Paltrow and Chris Martin, British rock band Coldplay's lead singer.
Growing up, Moses shared his childhood with his elder sister, Apple Martin, who was born on 14 May 2004. Both siblings attended LA's Harvard-Westlake School, and typically commuted to school by bus. In 2017, reports emerged suggesting a potential school change due to a racism incident, however, there were no further reports on the incident.
Moses has displayed a keen interest in music, influenced by his father's musical career, and he's had the opportunity to perform at various musical events alongside his father. Moses even earned a backing vocals credit for BTS' Jin's song entitled "The Astronaut". Moreover, he's lent his voice to several Coldplay tracks, including "Adventure of a Lifetime", "Humankind", and "Up & Up". Notably, he also co-wrote "Orphans" with his father. Moses has also expressed admiration for rapper Jay-Z, who is a close friend of his father.
While his parents married on December 5, 2003, they divorced in 2016 but have maintained a close friendship, and continue to co-parent their children.
Moses comes from a lineage of notable grandparents as well. On his mother's side, his grandparents are actress Blythe Danner and producer Bruce Paltrow. Through his father's side, his grandparents are Anthony John Martin and Alison Martin.
He's been photographed enjoying quality time with his parents, often capturing these moments during family outings and lunches, such as one memorable occasion in Milan.
Andy Vermaut shares:Seeing Double? Gwyneth Paltrow's Son Moses Looks Just Like Dad Chris Martin In New Photo — LOOK!: Gwyneth Paltrow's son is growing up fast — and… Thank you. #LifeIsKnowing #AndyVermautLovesPerezHilTonTalks #NewlyCuriousBeingIsNice https://t.co/ndtHiHMWH4 pic.twitter.com/NW208rR1U8

— Andy Vermaut (@AndyVermaut) June 28, 2023
Appearance and Body Measurements
Moses Martin has blonde hair and blue eyes. He stands at 5ft 5ins (1.65m) tall, and while he weighs approximately 125lbs (57kgs), his vital statistics are unknown, but  he has a slim figure.
Moses Martin's Father, Chris Martin's Short Bio
Christopher Anthony John Martin was born on 2 March 1977, in Exeter, Devon, England, to parents Anthony John Martin and Alison Martin. He went to the pre-preparatory Hylton School, and the preparatory Exeter Cathedral School. During these years he became interested in music, and his mother, who was a music teacher helped him hone his music skills.
Martin's journey into the world of music began during his college years at University College, London, where he met his future Coldplay bandmates. In 1996, they formed the band, and Martin's distinct vocals and songwriting talents soon propelled them to stardom.
Coldplay gained massive popularity with albums such as "Parachutes" (2000), which included hits such as "Yellow" and "Trouble". Their subsequent albums, including "A Rush of Blood to the Head" (2002), featuring songs such as "Clocks" and "The Scientist", solidified their status as a leading band in the alternative rock scene.
The band's widespread success continued with albums such as "X&Y" (2005) and "Viva la Vida or Death and All His Friends" (2008), the latter featuring tracks such as "Viva la Vida" and "Violet Hill", which topped charts worldwide.
One of their most iconic albums, "Mylo Xyloto" (2011), delivered hits such as "Paradise" and "Every Teardrop Is a Waterfall". The band's consistency in producing chart-topping songs extended to albums such as "Ghost Stories" (2014) and "A Head Full of Dreams" (2015), which included tracks such as "Magic" and "Adventure of a Lifetime".
Chris Martin had an on-and-off relationship with actress Annabelle Wallis for two years between August 2015 and 2017. Since October 2017, he's been dating American actress Dakota Johnson, and they now live in Malibu, California.
According to authoritative sources, Chris Martin's net worth is estimated at $160 million, as of mid-2023.
Moses Martin Mother, Gwyneth Paltrow – Short Bio
Gwyneth Kate Paltrow was born on 27 September 1972, in Los Angeles California USA, the daughter of actress Blythe Danner and film producer Bruce Paltrow.
Paltrow's education took her to the Spence School in New York City, and later the University of California, Santa Barbara, and the University of Chicago.
Her journey to stardom began in the early 1990s when she made her acting debut in the film "Shout" (1991). However, it was her role in "Seven" (1995), alongside Brad Pitt and Morgan Freeman that garnered attention, and hinted at her potential as a talented actress.
One of the defining moments in her career came with "Emma" (1996), in which she took on the titular role in this Jane Austen adaptation. Her performance in "Shakespeare in Love" (1998) marked a pinnacle in her career – portraying Viola De Lesseps, a noblewoman with a passion for theater, she delivered a captivating and Oscar-winning performance that solidified her place as one of Hollywood's elite.
In addition to her acclaimed work in period dramas and romantic comedies, Paltrow ventured into the more challenging role as  Catherine in "Proof" (2005), and she also played Pepper Potts in the Marvel Cinematic Universe, starting with "Iron Man" (2008).
She also starred in "Contagion" (2011), a timely and gripping thriller about a global pandemic.
While her acting career has been a defining aspect of her life, Gwyneth Paltrow's influence extends beyond the screen. In 2008, she founded Goop, a lifestyle brand that has become a significant player in the wellness and e-commerce industry.
Gwyneth Paltrow entered into a romantic relationship with producer Brad Falchuk, whom she'd initially met on the set of the TV series "Glee" in 2010, and begun dating in 2014, but chose to keep their relationship private for some time; it wasn't until April 2015 that they made their relationship public. Their engagement was officially announced on 8 January 2018, and they tied the knot on 29 September the same year in a Hamptons wedding ceremony.
According to authoritative sources, Gwyneth Paltrow's net worth is estimated at $210 million, as of mid-2023.