Who is Damiano David?
Italian singer Damiano David was born in Rome, Italy, on 8 January 1999, making Capricorn his zodiac sign. He's perhaps known best for being a member of the Italian rock 'n' roll band, which won the 2021 Sanremo Music Festival and then the 2021 Eurovision Song Contest with the song "Zitti e Buoni".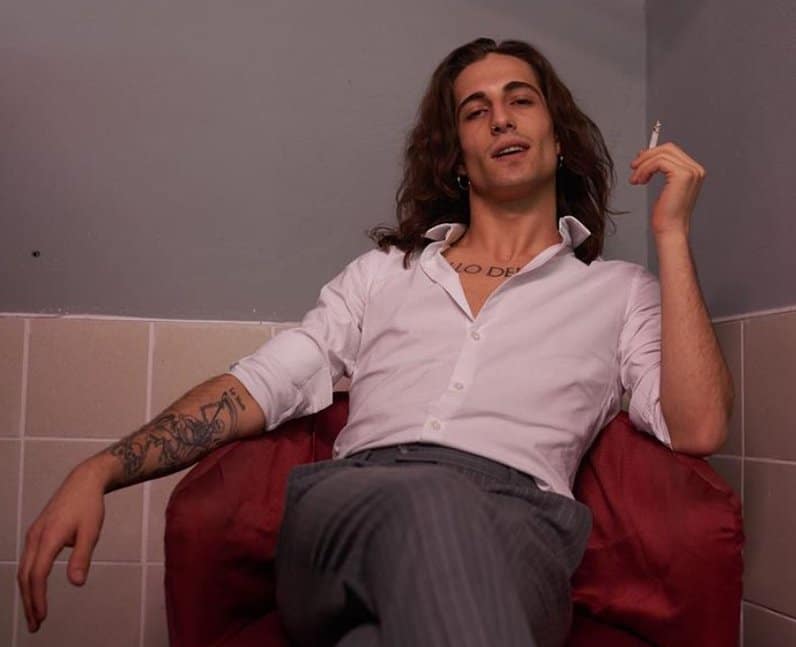 Education and early life
Damiano was raised alongside his older brother Jacopo in Rome, by their mother Rosa Scognamiglio and father Daniele David, both of whom were flight attendants; because of his parents' work, Damiano travelled all around the world while growing up, thus learning about other cultures.
Damiano studied at liceo lingustico Eugenio Montale in Rome and was mostly into playing basketball during his time there; he also played for the local team Eurobasket Roma as a point guard.
He was six when he began singing, and it was at high school that he met his future Måneskin colleagues Thomas Raggi and Victoria De Angelis; Damiano was 17 when he dropped out of high school in pursuit of music, and has revealed that his parents supported his decision.
Damiano's career
When Damiano attended the audition for the position of the lead vocalist in Måneskin, he was initially rejected because other members believed his style to be 'too pop'; he was persistent and was eventually accepted, while he then changed his style over time.
Måneskin was officially formed in 2016 and they played in the streets of Rome prior to being invited to perform at bars around the city; the following year saw them compete in the talent show "X Factor", and they finished second. Their success at the show helped them sign their first contract, and they then released their debut album "Il Ballo Della Vita" on 26 October 2018, which topped the Italian Albums Chart. Måneskin's second album "Teatro d'Ira: Vol I" followed on 19 March 2021.
Damiano was accused of snorting cocaine at the 2021 Eurovision Song Contest, after a video showed him acting suspiciously at the table; he denied the rumors and took a drug test a day or two later, proving that he indeed didn't use drugs. Damiano then gave an interview, revealing that he's never used hard drugs and that Måneskin is against drugs; he's also revealed that he only drinks alcohol if it's a special occasion.
In 2021, he sang the Stooges' song "I Wanna Be Your Dog" and voiced Jeffrey in the Italian dub of the 2021 adventure crime comedy movie "Cruella", which starred Emma Stone and Emma Thompson, and was directed by Craig Gillespie. It follows the life of young Cruella de Vil, and the film won 29 of its 71 award nominations, including an Oscar win for Best Achievement in Costume Design.
Some of Måneskin's fans believe that they've only become popular thanks to David, especially because of his stage look, personality and voice; Italian rapper, singer-songwriter and businessman Federico Leonardo 'Fedez' Lucia described Damiano as 'a real frontman' when Måneskin performed on "X Factor".
YouTube channel
Måneskin launched their eponymous YouTube channel on 9 January 2017, and it's today subscribed to by over 4.5 million people; they've uploaded 86 videos, which have all together been watched nearly two billion times. Nearly all of their content are their official music videos, while others feature them giving interview and touring around the world. We're about to cover Måneskin's three most watched videos, which've led many people to subscribe to their channel.
Their #1 video "Måneskin – ZITTI E BUONI (Official Video – Sanremo & EUROVISION 2021 Winners)" was uploaded on 3 March 2021 and has since been watched over 170 million times; it's the music video for the song with which they won the 2021 Eurovision Song Contest.
📷 | New/old picture of Måneskin arriving at their secret show to perform "Torna a Casa" for the first time, in Milan (26.09.2018)

· Check out all the photos: https://t.co/XQIjIzMBVN pic.twitter.com/CmXWo7wAXX

— Gallery Måneskin (@gallerymaneskin) May 8, 2022
Their second most popular video "Måneskin – Torna a Casa" was uploaded on 1 October 2018 and has since been viewed close to 170 million times; it's a song about spending one's life away from their hometown, and how everything's changed when they return home.
Måneskin's most watched #3 video "Måneskin – I WANNA BE YOUR SLAVE (Official Video)" was uploaded on 16 July 2021 and has since been viewed over 100 million times; it's one of the band's not many English-language songs.
Love life and girlfriend
Damiano's not that open when it comes to sharing the details of his love life with his fans, and we thus know about only a single girl whom he's been with. He and Italian social media star and model Giorgia Soleri were together for five years prior to breaking up in June 2023; Giorgia's probably known best for her Instagram account, which is today followed by more than 800,000 people, and she's posted nearly 2,000 pictures and videos onto it, with most featuring her travelling around the world and showing off her body.
There are today rumors circulating the internet, claiming that Damiano and Giorgia broke up because he's found a new love, but this hasn't been confirmed.
He seems to be unattached as of August 2023, hasn't married and doesn't have children.
Interesting facts and hobbies
Damiano's an Instagram star, as over five million people are following him on the network today; he's posted close to 300 pictures, and most feature him performing with Måneskin.
He's a huge fan of tattoos, and has numerous tattooed all over his body; these can be seen best in his Instagram pictures.
Some people on the internet believe Damiano to be gay because of the way he dresses and behaves, but he hasn't addressed these rumors.
He's interested in fashion, and often goes shopping for clothes.
Damiano loves animals – his favorites are donkeys and horses.
One of his favorite actors is Steve Carell, and some of his favorite movies include "The 40-Year-Old Virgin", "Evan Almighty", and "Bruce Almighty".
Height, eyes and wealth
Damiano's age is 24. He has brown hair and eyes, is 5ft 9ins (1.76m) tall and weighs around 150lbs (67kgs).
Damiano's net worth's been estimated at over $4 million, as of August 2023.