Who is Grace Hightower?
An actress, singer, and philanthropist, Grace Hightower's acting career may not have reached A-list status, but it's safe to say that she garnered attention for her performances in the movies "Precious" and "The Paperboy". She is also known for her singing abilities, and has showcased her vocal talents in various settings, and her passion for music has been an integral part of her creative journey. Apart from her work in the entertainment industry, Grace Hightower has been involved in various philanthropic activities. She is known for her advocacy work and support for charitable causes.
However, Grace is perhaps known best as the wife of the great actor, Robert De Niro.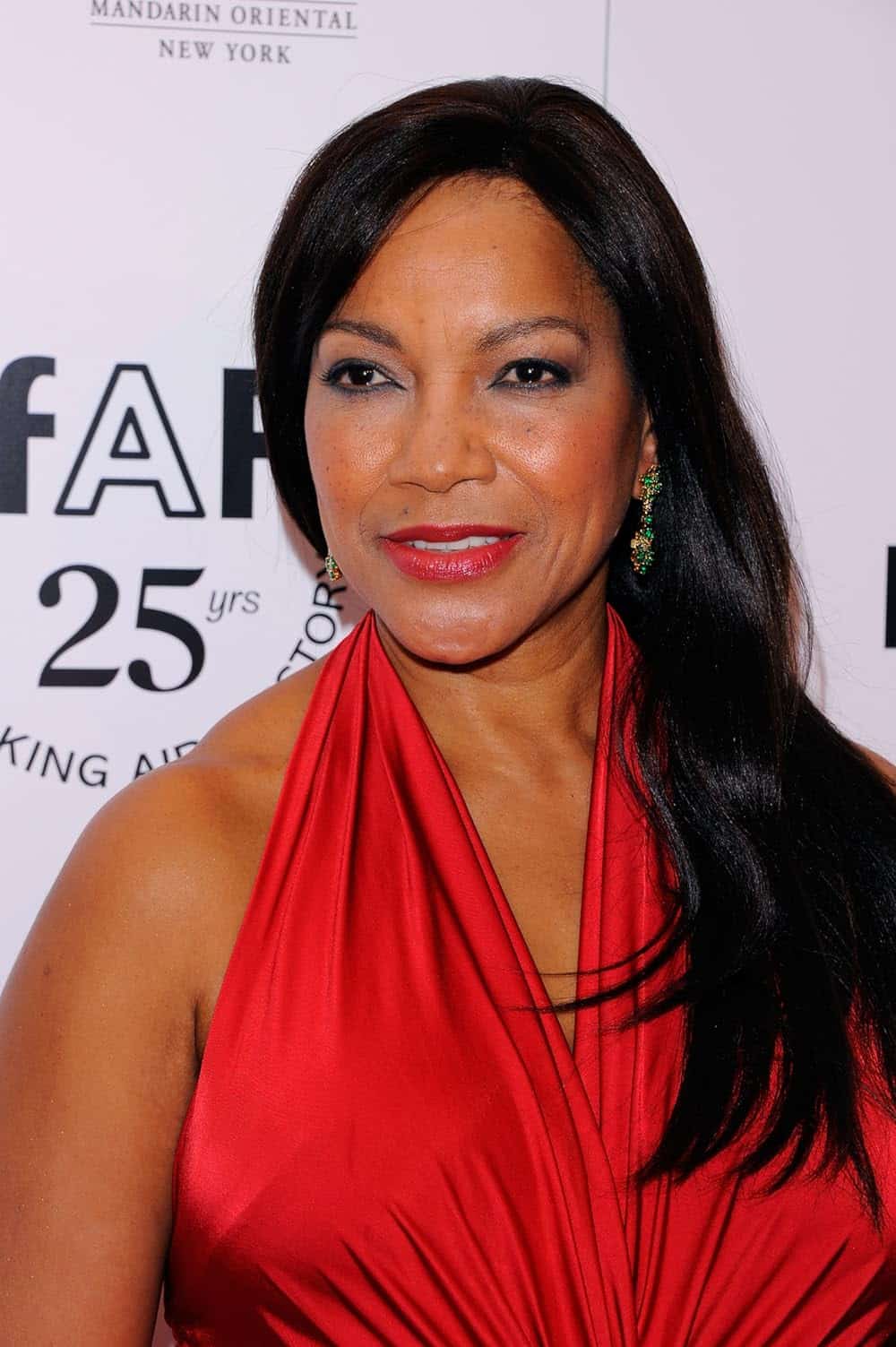 Early life, family, and education
Born under the zodiac sign of Aries on 7 April 1955, Grace is today aged 68 (as of September 2023). A native of Kilmichael, Mississippi USA, she holds American nationality and comes from a family of African-American descent. She grew up in a poor family, and had a passion for the arts from a young age, however, she needed to work various odd jobs to help support her family. As she put it, her upbringing instilled in her a strong work ethic and determination that served her well in her future life.
When it comes to her educational background, she attended a local high school, and upon matriculating in 1973, Grace enrolled in the Trans World Airlines training school and after a six-month course, she became a flight attendant. Grace lived in Paris, France, and then moved to London, England, where she worked as a mutual funds trader, and also as a waitress.
Acting career
Grace made her acting debut playing ESU Woman in an episode of the series "NYPD Blue" in 1994. Three years later, she was cast to play Cris in the action movie "Brotherhood", also starring Pete Antico and Ken Bryant. Grace followed with her role as a social worker in the 2009 drama "Precious", which followed the story of an illiterate, abused teenage girl, pregnant with her second child, who gets another chance to re-route her life in a better direction.
The movie, starring Gabourey Sidibe, Mo'Nique, and Paula Patton, had 226 award nominations and 113 wins, including two Oscars for Best Writing, Adapted Screenplay, and Best Performance by an Actress in a Supporting Role – Mo'Nique. Grace performed the song "Somethin's Comin' My Way", which was featured in the movie.
Grace was next seen as Yardley's Girlfriend in the 2012 mystery crime-drama "The Paperboy", starring Matthew McConaughey, John Cusack, and Nicole Kidman, which followed the story of a reporter who returns to his hometown to investigate the case of a death row prisoner. The movie had 12 award nominations and five wins.
Most recently, Grace made an appearance in the 2017 action drama "Unspoken: Diary of an Assassin", written and directed by Ron Yuan.
How did she meet her future husband? Wedding, children
While working as a waitress at Mr. Chow restaurant in London, known as one of the favorite places where celebrities like to hang out, Grace met Robert De Niro, back in 1987. The two began dating, and eventually over the years, their friendship grew into a relationship, and it blossomed into a marriage.
They exchanged their wedding vows on 17 June 1997, and a year later, Grace gave birth to their first child, a son named Elliot. In 1999, Robert filed for divorce and sued Grace for custody over Elliot in 2001, but it appears that the couple resolved their differences, and in 2004, they renewed their vows.
In December 2011, they welcomed their daughter Helen, who was born via surrogacy. Three years later, the family moved into their five-bedroom apartment in New York City. However, after more than 20 years of marriage, Grace and Robert separated in 2018 and together filed for divorce, which still hasn't been finalized.
However, it seems that Robert continued with his life, since in April 2023 the newspapers and the internet were overloaded with the news about the birth of his daughter Gia, whose mother is Robert's girlfriend, Tiffany Chen.
When it comes to Grace, as of September 2023, she seems to be single.
Net worth
According to Forbes, Robert De Niro has a net worth estimated at an amazing $500 million, but Grace's lawyer claimed that since she and Robert have been separated, the actor had been 'unfairly decreasing' the agreed-upon payments to Grace.  Allegedly, the prenuptial agreement states that they will split evenly his money and properties. They have been locked in a divorce battle since 2018, and in February 2021, the court ordered that Robert needs to pay Grace $1 million per year, however, his lawyers said that Grace is spending way much more. For example, in 2019, she spent around $1.5 million on a diamond from a New York jeweler.
If you have wondered how rich Grace is today, reportedly, she has a net worth estimated at over $20 million.
Briefly about her husband, Robert De Niro
Robert De Niro's enduring talent, dedication, and diverse body of work have solidified his status as an iconic figure in the world of cinema. His impact on the industry continues to be felt, and his legacy as an actor and filmmaker remains unparalleled.
Born Robert Anthony De Niro Junior under the zodiac sign of Leo on 17 August 1943, in New York City, USA, he recently celebrated his 80th birthday. He holds American nationality and comes from a family of Irish, Italian, English, French, German and Dutch descent. His father, Robert Senior, was a renowned painter, and his mother, Virginia Admiral, was a poet and painter. Robert was raised by his mother since his parents separated after his father came out as gay, although he lived nearby so was a big part of Robert's life.
When it comes to his educational background, Robert attended the High School of Music and Art in Manhattan, although just for a brief period before he was transferred to a local public school. Upon matriculating in 1961, he studied acting at the Stella Adler Conservatory and Lee Strasberg's Actors Studio.
Robert made his acting debut playing a Client at the Diner in the 1965 movie "Three Rooms in Manhattan", although his role was uncredited. His breakthrough came with his role in Brian De Palma's "Greetings" (1968). He continued to gain recognition for his roles in movies like "Mean Streets" (1973) directed by Martin Scorsese, with whom he would form a long-standing creative partnership, producing several cinematic classics.
Robert De Niro's career is marked by numerous iconic roles, including his portrayal of young Vito Corleone in "The Godfather Part II" (1974), for which he won his first Academy Award (Best Actor in a Supporting Role). He gained critical acclaim for his roles in films such as "Taxi Driver" (1976), "Raging Bull" (1980), for which he won his second Academy Award, this time for Best Actor in a Leading Role, and "Goodfellas" (1990).
Robert De Niro in 1990
Goodfellas .. Awakenings pic.twitter.com/ztNKgmcjjZ

— M7md (@JigsawPolice) September 27, 2023
Robert De Niro is considered one of the greatest actors in the history of cinema. His contributions to film have left an indelible mark, and he's known for his dedication to his craft and his ability to bring depth and authenticity to his characters. His work has garnered numerous awards and accolades, making him a true legend in the world of acting.
The list of his roles is too long to enumerate, he has over 125 acting credits to his name, and it's hard to choose which one was more notable than others. Throughout his career, Robert De Niro has received 138 award nominations and garnered 67 wins, including two Academy Awards, multiple Golden Globe Awards, and the Cecil B. DeMille Award for his outstanding contributions to the world of entertainment.
Robert has had a complex personal life, with several marriages and children, but is known for his privacy and reluctance to discuss his personal matters in the media. However, what we do know is that before his marriage to Grace Hightower, Robert was married to an actress Diahnne Abbott, from 1976 to 1988. They have one son together, named Raphael, and Robert adopted Diahnne's daughter, Drena.
Between 1988 and 1996, Robert was in a relationship with model, Toukie Smith, with whom he had twin sons, named Aaron and Julian, born in 1995; the boys were conceived by in vitro fertilization and delivered by a surrogate mother.
As mentioned, from 1997 through 2018, he was in a marriage with Grace, and their relationship has been marked by ups and downs, including periods of separation and reconciliation. At the age of 79, Robert became a father for the seventh time, and is today one of the oldest fathers on record.
Although in his '80s, Robert De Niro is still acting, and his fans will be happy to hear that he has seven upcoming projects. One of the movies, entitled "Wise Guys", is set to be released in February 2024.