Who is Kerry Condon?
An actress with 40 acting credits to her name, Kerry Condon began her acting career in theater, starring in various productions in Ireland and the United Kingdom. She received critical acclaim for her performances on stage, including becoming the youngest actress to play Ophelia in Shakespeare's "Hamlet" in a production of the major British Royal Shakespeare Company.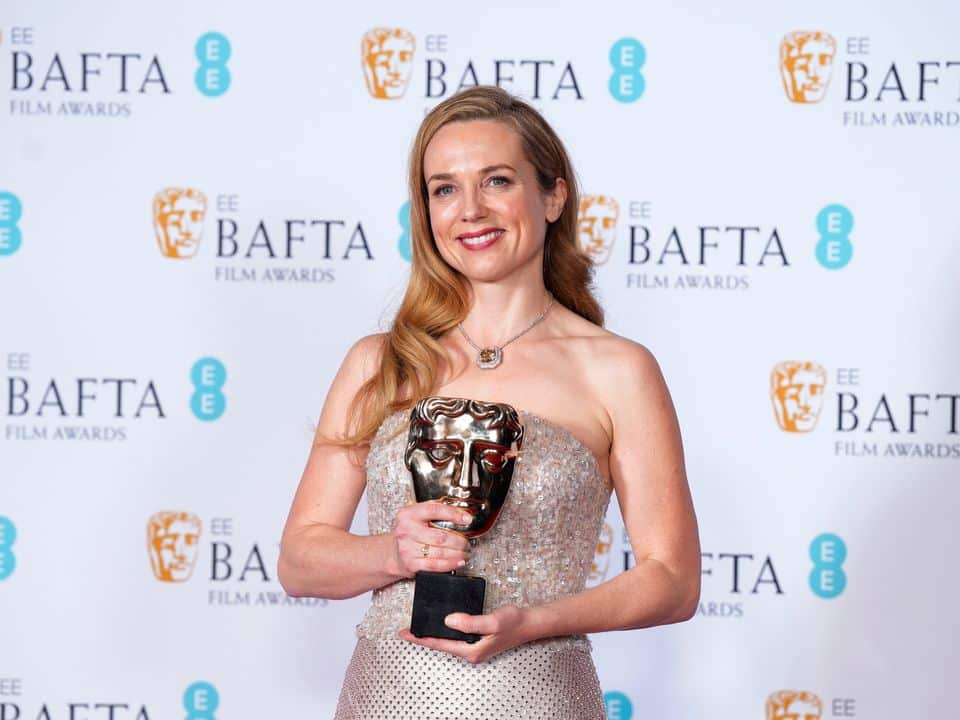 One of her early notable film roles was in the movie "Angela's Ashes", where she played the role of Angela's cousin, Theresa. However, the role that brought her the most accolades and praise was her portrayal of Siobhán Súilleabháin in the 2022 comedy-drama "The Banshees of Inisherin", which earned her a nomination for the Oscar – Best Performance by an Actress in a Supporting Role, and won her the British Academy of Film and Television Arts (BAFTA) Award for Best Supporting Actress.
Let us tell you more about Kerry's career, her life, and her upcoming projects.
Early life, family, and education
Born under the zodiac sign of Capricorn on 9 January 1983, a native of Thurles, North Tipperary Ireland, where Kerry was raised by her parents, Chiari and Gary, alongside her sisters, Marie and Laura. Most of her childhood Kerry spent on her father's horse farm, riding horses and taking care of them.
Growing up, Kerry developed an interest in acting, and enrolled at Dublin Theatre Arts School. Upon matriculating in 2001, she didn't go to college, but pursued her acting career.
Notable movie roles
Kerry made her acting debut playing Theresa in the 1999 movie "Angela's Ashes". This biographic drama, also starring Emily Watson, Joe Breen and Robert Carlyle, was based on the autobiography of Frank McCourt, an Irish emigrant. It had 12 award nominations, including one for the Oscar (Best Music, Original Score), and five wins.
In the following years, Kerry co-starred in the comedy-drama "Rat" (2000), and "How Harry Became a Tree" (2001) before she landed the lead female role in the 2003 biographic action-adventure "Ned Kelly". Kerry played Kate Kelly, co-starring opposite Heath Ledger, Orlando Bloom and Geoffrey Rush. The plot revolved around Ned, an innocent man being imprisoned.
Kerry Condon and James McAvoy in The Last Station (2009) pic.twitter.com/fv6Dy23Jj1

— Frame Found (@framefound) February 16, 2021
Kerry followed with her roles in "Intermission" (2003), "The Halo Effect" (2004), and "Unleashed" (2005). Her next movie role came in 2009, when she played Masha in "The Last Station", a biographic drama about Russian writer Leo Tolstoy; the movie had 18 award nominations, including two Oscars (Best Performance by an Actress in a Leading Role – Helen Mirren, and Best Performance by an Actor in a Supporting Role – Christopher Plummer), and five wins.
Kerry next landed the lead role of Grace Thomas in the 2010 comedy "The Runaway", which earned her a nomination for the Irish Film and Television Award for Best Actress in a Supporting Role in a Film. She was next seen in "This Must Be the Place" (2011), "Dom Hemingway" (2013), and "Gold" (2014).
Kerry has provided the voice for the character F.R.I.D.A.Y. (an AI assistant) in the Marvel Cinematic Universe films, starting with the 2015 movie "Avengers: Age of Ultron". She reprised her voice role in "Captain America: Civil War" (2016), "Spider-Man: Homecoming" (2017), "Avengers: Infinity War" (2018), "Avengers: Endgame" (2019), and "Avengers: Quantum Encounter" in 2022.
Concurrently, Kerry was seen as Pamela in the 2017 comedy crime drama "Three Billboards Outside Ebbing, Missouri", written and directed by Martin McDonagh, which had 233 award nominations and 132 wins, including two Oscars (Best Performance by an Actress in a Leading Role – Frances McDormand, and Best Performance by an Actor in a Supporting Role – Sam Rockwell).
Kerry also appeared in "Bad Samaritan" (2018) and "Dreamland" (2019) before she landed her most notable role to date, which earned her over 30 award nominations and 20 wins. You're guessing, it's the aforementioned role of Siobhán Súilleabháin in "The Banshees of Inisherin" – the movie had 338 award nominations, including nine for Oscars, and 141 wins.
As mentioned, Kerry was nominated for the Academy Award, and besides her, co-star, Colin Farrell was nominated for Best Performance by an Actor in a Leading Role, while Brendan Gleeson and Barry Keoghan were nominated for the Oscar – Best Performance by an Actor in a Supporting Role.
Best Actor nominee Austin Butler and Best Supporting Actress nominee Kerry Condon head to the Dolby theater for the 95th Oscars. #Oscars95 Photo Credit: Landon Nordeman

Posted by The Academy on Sunday, March 12, 2023
Other Oscar nominations were for Best Achievement in Music Written for Motion Pictures (Original Score), Best Achievement in Directing, Best Original Screenplay, Best Achievement in Film Editing, and Best Motion Picture of the Year.
When it comes to Karry's future career, she's finished filming three movies, currently in development. To give you a sneak peek at one of them, entitled "In the Land of Saints and Sinners", it's an action thriller, set in a remote Irish village, with Kerry starring opposite Liam Neeson. The release date set for this movie is 15 September 2023.
Notable TV series roles
Kerry Condon's television career includes appearances in several popular TV shows. She made her television debut playing Mairead Reilly in two episodes of the series "Ballykissangel" in 1999.
Next, from 2005 through 2007, Kerry played Octavia of the Julii in the series "Rome", which brought her international recognition. The show followed the story of Romans in the last days of the Roman Republic, and had 36 award nominations and 19 wins, including seven Primetime Emmys.
Kerry had a recurring role as Rosie in the series "Luck", seen in less than 10 episodes in 2011 and 2012. Two years later, Kerry played Doctor Zoe Boyle in the series "Believe", which although well-accepted by the audience, aired just for one season.
From 2015 through 2022, Kerry portrayed Stacey Ehrmantraut in "Better Call Saul", a prequel to "Breaking Bad". She made an appearance in 18 episodes of this crime drama, which had 305 award nominations, including 53 for Primetime Emmys, and 61 wins.
Kerry will be seen starring in the announced TV series "Skeleton Crew", also starring Jude Law and Ryan Kiera Armstrong, which is set to premiere by the end of 2023.
Love life and relationships
There's been no widely known or publicized information about Kerry's love life or dating history. She's one of those celebrities who prefer to keep their private life secret, however, this doesn't mean that she hasn't been the subject of various speculation about her romantic life.
Most recently, she was romantically linked to her co-star from "The Banshees of Inisherin", Colin Farrell. In one of her interviews, although the reporter asked her about these speculations, Kerry's response left fans wondering about the nature of their relationship.
As of August 2023, it seems that Kerry is single, hasn't married or has children.
Age, height, and net worth
This 40-year-old actress is known for her long, blonde hair that falls in loose waves down her back; she has green eyes, often accompanied by an easygoing smile, which is her trademark. Kerry has a petite figure; she is 5ft 3ins (1.6m) tall and weighs around 105lbs (48kgs), with vital statistics of 32-25-35.
When it comes to her net worth, according to sources as of August 2023, it's been estimated at over $5 million.