Who is Robert Baggio?
Former Italian professional soccer player Roberto Baggio was born in Caldogno, Italy, on 18 February 1967, making Aquarius his zodiac sign. He played in various attacking positions, and is still today regarded as one of the best soccer players of all time; Roberto was voted #4 in the internet poll FIFA Player of the Century in 1999, and was made a member of the 2002 FIFA World Cup Dream Team. He won his only Ballon d'Or in 1993.
Roberto played for the Italian national team in 56 games and scored 27 goals; they finished third in the 1990 FIFA World Cup, and he led them to the finals of the 1994 World Cup – Italy lost in the quarter-finals at the 1998 World Cup.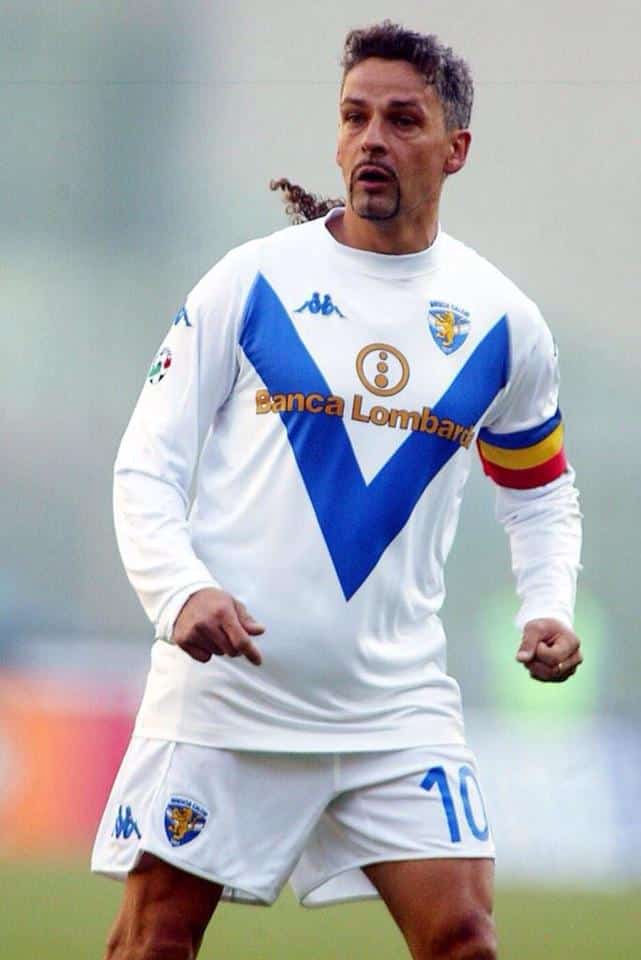 Education and early life
Roberto was raised alongside his seven siblings in Caldogno, by their father Florindo Baggio and mother Matilde; not many details have been shared about his family, but it's known that his younger brother Eddy Baggio was once also a professional soccer player, while he's today a soccer manager.
Roberto began playing soccer at a very early age, and spent most of his spare time playing the sport with his neighborhood friends. He was 11 when he joined his hometown's youth team, and went on to score 45 goals in 26 matches in the following two years, once scoring six goals in a single match.
He was 13 when he was scouted by Antonio Mora, who then helped him sign a £300 contract with the youth team of Vicenza; Roberto played in 120 games and scored 110 goals before joining the senior side of Vicenza in 1983, aged 15. He was 16 when he played his first game in Serie C1, which Vicenza lost to Piacenza 1-0; Roberto's first goal was in the game against Brescia on 3 June 1984 (penalty).
His Coppa Italia debut was on 31 August 1983, and he helped his team be promoted to Serie B in the following year. Roberto then began attracting the attention of larger clubs, especially of Fiorentina of Serie A, and he signed a £1.5 million contract with them in 1985, aged 18.
The details about Roberto's education remain undisclosed, but it's believed that he matriculated from high school in 1985.
Roberto's career
Roberto was sidelined because of an injury during his first year with Fiorentina, and thus didn't play in Serie A; they placed #5 and lost in the semi-finals of the Coppa Italia. Roberto's debut was on 21 September 1986, when Fiorentina defeated Sampdoria 2-0, and the same year saw him play in the UEFA Cup with the team.
Roberto went on to miss most of the 1986-1987 season after suffering a knee injury on 28 September; the surgery required 220 stitches and Roberto lost 12kgs during recovery.
The team reached the quarter-finals during the 1988-1989 Coppa Italia, and the 1990 UEFA Cup Final in the following year, losing to Juventus.
Roberto was sold to Juventus for £8 million in 1990, which was a world record at that time; he scored 14 goals during his first season with the team, and they reached the quarter-finals of Coppa Italia and the semi-finals of the European Cup Winner's Cup. He became the team captain in 1992, and led Juventus to win the UEFA Cup final against Borussia Dortmund (6-1), but the team then lost in the semi-finals of Coppa Italia. Roberto received various awards and accolades for his performance in the 1992-1993 season, including the FIFA Player of the Year, European Footballer of the Year, and Onze d'Or.
He continued playing for Juventus until 1995, when he was signed to AC Milan; Roberto signed with Bologna in 1997, and with Inter Milan in 1998. He played for Brescia from 2000 through 2004 – his final game was a loss against Milan on 16 May 2004, after which he officially retired.
Later life
Roberto began working for the Italian Football Federation in August 2010, as the president of the technical sector; he quit on 23 January 2013 after stating that all of his ideas for improving the system had been ignored by the federation.
Roberto earned his Category 2 coaching license in 2011, and his Category 1 UEFA Pro license on 5 July 2012, meaning that he can now coach professional soccer teams.
Roberto Baggio (Inter)
98-99 Chanpions League, Inter vs Manchester United1-1
at Stadio San Siro in Milan, Italy on 17 March 1999
Photo by Masahide Tomikoshi / TOMIKOSHI PHOTOGRAPHY pic.twitter.com/ABVhIVILBl

— tphoto (@tphoto2005) November 22, 2019
Love life and wife
Not many details have been disclosed about Roberto's family, because he prefers to keep them away from media.
He and his long-term girlfriend Andreina Fabbi exchanged vows in a Roman Catholic ceremony in 1989; Andreina's a non-celebrity Italian who focused on being a housewife after marrying Roberto. She gave birth to their daughter Valentine in 1990, their son Mattia followed in 1994, and Andreina gave birth to their second son Leonardo in 2005.
There are no other women whom Roberto's perhaps been with, that we know about; he's married to Andreina Fabbi as of August 2023, and they have three children together.
Interesting facts and hobbies
Roberto was raised Roman Catholic, but converted to Buddhism in 1985; he's today a member of the Buddhist organization Soka Gakkai International and practices Nichiren Buddhism.
He's fluent in Spanish and has a ranch in Rivera, Argentina; one of his favorite soccer clubs is Argentina Boca Juniors.
Roberto published his autobiography "Una Porta nel Cielo" in 2001; it's been translated as "A Goal in the Sky", and won a 2002 Serie A Award for Best Football Book.
From 1991 through 2012, he owned the sporting goods store Baggio Sport in Thiene, Vicenza.
Roberto's donated money to numerous charity organizations, and the United Nations named him the Food and Agriculture Organization's Goodwill Ambassador on 16 October 2002.
Joe Pesci's one of Roberto's favorite actors, and some of his favorite movies include "My Cousin Vinny", "Raging Bull" and "Goodfellas".
Appearance and net worth
Roberto's age is 56. He has brown eyes and gray hair, is 5ft 9ins (1.74m) tall and weighs around 155lbs (71kgs).
Roberto's net worth's been estimated at over $15 million, as of August 2023.