• Sharise Ruddell is a former model, mud wrestler and the former wife of American musician Vince Neil.
• She grew up in Huntington Beach, California and did not pursue a college degree.
• She has her own company, Na Na & Punk Polka Dots and a bikini brand of which she is the sole designer.
• She is the mother of one son, Colt Siegel, and her daughter with Vince Neil passed away at age •
• Her former husband Vince Neil is the lead vocalist and guitarist of the heavy metal band Motley Crue.
 
Who is Sharise Ruddell?
Sharise was born in Huntington Beach, California USA, on 27 October 1964 – her zodiac sign is Scorpio, and she holds American nationality. She's a former model and mud wrestler, while she's probably known best for being a former wife of famous American musician Vince Neil.
Early life and education
Sharise was raised in Huntington Beach alongside her sister Shanae Ruddell and brothers Greg and Gary Lee, by their mother Shirley Ruddell who was a housewife, and their father Gary Ruddell who was a construction worker.
Sharise became highly sporting while attending a local high school, as she played soccer for her school's team, and also enjoyed dancing, playing volleyball and wrestling. She was 17 when she began going to a local gym, initially because her best friend didn't want to go alone, but Sharise soon fell in love with working out.
She matriculated in 1983, and then chose not to pursue a college degree, but to move to Los Angeles, California and pursue a career in modelling.
Sharise's career
Sharise found some modelling work not long after she arrived in Los Angeles, but she only gained recognition when she became a wrestling ring girl; it was then that various magazines began writing about her, and she was offered even more modelling work.
Sharise has since launched her own company – Na Na & Punk Polka Dots – and has also launched her own bikini brand, of which she's the sole designer.
She's also a bit of an actress, as she appeared in the 1987 music video "Mötley Crüe: Girls, Girls, Girls"; Sharise could also have been seen appearing in the 2000 episode "Video Vixens" of the documentary series "VH-1 Where Are They Now?", the 2009 episode "Hollywood Ex-Wives" of the documentary series "E! True Hollywood Story", and 14 episodes of the 2013 reality show "Ex-Wives of Rock"
Love life and marriage with Vince Neil
Vince was once a huge fan of mud wrestling, and after having watched Sharise wrestle, he asked her out on a date. The two were together for around a year when they exchanged vows in April 1987, in a private ceremony attended by only a couple of their closest friends.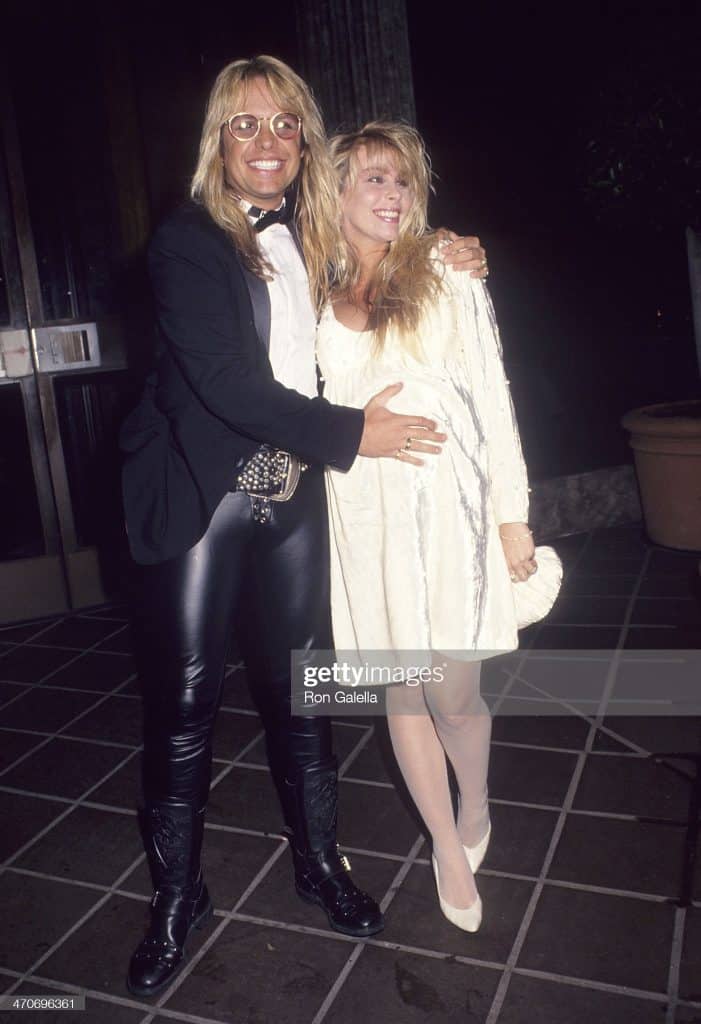 Sharise gave birth to their daughter Skylar Lynnae Neil on 26 March 1991, who was diagnosed with Wilms' tumor when she was two; after six operations and chemotherapy, Skylar passed away on 15 August 1995, but Sharise and Vince had divorced in 1993.
Sharise eventually began dating Kirk Siegel, after the two were set up on a blind date by a mutual friend; she gave birth to their son Colt Siegel, but they split not long after that.
As of May 2022, Sharise seems to be single, has been married once, and has a son – her daughter with Vince Neil died aged four.
Hobbies and other interests
Sharise is quite active on Instagram, and has uploaded close to 1,500 pictures onto the network, while there are today over 20,000 people following her.
Most of her pictures have been taken during her everyday life, and feature her spending time with her friends, working out at the gym, and sun tanning at the beach.
She's a dog-lover, and her pet dog can be seen featured in some of her Instagram pictures.
Sharise likes to travel, and is a huge nature lover; whenever she travels, she stays at natural locations, such as deep into the woods and high up in the mountains.
She's into watching movies in the evenings – her favorite actors are Al Pacino and Robert De Niro, while a couple of her favorite films include "Scent of a Woman", "Taxi Driver" and "The Sleepers".
Age, height and net worth
Sharise's age is 57. She has long brown hair which she usually dyes blonde, and her eyes are brown. Her height is 5ft 6ins (1.65m), and she weighs around 130lbs (60kgs).
As of May 2022, Sharise's net worth stands at over $1 million, while her former husband Vince's net worth has been estimated at more than $50 million.
Who is her former husband Vince?
Vincent Neil 'Vince' Wharton was born in Hollywood, California on 8 February 1961 – his zodiac sign is Aquarius, and he holds American nationality. He's probably known best for being the lead vocalist and guitarist of the heavy metal band Mötley Crüe.
Vince was raised in Hollywood alongside his sister Valerie Wharton Saucer, by their father Clois 'Odie' Wharton and mother Shirley (nee Ortiz). The family moved a couple of times while Vince was growing up, and he attended Sunflower Intermediate School, prior to transferring to Royal Oak High School, from which he matriculated in 1979; he was interested in various activities during his teenage years, including wrestling, playing football and baseball, and surfing.
Vince's first band was Rock Candy, and he was playing with them in 1981, when he was spotted by a Mötley Crüe member, and was asked to join them as their lead vocalist.
They released their debut album "Too Fast for Love" in the same year, their second album "Shout at the Devil" followed in 1983, and third "Theatre of Pain" on 21 June 1985. It was their fifth album "Dr. Feelgood", released on 1 September 1989, that made Mötley Crüe famous worldwide, however, Vince was fired two years later, because of his excessive drinking.
He released his debut solo album "Exposed" in 1993, and his second album "Carved in Stone" followed in September 1995. Vince rejoined Mötley Crüe in 1997, and they released the band's seventh album "Generation Swine" on 24 June 1997. A couple of their following albums were "New Tattoo", released in 2000, "Red, White & Crüe", which came out in 2005, and "Saints of Los Angeles", released in 2008.
In 2010, Vince released his third solo album "Tattoos & Tequila", then spent the following five years touring with Mötley Crüe, before they disbanded; they reunited in 2018, and have been performing since then.
Vince is also a bit of an actor, having played either supporting roles or extras in the movies "Police Academy 6: City Under Siege" (1989), "The Adventures of Ford Fairlane" (1990)", and the comedy series "Still Standing" (2005).
Sharise was Vince's second wife. He married his first wife Beth Lynn in 1981, and she gave birth to their daughter Elizabeth Ashley Wharton on 29 October 1983; they divorced in 1985. He married his third wife, Playboy Playmate Heidi Mark in 2000, but they divorced in the following year. Vince married his fourth wife Lia Gerardini in January 2005 – they split in 2010, but apparently haven't divorced.