• Veronica Cintron is an award-winning American news anchor for Bay News 9
• She studied Media Studies/Mass Communication at the University of South Florida
• She is married to Preston Rudie, founder and CEO of Catalyst Communications Group
• She has won numerous awards throughout her career, including the Suncoast's Best Anchor Emmy
• She has a net worth of at least $700,000 as of mid-2019.

Known for movies

Who is Veronica Cintron?
Veronica Cintron is an American award-winning news anchor, who now works with the Bay News 9, and is best known for covering "Your Evening News" on the channel.
Veronica Cintron Age, Early Life, Family, and Education Background
Veronica was born on 7 April 1983 in Puerto Rico – so an American by nationality and belongs to Puerto Rican ethnicity – and often makes visits to her family there, although she hasn't revealed details about her parents' names, their professions, and whether she has any siblings.
She lived in Puerto Rico up until 2001 when she went to college; there is no information about which high school she went to, but Veronica attended the University of South Florida since it was relatively close to home, and graduated from the institution in 2005 with a Bachelor's Degree in Media Studies/Mass Communication, actually studying on a scholarship. During the four years that Veronica was at the university, she played the role of the RTDNA – Radio Television Digital president – and was also their resident assistant.
As a child, Veronica loved watching the news on the television as her mother and grandmother would constantly watch it too. She was fascinated by the news reporters, and this made her want to become one when she grew up. Veronica confesses to having watched more news than cartoons when growing up, as at her home they would watch the morning, noon, Five o'clock and late-night news.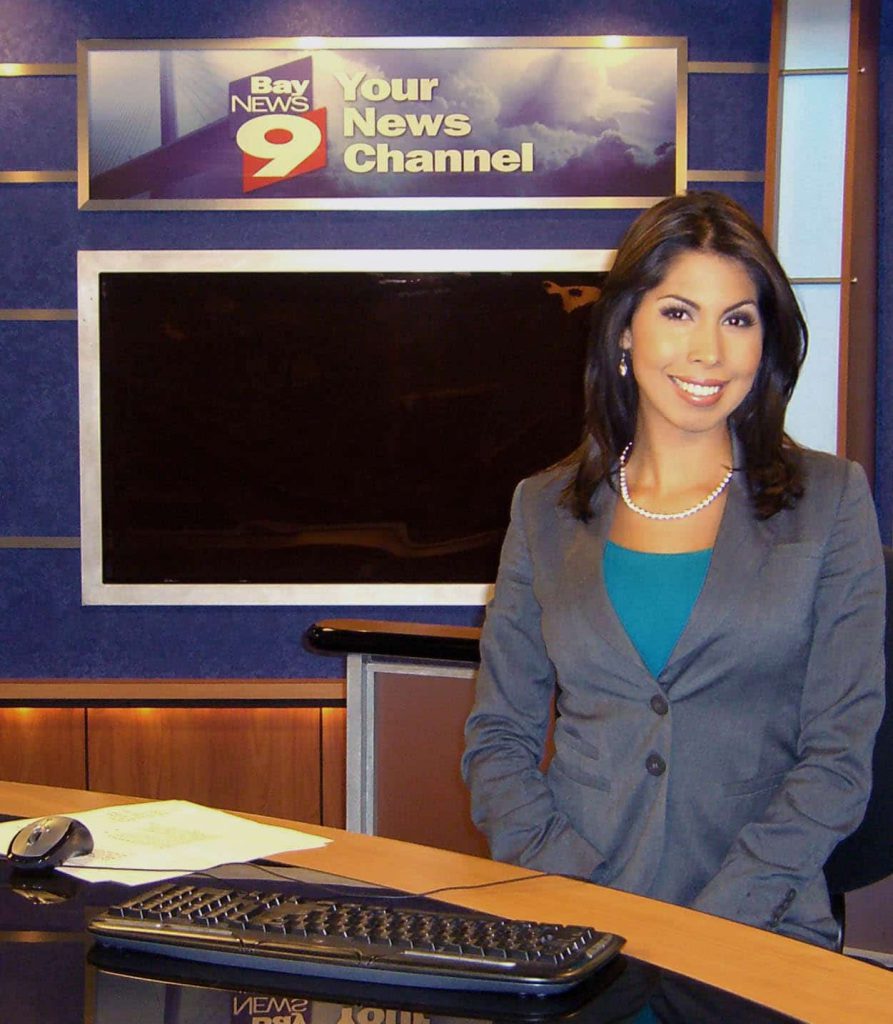 Veronica Cintron Professional Career
Veronica's first job saw her move to Massachusetts, where she was the main female NBC affiliate anchor. She terms her first job as a big test for her ,as it not only gave her the experience she needed but exposure too. She worked with NBC for four and a half years before going back to Tampa once her contract came to an end, also influenced by the fact that her boyfriend lived there and she wanted to be with him.
While at the university, Veronica had been offered an internship by channel 10 where she met numerous reporters. She envied and made friends with these reporters but went the next step with one of them, and the two ended up becoming a couple. So once her contract in Massachusetts came to an end, she just wanted to be near her boyfriend who later became her husband.
Veronica joined Bay News 9 in 2010. She starts her day at 2:30 p.m., and sometimes has to work up to 4 a.m. recording stories, and to attend meetings with managers. If she's not doing either of these two tasks, you will find her writing a piece called "Medical Beat", which she always researches and comes up with medical stories.
Since the station is not live all the time, Veronica has to compose a number of these stories. She says that no day is like the previous one, as some night are very busy while others are pretty quiet; this is what makes her work so much more enjoyable.
When asked about her advice to aspiring reporters, Veronica says that they should undertake a number of internships, and get involved with those organizations that carry out networking events. She also tells them to persevere, as being an anchor is a tough job and they need to have a competitive edge.
As a reporter, Veronica has traveled as far as Panama, Washington D.C., Cuba, Puerto Rico, and Holland. Some of her best works include covering the Panama Canal 100th anniversary, Pope Francis' memorable Cuban visit, and the Puerto Rico Hurricane Maria's aftermath, days after the Category 4 hurricane hit. She also covered president Barrack Obama's inauguration as well as Massachusetts' first African-American government being elected.
Veronica has won a number of awards since she joined Bay News 9, including the Suncoast's Best Anchor Emmy, and the Anchor of the Year with the Florida Society of Professional Journalists. She has also received a number of Emmys and Associated Press awards during her career as a reporter.
Veronica Cintron Personal Life, Married, and Children
Veronica is now married to her longtime boyfriend, Preston Rudie, who is the founder and CEO of Catalyst Communications Group. He also worked as a reporter for WTSP TV between 2002 and 2014, and WITI –TV Fox 6 before that. As a reporter, Preston won numerous awards including 23 Emmys, six Edward R. Murrow wins, and the Individual Achievement award among others. Rudie is a Mass Communication/ Media Studies graduate from the University of Wisconsin, Madison.
Little girl, big dreams ??❤️?? #WhiteHouseEasterEggRoll ?? pic.twitter.com/6RSk1zTygz

— VeronicaCintron (@VeronicaCintron) April 22, 2019
When he also worked as a reporter, Preston confessed that it was hard being married to a fellow reporter, as their schedules clashed. He would work during the day while his wife worked at night which meant that they only had time for each other during the weekend.
The two have been blessed with a baby girl who was born on 6 April 2017 – proud Veronica loves posting photos of their daughter on social media. When she is not working, Veronica likes traveling, visiting new restaurants, reading, going to the beach and watching movies with her husband at home. She also loves spoiling Gizmo, her Shih Tzu dog.
Veronica Cintron Net Worth
Veronica has not only become a famous reporter, but has also managed to accumulate a great deal of wealth. It is estimated that Bay News anchors receive a salary of up to $90,000, which means that Veronica is earning a good income and thus enjoying a comfortable life. Veronica's net worth is estimated by sources at a minimum of $700,000, as of mid-2019.
Movies
Actress
| Title | Year | Status | Character |
| --- | --- | --- | --- |
| Dead White Girl | 2018 | filming | Jennifer |
| In Fear Of | 2012 | TV Series | Hands / Xiomara |
| Ghosts | 2012 | Short | Xiomara |
| Shall Come to Pass | 2011 | Video short | |
| 1/20 | 2010 | | Blind Hairdresser (as Xiomara Citron Bernier) |
| Nemesis | 2009-2010 | TV Series short | Tasha |
| Serial School | 2009 | Short | Theresa Vanello |
| Jurukan | 2006 | TV Series | Guest |
Producer
| Title | Year | Status | Character |
| --- | --- | --- | --- |
| In Fear Of | 2012 | TV Series assistant producer - 1 episode | |
Source:
IMDb