"Rust Valley Restorers" is another TV show that mixes car restoration and documentary-style reporting that has captivated audiences in recent years. However, this TV show distinguished itself by its base being in British Columbia, Canada, not the US, and not airing on Discovery Network channels such as similar shows "Chasing Classic Cars," "Overhaulin'," "Wheeler Dealers," and "Fast N' Loud."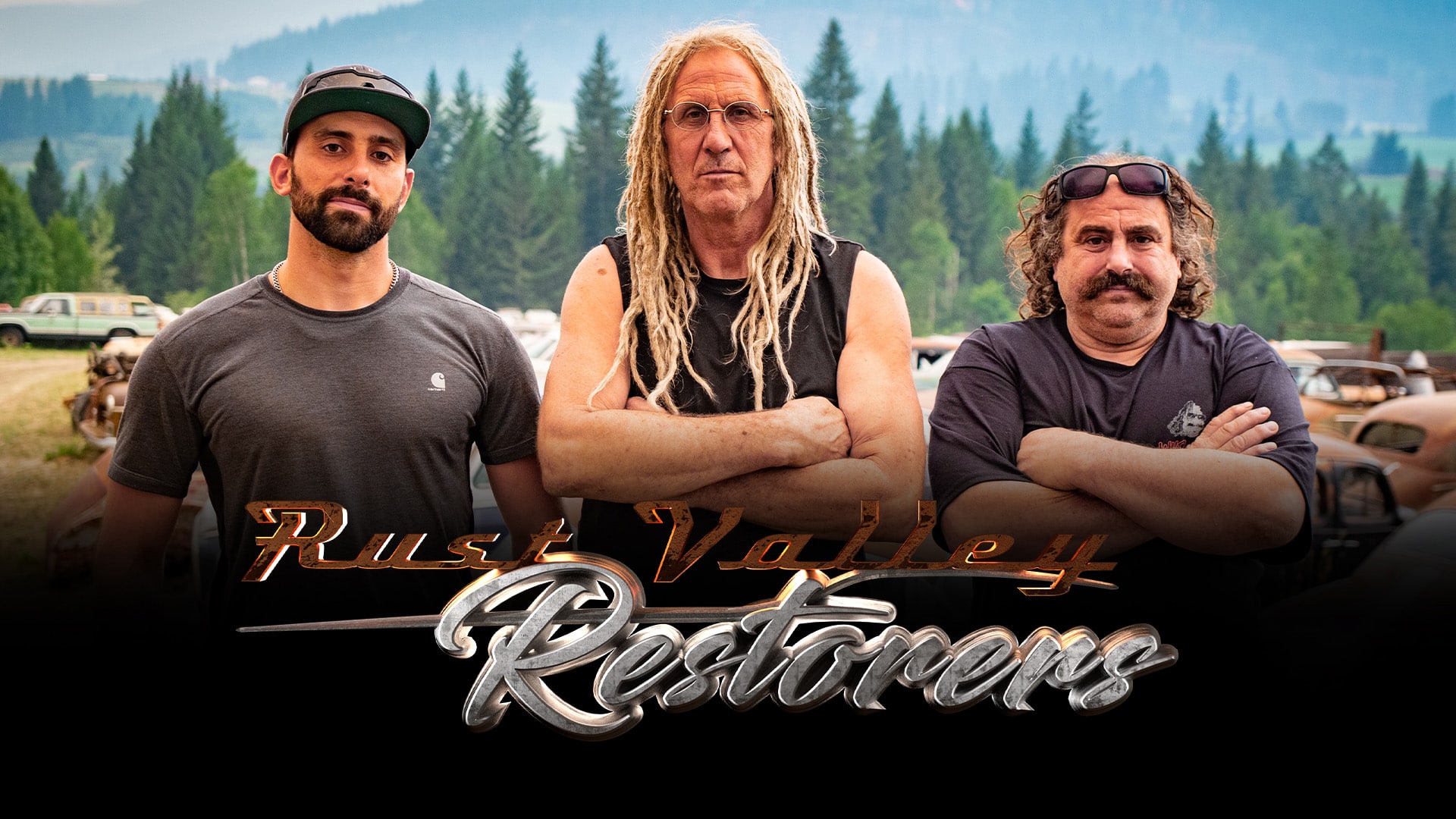 "Rust Valley Restorers" debuted on 6 December 2018 on History Canada channels and followed the work of the Rust Bros Restorations shop, owned by Michael "Mike" Hall, a passionate car collector and seller whose life story went viral in 2017. As a teenager, he began amassing his car collection, and eventually had more than 400 on his property close to the Trans-Canada Highway. Mike realized that enough was enough, and offered his collection and the property for sale in 2016, but he couldn't find a buyer.
Raising the price, the opposite of what was expected of him, attracted the attention of the local news and interested buyers. Discovery Canada eventually invited Mike to guest star in the "Highway Thru Hell" TV show, boosting his prominence. Mike then began constructing his car restoration shop in the South Shuswap area in Tappen, British Columbia, locally known as the 'Rust Valley' for the number of junkyards and the vintage car-loving community. That prompted History to offer him a documentary TV show contract. Mike and his team recorded over 40 episodes in four seasons, and the production company renewed the fifth. Here's what to expect from its release.
More will soon be revealed
Mayhem Entertainment and Corus Entertainment gave a green light to "Rust Valley Restorers" season five in early June 2022 alongside 44 new and old TV shows, adding up to 200 extra hours of original Canadian content. Moreover, an affiliated production company made a casting call three months later, implying that they were filming the new season. Most cast members continue to hang out, mention cars, and post on Instagram and Facebook and have kept their bios in the present tense regarding their participation.
If the previous seasons are any indicator, new episodes will air in February 2024. Based on how History Canada premieres TV shows, we can expect teasers and trailers to begin a month or two before the season airs. Therefore, there is little official news about the contents of the new season besides that the team will be back to inspecting Mike's collection, turning rusty junk into desirable classic cars.
Viewers can guess what season five will bring based on the TV show's official Instagram page and the events and vehicles featured in the previous season. No cast member officially left the show, and the season will undoubtedly feature more muscle and classic cars and, most likely, trucks. It will also be emotionally charged, as Mike has a temper and a short fuse, and crew members sometimes get on each other's nerves under pressure. Identical to the previous seasons, the episode's endings will be cathartic when Mike sells vehicles that he has held onto for up to four decades.
All cast members should return
Mike, Avery "The Wildman" Shoaf, who owns Wildman Restorations and is a tinkerer who worked on heavy equipment, and Mike's son Connor, who worked for Avery, are undoubtedly returning. All three keep the official Instagram page, @rustbrosrestos, active with tidbits of projects that they are working on. Sarah "Hot Rod Blonde" Ward, who joined the team in 2018 as a parts and inventory manager, is still part of the crew. She posted photos from the shop in late September 2022 but suffered an injury on 19 December 2022 when she fell and rolled her ankle. Thankfully, she didn't shatter the bone and made a speedy recovery. After months of not posting, Sarah began raising funds for the victims of the British Columbia wildfires in September 2023, one of whom is her cousin, who lost her home and all her possessions.
Cassidy Mceown, the team's youngest member and an aspiring mechanic and test driver, should also come back. She came from North Carolina to British Columbia as a child and loved automobiles ever since. Cassidy recently became an aunt to a niece and has shared images of her pink pickup truck on Instagram. Moreover, she recently did spray painting work for Okanagan Custom Trucks and Alberta Boys Customs. All cast members mention their roles in the show in a way that suggests that they're filming the new season.
Lincoln, the icy-blue-eyed dog integral to the shop's culture and unofficially the Employee of the Month for a few years, will also be there. None of the Rust Bros Restorations crew members know his breed and enjoy guessing. Some viewers claim that he's a mix between a Siberian Husky and a Pit Bull, a Siberian Husky and a Labrador, or of all three.
The restorations continue
Loyal viewers of the TV show know that Sarah's cousin's terrible situation is far from the first. Mike was affected by wildfires in 2021 and needed money to keep his shop running. Consequently, he organized an auction in early October and sold about 500 of 550 complete and incomplete classic cars in various states of disrepair on his property in Tappen. Mike said that the 'day was a blur, and that he has had some for four decades, which almost put him to tears' but was happy in hindsight.
THE AUCTION IS ON! #RustValleyRestorers is selling all, this Thursday, April 28st, 2022 @ 9pm PST/EST only HISTORY and STACKTV ….#canada #musclecars #rustbros #rustbrosresto #cars #classiccarshow

Posted by Rust Valley Restorers on Wednesday, April 27, 2022
He said that he kept all cars that have the potential to be restored privately or in "Rust Valley Restorers" and that he sold some for more than he expected, around $10,000 apiece, and some for only a hundred dollars, much lower than he wanted. He explained his reasons, 'As long as the stuff goes to a good home, why shouldn't I do it? I've been the caretaker of some of this stuff for 30 to 40 years. I told the buyers that if they do something with the cars, they should send me a picture and let me know what happened.'
Mike recognized a few guys from Manitoba as passionate restorers, sold cars to buyers from nearly all Canadian provinces, and shipped some to New York State. Additionally, he suggested that his wife and children disliked that he kept such an extensive collection, and that selling them to families with children made everyone happy. According to some sources, Mike had 52 cars in his possession when season 4 premiered on 24 February 2022. The team worked on roughly 20 vehicles until 23 June 2022, the season finale, meaning that about 30 are eligible to be restored in the fifth season.
Trucks will return
Although the viewers are used to seeing classic and muscle cars in 2022, the fifth season should feature more trucks. On 7 June 2023, Rene, on behalf of Big Time Decent, one of the show's production companies, announced a casting call for truck shops. They wanted to organize a truck show and needed people or companies who had restored trucks and wanted to show them off. Another option is for the producers to showcase their repair and modification process on lifted, diesel, gas, and 4×4 trucks.
Instagram followers could have guessed that this was coming because the official Instagram for Rust Bros Restorations promoted Wheel Pros Canada on 1 September the previous year. The crew already collaborated with the company, and they only needed a new set of wheels for their work truck. However, they advertised Wheel Pros Canada again on 17 May this year, suggesting that the company may sponsor the truck show.
That made some viewers particularly happy; unlike the fourth, the third season featured several rare trucks, including the 1957 GMC "Blue Chip" Pickup Truck, the 1964 Ford F-100m, the 1947 Willys-Overland Jeep Truck, and the 1956 C-800 with a sleeper. That is equally good news for those who dislike truck restorations, in a way. With so many trucks, Mike won't be pressured to restore dozens of muscle and classic cars per season, and can dedicate more time to each.
Mike will remain genuine
Mike has always been honest with his audience, and admitted that he had barely broken even on many projects since the show premiered. He worked in construction for decades and used his salary to buy and store cars. Mike received some money after Matt Shewchuk, a producer for Mayhem Entertainment, pitched the idea for the show and encouraged him to create the restoration shop.
However, Mike admitted over time that the filming crews did not force him to up his pace or change his business model. For instance, the 1966 Lincoln Continental Ragtop convertible from the first episode of the debut season had a quoted price of CA$17,000, yet its value was close to CA$50,000. It took some time for the team to learn to give an accurate estimate and a quote, but the restorations continued to lose money or break even.
Mike and his team nonetheless refuse to work on other people's cars, sell car parts, or shill products that they aren't using, and viewers can rest assured that this will continue in the fifth season. If our educated guess about trucks being the focus is accurate, Mike has enough cars on his property to restore during the sixth season.