After a decade on air and over 100 episodes released so far, "Street Outlaws" has become as popular as it's successful. The same can be said about its cast, which is full of fearless but talented drivers willing to do everything to outspeed everyone else on the streets.
That being said, it's impossible to talk about "Street Outlaws" without mentioning Big Chief, whose accomplishments behind the wheel and intrepid attitude turned him into one of the most unforgettable drivers from the show. Nonetheless, his absence from "Street Outlaws" in recent times has been impossible to ignore, bringing up many questions about his whereabouts and the reason he decided to leave the show.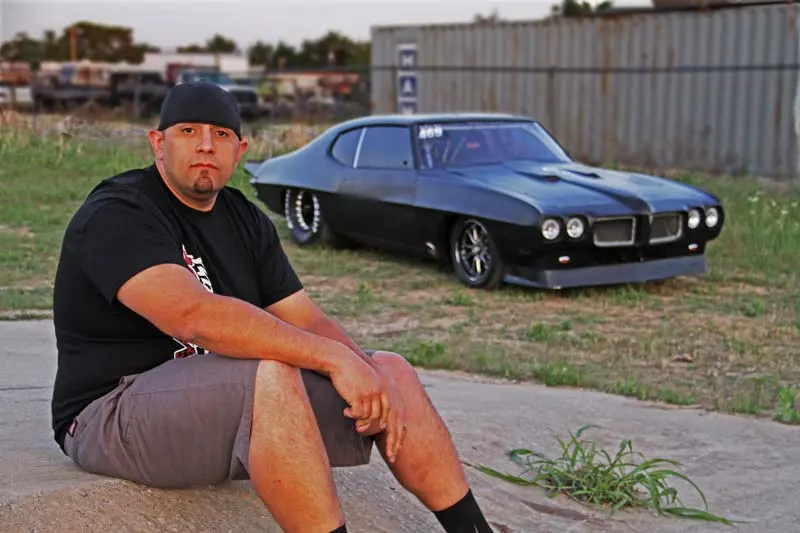 Have you also wondered what happened to Big Chief and his powerful car "The Crow"? Then stay here to get an update about his current life and what he's doing behind the wheel now that he's no longer on TV.
Where's The Crow Now?
One of the most memorable and powerful cars to ever be featured in "Street Outlaws" was The Crow, a 1972 Pontiac LeMans which accompanied Justin 'Big Chief" Shearer during most of his high-speed adventures both before and as he filmed the show. The Crow has belonged to Justin since he was 16 years old and it was there for some of his happiest moments, such as his first date with his first wife, and through some of his worst moments, such as the time it was wrecked during a race in 2015.
Though for a while Big Chief favored the ProMod 1968 Pontiac Firebird named 'CrowMod', he eventually got back to his roots and searched for another to call The Crow, finding it in a 1970 Pontiac GTO which he modified and has been taking back to the streets ever since 2017.
Besides switching a couple of things under its hood, The Crow is back on small tires and currently running the streets of Oklahoma, as Big Chief proudly showed off on his YouTube channel in August 2023.
For now, it's unclear what are the next steps for The Crow, but it's for sure that Big Chief has big plans for it.
What Is Big Chief Doing Now?
Besides tuning the Crow back in shape, Big Chief is as active as ever on the Oklahoma 405 circuit, just not as part of "Street Outlaws" anymore. After leaving the show in early 2022, Big Chief has been focusing on running The Crow and his garage Midwest Street Cars, which shares its name with his merchandise shop and YouTube channel.
Ever since leaving "Street Outlaws", Big Chief has been creating lots of content for his online followers, focusing mainly on YouTube and Patreon. His Midwest Street Cars videos are entertaining and exciting, showing tidbits about his street-racing escapades, his work at the garage, and even his girlfriend Jackie's latest racing adventures, proving to be the easiest and best way to get a hold of Big Chief's whereabouts.
So far, neither Big Chief nor Jackie has shown any intention of going back to TV, yet they're still taking part in small-tire races in Oklahoma, where he's currently placed at fifth on The List.
Why Did He Leave The Show?
Big Chief is one of the original "Street Outlaws" racers and one of the people who is responsible for making the show as popular as it is nowadays. That's why fans were flabbergasted to know that Big Chief was leaving the show's franchise for good in 2022, especially how a couple of months before that he had openly revealed how excited he was at filming his 15th season with the show.
The first rumors pointed out that Big Chief and his girlfriend Jackie had exited the show after an argument had ensued between him and drivers from Memphis while filming "America's List" in January of that year. Rumors kept coming and going until March, when Big Chief finally cleared up the situation in a video shared on his YouTube channel, stating how he wasn't quite happy about the ways the production company had been managing the racing aspects of the show.
While it was true that he had quit the show while filming the final season's night of "America's List", his displeasure was coming from a while ago and extended to not only that spin-off but to the entirety of "Street Outlaws".
Though at that point fans were hopeful that Big Chief could somehow return to the show after the waters calmed down, he and Jackie had continuously shut down any possibility of a comeback when they were asked about it through their social media. This is a very unfortunate turn of events, but in the end, only Big Chief knows what fits him the best.
Is He Still Friends With Murder Nova?
Street racing might not sound like the easiest way to make friends, but that didn't stop drivers from "Street Outlaws" from forming stable and compelling friendships and teams between them. One of the best duos in the show was Big Chief and Shawn 'Murder Nova' Ellington, who have known each other for decades and grew in the racing community simultaneously.
Fanf of "Street Outlaws" knows well how close Shawn and Justin once were, to the point they started Midwest Street Cars together and used to host the podcast "The Chief and Shawn Show", before eventually growing apart in recent years.
As Big Chief said during a 2020 interview with Sim ABCXYZ on YouTube, Shawn and he started with very similar goals when it came to driving, but as things became more difficult as they focused more and more on racing, their priorities changed.
Eventually, Shawn slowed down a bit in pursuing his street racing dreams to instead share time with his loved ones, while Justin was relentlessly making a name for himself on the scene. That's how in 2015, Shawn took the tough but necessary choice to step away from the business, all while keeping his friendship with Justin in a good place.
These days Big Chief and Murder Nova are still good friends, but they're better off walking separate paths.
Family & Relationships
Big Chief is wildly accomplished behind the wheel, but that doesn't stop people from growing interested in the most personal aspects of his life. Though it's been a while since he had been dating Jackie Braasch, many people keep wondering what happened to his old wife and kids.
Those who have been watching "Street Outlaws" from the beginning surely remember Allicia Shearer, with whom he had welcomed two sons Corbin and Covil. The couple had been together since they were teens and married in the mid-2000s, staying together through the good and bad until 2017 when they separated.
Keeping his divorce in secrecy was expected of Big Chief, yet wrong assumptions were soon to come up once he revealed he was dating Jackie. In an episode of his podcast "The Chief and Shawn Show", Big Chief denied he had been unfaithful to his wife and instead confessed his upcoming divorce from Allicia, with whom he had been 'having problems' for a long time.
Regarding his family, in 2016 Big Chief confessed on Instagram that he regretted not spending much time with his sons due to his restless pursuit of the number one spot in the streets. Nevertheless, by the looks of it, Big Chief often hangs out with his kids and has influenced them to follow in his steps in racing, but only time will tell how that will turn out.
The Past and the Future For Big Chief
Street racing is not something that just happened to Justin Shearer. Ever since he was a child, he was passionate about it and was used to hustling all week just for a chance to prove himself on the streets the next weekend.
There have been certain turning points in Big Chief's life which have pushed him forward, such as the time he vowed he would be the fattest one in the streets after being defeated by a Chevrolet Beretta in his early years. After making a name for himself in Oklahoma and everywhere else, it was obvious to Chief that racing was the thing he loved the most and what he wanted to do his whole life.
Just as Justin told DragZine in 2021, his restless pursuit for the number one spot has distanced him from other things he enjoyed and from people who didn't have racing as a priority, but it has been all worth it for his dream. That's why, stepping away from "Street Outlaws" is by no means the end of his racing escapades, it's just a new chapter in his career when he'll have a chance to 'do what we love and have fun doing what we love to do', as he confessed in a YouTube video.
So all in all, there's still a whole lot more to expect from Big Chief from now on. All we have to do is wait and see!