Chelsea Freeman is the wife of the Canadian pro baseball player Freddie Freeman, and has been at his side for many years. Chelsea is also the mother of three sons fathered by Freddie, but there's much more to the blonde beauty than that. She has many of her own achievements, and if you're curious about who this lady really is, stick around – we'll be getting to know Chelsea a little better and discover more about her.
Cheers to spending my entire twenties with you! #29🥂🥰 @FreddieFreeman5 pic.twitter.com/Z42pD3syTw

— Chelsea Freeman (@chelseafree5) April 25, 2020
Early Personal Life
Chelsea Marie Gof, was born on 24 April 1991, in South Florida, USA, to parents, Warren and Tana Goff, with whom she shares English heritage. She's part of a trio of siblings, with brother Josiah and sister Tori completing her family. Chelsea's formative years unfolded in Pompano Beach, where her father operates a digital marketing services business, while her mother oversees a home loan business.
Regrettably, details about her early life remain shrouded in mystery. Nonetheless, it's reasonable to assume that Chelsea enjoyed a contented upbringing, which contributed to her development into a cheerful and well-adjusted adult.
Education
We don't know which school Chelsea attended, but she pursued her higher education at the University of Central Florida. Her academic journey included a memorable summer in 2011 when she resided in Miami, and during that period, she also ventured into the world of modelling.
It was in June 2011, during her college years, that Chelsea and Freddie started their romantic journey. It's worth noting that while Chelsea was pursuing her education, Freddie had opted for a direct path into professional baseball, having signed with the Atlanta Braves in 2007, right out of high school.
Chelsea's academic endeavors came to fruition in 2013 as she graduated from college. Not long after, in January 2014, the couple took a significant step in their relationship by getting engaged.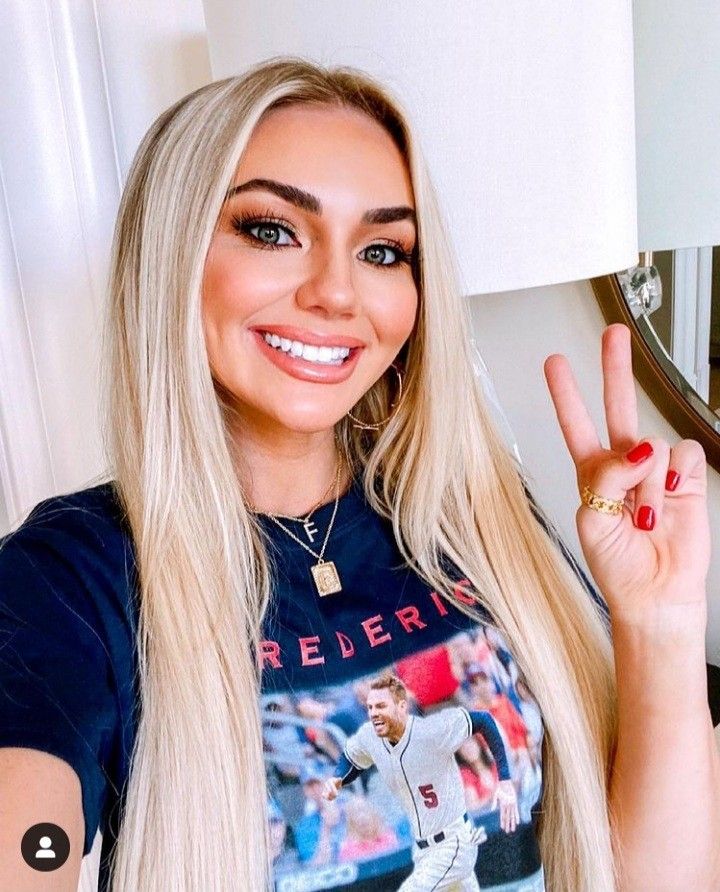 Career
Chelsea seems to have embraced the role of a dedicated stay-at-home mother, devoting herself to her and Freddie's children. Although this may not be the kind of career with traditional milestones, it's undoubtedly a noble and fulfilling one, marked by the countless cherished memories she continues to create as a loving mother and devoted wife.
However, at one point in her life, she took on the role of a full-time realtor, operating within the Atlanta, Georgia area. In more recent times, Chelsea has ventured into entrepreneurship as the founder and owner of the Chelsea Freeman Collection, an online boutique specializing in game day merchandise. Her boutique proudly offers collections representing both Atlanta and L.A., the cities intimately tied to her family's journey. The collection includes an array of sweatshirts, T-shirts, and hats, each bearing the name of their respective city.
Despite her professional endeavours, Chelsea's role as a mother remains her top priority and the cornerstone of her life.
Interesting Facts
In 2015, Chelsea made a notable appearance during the seventh season of the TLC reality TV series "Say Yes to the Dress: Atlanta,". Her time on the show revealed a personal dream – Chelsea had always envisioned having three children by the time she reached the age of 30. As her 29th year approached without a pregnancy, she began to wonder if this dream would remain unfulfilled. However, her worries were put to rest when she later became the proud mother of three healthy kids.
Following the Atlanta Braves' victory in the 2021 World Series, where they triumphed over the Houston Astros in six thrilling games, Chelsea, along with their son Charlie, joined Freddie on the field to celebrate this momentous occasion.
Despite expectations that Freddie would retire as a Brave, he surprised many by signing with the Los Angeles Dodgers in 2022, inking a six-year contract with the team after a remarkable 12 seasons in Atlanta.
Throughout Freddie's illustrious major league career, Chelsea has been a source of unwavering support. Her devotion extends to social media, where she shares messages of encouragement and pride during significant milestones in her husband's baseball journey.
Their presence on the red carpet at major events is a sight to behold. Chelsea and Freddie have graced star-studded evenings, such as the 2019 All-Star Game in Cleveland, Ohio, and the 55th Annual Country Music Association Awards in Nashville in 2021.
They also attended the 2022 Baby2Baby Gala, an event that raises millions every year for children in poverty, in West Hollywood, California, with their glamorous and co-ordinated appearances.
The couple's penchant for matching outfits, often in sleek black ensembles, is not confined to public events, but extends to the personal milestones of their lives, including friends' weddings, reflecting their shared fashion sense and mutual support.
Later Personal Life
Freddie and Chelsea began their romantic journey in June 2011, and sealed their love with a wedding ceremony at the St. Regis Bal Harbour in Miami Beach, Florida just over three years later in November 2014.
Celebrating their eighth anniversary in 2022, the couple exchanged heartfelt messages on Instagram, expressing their deep affection for each other. Freddie's post included the endearing words that expressed how grateful he is for his wife, and how he will love her forever. Chelsea reciprocated the love, sharing an Instagram video montage saying she couldn't imagine her life without him, declaring her eternal love.
Their joy extends to their roles as parents, as they proudly raise three sons: Charlie, their firstborn in 2016, and Brandon John and Maximus Turner, who entered the world through surrogacy and Chelsea's subsequent pregnancy respectively, arriving less than two months apart.
It came as an unexpected twist when Chelsea also became pregnant again during this period. On December 20, 2020, they joyfully welcomed their son Brandon, named in honor of Chelsea's grandfather. Shortly thereafter, on 14 February 2021, Maximus joined the family, with his middle name serving as a tribute to the former name of the Atlanta Braves' stadium.
Chelsea used her social media platform to shed light on the fertility struggles the couple faced, particularly after giving birth to Charlie in 2016. This endeared her even more to her adoring fans.
While Freddie isn't particularly active on social media, he wholeheartedly supported his wife in her decision to share their challenges and fears with a broader audience.
Physical Characteristics
Chelsea stands 5ft 5ins (165cms) tall and weighs around 123lbs (56kgs). She has dark brown hair and black eyes.
Net Worth
Chelsea appears to have built up quite an impressive wealth for herself. According to reports, her net worth is estimated to be about an eye-watering $8 million, as of late 2023.