Raini Rodriguez is an American actress and singer, who rose to fame by playing Trish in the comedy TV series "Austin & Ally" as part of the main cast alongside Ross Lynch, Laura Marano and Calum Worthy. After the five-year stint between 2011 and 2016, Raini continued to act but has almost exclusively focused on voicing animated characters. She is a social media personality with a massive following, and an aspiring director.
Early life
Raini-Alena Rodriguez was born on 1 July 1993, in Bryan, Texas USA. She has Mexican ancestry and is the daughter of Diane and Roy Rodriguez. Raini has three younger brothers, Ray, Roy Jr., and Rico, who is five years her junior and also a well-known actor, best known for playing Manny Delgado in the ABC TV show "Modern Family" between 2009 and 2020. He also joined Raini as a voice actor in "The Lion Guard" animated TV show when he voiced one of the two Zebra siblings, Raha, in 2018 and 2019. Raini sometimes tells the funny story about Rico's birth; when the nurses handed him over for her to hold, she accidentally poked his eye.
Early education, source of career
Raini and her younger brother wanted to be actors at a young age; when she was 10 or 11, she signed up for the International Modeling & Talent Association (IMTA) showcase, a convention that allowed her to show her talent in front of people in the entertainment industry. A California-based talent agent, Susan Osser, spotted her, and proposed to become Raini's manager for a year, and help her land some roles in Hollywood.
Raini's mother agreed and wanted to come along with Rico too, so the three moved to Los Angeles while the father stayed behind. After that, Rico and Raini were home-schooled, and later told The Examiner representative that words that they associate with their mother are 'love, care, and support system.' Rico told CBS News reporters in 2016 that a contributing factor to the siblings' success was growing up together. He said that people used to think that they were twins because they were of similar height. They loved the comparison, as they had much in common, loved working together, and always wanted to have a talk show together. To this day, Raini calls Rico' her favorite twin'.
Her father died
Raini's parents owned a company called Rodriguez Tire Service in Bryan, which financed the move to California. Roy and his family serviced tires for over three decades before he died on 12 March 2017 at 52. The business might no longer be in operation despite existing on business directory websites such as Yelp, however, his obituary mentions that he had five siblings, so one or more could have continued his work. Roy's father was a car enthusiast who owned and maintained low riders, and founded the La Compania car lovers club in the 1980s. The company organizes annual car shows, and the one in 2018 was dedicated to Roy's memory.
Career
Raini made her acting debut as Denise in the episode "Black Shadows" during its last season of the American drama TV series "Huff" in 2006. Her manager helped her book minor appearances in TV shows on Disney Channel such as "Handy Manny," "The Suite Life of Zack & Cody," and "I'm in the Band", and she landed notable roles in movies "Paul Blart: Mall Cop" and "Slice of Water" in 2009.
Raini's portfolio led her to become the main cast member in the Disney Channel comedy "Austin & Ally", which aired between December 2011 and January 2016. Raini remembers that the four young actors received welcome gift baskets with embroidered Mickey ears for the first table read. Consequently, they wore them while reading their lines because they found the idea funny. She played Trish, the best friend of the title character Ally, portrayed by Laura Marano. Ally was on her way to becoming a popular recording and touring artist, and eventually a music school teacher with Trish by her side. Austin found himself in a similar situation, and often collaborated with Ally. Trish became Austin's manager in the first season and eventually started a management company and also directed Ally's career. That closeness made the relationships between the characters and the actors blossom.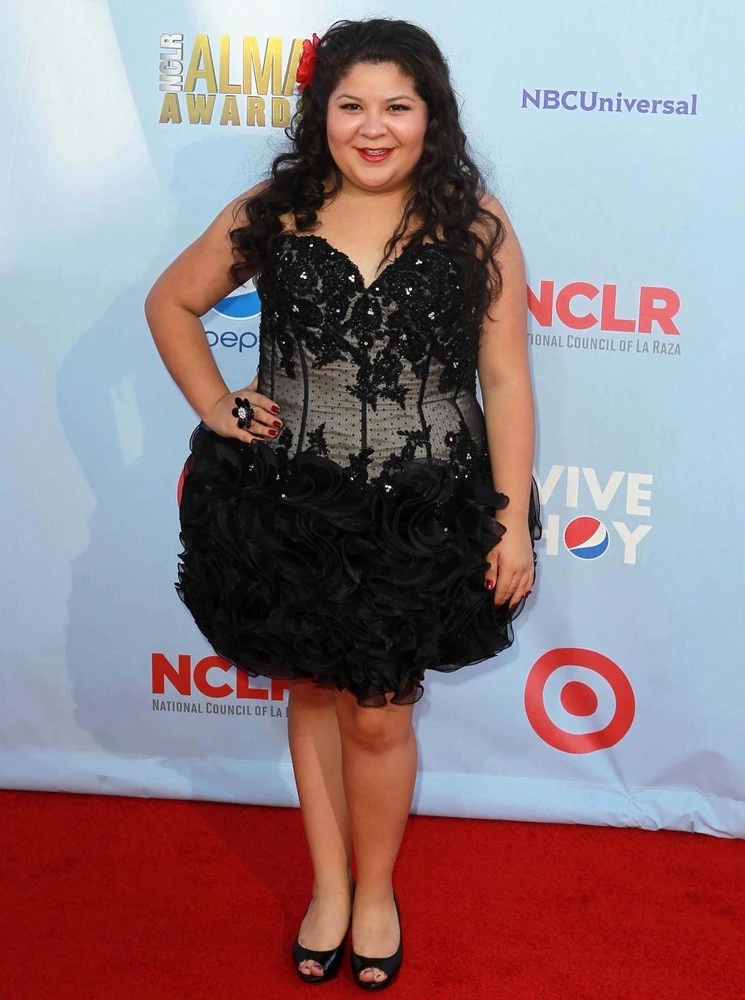 Fans fell in love with the snarky, lazy, temperamental, and vengeful character of Trish over the entirety of 87 of the show's episodes, threatening to hurt Raini's career prospects. Sadly, she was the victim of typecasting to a degree, and never repeated such success. She also stopped appearing in movies after 2015, although she had a prominent role in the streaming-exclusive film "Rekindling Christmas," set in her hometown of Bryan, which premiered in 2020. She had a semblance of success with the recurring role of Barb in eight episodes of "Bunk'd" between 2019 and 2023.
Transition to voice acting
Raini rebranded herself as a voice actress, utilizing her wit and pleasant-sounding voice, and notably lent her voice to Sammy Gutierrez in "Jurassic World Camp Cretaceous," an animated dinosaur-themed TV series for kids, between 2020 and 2022. Interestingly, Raini knew of the "Jurassic Park" franchise, and eventually watched all three "Jurassic Park" movies in a day to prepare for the role. She told WithAshleyandCo interviewers that a reason that she accepted the role under those conditions is that 'Sammy is a heightened version of herself, times 10, because they come from Texas, have big Latino families, and felt like the mother hens of the friend group.'
Raini also voiced Gretel in 10 episodes of the animated TV series "A Tale Dark & Grimm" in 2021, and Gabi in several episodes of "Rugrats" from 2021 to 2023. Raini told Sports Illustrated Kids interviewers that she always drinks tea and rests her voice a day before entering the recording booth. She also admitted to ComingSoon.net that the fairytale about Hansel and Gretel became her favorite after her role, because it resonated with her. One thing in particular that she could relate to is being a girl who wants to protect her brother.
Singing
Disney Channel introduced Raini as 'someone with a large and eclectic song collection, and for whom music plays a big role.' They revealed that Raini moved to Los Angeles hoping to become a singer and that she plays the guitar and likes to read, as does her younger brother Rico.
Although Raini has yet to attempt to start her solo singing career, she has a few song credits. The earliest example is the 2012 song, translated to "Living Your Dreams," accompanied by the music video for the American comedy movie "Beverly Hills Chihuahua 3: Viva La Fiesta!" She also recorded two promotional singles, "Double Take" in 2013 for "Austin & Ally" and "You Wish You Were Me" for the "Disney Channel Play It Loud" compilation album. Raini sparked additional interest in July 2019, by posting a photo from a recording studio, which had drums in the background, implying that she wasn't voicing a character.
These 3 hooligans are the first guests on @lauramarano's new radio show #ForTheRecord today on @radiodisney! pic.twitter.com/jOPWg40duo

— Raini Rodriguez (@Raini_Rodriguez) January 12, 2016
Aspiring director
Raini mentions in her Instagram bio that she's a director. Still, the only publicly available credit is directing the 16th episode of the fourth "Austin & Ally" season in November 2015. Whether she references that experience or has an undisclosed project is currently unknown.
Favorite things, hobbies
Raini has occasionally posted on social media about her favorite things. She mentions the anniversary of "Austin & Ally" going off the air yearly, and once tagged Disney executives to propose a reunion, perhaps with a TV movie. The cast had a private reunion in March 2023, and shared pictures of the meet-up. Raini said that she loved the shows "One Day at a Time" and "Everything Sucks", and would want them to be renewed. She considers "Modern Family "her favorite show, and "Star Wars" and Paris her favorite movie franchise and destination, respectively.
Moreover, Raini enjoys going out for a walk on a Sunday afternoon or singing songs from the "Wicked" musical whenever she wears green body paint for work. One of her favorite quotes is, 'If you only have one smile in you, give it to the people you love' by Maya Angelou. She also enjoys listening to singers such as Shakira, J.Lo, and Elton John.
Like her brother, Raini is a sports fan. When she wants to watch American Football, she attends many games of Houston Texans, her favorite team. She also follows baseball and cheers for the Houston Astros and basketball when she wishes the Houston Rockets would win. Raini told ComingSoon.net that she fell in love with WWE wrestling in the late 1990s, practically as a toddler. Her favorite male professional wrestlers remain Dwayne "The Rock" Johnson and "Stone Cold" Steve Austin. In recent years, she fell in love with the female wrestler Bianca Belair.
Relationship status
Raini Rodriguez hasn't been in a public romantic relationship. The only indication of one is the theory that started on TikTok in August 2022 and was reported by PopBuzz.com, that Raini dated her "Austin & Ally" co-star Ross Lynch while the show aired. The only evidence is Raini saying that Ross is 'her teen idol and really ticklish', and that they were comfortable with somewhat intimate body contact.
Other relationships
Raini has had two best friends in the past two decades: Melissa Sherie, her first friend in Los Angeles, and actress and singer Ashley Argota, who married in 2021 with Raini present as her maid of honor. Raini joked about being hopelessly single during her speech, and caught the bouquet during the maid's toss.
Raini has featured her extended family on social media, primarily goddaughter Bella B, whom she considers a miniature version of herself, born in 2017. She has nieces named Glori and Bella Katalina, also born in 2017, and older twin nieces Zoe and Olivia, born in 2007.
Furthermore, Raini has gushed about her nephews Roy Amos, born in 2016, Aden and Andrew Martin, born in 2020.
She's had a female mixed-breed dog, Baby, since 2014, which she considers part of the family and 'dister,' short for 'dog sister.'
Physical characteristics
Raini has curly dark brown hair and dark brown eyes. She's 5ft 2ins (1.57m) tall and weighs about 175lbs (80kgs.) She is proud of her short stature, jokingly calling herself 'fabulously fun-sized.' Raini has attempted to get into better physical shape by boxing in 2019, calling herself 'a warrior in training.' However, she hasn't mentioned her exercise regimen on social media since.
Net worth
Raini Rodriguez has a net worth of $2 million, according to CelebrityNetWorth.com. Most of it comes from her on-screen time in "Austin & Ally", and her recent voice-acting roles. Moreover, Raini has promoted products from companies such as Camp Fam, HiChew, The Picnic Collective, and Loungefly, and was the brand ambassador for Coca-Cola in 2019.