• Chris P. Bacon is a pet pig best known for his custom-made pig wheelchair.
• He was born with a congenital defect that caused his hind legs to be unusable.
• His wheelchair was made out of children's toys and his first attempt to use it was recorded and went viral.
• He has amassed a net worth of almost $1 million and has been featured on many social media platforms.
• Several books have been created in his name, and he has an online store featuring T-shirts, cards, toys and more.
 
Who is Chris P. Bacon?
Chris P. Bacon was born on the 13th January 2013, in Florida, USA – he is a pet pig who is probably best recognized for having a custom-made pig wheelchair which he needs because of an inability to use his hind legs. The wheelchair was made of children's toys, and Chris' first attempt to use it was recorded and presented on the internet, and soon became one of the most popular views on all social medias.
Early Life
Chris was born with a congenital defect which affected both of his hind legs; this is a metabolic disorder causing his back legs to be completely unusable.Therefore, his first owner brought him to the Eastside Animal Hospital, Florida, when Chris was only 8 days old, for him to be euthanized. However, one of the most respected veterinarians in the hospital, Dr Len Lucero, wanted to examine him before he proceeded, and he discovered that Chris was a completely healthy piglet except for the anomaly he had.
As the previous owner explained that he doesn't have the means to take care of him, Dr Lucero decided that he would do his best to welcome Chris into his own family, and thus give him a chance at life instead of putting him down. As Lucero already had a farm full of other animals such as goats, dogs, cats and horses, it was easier for the piglet to blend in and adapt, as well as for Lucero to take care of one more animal. What made this match even more special was that Lucero never considered Chris as an animal, but rather a part of his own family.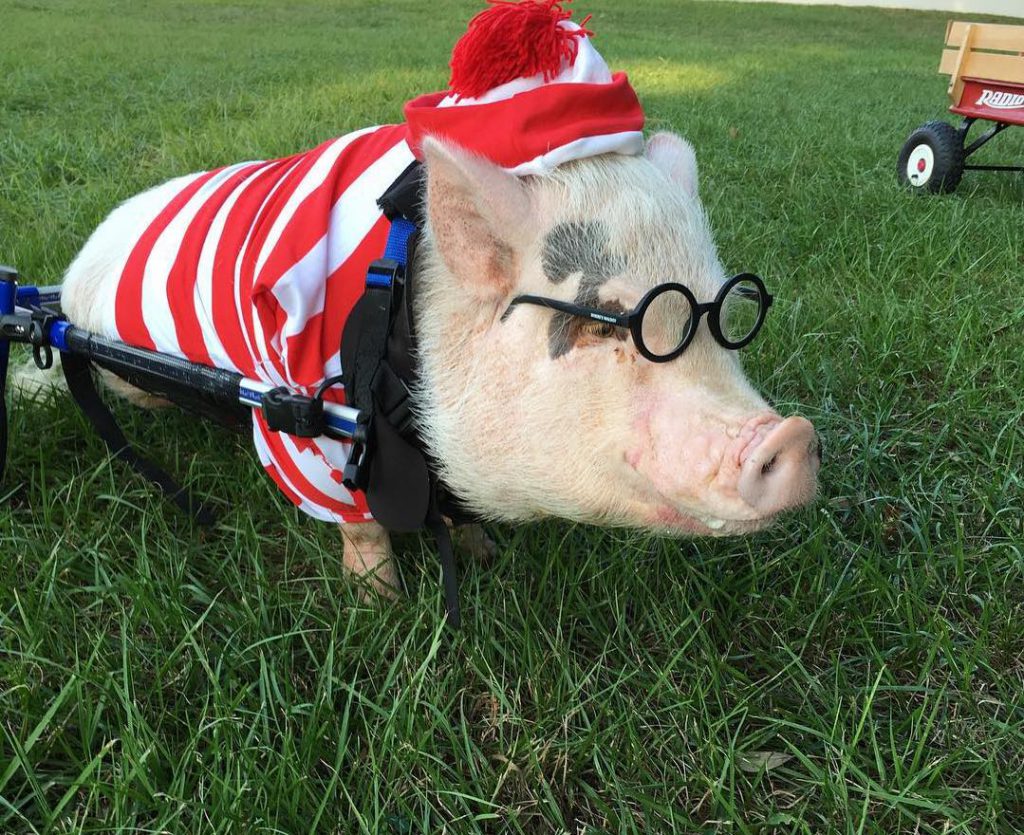 Wheelchair
Therefore, Len needed to make Chris as comfortable as he could, so he came up with the idea of making an improvised wheelchair for his new companion, as he noticed that Chris was struggling with his defect once he met other four-legged animals on the farm. As Len was walking around the house, his son's toys caught his attention, and he realized that parts of K'nex blocks could serve as a base for the wheelchair. He connected the blocks to Chris' body with ropes, and put the piglet inside of it.
When Chris was 16 days old, on the 27th January 2013, and weighing only 1lb, Len recorded his 'son's' first attempt to use it. The video went viral in no time, and both Chris and Len became famous worldwide.
Raise to Fame
In the first two weeks after the video was uploaded, it gained more than 600,000 views on YouTube. Consequently, Len realized that he wanted the world to see Chris and his strength, positivity and cuteness, and knew that it would make them laugh.
However, above all, his main goal was for the piglet to become an inspiration to all the people who have struggles of their own. That is why he created a Facebook page for Bacon, achieving more than 20,000 followers in the first month. Following this immense success, Lucero posted piglet's first video on Reddit, however, it didn't become as popular as everybody expected. Instead, it received only 107 votes and 70 shares. On the 31st January, the famous video and several pictures of Chris were featured in a Buzzfeed article, getting 15,000 likes on Facebook as well as more than 10,000 shares.
Following this success, Len decided to create a Twitter account for his more than famous piglet, and accumulate almost 2000 followers in the first two weeks. The immediate fame he achieved only grew wider and stronger in the next few years, with him being featured in a great number of posts across all social media platforms, such as Yahoo! News, Inquistr, I Am Bored, Good Morning America, the Daily Mail, and many more.
(I am adding Doinky and me to this list) – 23 Pets Who've Loved The Same Toy Since Forever http://t.co/zXUKip0S0n pic.twitter.com/OH2CexuSLt

— Chris P. Bacon (@ChrisPBaconPig) July 14, 2015
Net worth and Interesting Facts
It is estimated by authoritative sources that Chris brought his 'father' almost $1 million in net worth, accumulated through his long-lived popularity on all social media platforms. As for the interesting facts about this star pig, it is known that his best friend is a dog named Aspen, a Border Collie. In addition, he is famous for being in love with grapes and cheerios, and Len often posts pictures on Facebook of Chris eating them.
Moreover, several books have been created in the name of Chris P. Bacon, for instance, "Ripley's Believe It or Not" and "Eye-Popping  Oddities" were published in 2014 and 2015. However, the most famous ones are "How to Roll Like Chris P. Bacon" and "My Life So Far", written by Len Lucero and Kristina Tracy and illustrated by Penny Weber. They can be bought on amazon.com and in Chris' online store which features T-shirts, cards, toys and many more things beside the books.