Who is Talisa Soto?
American actress and model Miriam 'Talisa' Soto was born under the zodiac sign Aries on 27 March 1967, in New York City, USA. She has 24 acting credits and is perhaps still known best for portraying Kitana in the 1995 action adventure fantasy movie "Mortal Kombat", which starred Robin Shou and Christopher Lambert, and was directed by Paul W. S. Anderson. It follows three martial artists who've been invited to compete in a tournament on a mysterious island; the movie won one of its four award nominations.
Talisa hasn't been active in the film industry since 2009 but hasn't officially retired from acting.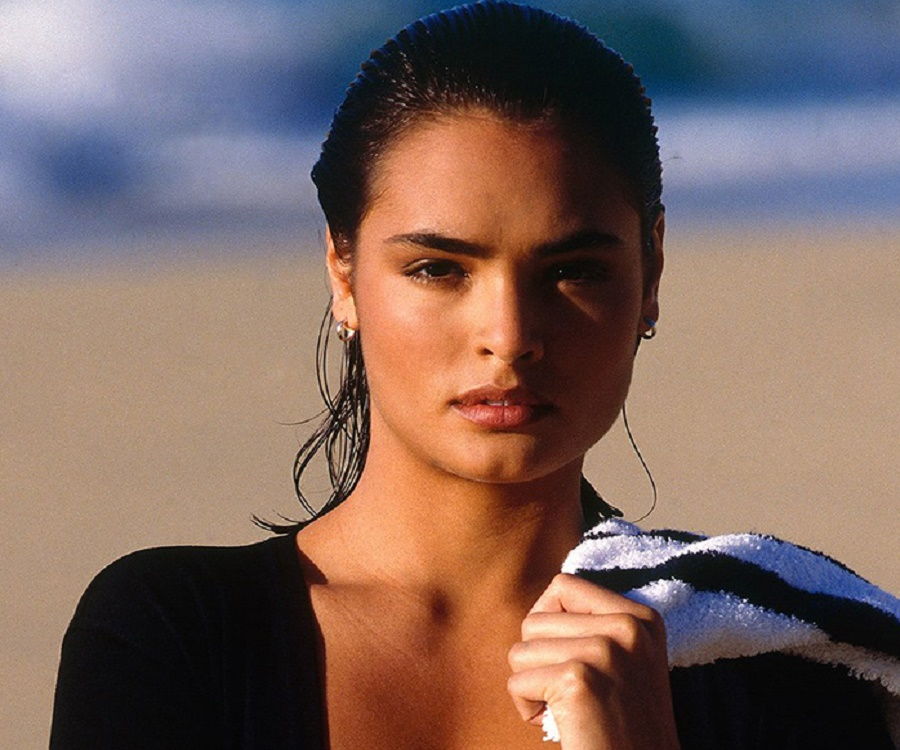 Education and early life
Talisa was raised alongside her three older siblings in New York City, by their Puerto Rican parents about whom Talisa rarely speaks in public because she respects their privacy; it's believed that her father was a taxi driver, and her mother a social worker.
The family moved to Northampton, Massachusetts before Talisa turned 10, and she attended both an elementary and high school there. She was around 14 when she fell in love with acting and began appearing in school plays, and was 17 when she made her debut film appearance, portraying Studio Dancer in the 1984 action crime comedy movie "The Pope of Greenwich Village", which starred Mickey Rourke and Eric Roberts, and was directed by Stuart Rosenberg. It follows two cousins who've unknowingly robbed the mob – the movie was nominated for an Oscar for Best Actress in a Supporting Role (Geraldine Page).
Talisa matriculated in 1985, and then continued working on her modelling and acting career rather than enrolling at college.
Modelling career
Talisa was 15 when she signed a contract with Click Model Management, but her parents allowed her to work only during summer vacations; she was 16 when she travelled to Paris, France and posed for the popular magazine "Vogue".
She went on to be featured on the cover page of a number of magazines, including "Self", "Glamour" and "Mademoiselle", and appeared in advertising campaigns for Versace, Saks Fifth Avenue and Calvin Klein, amongst many other brands.
Roles in movies
Some of Talisa's other film roles in the '80s were in the 1988 comedy "Spike of Bensonhurst", the 1989 action adventure thriller "Licence to Kill", and the 1990 action mystery "Silhouette".
🎬MOVIE HISTORY: 30 years ago today, February 28, 1992, the movie 'The Mambo Kings' opened in theaters!#ArmandAssante #AntonioBanderas #CathyMoriarty #MaruschkaDetmers #DesiArnazJr #RoscoeLeeBrowne #CeliaCruz #VondieCurtisHall #TalisaSoto #TitoPuente #ThomasFDuffy #FrankGrillo pic.twitter.com/vSzPFGUaYL

— Film News Nostalgia (@FilmNewsNos) March 1, 2022
The year 1992 saw her portray Maria Rivera in the popular musical drama "The Mambo Kings", which starred Antonio Banderas and Armand Assante, and was directed by Arne Glimcher. It follows the lives of two Cuban brothers who brought the new music genre 'mambo' to the USA in the 1950s – the movie was nominated for six awards, including an Oscar nomination for Best Music, Original Song.
In 1996, Talisa played Navajo Woman in the crime drama "The Sunchaser", which starred Jon Seda and Woody Harrelson, and was directed by Michael Cimino; it follows wealthy oncologist Michael Reynolds, who's been kidnapped by a dying patient. The remainder of the '90s saw Talisa appear in the 1996 action fantasy horror "Vampirella", the 1997 action thriller "The Corporate Ladder" and the 2000 family drama "Flight of Fancy".
In 2002, she played both Vinn and Rayne in the action crime mystery "Ballistic: Ecks vs Sever", which starred Antonio Banderas and Lucy Liu, and was directed by Wych Kaosayananda. It follows a rogue DIA agent and an FBI agent who've been tasked with destroying each other: the movie was nominated for five awards.
Talisa's since appeared in only a single movie, playing Ana in the 2009 drama "La Mission".
Roles in TV series
Talisa's appeared in just three TV series. Her debut was portraying French Girl in the 1988 episode "The Cowboy and the Frenchman" of the comedy mini-series "The French as Seen by…", which starred Andre Marcon and Harry Dean Stanton, and is a collection of several short movies about the magazine "Figaro".
In 1993 and 1994, Talisa starred as Cassie in all 15 episodes of the western comedy "Harts of the West", which also starred Sean Murray and Stephen Root, and was created by Robert Moloney. It follows Dave Hart who's bought a Nevada ranch, and has moved his family there from the city; the series was nominated for three awards.
Talisa's only other TV series role has been playing Rosemary Vargas in the 1998 episode "Green Card" of the crime action "C-16: FBI", which starred D. B. Sweeney and Eric Roberts, and was created by Michael M. Robin and Michael Duggan; it follows a group of people working for the FBI in Los Angeles, California.
Harts of the West (1994) | Official Trailer #1 | TV Show Weste…

Watch HARTS OF THE WEST on Vimeo now!:http://www.hulu.com/harts-of-the-westAfter suffering a heart attack – and a major midlife crisis – a Chicago lingerie salesman (played by Emmy and Golden Globe winner Beau Bridges) says adios to the big city and pursues his dream of becoming a cowboy. He uproots his less-than-enthusiastic family, heads West in search of his inner hombre, and soon discovers that the beautiful Flying Tumbleweed Ranch he bought from a brochure has seen far better days and its only resident is a crusty, ex-con ranch hand (Lloyd Bridges). It's going to take a lot more than Hart's cowboy can-do spirit for him and his family to tame this new frontier!Starring Beau Bridges, Lloyd Bridges, Ethan Embry, Mark Harmon, Stacey Dash, Stephen Root, Stephen Tobolowsky, Robert Pine, Diane Ladd, Harley Jane Kozak, David Charvet, Tantoo Cardinal, Betty Garrett, O-Lan Jones, Talisa soto, Frank Welker & Sean Murray / Timothy McGeeSubscribe to BabyBoom TV: http://bit.ly/1NBs6JdFollow BabyBoom.TV on Twitter: https://twitter.com/BabyBoomTV

Posted by BabyBoom TV on Monday, August 17, 2015
Other credits
Talisa received special thanks for her artistic contribution to the 2002 action adventure fantasy movie "Mortal Kombat: Deadly Alliance".
Some of her recent talk-show appearances have been in "The Pat Sajak Show", "The Greatest" and "Season 25: Oprah Behind the Scenes".
Awards and nominations
Talisa won a 1989 ShoWest Convention Award for Female Star of Tomorrow.
She was also nominated for a 2002 ALMA Award for Outstanding Supporting Actress in a Motion Picture, for "Pinero".
Love life and marriage
Talisa avoids speaking about her love life in public but we know that she's married twice and has two children. She married Australian actor Costas Mandylor in a small and private ceremony in May 1997; he has 167 acting credits, and is perhaps still known best for portraying Mark Hoffman in the 2008 horror thriller movie "Saw V". Talisa and Costas divorced in 2000.
She met American actor and producer Benjamin Bratt at a casting audition in 1992, and they only began dating sometime around the year 2000; Benjamin has 70 acting credits, and is perhaps still known best for starring as Eric Matthews in the critically acclaimed 2000 action crime comedy movie "Miss Congeniality". The two married on 13 April 2002 and welcomed their daughter Sophia Rosalinda Bratt on 6 December 2002; Talisa gave birth to their son Mateo Bravery Bratt on 3 October 2005.
It's widely believed that Talisa hasn't been active in the film industry for more than 10 years now because she wants to be there for her children while they're growing up; most of her fans expect her to return to acting.
There are no other men whom Talisa's perhaps been with, that we know about; she's married to her second husband Benjamin Bratt as of September 2023 and they have two children together.
Interesting facts and hobbies
Talisa was invited to pose nude for the popular magazine "Playboy" in 1989 but refused; she was invited mostly because of her portrayal of James Bond girl in the 1989 movie "Licence to Kill", and because she was the first Latina to play a Bond girl.
Talisa and her husband are today living in a house in the hills of Los Angeles; she's revealed that it has many balconies, wonderful views and no pool.
The magazine "People" once featured her on their list '50 Most Beautiful People in the World'.
More than 30,000 people are following Talisa on Instagram and she's posted 39 pictures onto the network; most feature her spending time with her husband and children.
One of Talisa's favorite actors is Andy Garcia, and some of her favorite movies are "City Island", "The Untouchables" and "Internal Affairs".
Appearance and net worth
Talisa's age is 56. She has brown hair and eyes, weighs around 135lbs (62kgs) and is 5ft 8ins (1.73m) tall.
Talisa's net worth's been estimated at over $7.5 million as of September 2023.