Jania Meshell
These days, Jania Meshell Jackson has reinvented herself as a basketball girlfriend, social media influencer, and mother of two. However, long-time fans of the Fashion Nova ambassador remember her as one-half of what was observed as hip hop's most dysfunctional relationship.
Without getting ahead of ourselves, we'll be revisiting Jania's past relationship with rapper NBA Youngboy, sharing what we know about her early years, and taking a look at her past six years in the public eye. Her past affiliations with other semi-famous men in the sports and music industries will also receive an honorable mention.
2000 – 2018
Jania was born on 11th January 2000, in Houston, Texas, USA. According to a past interview with DJ Small Eyez, the Instagram star is three-quarters African-American, as her father is mixed-race, but considers herself wholly Black.
Information regarding Jania's high school years varies from source to source, with some websites claiming that she attended a private high school in Texas. However, from the looks of old photos shared by the former entrepreneur, we can confirm that she attended a public high school.
Sometime in August 2017, Jania reportedly began talking via Twitter to music artist NBA Youngboy (birth name Kentrell DeSean Gaulden), now known as X. The pair instantly hit if off, and soon began a relationship, with Jania following him around on tour and temporarily dropping out of high school.
At the time, Youngboy had more than a few hits under his belt ("No Smoke", "38 Baby", and "Untouchable" to name just three) and was considered one of the freshest new talents in hip-hop. However, he was also known for his problematic past, and we're not just talking about his criminal history (he was arrested in November 2016 on suspicion of attempted first-degree murder, and freed in May 2017). Just 17 years old, Youngboy was already the father of four sons by three different women, and his new relationship with Jania caused animosity, not just amongst his former partners, but his fanbase.
Due to the internet hate, Jania soon deactivated her social media accounts, but was frequently posted on Youngboy's page. The couple would also go live on live-streaming app Periscope, usually with one of Youngboy's sons Kayden, Kamron, Kamiri, or Taylin; in June 2018, a paternity test revealed that Kamron wasn't his biological child.
As the relationship went from strength to strength, Jania and Youngboy often went viral, but not always for good reasons. Despite appearing in Youngboy's music videos, being mentioned in many of his lyrics, and being considered a "stepmother" to his sons, Jania's position was threatened by the other women in her boyfriend's life. It soon became rumored that the rapper was not only cheating on the Texan with fans and strangers, but with Starr Thigpen, the mother of his second son Kamiri who he was previously in a long-term relationship with, and who at the time was living with his mother, Sherhonda.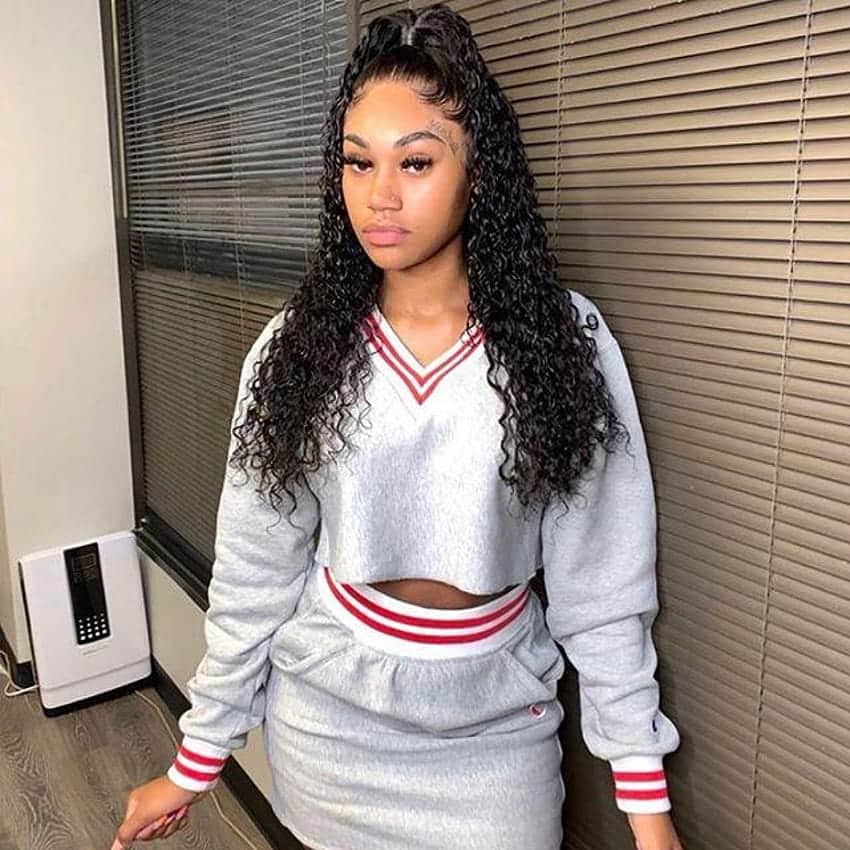 In late 2017, an adolescent or young woman claiming to be one of Youngboy's groupies alleged that the rapper was physically abusive. Meanwhile, the rapper's "side chick" Arabian became more vocal on Twitter and other social media platforms, and would often ridicule Jania. In early January 2018, the teenager went viral for being photographed sleeping in a hotel lobby while Youngboy was presumably in their room with another woman.
However, the couple ignored the naysayers, and just a day later, Youngboy posted a photo of Jania surrounded by Louis Vuitton shopping bags after a trip to the mall, but this was the first serious sign of there being something wrong behind the scenes.
For the rest of the month, the rapper love-bombed Jania in all the ways possible, throwing her an extravagant 18th birthday yacht party attended by their closest friends, gifting her a Mercedes-Benz which he later took back when the relationship was over, and including her in the "Outside Today" and "Solar Eclipse" music videos. Nevertheless, Jania's drastic weight loss and erratic behavior led to rumors of trouble in paradise, and the next few incidents in their relationship would impact their public images and lives forever.
2018 – 2023
In early February 2018, Jania and Youngboy went on Instagram Live to share that they had gotten each other's names tattooed on their eyebrows. The teenager – who was then known as Jania Bania or Nene – was lambasted online, with fans branding her "pathetic", "stupid as hell", and other adjectives. At this point, Youngboy's cheating was an open secret, and the public was growing tired of their ups and downs.
Mere weeks later, TMZ and other news outlets shared a video of the rapper body-slamming Jania outside of their hotel room. In the chilling surveillance video, which was shared by a worker at the hotel, the rapper was seen dragging Jania out of the room and throwing her onto the floor; when she tried to crawl away, he attempted to drag her back and forcefully removed her shirt.
More disturbing footage ensued as Jania attempted to escape the rapper, and when a hotel guest heard the commotion, they called the front desk workers, who alerted the cops. By the time police arrived, the couple had fled the scene; however, the evidence found in their room was enough to issue an arrest warrant. Hours later, law enforcement stopped the rapper's tour bus and arrested him for kidnapping and other alleged crimes.
In an attempt to defend Youngboy, Jania went on Periscope claiming that they had been playfighting. "I said 'Kentrell, I bet you can't pull me'," she explained, adding that she hadn't been kidnapped and that no-one had been "putting hands on [her]". Obviously, nobody believed her explanation, and Jania was once again ridiculed – but also blamed by the music star's fans for possibly ruining his career.
March 2018 saw the rapper indicted for aggravated assault and kidnapping, with many news outlets claiming that a no-contact order had been placed to avoid Youngboy and Jania being around each other. However, their story doesn't end there. Mere months later, a mysterious young woman in a burka was seen walking alongside the rapper and his entourage – internet sleuths claimed that it was Jania, although the official explanation given was that Youngboy was converting to Islam.
As Jania and Youngboy could no longer officially be together, Arabian and other groupies affiliated with the rapper began mocking the Texan more openly, even making fun of her grandmother's death and other traumatic events. The situation worsened in August 2018, when Jania – who had at this point announced her pregnancy with the musician – went live with a black eye, but later claiming that she'd been burned while making noodles.
After retracting her statement, Jania confessed that her father, who she isn't on good terms with, had hit her after learning she was pregnant. Meanwhile, Youngboy had a string of relationships with other women, such as social media influencer "Blasian" (who he wrote a song about) and boxing legend Floyd Mayweather's daughter Yaya.
Around this time, Youngboy also confessed in his song lyrics to having herpes. To this day, fans are divided on the real story, with some believing that it was a publicity stunt and others maintaining that Arabian was responsible for transmitting the virus.
In the later stages of her pregnancy, Jania reinvented herself by becoming an online brand ambassador, and starting a YouTube channel, which many saw as her first steps to becoming independent. As her social media profile heightened, Youngboy became enraged, and criticized his ex-girlfriend various times, which led to her gaining public support. Jania also uploaded a YouTube video detailing her time with Youngboy, in which she discussed his cheating and other topics, but which she's since deleted.
Jania Meshell said her Baby Daddy NBA YoungBoy didn't respond to his son kacey on his birthday and also hung up on him💔😢📞 pic.twitter.com/KCTq3Hz8YH

— Raphousetv (RHTV) (@raphousetv2) October 29, 2022
The young adult received no support from the rapper as her delivery date approached, and after celebrating her son Kacey's baby shower without Youngboy by her side, Jania gave birth via C-section alone on 13th February 2019. Two days before Kacey's birth, Youngboy and his child's mother Starr were arrested after an incident in an Atlanta hotel, in which Starr got into a physical altercation with the room cleaning service worker.
As the months passed, Youngboy made little to no mention of his son, and Jania refused to post pictures of him as they wished to respect his privacy. In May 2019, the influencer was criticized for spending Mother's Day without her child, and for doing club hostings out of state, to which she replied that she was earning money to support Kacey as she wasn't receiving child support. She also launched an online business selling beauty products and merchandise, which is now defunct.
Coincidentally, in May 2019 Youngboy was arrested yet again after being involved in a shooting in Miami. His girlfriend at the time, Kay Marie, was injured, and a bystander was killed. Although the shooting charges were dismissed, he'd violated a special condition of his probation, was sentenced to house arrest, banned from performing for 14 months, and ordered to spend 90 days in jail.
Many fans of Youngboy were eagerly awaiting for him to break up with Kay and patch things up with Jania, but this wasn't the case. Later in 2019, Jania was rumored to be dating basketball player Dejounte Murray, but the couple were extremely low-key, perhaps due to Jania's public image and Dejounte's career. Around this time, the influencer also began undergoing cosmetic procedures, such as a breast augmentation.
Although Jania was no longer vilified by the media, Youngboy's fans had turned against her for a number of incidents: namely, her friendship with rapper Fredo Bang, who has been feuding with Youngboy since 2017, and leaked Instagram messages in which the influencer badmouthed her ex-boyfriend and people in his inner circle.
Jania briefly moved to Atlanta in 2020, after her first split from Dejounte. The entrepreneur began hanging out with other social media personalities, such as Ari Fletcher and Jayda Wayda, and her image underwent a gradual change by way of plastic surgery procedures and new tattoos. While in Atlanta, Jania was in a casual relationship with a rumored scammer known as Geechie; when they split, she embarked on a brief-lived fling with rapper King Von, which would turn deadly.
Once news of Jania and King Von's relationship went public, Von's ex-girlfriend, rapper Asian Doll, linked up with Youngboy as they claimed to be working on music together. Many perceived this as a slight towards Von, who then mocked Youngboy on social media, and insinuated that he had sensitive material of Jania which would make Youngboy not want to "claim" his son Kacey – at this point, Youngboy was more present in Kacey's life and Jania would often leave her son with his father for days or weeks at a time.
The situation came to a head when Von got into a scuffle with Youngboy's affiliate, Quando Rondo, in November 2020. While they were brawling, one of Quando's associates shot and killed Von. Although the animosity between Von and Youngboy's camps had been brewing for a while, Jania's involvement led to her receiving so much backlash that she eventually moved out of Atlanta, and became quieter on social media.
A couple of months later, Jania began dating boxer Devin Haney. During the course of their months-long relationship, the couple broke up, got back together, sparked engagement and pregnancy rumors, and eventually called it quits in summer 2021, when Devin began dating Instagram model India Love.
Although netizens disapproved of Devin moving on so quickly, Jania was once again scorned when they learned that she had tattooed the boxer's name on her, just as she had done while dating Youngboy, Dejounte, and Geechie. In between these relationships, Jania was on several occasions rumored to be getting back with Youngboy, especially when fans found "proof" of them staying at the same hotel – and when Youngboy uploaded a snippet of an unreleased music video in which he was seen sitting on his ex-girlfriend's lap.
Whatever the case, Jania and Youngboy didn't reunite. Sometime in late 2021 or early 2022, she reconciled with Dejounte (who, in July 2023, signed a $120 million contract extension with the Atlanta Hawks), and both parties managed to keep the relationship out of the blogs for an impressively long time, compared to their first round.
After hiding her second pregnancy for months, in January 2023 Jania finally confirmed that she was expecting. The rumors had abounded since November, as her followers noticed she was hiding her stomach area in photos, and appeared to be gaining weight. Although the social media personality expressed that she was enjoying her "stress-free" second pregnancy more than the first, she was the victim of body-shaming, as some netizens made negative remarks about her combination of weight gain and previous plastic surgery procedures.
Jania and Dejounte's daughter, Icelynn Mercedes Murray, was born on 9th April 2023. Since then, the couple are more united than ever, and have apparently successfully blended their families – Dejounte has a daughter from a previous relationship. These days, apart from the odd brand endorsement or YouTube video, Jania is staying out of the way, and focusing on raising her two children. Meanwhile, Youngboy, who married long-term girlfriend Jazzlyn Michelle in January 2023, is reportedly the father of at least 11 children by 9 different women.
As of late 2023, Jania is 5ft 8ins (172cm) tall, and weighs approximately 143lbs (65kgs).