Shakur Stevenson
Ash-Shakur "Sugar" Stevenson has been one to watch in the boxing ring since he was just 17 years old. Born on 28th June 1997, in Newark, New Jersey, USA, Shakur is a professional boxer and former world champion in two weight classes, an impressive feat which few have achieved.
Following a successful amateur career which saw him win at the 2014 Summer Youth Olympics and 2014 AIBA Youth World Championships, Shakur took things to the next level by winning the Senior US Olympic Trial at the young age of 18, qualifying him for the US boxing team at the 2016 Summer Olympics held in Brazil. Despite losing to Cuban boxer Robeisy Ramírez in the gold medal match, Shakur made his country proud by bringing a silver medal home and being the highest-ranked US male boxer at the sports ceremony.
Professional Career
Following his Olympics 'win', Shakur signed to ex-boxer turned sports manager Andre Ward, and went professional by entering a contract with boxing promotional company Top Rank, which was founded in 1973 in Las Vegas. Muhammad Ali, George Foreman, and Oscar De La Hoya are just some of the world-class fighters the company has promoted.
There was plenty of media buzz surrounding Shakur's highly-anticipated professional debut. In April 2017, he won his first professional fight against American peer Edgar Brito, who lost a point during the third round after internationally headbutting Shakur – a move which backfired, as he suffered a cut over his right eye and had to be reviewed by the ringside physician. Meanwhile, spectators and boxing fans raved over Shakur's defense, quickness, and skilled punching.
Less than two weeks later, it was confirmed during a press release that Shakur would make his Madison Square Garden debut supporting the Terence Crawford/Felix Diaz fight. After obliterating his Argentinian opponent, Carlos Suarez, just 2 minutes and 35 seconds into the first round, Shakur took a short break until his third bout, competing in Nebraska against Julius Idungo.
Shakur's next few opponents were David Michel Paz, Oscar Mendoza and Juan Tapia. In most instances, Shakur outpointed his opponents and was declared the undisputable winner; in the run-up to the Tapia fight, which took place at the Grand Sierra Resort and Casino's Grand Theater and was viewed by thousands, Shakur made some much-needed improvements to his defensive technique which served him well, as he only allowed his opponent to land one punch at a time.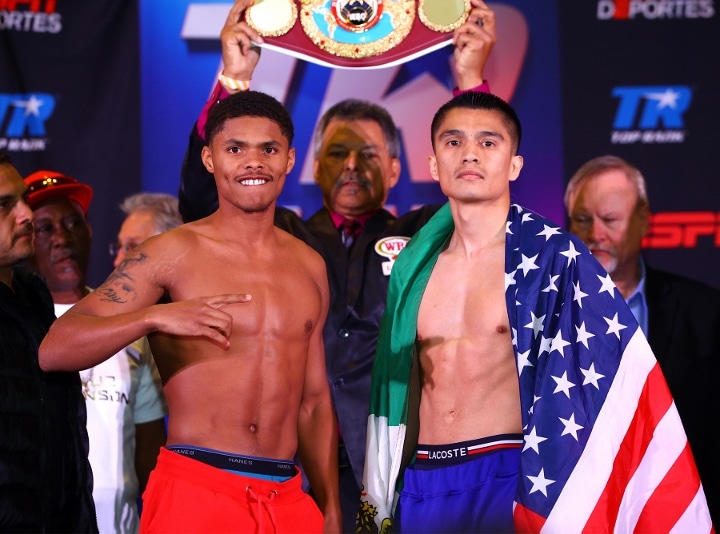 Continuing his winning streak with a 12-0 record, Shakur fought against Joet Gonzalez on October 2019. The stakes were higher than ever, as the two young men were competing for the vacant World Boxing Organization (WBO) featherweight title and had a long-running personal feud that stemmed from Shakur's three-year relationship with Joet's younger sister Jajaira, which Joet and his father openly disapproved of.
Shakur's unanimous win, which saw the judges score the bout 119-109 in his favor, could have led to a reconciliation if Joet had wanted to; unfortunately, the latter boxer wasn't interested in turning over a new leaf, and as far as we're aware, remains on bad terms with Shakur to this day.
In July 2020, Shakur moved up to the super featherweight division. His first fight in the new division was against Toka Khan Clary, whom he defeated 100-90 on December 2020. By now, Shakur had a flawless 15-0 record, and his career prospects only improved when he knocked down his next opponent, Jeremiah Nakathila, in round four of their fight on June 2021. The New Jersey native was declared the winner of the WBO interim junior lightweight title, with Jeremiah ranking at #2 in the super featherweight division. Although the Stevenson-Nakathila bout was criticized by analysts and sports pundits due to the low number of punches thrown, it was still an important moment in Shakur's career.
In October 2021, Shakur officially became a two-division world champion after beating Jamel Herring, the WBO junior lightweight champion, at a tense match in Atlanta's State Farm Arena. In what was described as a "one-sided performance", commentators marveled at Shakur's remarkable hand speed; after winning, he proudly declared: "I want to be a superstar in the sport; I'm here to last."
Shakur Stevenson vs. Oscar Valdez full fight video highlights https://t.co/LcaMwprFFe pic.twitter.com/k9gEhyBaFR

— MMA Fighting (@MMAFighting) May 1, 2022
April 2022 saw Shakur go against WBC champion Oscar Valdez in a unification bout that was held at the MGM Grand Garden Arena. With his footwork and jabs, Shakur effortlessly won against Oscar and discussed a potential fight with WBC lightweight champion Devin Haney. The Stevenson-Valdez bout peaked at 1,440,000 viewers on ESPN and became the talk of social media, as Shakur unified the WBC super featherweight title with his WBO super featherweight belt.
Shakur's next scheduled opponent was WBC title challenger Robson Conceicao, whom he was set to fight against in September 2022. Despite being a bookie favorite with incredible -1800 odds to win the fight, Shakur was stripped of his WBC and WBO titles at the official weigh-in after missing the weight limit by 1.6lbs.
The shocking results became sports gossip fodder immediately, as it was speculated that Shakur could face a fine from the New Jersey State Athletic Commission. Taking to Twitter, the boxer said: "I gave it my all. I've been professional my whole career and made weight, but my body just can't make 130 anymore. My health has to come first. I'm moving up to 135 in my next fight."
In any case, fans of Shakur were excited to see him move up a weight category, as it would place him against Devin Haney, Gervonta Davis, Ryan Garcia, and other big names in the boxing world. During the post-fight interview – after winning against Robson by unanimous decision – Shakur declared that he was moving to lightweight category.
2023
It took months for Shakur to set up his first lightweight fight, as Isaac Cruz, William Zepeda and George Kambosos Jr. all turned down the opportunity. Apparently, Isaac had refused to enter negotiations as he felt that Shakur hadn't earned his spot in the division; meanwhile, boxing fans criticized what they perceived as Shakur's arrogance, as the boxer was apparently trying to get his more established lightweight peers to fight against him for a paltry amount of prize money.
"He has to realize no one outside hardcore boxing knows who he is, and he brings little to the table," one Reddit user said, as another added: "Nobody is avoiding this man. His demands are just ludicrous!"
Finally, a fight between Shakur and Shuichiro Yoshino was scheduled for April 2023, which Shakur won in the sixth round by technical knockout. This brings Shakur's record to 20-0, having won 10 times by knockout and a further 10 by decision.
As of late 2023, Shakur is 5ft 8in (173cm) tall and weighs approximately 135lbs (61kgs).