Just a simple reminder that article is created and owned only by biographytribune.com. Article cannot be re-published in any other pages or documents. Copyright is protected by DMCA. All found copies will be reported.
Original source: https://biographytribune.com/where-is-ann-coulter-today-her-bio-husband-net-worth-dating-house-salary/
Who is Ann Coulter?
Ann Coulter is quite a multi-talented persona – she is not only a conservative social and political commentator, but also a writer as well as a columnist and a lawyer. She is probably best known for her sharp tongue and bitter criticism which she has presented in several of her best-selling books, such as "¡Adios, America!" and "In Trump We Trust". However, Ann Coulter is also widely recognized for her frequent on-camera appearances and radio commentaries, and is quite active on social media networks such as Twitter and Facebook, on which she's amassed a total of more than 2.6 million fans altogether.
Ann Coulter's Early Life and Education
Ann Hart Coulter was born on the 8
th
December 1961, in New York City, USA, the only daughter and the youngest of three children in the family of Nell Husbands Coulter and John Vincent Coulter, who was an FBI agent. Apart from being of American nationality and white ethnicity, Ann is also of Irish and German ancestry from her father's side. Alongside her brothers, Ann grew up in New Canaan, Connecticut, and was raised in a conservative manner, surrounded by Republicans. Upon matriculating from New Canaan High School in 1980, Ann continued her education by enrolling in Cornell University's College of Arts and Sciences in Ithaca, New York, from which she graduated cum laude in 1984, obtaining her Bachelor of Arts degree in history. During her college days, Ann contributed to the founding of The Cornell Review newspaper. Subsequently in 1988, Coulter earned her Juris Doctorate degree from the University of Michigan Law School, whilst also serving as an editor of Michigan Law Review as well as as the president of the local branch of The Federalist Society for Law and Public Policy Studies.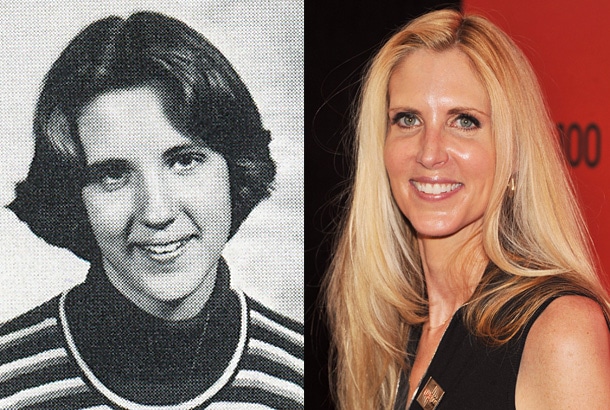 Ann Coulter's Career
Upon completing her education, Ann relocated to Kansas City, Missouri, where she began her professional career, serving as a law clerk of Pasco Bowman II, who was a Senior US Judge of the US Court of Appeals for the Eighth Circuit. She then moved to New York City where she briefly worked in private practice, specializing in corporate law. After the 1994 Republican (Gingrich) Revolution and their takeover of the US Congress, Coulter landed a job within the US Senate Judiciary Committee, working under Senator Spencer Abraham, handling crime and immigration issues. In the course of the next several years, she became the litigant for the Center for Individual Rights as well.
Great book party last night for my friend @RealDrGina's brand new, MAD POLITICS! It takes a psychologist to understand politics these days. pic.twitter.com/N1WChcgQGV

— Ann Coulter (@AnnCoulter) September 21, 2018
Between 1996 and 1997, Ann served as correspondent for the MSNBC network, but was suspended twice in the course of the eight months and eventually dismissed. Since the late 1990s, she has been writing syndicated columns for the Universal Press Syndicate as well as for several conservative websites and publications. Between 1998 and 2003, Coulter wrote exclusive weekly columns for Human Events conservative magazine, while in 1999 she wrote for the George magazine. In 2004, Coulter covered the Democratic National Convention for USA Today, while in 2005 she collaborated with the Arizona Daily Star. Currently, Ann's weekly columns are featured on several conservative websites such as
Human Events Online
as well as
FrontPage Magazine
and
Townhall
to name a few.
Since her on-camera debut at the MSNBC in 1996, Ann Coulter has frequently appeared on several big networks such as Fox News and CNN. She has also made memorable appearances in popular television talk shows such as "The Fifth Estate", "American Morning", "The O'Reilly Factor" as well as in "The Mike Gallagher Show", "The Today Show", "Fox and Friends" and "HARDtalk" among plenty of others.
Ann Coulter's Books
Over the years, Ann Coulter has added a dozen of books to her, already abundant, professional portfolio, which have sold several millions of copies combined. Her debut book "High Crimes and Misdemeanors: The Case Against Bill Clinton" hit the shelves in 1998 and soon appeared on The New York Times' Bestseller list. Four years later the second one, named "Slander: Liberal Lies About the American Right" followed, and was a New York Times non-fiction bestseller. In 2004 Crown Forum released a collection of her columns under the title "How to Talk to a Liberal (If You Must): The World According to Ann Coulter". Some of her more recent publications include "¡Adios, America!: The Left's Plan to Turn Our Country Into a Third World Hellhole" released in 2015, and " In Trump We Trust: E Pluribus Awesome!" released in 2016 both peaking on The New York Times bestseller lists.
Is Ann Coulter married? More about her personal life
No, Ann is not married and has never been married. However, she has engaged in several relationships to this day; prior to dating American far-right conservative commentator and author, Dinesh D'Souza, Ann Coulter was in a relationship with Bob Guccione Jr. who is best known for being the founder of the music magazine Spin. Between October 2007 and January 2008, she dated liberal Democrat and the former president of the New York City Council, Andrew Stein. For the past decade, Coulter has been rumoured to be in a long-term relationship with one of her security guards.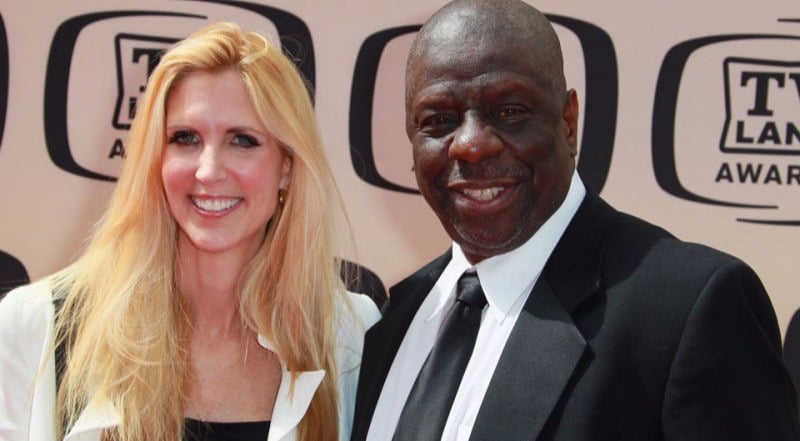 Ann Coulter's Net Worth
Have you ever wondered how much wealth this controversial media personality has accumulated so far? How rich Ann Coulter is? According to authoritative sources, it is estimated that the total of Ann Coulter's net worth, as of mid-2018, revolves around the impressive sum of $8.5 million, primarily acquired through the commercial success of her publications and other writings. Ann's wealth includes several valuable assets such as a condominium in New York City's borough of Manhattan, as well as an apartment located in Los Angeles, California, and a house in Palm Beach, Florida.