Who is Mike Seidel?
Mike Seidel is an American meteorologist, and has achieved stardom by working for The Weather Channel, having joined the station in March 1992. Since then, he has reported on severe weather changes, hurricanes, snowstorms, and other events.
Where is Mike Seidel Now?
Mike is still working for The Weather Channel; back in 2018 he received negative critiques, during his coverage of Hurricane Florence in North Carolina. On the video shown on Twitter, Mike was seen bracing his feet against the wind, while two men were walking behind him, for which the media chastised him, saying that he was exaggerating the severity of the storm. The following day, the Weather Channel released the statement, saying that Mike was standing on wet grass and that the men were on concrete; he was just trying to remain stationary on the wet ground, and was exhausted as he was reporting late night, until 1:00 a.m.
Mike Seidel Wiki: Age, Childhood, and Education
Born Michael Phillip Seidel on the 18th January 1956, in Salisbury, Maryland USA, unfortunately he hasn't shared anything in regards to his childhood years, such as the names of his parents and their professions, while he also hasn't disclosed whether he is a single child or has siblings. When it comes to his educational background, Mike went to Wicomico Senior High School, and after matriculation enrolled at Salisbury State College from which she obtained a Bachelor of Science degree in Mathematics.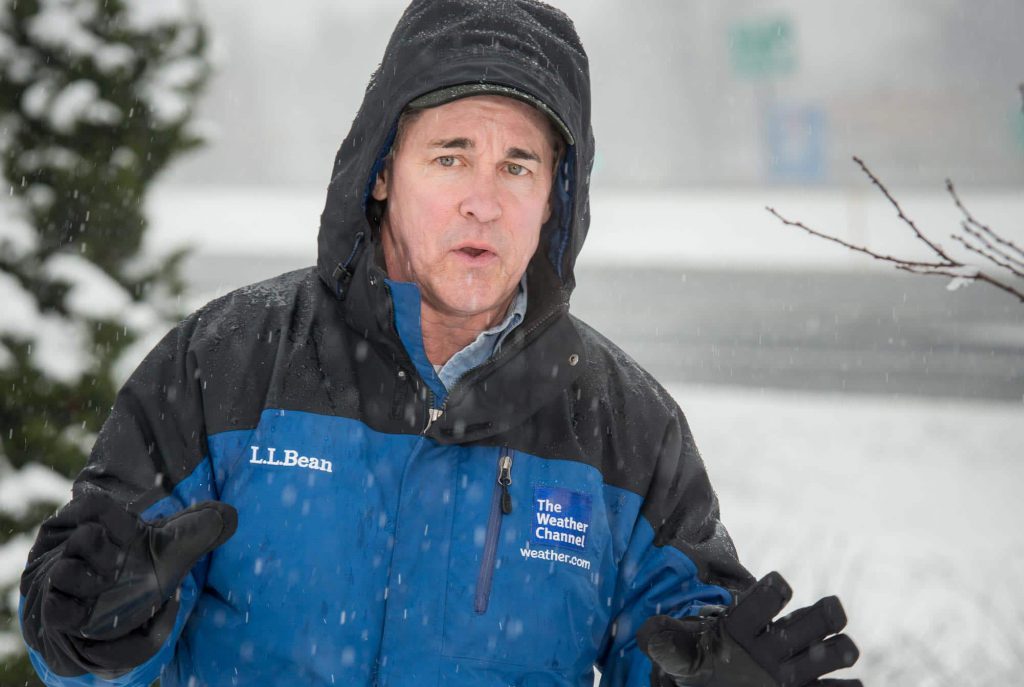 He furthered his studies as he obtained a Master's degree in Meteorology from Pennsylvania State University – he was interested in meteorology as a science from his early age and when he was in eighth grade he installed a weather station on the roof of his house. As he got older, he continued to learn about the weather, and it became clear that he would pursue a career in this direction.
Career Beginnings
Mike's career started when he was still in high school, as he started working for several radio stations which included WDMV-AM headquartered in Pocomoke City, then WJDY-Am in Salisbury, and also WSUX-FM in Seaford, Delaware, among others.
Following his studies, Mike joined WYFF-TV in Greenville, South Carolina in 1983, and remained there for six years until 1989. He then returned to his hometown and joined WBOC-TV as the meteorologist for the station.
Rise to Prominence
His hard work started paying-off, and in 1992 he was recruited by The Weather Channel. Four years later, Mike experienced his first storm coverage, when he was sent to Cape Cod to report on Hurricane Edouard on the Labor Day Weekend. Since his first coverage, Mike has grown professionally to become one of the most prominent storm reporters, having worked on more than 60 tropical storms and hurricanes, ice and snowstorms, and tornadoes.
He also worked as the host of the National Football League "Kickoff Forecast" segment, covering Sunday morning weather for all NFL venues. To speak further of his accomplishments, Mike has contributed to several shows, including "Today", and "MSNC Live" (2012-2014), among others. Mike was the first Weather Channel and USA meteorologist to report live from Cuba during coverage of Tropical Storm Isaac August 24–26, 2012. Most recently he made his 20,000th live shot while he covering a snowstorm developing in Rochester, New York State.
Mike Seidel Net Worth
As of late-2019, net worth is as high as $1 million.
Mike Seidel Personal Life, Marriage, Husband, Children
This prominent meteorologist isn't one of those celebrities who easily share details from their life, but we have still discovered some details about him. Mike is a married man, and his wife's name is Christine Schroder; the two have been married since 1994 and have welcomed two children, Sam and Zoe.
Mike Seidel Internet Fame
He can also be found on Instagram with numerous amazing pictures of snowstorms, tornadoes and other severe weather events.