• Sherry Stringfield is an American actress mostly known for her role in the TV drama series "ER".
• She attended Klein High School and SUNY Purchase College in New York.
• She has been nominated for Emmy Awards for her role in "ER", and has appeared in various other movies and series, such as "Autumn in New York" and "CSI: Crime Scene Investigation".
• She is a motorcycle riding fan and enjoys travelling, skiing, and reading.
• Her estimated net worth is around $7 million.

Known for movies
Short Info
| | |
| --- | --- |
| Net Worth | $4 million |
| Date Of Birth | June 24, 1967 |
| Spouse | Larry Joseph |
| Fact | Her paternal grandmother is from Sweden. |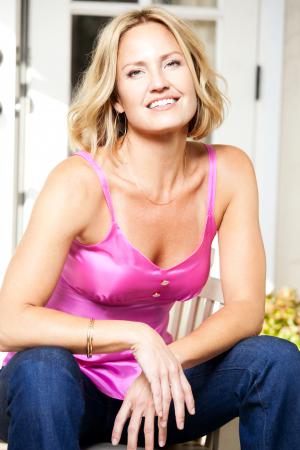 Sherry Stringfield is a popular American actress who is mostly recognized for her role in the TV drama series "ER", in which she played Dr. Susan Lewis. She is also famous for her works in such movies as "Autumn in New York" and "54". Let's find out more about what she is up to today, dig for more details on her actual net worth, measurements, etc.
Early life and family
Sherry Lea Stringfield was born on 24 June 1967, Colorado Springs, Colorado USA, so under the sign of Cancer, and holding American nationality. Little is known about her family members, except that her grandmother was Swedish (Sherry's father's mother). She only once shared she had two younger siblings, but she never mentioned whether they are brothers or sisters.
Sherry and her family moved a lot, first to Albuquerque, New Mexico, then to the suburbs of Houston, Texas, where Sherry spent most of her childhood and youth. As for now, Sherry lives in Los Angeles.
Education
Sherry attended Klein High School in Texas and matriculated in 1985. Everyday Sherry had to go 48 kilometers on a round trip to get to school, as it was far away from her hometown, but it's worth saying that Klein High School has other notable alumni, among them such actors and actresses as Lee Pace (starred in "The Hobbit" trilogy), Lynn Collins (the star of "X-Men Origins: Wolverine") and Matthew Bomer (who played in the "White Collar" TV series).
Then Sherry entered the Purchase College, the Acting Conservatory of SUNY (State University of New York) and shared classes with another future popular actress, Parker Posey (who gained major prominence for her work in "Dazed and Confused" (1993)). Sherry graduated with a BA in Fine Arts in 1989.
Career
Early career
While studying in high school, Sherry participated in several musicals, such as "Mother Courage", "Oklahoma" and "Fiddler on the Roof". While in university, Sherry appeared in many off-Broadway plays – her college speech teacher helped her a lot in controlling her Texas accent!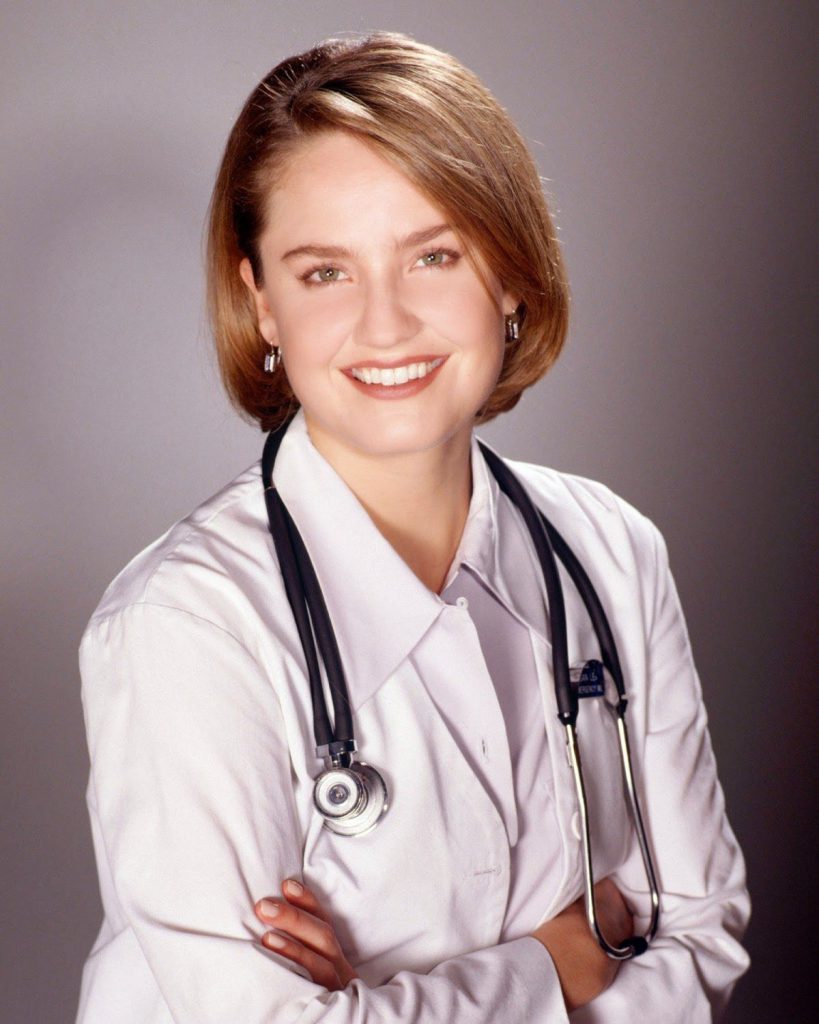 In 1989 Sherry debuted on TV in the soap opera entitled "Guiding Light" (1952-2009), and was busy in the series from through 1992, and after that she was so tired that she took a year off her acting career to breath out, and to travel around Europe. After her trip she returned to her work, and was offered the role of Laura Michaels Kelly in "NYPD Blue" (1993 – 2005) working side by side with her on-screen ex-husband David Caruso who played the character of officer John Kelly. Somehow Sherry felt like a fish out  of water while working in the series, and quit the project before her contract was even over.
ER
In 1994 Sherry got the role which separated her life to "before" and "after". She was to play the part of Dr. Susan Lewis in the "ER" drama series (1994 – 2009). She was nominated for Emmy Awards in the category "Best Lead Actress" three times for every season she appeared in it, however, even though she was tied by contract with the series and had to appear in five seasons, she decided to quit after the third season, and did it despite the unpleasant and uncomfortable feelings which surrounded the situation. – as Sherry quit much earlier than she should have, the contract forbade her to appear in any TV series or movie. She made herself busy with script analysis classes that she taught, and also directed a bunch of plays in the university she studied in.
After she gave birth to her first child, Sherry returned to the cast in 2001, as she strongly felt she wanted to work, Yet again not feeling quite comfortable with the filming schedule, Sherry quit the series in 2005, only returning in 2009 for the final episode entitled "And in the End…". She shared once: "I am extremely grateful for the time I spent on ER. It is a wonderful show, and there are so many people I will miss. But I'm ready for new roles and new challenges". Some of the members of the crew never forgave Sherry for her decisions to quit twice, among them was the executive producer of the show, John Wells.
Other movies and series
Along with appearing in the "ER" series, Sherry played the same role of Dr. Susan Lewis in the "crossover" police drama entitled "Third Watch" (1999 – 2005). She also appeared in such series as "CSI: Crime Scene Investigation" (2000 – 2015), "Tell Me You Love Me" (2007 – present), "In Plain Sight" (2008 – 2012) and "Under the Dome" (2013 – 2015). She was also cast in several movies, such as "Autumn in New York" (2000), "Forfeit" (2007), "The Stepfather" (2009) and "Hornet's Nest" (2012). One of her latest works was her participation in the series entitled "Criminal Minds: Beyond Borders" (2016 – 2017).
Awards
Sherry's performance at "ER" was way too successful which is proven by the numerous nominations she had during the years of her participation in the show. In 1994 Sherry was nominated with the cast by Screen Actors Guild Awards for "Outstanding Performance by an Ensemble in a Drama Series". In 1995, 1996 and 1997 she was also nominated for an Emmy in the category "Outstanding Lead Actress in a Drama Series"; in 1995 and 1996 Sherry and the cast won Screen Actors Guild Awards in the category "Outstanding Performance by an Ensemble in a Drama Series". In 1996 and 1997 Sherry was nominated for a Golden Globe in the category "Best Performance by an Actress in a Television Series – Drama".
Personal life, ex-husband Larry E. Joseph
In the beginning of 90's Sherry dated Paul Goldstein, a British businessman and the chairman of Nevica ski-wear. Their relationship lasted for around three years, but then ended as both agreed that their affair was exhausted. In October 1998 Sherry married Larry E. Joseph, a journalist. During seven years of their marriage they welcomed a daughter, Phoebe (born in March 2001), and a son, Milo (born on 12 April 2004). Sherry and Larry divorced in 2006, without ever explaining the reason for their split. As of 2019, Sherry is still single, and there are no rumors about a current partner.
Hobbies and interesting facts
Sherry is a well-known motorcycle riding fan, and also enjoys travelling, skiing and reading.
In a 1997 Sherry appeared in a super-popular "Got Milk" ad (Britney Spears, Beyoncé, Venus and Serena Williams, and Rihanna took part in the ads). She confirmed she was lactose intolerant, but as a big milk fan let herself have a little sip on daily basis.
Social media presence
Sherry is not active on social media platforms, leaving all the activities to her fans. There is an Instagram account managed by her Argentinian fans, which has only 650 subscribers and has nothing to do with the real Sherry Stringfield. She doesn't have Twitter or Facebook profiles.
Smile❣️ #sherrystringfield pic.twitter.com/K1n9F6zIxh

— Sherry Stringfield? (@FansSherry) January 24, 2019
Appearance, clothing style
Sherry has naturally straight blonde hair which she likes to cut middle length, and green eyes. Sherry is 5ft 7ins (1.7m) tall and weighs around 123lbs (56kgs). Her vital statistics are unavailable for the moment, yet one can see she keeps fit and looks good for her age. As for her clothing style, she prefers neat and classy looks, and often chooses feminine suits, skirts, shirts and high heels.
Net worth
Authoritative source estimate Sherry's net worth to be around $7 million, accumulated by starring in popular TV series and movies, always working hard and taking breaks only to give birth to her two children. As she keeps getting new offers, her net worth is going to grow in future, and we shall see Sherry in many more movies and series in the upcoming years.
General Info
| | |
| --- | --- |
| Full Name | Sherry Stringfield |
| Net Worth | $4 million |
| Date Of Birth | June 24, 1967 |
| Height | 1.7 m |
| Profession | Actor |
| Education | State University of New York at Purchase |
| Nationality | American |
Family
| | |
| --- | --- |
| Spouse | Larry Joseph |
| Children | Milo Joseph, Phoebe Joseph |
Accomplishments
| | |
| --- | --- |
| Awards | Screen Actors Guild Award for Outstanding Performance by an Ensemble in a Drama Series |
| Nominations | Golden Globe Award for Best Performance by an Actress In A Television Series - Drama, Primetime Emmy Award for Outstanding Lead Actress in a Drama Series |
| Movies | The Shunning, The Stepfather, Autumn in New York, The Confession, Who Is Clark Rockefeller?, Born to Race, 54, The Dog Lover, Burnzy's Last Call, Company Town, Going Home, Forfeit, A Very Brave Witch ... and More Great Halloween Stories for Kids!, Back |
| TV Shows | Guiding Light, ER, Tell Me You Love Me, NYPD Blue |
Social profile links
Quotes
| # | Quote |
| --- | --- |
| 1 | I was really wild back then [in high school], and theater just allowed me to sing, dance, jump and run around the stage playing all kinds of characters. It was like playtime. You were creating something, and there was a result that other people could enjoy. |
Facts
| # | Fact |
| --- | --- |
| 1 | According to Steven Bochco, Sherry asked the producers to release her from her contract for NYPD Blue (1993) after the first season because she said she was not enjoying being a TV actress and wanted to return to New York. Less than a week after being let out of the contract, she was hired as a regular cast member for the new TV series ER (1994). |
| 2 | Graduated from Klein High School in Spring, Texas. |
| 3 | Spent a year traveling through Europe. |
| 4 | She appeared in a 1997 "Got Milk?" ad in which she stated that she is lactose-intolerant. |
| 5 | Her paternal grandmother is from Sweden. |
| 6 | Was voted one of the "100 Sexiest Women in the World" by readers of FHM Magazine (1997) |
| 7 | She gave birth to 8-pound, 4-ounce Milo, her second child with then-husband Larry E. Joseph on 12 April 2004. |
| 8 | Is the only cast member to leave and return to ER (1994). Ming-Na Wen had a recurring role in season 1 but came back in season 6. |
| 9 | Daughter, Phoebe, born with then-husband Larry E. Joseph. [March 2001] |
| 10 | Stringfield has negotiated a deal with Warner Brothers to return to ER (1994) for 3 more seasons. [June 2001] |
| 11 | Graduated from Klein High School in Klein, Texas (just outside of Houston), and is remembered for "streaking" the Nation Honor Society induction meeting. |
| 12 | Enjoys skiing, motorcycle riding, reading and traveling. |
| 13 | Reported to be quitting ER (1994) to spend more time with boyfriend. Will not be acting again in the near future. [November 1996] |
| 14 | The man she married, journalist Larry E. Joseph, is not the man she left ER (1994) for. |
| 15 | Has taught acting at the State University of New York. |
Pictures
Movies
Actress
| Title | Year | Status | Character |
| --- | --- | --- | --- |
| Criminal Minds: Beyond Borders | 2016 | TV Series | Karen Garrett |
| The Dog Lover | 2016 | | Jackie O'Connell |
| Going Clear: Scientology and the Prison of Belief | 2015 | Documentary | Sara Northrup (voice) |
| Under the Dome | 2014 | TV Series | Pauline Rennie |
| Runaway | 2014 | TV Movie | Miranda |
| CSI: Crime Scene Investigation | 2013 | TV Series | Dawn Banks |
| The Confession | 2013 | TV Movie | Laura Mayfield Bennett |
| Hornet's Nest | 2012 | TV Movie | Virginia West |
| Criminal Behavior | 2011 | TV Movie | Molly Collins |
| Born to Race | 2011 | Video | Lisa Abrams |
| The Shunning | 2011 | TV Movie | Laura Mayfield-Bennett |
| Who Is Clark Rockefeller? | 2010 | TV Movie | Sandra Boss |
| Night and Day | 2010 | TV Movie | Elizabeth Hollister |
| Back | 2009 | TV Movie | Cheryl Miles-Burke |
| The Stepfather | 2009 | | Leah |
| Curb Your Enthusiasm | 2009 | TV Series | Mary Jane Porter |
| ER | 1994-2009 | TV Series | Susan Lewis |
| Law & Order | 2008 | TV Series | Carly |
| In Plain Sight | 2008 | TV Series | Marci Allen Marci Arnstein |
| Shark | 2007 | TV Series | Nora March |
| Tell Me You Love Me | 2007 | TV Series | Rita |
| Forfeit | 2007 | | Karen |
| Company Town | 2006 | TV Movie | Angie Amberson |
| ER: The Game | 2005 | Video Game | Dr. Susan Lewis (voice) |
| Third Watch | 2002 | TV Series | Susan Lewis |
| Viva Las Nowhere | 2001 | | Marguerite |
| Blue's Clues | 2001 | TV Series | Eyeleen |
| Autumn in New York | 2000 | | Sarah |
| Going Home | 2000 | TV Movie | Katherine Barton |
| Touched by an Angel | 1999 | TV Series | Major Josie Saunders |
| Border Line | 1999 | TV Movie | Allison Westlin |
| 54 | 1998 | | Viv |
| Burnzy's Last Call | 1995 | | Jackie |
| NYPD Blue | 1993-1994 | TV Series | Laura Michaels Kelly |
| Guiding Light | 1989-1991 | TV Series | Blake Spaulding |
Soundtrack
| Title | Year | Status | Character |
| --- | --- | --- | --- |
| ER | 1995-1996 | TV Series performer - 2 episodes | |
Self
| Title | Year | Status | Character |
| --- | --- | --- | --- |
| Got Rights? | 2012 | Short | Herself |
| Previously On: E.R. | 2009 | TV Movie documentary | Herself |
| Séries express | 2009 | TV Series | Herself |
| Your Mommy Kills Animals! | 2007 | Documentary | Herself - Actress |
| Children's Hospital | 2002 | TV Series documentary | Herself - Narrator |
| Nova | 1998 | TV Series documentary | Herself - Narrator |
| The 49th Annual Primetime Emmy Awards | 1997 | TV Special | Herself - Nominated: Outstanding Lead Actress in a Drama Series |
| Late Night with Conan O'Brien | 1995-1996 | TV Series | Herself - Guest |
| The 48th Annual Primetime Emmy Awards | 1996 | TV Special | Herself - Nominated: Outstanding Lead Actress in a Drama Series |
| The 22nd Annual People's Choice Awards | 1996 | TV Special | Herself - Accepting Award for Favourite Dramatic Television Series |
| Late Show with David Letterman | 1996 | TV Series | Herself - Guest |
| The 53rd Annual Golden Globe Awards | 1996 | TV Special | Herself - Nominee: Best Actress in a TV-Series - Drama |
| The 21st Annual People's Choice Awards | 1995 | TV Special | Herself - Accepting Award for Favorite Television Dramatic Series / New Dramatic Television Series |
| Saturday Night Live | 1995 | TV Series | Herself - Audience |
| The 47th Annual Primetime Emmy Awards | 1995 | TV Special | Herself - Nominated: Outstanding Lead Actress in a Drama Series |
| The 20th Annual People's Choice Awards | 1994 | TV Special | Herself - Accepting Award for Favorite Television Dramatic Series / New Dramatic Television Series |
Awards
Won Awards
| Year | Award | Ceremony | Nomination | Movie |
| --- | --- | --- | --- | --- |
| 1997 | Actor | Screen Actors Guild Awards | Outstanding Performance by an Ensemble in a Drama Series | ER (1994) |
| 1996 | Actor | Screen Actors Guild Awards | Outstanding Performance by an Ensemble in a Drama Series | ER (1994) |
| 1996 | Q Award | Viewers for Quality Television Awards | Best Actress in a Quality Drama Series | ER (1994) |
Nominated Awards
| Year | Award | Ceremony | Nomination | Movie |
| --- | --- | --- | --- | --- |
| 1997 | Golden Globe | Golden Globes, USA | Best Performance by an Actress in a Television Series - Drama | ER (1994) |
| 1997 | Primetime Emmy | Primetime Emmy Awards | Outstanding Lead Actress in a Drama Series | ER (1994) |
| 1997 | OFTA Television Award | Online Film & Television Association | Best Actress in a Series | ER (1994) |
| 1997 | OFTA Television Award | Online Film & Television Association | Best Actress in a Drama Series | ER (1994) |
| 1996 | Golden Globe | Golden Globes, USA | Best Performance by an Actress in a Television Series - Drama | ER (1994) |
| 1996 | Primetime Emmy | Primetime Emmy Awards | Outstanding Lead Actress in a Drama Series | ER (1994) |
| 1995 | Primetime Emmy | Primetime Emmy Awards | Outstanding Lead Actress in a Drama Series | ER (1994) |
| 1995 | Actor | Screen Actors Guild Awards | Outstanding Performance by an Ensemble in a Drama Series | ER (1994) |
| 1995 | Q Award | Viewers for Quality Television Awards | Best Actress in a Quality Drama Series | ER (1994) |
| 1993 | Soap Opera Digest Award | Soap Opera Digest Awards | Outstanding Villain/Villainess | The Guiding Light (1952) |
| 1991 | Soap Opera Digest Award | Soap Opera Digest Awards | Outstanding Villainess: Daytime | The Guiding Light (1952) |
Source:
IMDb
,
Wikipedia