• Lil Peep had relationships with Emma Harris and Bella Thorne, and was in a relationship with Arzaylea Rodriguez at the time of his death
• He was born in Allentown, Pennsylvania USA to Liza Womack and Karl Johan Ahr
• He released his debut mixtape "Lil Peep Part One" in 2015, and his debut studio album "Come on Over When You Are Sober Pt. 1" in 2017
• His net worth was estimated at $300,000 at the time of his death
• He died at the age of 21 due to an accidental overdose of fentanyl and alprazolam
 
Who has Lil Peep Dated? Girlfriends: Dating and Relationship List
Lil Peep is dead, but his legacy has remained; in addition to all the problems he had with his health, his dating life was no better. He came out as a bisexual in August 2017, but before his death, he never revealed if he was ever with another man. On the other side, he has had quite a history of dating other women.
His first known relationship was with Emma Harris, who was his high school love; the two moved together to California USA, where Lil Peep started pursuing his musical career. Unfortunately, after the move, the two started fighting, frequently, which resulted in an on-again-off-again relationship, and ultimately a breakup.
https://www.instagram.com/p/BciPXE4DjQZ/
In 2017, Lil Peep announced his relationship with singer and actress Bella Thorne, but this relationship was only short term as they soon separated. Before his death, Lil Peep was in a relationship with Arzaylea Rodriguez, model and internet personality, who has more than 500,000 followers on her official Instagram page. The two started their romance in September 2017, however, it was cut short in November the same year, as Lil Peep was found dead on his tour bus when his manager went to check on him in preparation for that night's performance at a Tucson, Arizona venue.
Lil Peep Wiki: Age, Childhood, and Education
Born as Gustav Elijah Åhr on the 1st November 1996, in Allentown, Pennsylvania USA, he was the son of Liza Womack, a first-grade teacher, and college professor Karl Johan Ahr. He spent his childhood in Long Island, New York, alongside his sibling Karl Ahr. His parents divorced when he was in his teenage years, though the problems in the family began years before. He turned to drugs. and his depression started right then and there. He went to Long Beach High School in Lido Beach, New York, and though he had good grades, he rarely attended any classes. Ultimately he left school, but continued through online courses until he received his diploma.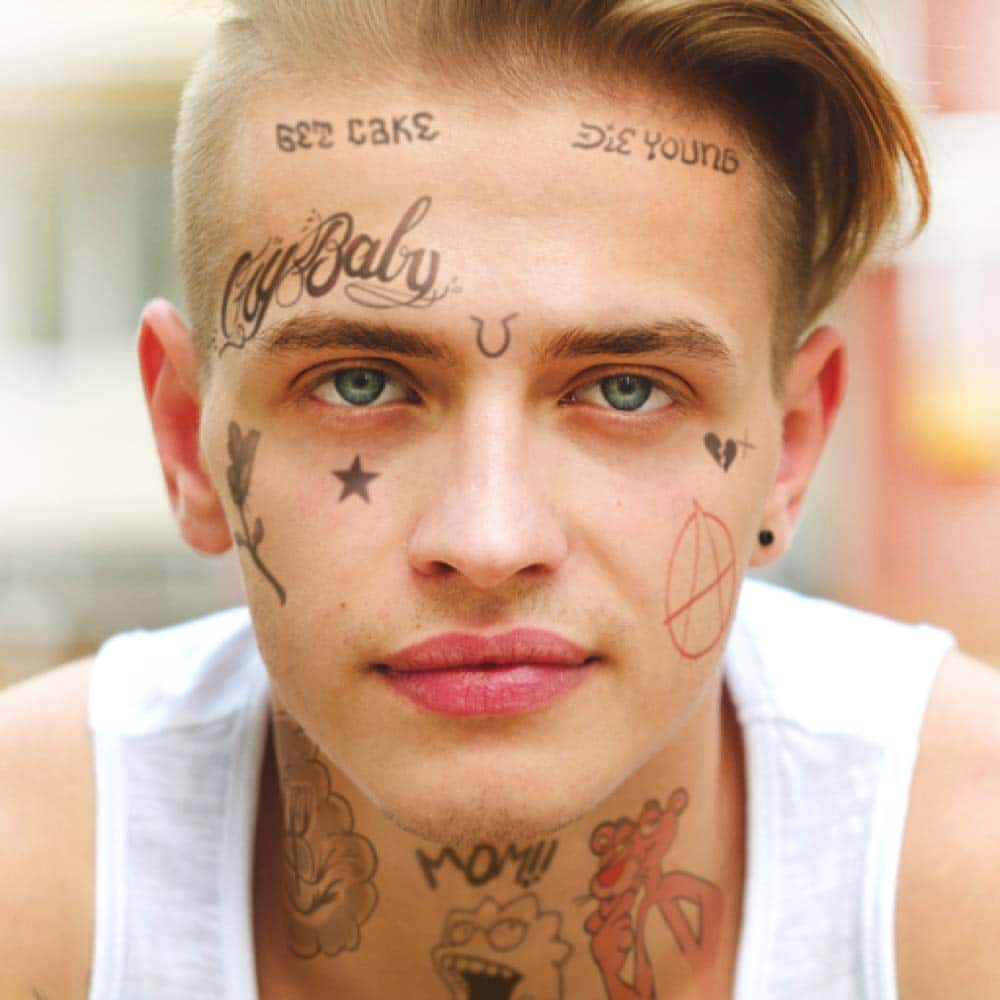 Career Beginnings
While still living in Long Island, Lil Peep started his career making music under the name Trap Goose. He had already left school, and was living with his childhood friend Brennan Savage. The two moved to Los Angeles, and he changed his stage name to Lil Peep; he settled in Skidrow, Los Angeles and was again living with Savage, however, the two went their separate ways. Soon Peep met producer JGRXXN and Florida rappers Ghostemane and Craig Xen, living with them while forming the collective Schemaposse. With their help, Lil Peep released his debut mixtape "Lil Peep Part One" on the 18 September 2015, which received 4,000 plays in the first week. Thanks to the initial success, it wasn't long before he released his second mixtape "Live Forever", and first EP, "Feelz". Gradually, Lil Pee was becoming more popular, and with the song "Beamer Boy", he was slowly turning into a star.
Rise to Prominence
Lil Peep continued to make music, and in addition to underground releases and EPs, he was also working on his debut studio album – "Come on Over When You Are Sober Pt. 1" – which came out in August 2017, and reached No. 38 on the US Billboard 200 chart. Lil Peep recorded his second album – "Come on Over When You Are Sober Pt. 2" – but died before the album was officially released. Nevertheless, it was still posthumously released, on the 9th November 2018, and it reached No. 4 on the US Billboard 200 chart.
Lil Peep Net Worth
Lil Peep became a music sensation while alive, and his music touched the hearts of many, which brought him fame and fortune. He was on his first European tour when found dead, but his music may live forever. So, have you ever wondered how rich Lil Peep was at the time of his death? Well, according to authoritative sources, Lil Peep's net worth was estimated at $300,000.
Lil Peep Death
Since his teenage years, Lil Peep struggled with substance abuse, followed by depression and anxiety. He was taking Xanax as a part of his treatment, which eventually caused his death. He was on tour around the US when he was found dead in a tour bus by his manager. In the hours that led to his death, Lil Peep was quite active on Instagram, recording videos in which he talked about taking psilocybin mushrooms, cannabis concentrate and also took six Xanax pills. One of his last posts quoted "When I die, you'll love me". After the toxicology report, Lil Peep's death was recorded as an accidental overdose, due to the effects of the pain medication fentanyl and the benzodiazepine alprazolam. His blood tests were positive for Tramadol, cocaine, and cannabis, while urine showed traces off opiates, such as oxycodone and oxymorphone, among other substances.
Following his death, numerous musicians paid tribute to the young artist, including Sam Smith, Pete Wentz, Mark Ronson, Good Charlotte, Three Days Grace, then Lil Pump, Dua Lipa, Ty Dolla Sign, and many others.
Source:
IMDb
,
Wikipedia