• Justin Tyler Berfield is an actor, writer, and producer, best known for his role as Reese in "Malcolm in the Middle".
• His net worth is estimated to be over $10 million.
• He started his acting career at the age of 5 and appeared in "The Good Life" and "Unhappily Ever After".
• He is the Chief Creative Officer of Virgin Produced and has his own production companies.
• Justin is active on social media, promoting his work and connecting with fans.
 
Who's actor Justin Tyler Berfield from "Malcolm in the Middle"?
Justin Tyler Berfield was born on 25 February 1986, in Agoura Hills, California USA, of Jewish descent, and is a producer, writer and actor, probably best known from his appearance as Malcolm's second oldest brother, Reese, in the sitcom "Malcolm in the Middle".
The Riches of Justin Berfield
How rich is Justin Berfield? As of mid-2018, sources estimate a net worth that is over $10 million, mostly earned through success in the acting industry. He also serves as the Chief Creative Officer of Virgin Produced, a film and television production company of the Virgin Group based in Los Angeles, California.
Early Life and Early Acting Career
Justin grew up in California, and became familiar with the acting industry at a young age, as both he and his older brother Lorne pursued careers in the industry. Justin's first television appearance was at the age of five in a Folgers coffee commercial, and he would appear in numerous other nationally broadcast commercials as a child, before making his real acting debut on screen in the short-lived series entitled "The Good Life", co-starring alongside Drew Carey.
Over the next few years, Justin would then appear in numerous other television series, including "Hardball, "The Boys Are Back" and "the Mommies". One of his first notable roles came in 1995, when he was cast as Ross Malloy in the series "Unhappily Ever After", the sitcom on The WB network, and he appeared in the show for its entire run of 100 episodes. After the show ended in 1999, he then went on to gain international prominence with his next role.
Found this in the archives. ?#oldheadshotsday pic.twitter.com/j9zbkdlwzb

— Justin Berfield (@justinberfield) April 28, 2018
Malcolm in the Middle
In 2000, Berfield was cast as the trouble-making older brother Reese in the show "Malcolm in the Middle"; the show received critical acclaim and would go on to win seven Emmy Awards, a Grammy Award, and a Peabody Award. The series follows the daily lives of a family, with Frankie Muniz in the lead role of Malcolm, an intelligent boy. Other cast members of the show included Bryan Cranston and Jane Kaczmarek, and it became extremely popular and a huge draw for the Fox Broadcasting Company. Berfield's role was as a dimwitted older brother and a bully, who tortures Malcolm at home though defends him at school. The show was initially focused on Malcolm only, but it later showcased more of the other members of the family.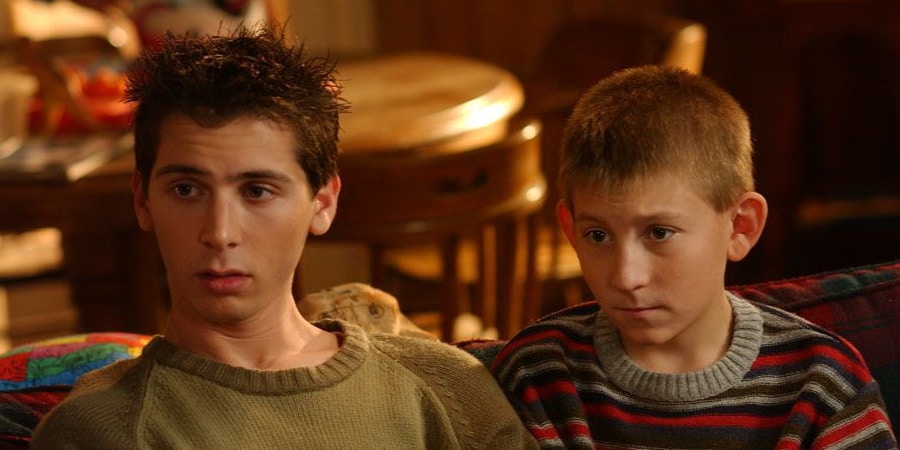 Berfield would go on to appear in all 151 episodes of the show, making him the youngest actor in history to have appeared in 100 episodes of two different television series. "Malcolm in the Middle" would end its run in 2006, after which he reduced his acting work, only making a guest appearance in the series "Sons of Tucson" in 2010.
Later Endeavors
Justin became much more focused on production work. He also does charity work, and was previously a National Youth Ambassador for the Ronald McDonald House Charities. He's also been active with St. Jude Children's Research Hospital and Virgin United, which is the charitable arm of Virgin Group, serving mainly as the Chief Creative Officer of Virgin Produced. Some of the projects they have worked on include "The Space Between Us", "Jobs", "21 and Over", and "Immortals". The company has also launched its own digital network.
Justin founded the production companies J2TV and J2 Pictures too, which he created alongside business partner Jason Felts. He also bought the house made famous by Nick Lachley and Jessica Simpson in the show "Newlyweds", though it was later sold. According to reports, he resides in a beachside condo in Malibu, California, and previously stayed in Studio City, California during the filming of "Malcolm in the Middle".
Is Justin Berfield on Social Media?
Similar to numerous personalities on social media, Berfield is very active on websites such as Twitter and Facebook, on which he promotes his work as a part of Virgin Produced. He also posts some of his daily thoughts, including about the NBA and the entertainment industry. He also posts a few throwback pictures back to when he was still acting. He has a Facebook page on which pictures up to 2016 are posted, but it has not been active since then. He formerly used Facebook as a means to connect with fans as well as post some of his daily endeavors.